Ecocity Malmö: Sustainable Urban Development
Malmö, a city in southern Sweden that is connected by bridge to nearby Copenhagen, has undergone an amazing transformation over the last 20 years. What was a place at risk of becoming a post-industrial city in crisis has instead become a thriving inspiration for Sustainable Development. Apparently at least 20,000 international guests have been attracted to the city, not to experience Malmö as tourists, but to experience Malmö's approach to environmentally friendly architecture and urban development. Malmö is the flagship of urban sustainability for Sweden and has won numerous awards for this commitment from the United Nations, Worldwatch Institute, and others.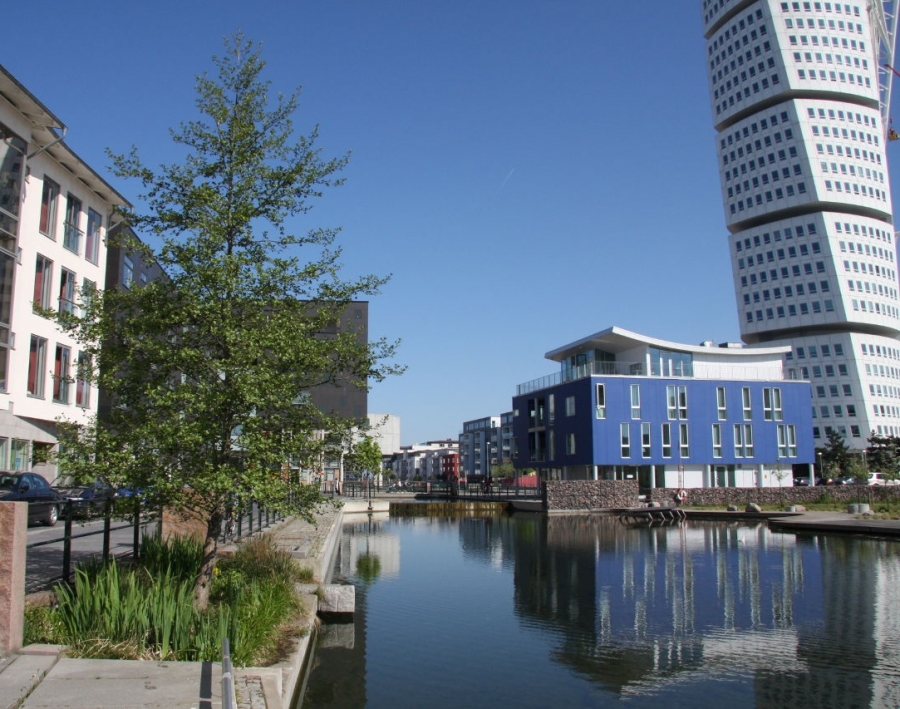 The transformation began in the 1900s as Sweden made a massive investment in Malmö, because the once busy Kockums AB shipyard and Saab assembly plant had both closed down in the western harbor area, Västra Hamnen. In place of former industry, Malmö University and the Bo01 housing exhibition area were built, and Malmö is now focused on a service-based economy. Bo01, the sustainability-themed 2001 housing exhibition, is what sparked the journey to adopt progressive development principles citywide. Since the completion of Bo01 and the transformation of Västra Hamnen, the city has expanded its work for the environment to include the Augustenborg and the Sege Park districts.
As a municipality Malmö has also set some ambitious environmental goals: Malmö is expected to be sustainable by 2020, with pilot projects becoming the norm for the entire city; to be climate-neutral by 2020; and to operate on 100% renewable energy by 2030. The early dates for these goals are realistic simply because they are building on some successful large-scale projects.
Bo01 and Västra Hamnen
The planning, architecture, and sustainability approaches are all very well integrated into the Bo01 district. Architect and urban designer Klas Tham was inspired in part by medieval towns, and Bo01 manifests a contemporary version of that kind of compactness. The planning approach focused on a low, human scale; tightly arranged blocks; and variegated streets, parks, and buildings. The most interesting aspects of Bo01 are the way in which the blocks are skewed and distorted and the fact that the buildings on the perimeter are higher than those in the interior, giving a sense of enclosure to the complex of blocks. Different architects designed the buildings, and the resulting urban form is welcoming and invites biking and walking. The planning process also emphasized community participation.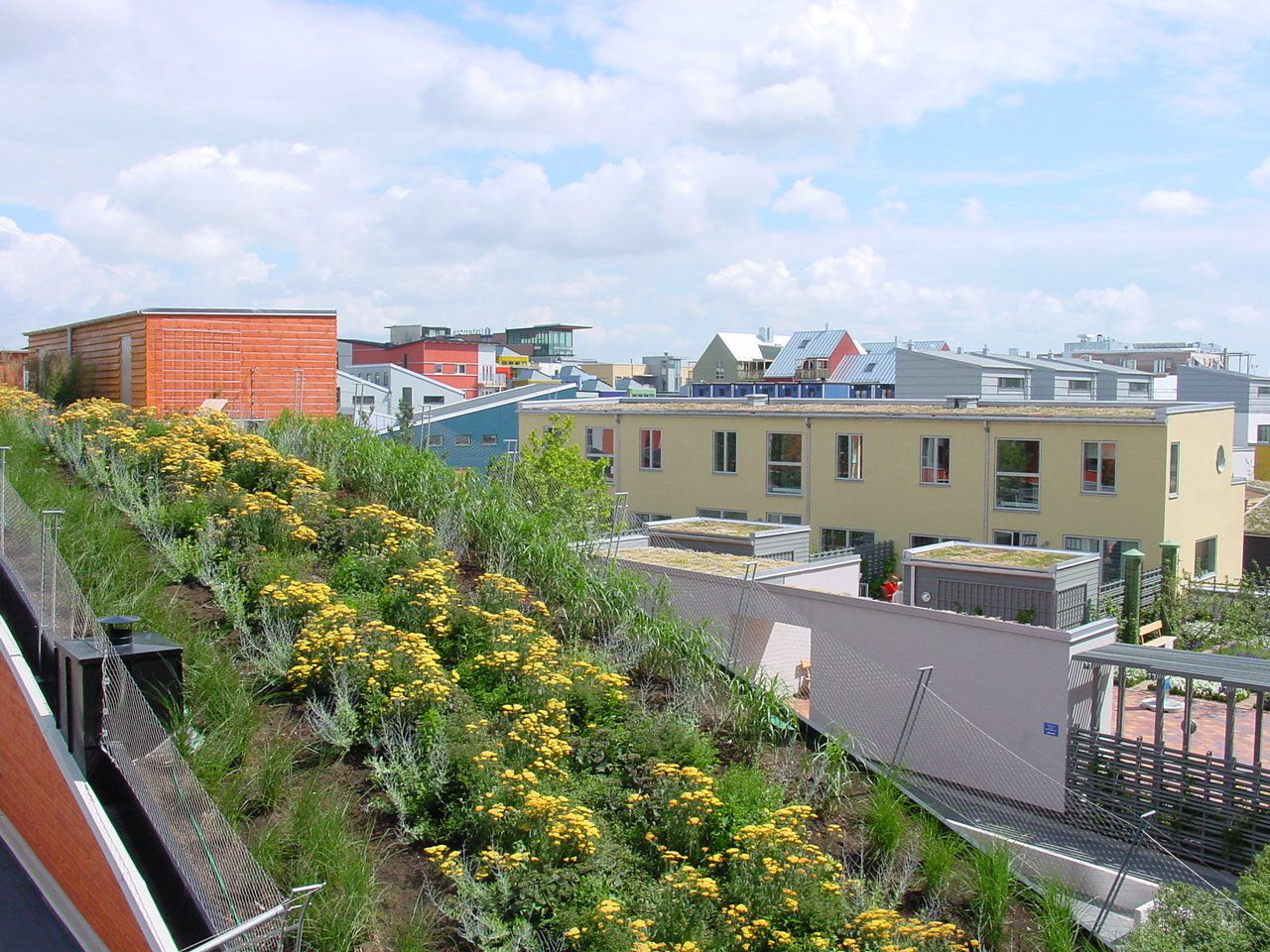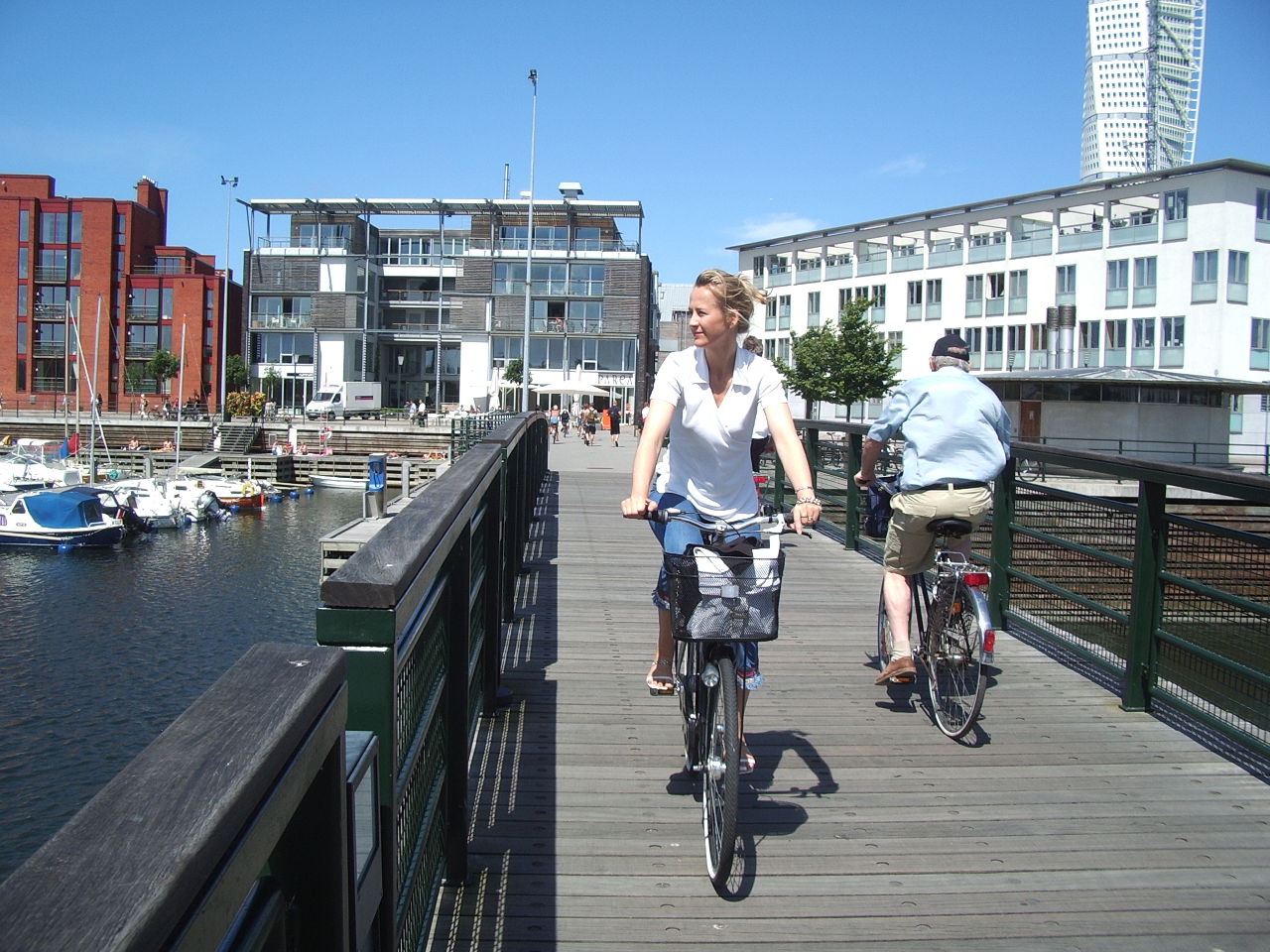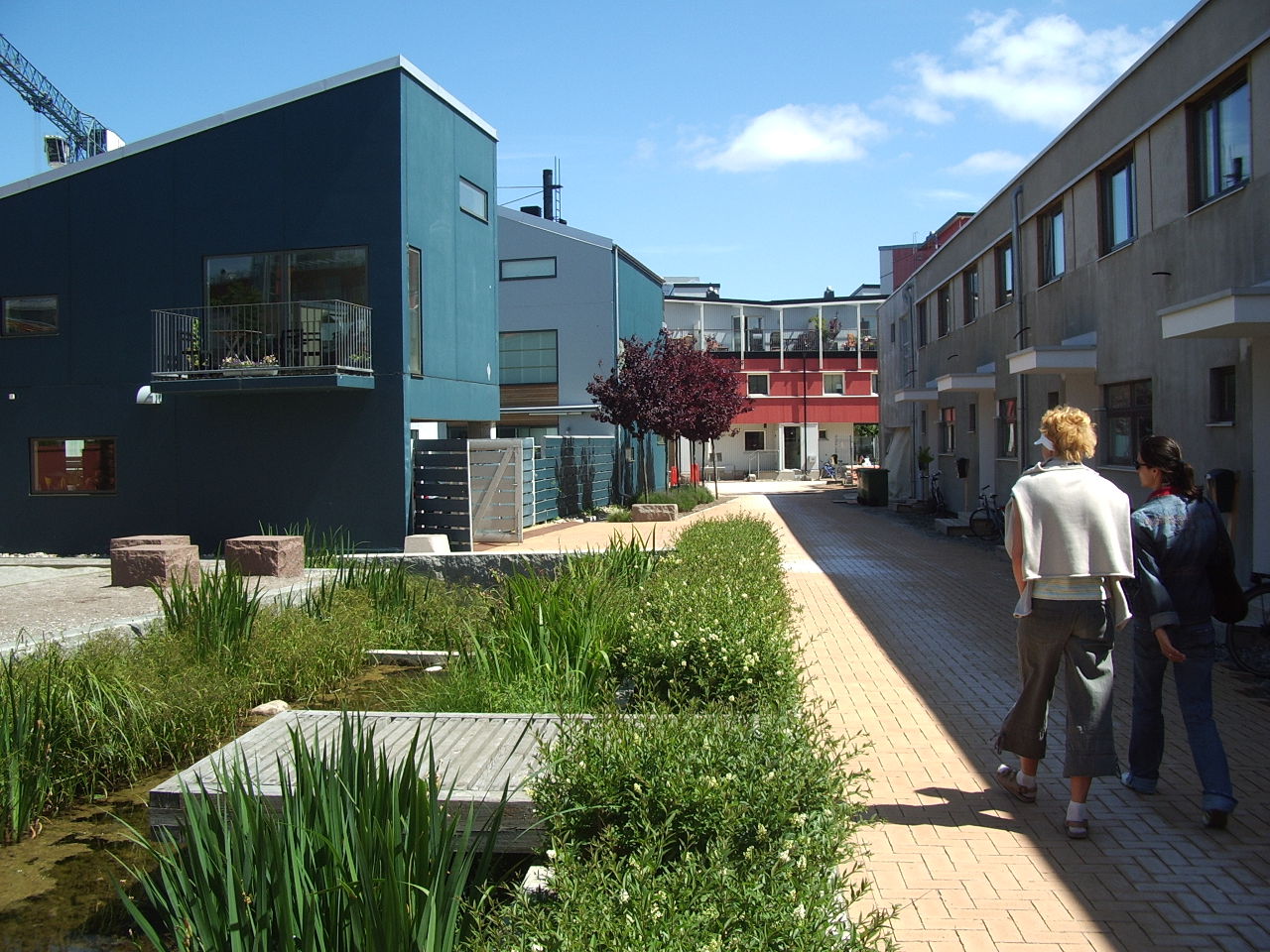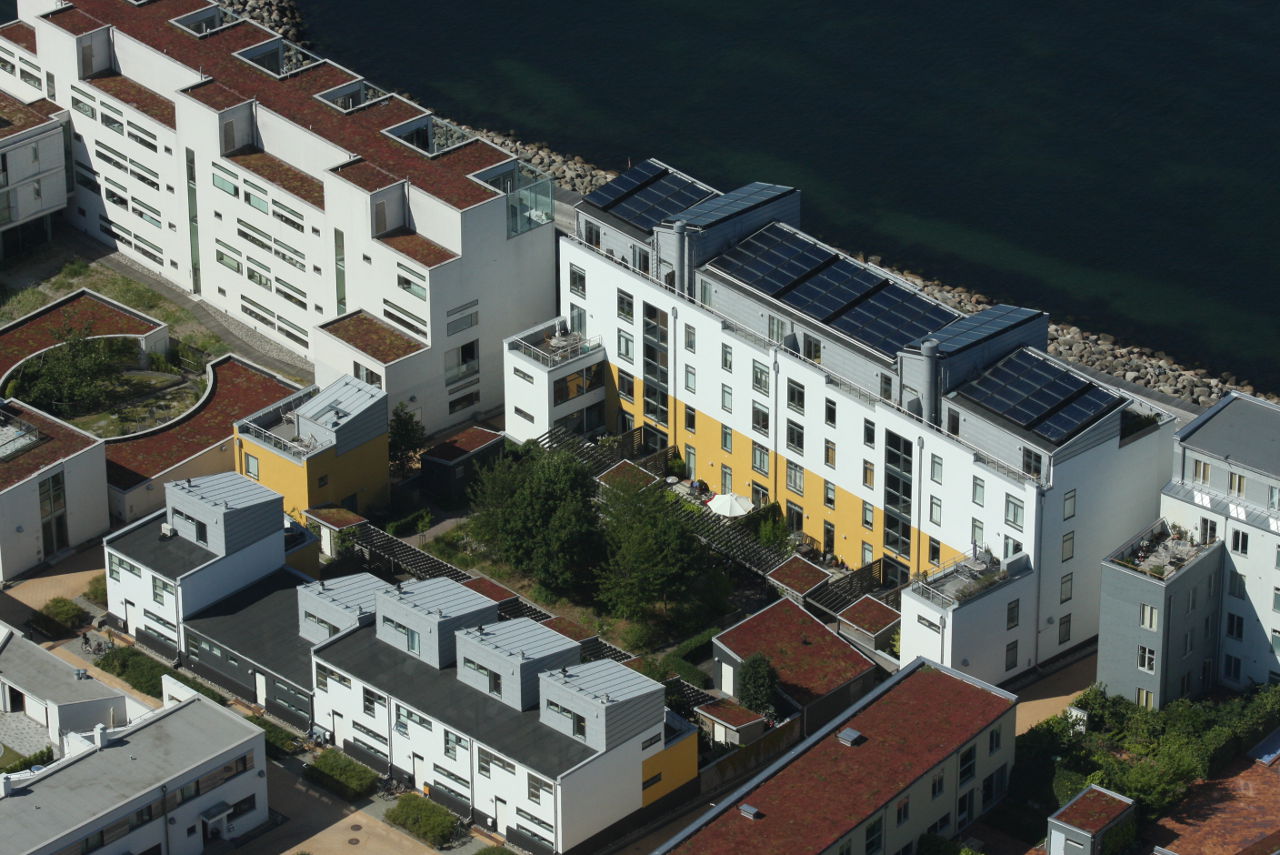 In terms of urban sustainability, Västra Hamnen is the first climate-neutral district in Sweden and uses 100% renewable energy. Energy is supplied by solar and wind power systems and geothermal heat pumps. Rooftops in the area frequently incorporate living roofs, solar power systems, or both. For those buildings that feature solar power systems, the sun supplies both electricity (photovoltaics) and hot water (solar hot water), feeding into the district heating system. Representing Sweden's largest investment in wind power, the offshore Lillgrund Wind Farm is not so "lille," with 48 large wind turbines generating 2.3 MW of electricity, enough to power 60,000 homes. For transportation, the area also offers an extensive bike path system and buses that are powered by natural gas/biogas.
Because the Bo01 site was formerly used for industrial purposes, the City of Malmö treated the polluted soil, then capped it with 5' of new clean soil, then planted bioremediators (i.e., plants that break down pollutants). The area also integrated some thoughtful, well designed parks and green spaces. The main promenade, called Sundspromenaden and designed by Jeppe Aagaard Andersen, runs along the coastline water edge and is expressed in wood. The Ankarparken, designed by Stig L. Andersson, on the other hand, is more intimate with its jaggedly undulating canal and path with trees in beech, alder, oak, and willow. The original exhibition also included a temporary "Secret Garden" conceived by West 8 with a mysterious, thicket-like pavilion.
Ankarparken by SLA Images

Credits: Image 1 Jens Lindhe, Image 2-4 SLA, Image 5-7 Torben Petersen
Secret Garden by West 8 Images

Credits: Image 1-3 Jeroen Musch, Image 4 West 8 Urban Design & Landscape Architecture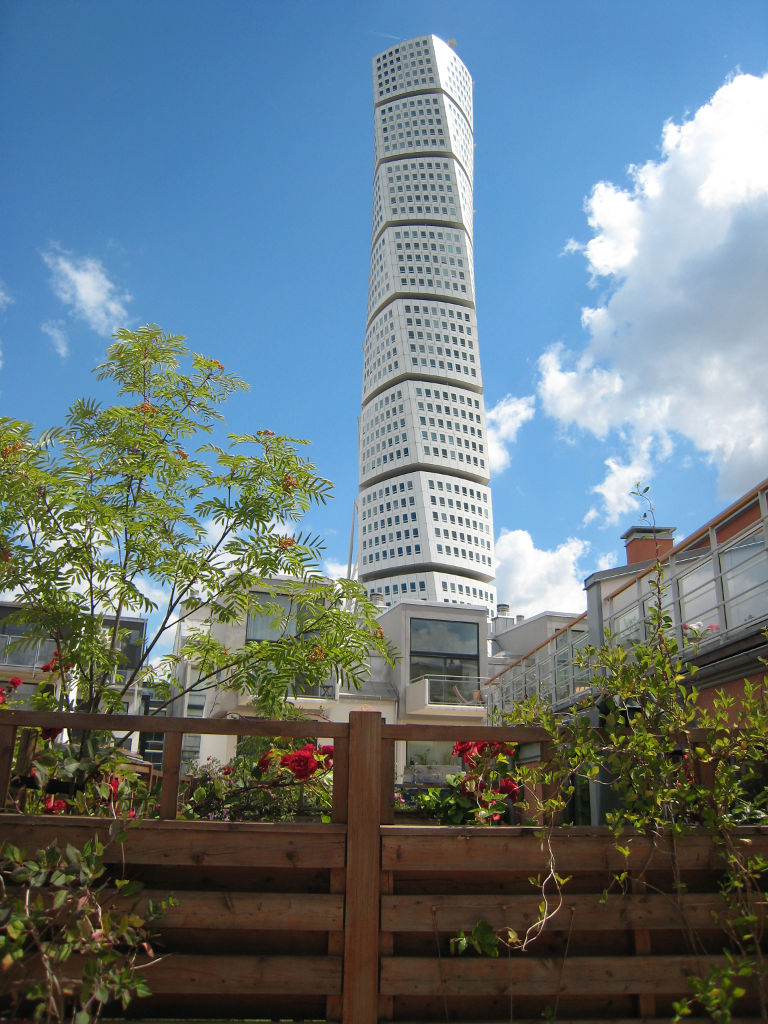 The major landmark in Malmö and the tallest building in Sweden is "Turning Torso," an elegant residential highrise designed by iconic architect Santiago Calatrava. The form is derived from one of his sculptures of a turning body. The twisting building contains 147 apartments and is 190 m (approx. 623') high. Each apartment is fitted with a garbage disposal for food waste that is then consolidated and used to produce biogas. The building also features a high degree of energy and water efficiency, and residents can monitor their own energy and water use to increase awareness of their consumption patterns and hopefully influence positive conservation behavior. The building's developer, along with others, has also committed to phase out 10 hazardous construction materials. The phase-out plan was implemented on the Turning Torso project.
Another example among the many interesting apartment buildings, dubbed "Tango," was the product of an American/Swedish design collaboration between Moore Ruble Yudell Architects and SWECO Arkitekter. The inner courtyard features a meeting space on a building scale wherein each stack of living rooms is represented by a different colored element that is skewed and gestures toward the others. For building technology, Tango incorporates vacuum-tube solar hot water sufficient enough to provide heating for the entire building. The window glazing is triple-pane argon-filled (with an R-value of approximately 6.5), and the windows have built-in air vents to bring fresh air into the units throughout the day. Building occupants can also control and change their unit climates via computer.
The city continues to develop the Västra Hamnen district beyond the Bo01 area in a sustainable way. For example, a new complex of apartments is under construction that will nearly meet the Passive House standard. Passive Houses are super-insulated and have super-tight construction and do not require heating.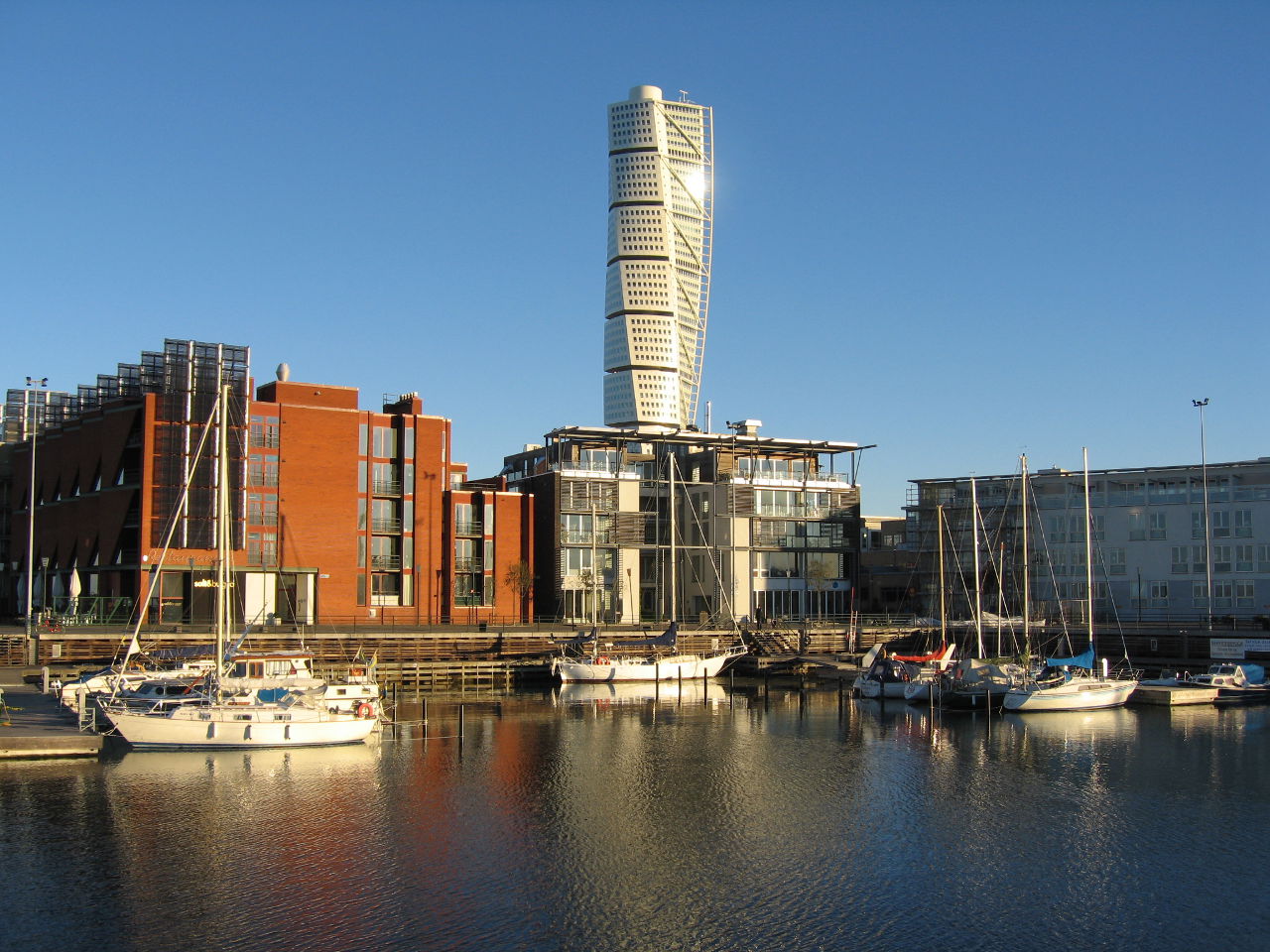 Bo01 and Västra Hamnen Images

Ekostaden Augustenborg
The Augustenborg district also expresses some unique approaches to sustainability, especially with its combination of open storm sewers and living roofs. Open storm sewers treat water by using a more natural system and reduce the burden on the sewer system. People enjoy the presence of water, and the ponds and other water elements in Augustenborg are considered a major amenity by local residents. The most important of the more than 30 living roofs in the area is the Augustenborg Botanical Roof Garden, a public facility that demonstrates and researches different living roof types and is home to the Scandinavian Green Roof Association.
Ekostaden Augustenborg Images

The various approaches to sustainable development and community participation incorporated in Augustenborg have created some remarkable results, with a 50% increase in biodiversity, a 25% increase in participation in public elections, the founding of three green businesses, and a 25% decrease in hot water and heat consumption; additionally, the area has not suffered any major floods (even when other parts of Malmö were flooded).
Sege Park
Sege Park is yet another environmentally focused district in Malmö, and the site of the largest solar installation in Sweden, at 166 kW peak power. Photovoltaic panels were installed over an existing residential building and cover 1,250 m2 (approx. 13,455 sq. ft.). Additionally, Sege Park is home to a 25 kW urban wind turbine installed as a pilot project and an experimental installation that uses a Stirling engine to generate electricity by concentrating solar energy with parabolic mirrors. In a poetic full circle, this Stirling engine project represents former shipyard Kockums AB's reentry into Malmö's new sustainability economy.

Greg Vendena, LEED AP is a writer, consultant, and architect based in Copenhagen, Denmark, with a background in design, construction, green building, and energy efficiency. His experience includes not only architectural design, but mixing concrete, building custom LED lighting, and energy auditing. He holds degrees in Architecture from Cranbrook Academy of Art and Arizona State University, and a Fine Art degree from California College of the Arts. His work and work together with others has been featured in the Cooper Hewitt National Design museum, and has been published and exhibited extensively. However, playing with his son and riding a bicycle around Copenhagen are what he enjoys the most.
Latest from Greg Vendena