2011 Solar Decathlon: Middlebury College
Self-Reliance Is a Modern Twist on New England Vernacular
Middlebury College makes sustainability a priority: "it's a hot talking point around campus," shares Solar Decathlon Team Manager Melissa Segil. Middlebury is also the first small liberal arts college and one of the few schools without a professional architecture program to compete in the Solar Decathlon. Although some might view it as a disadvantage, Segil, who studies International Politics and Economics with a minor in Environmental Studies, points out that this interdisciplinary approach brings innovative ideas to the table, resulting in "a practical home for the 21st century."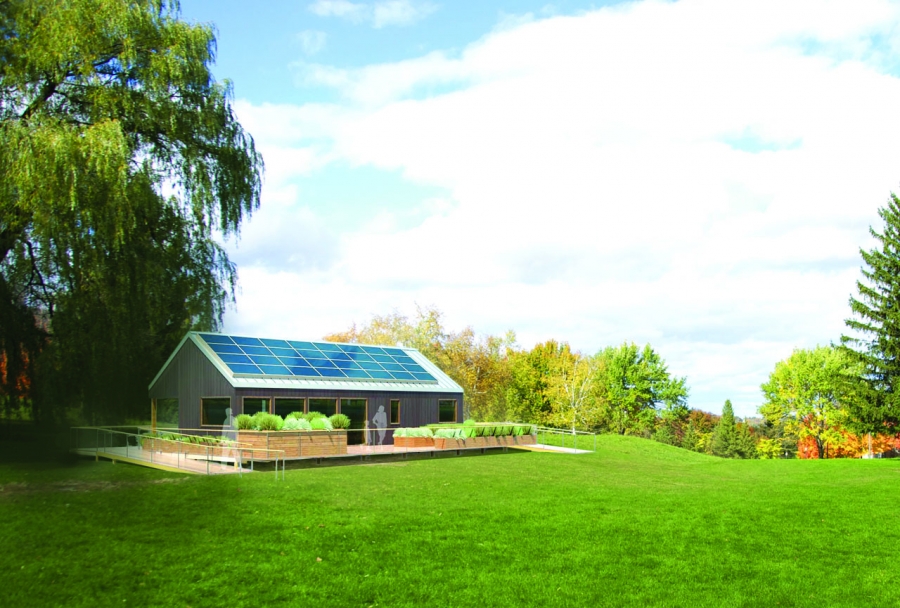 Practicality is a theme that resonates throughout the project, appropriately titled "Self-Reliance" after Ralph Waldo Emerson's essay. The team's design offers a modern twist on the New England farmhouse vernacular and features a gabled roof that efficiently sheds snow but is also familiar and helps people to identify it as a home. It was important for the Middlebury College team "to address other aspects of sustainability beyond energy efficiency," according to Addison Godine, Project Manager and an Architectural Studies major with a minor in Physics.
"Communication is important, and it's not unlike the way you would engage with colleagues and consultants in a professional architectural practice." Addison Godine, Project Manager
One priority was to keep the costs down and arrive at an as-built budget of less than $250,000, which will qualify the team to receive points in this newly created competition category. When Middlebury students visited the homes in the Solar Decathlon 2009 competition, they overheard visitors mention the "really cool show houses," according to Godine, "but a lot of people couldn't envision themselves actually living in them." To that end, the Middlebury team created a cozy environment that can comfortably accommodate a family of four. They selected local, natural materials and made growing food a focus of the design. "We're not trying to invent anything new," admits Godine, speaking in terms of technology. In fact, the design relies mostly on passive strategies to weather the cold New England winters.
2011 Solar Decathlon: Self-Reliance Drawings

The layout of Self-Reliance is straightforward and somewhat traditional, maintaining a separation between public and private spaces. The entry space doubles as a mudroom for shedding heavy winter coats and boots. It leads to a combination living, dining, and kitchen area, which features high ceilings and abundant daylighting through windows and skylights. The bedrooms and bathrooms function as "cellular" spaces on the opposite side of the home.
The Middlebury College Solar Decathlon team hopes to promote a healthy lifestyle for inhabitants of Self-Reliance by integrating a greenhouse within the 6' X 7' glazed openings along the south-facing kitchen wall, and it emerges as a central design feature reflecting local farming traditions. The residents of Self-Reliance could grow lettuce and herbs in 12" deep trays during winter months, and exterior planters will help them supplement this food supply, accommodating fruit and vegetable growth during the summer.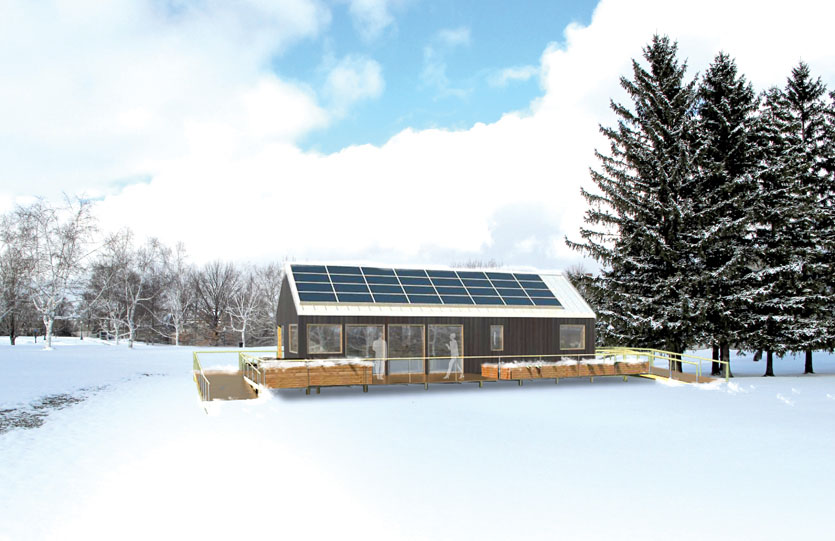 The design of Self-Reliance features local building materials, including sustainably forested timber and Vermont slate. Most wood was harvested from land nearby or owned by Middlebury College, such as the sugar maple flooring, spruce framing, and rot-resistant white oak for the outdoor decking. Natural finishes such as linseed oil and waxes were used to protect and emphasize the wood's texture, and the interior wall paint is made from eggshells.
Although material selection was an important part of the design process, the team also spent a lot of time researching passive design techniques and energy-efficient materials. They placed large windows on the south side of the home to maximize passive solar gains, while small windows on the other sides minimize heat loss. A photovoltaic array on the roof, along with solar water heating panels, ensure that the home's energy needs will be met. The students chose to insulate the walls with blown cellulose made from biodegradable recycled newspaper, and they designed 11" thick walls in order to reach the required R-value. One of the few non-local materials used in the home is high-performance triple-glazed windows from Germany.
Once Solar Decathlon 2011 is over, the house will become a permanent fixture on the Middlebury College campus, potentially serving as a residence for visiting professors, faculty, or students that will educate them on sustainable architecture and the green lifestyle. Until then, team members are busy constructing the modular home. "This is my favorite class and extracurricular activity," admits Segil. Although the team is student-led, it has support through faculty advisors including Andrea Kerz-Murray (AIA, NCARB, LEED AP BD+C) and Ashar Nelson (AIA, LEED AP). Godine adds that "communication is important, and it's not unlike the way you would engage with colleagues and consultants in a professional architectural practice."
2011 Solar Decathlon: Self-Reliance Construction Images

2011 Solar Decathlon: Self-Reliance Renderings/Model


Murrye is a freelance writer based in New York City. She holds a Bachelor's degree in Architecture from the University of Arkansas and is a LEED-accredited professional. Her work has been published in Architectural Record, Eco-Structure, and Architectural Lighting, among others. She also serves as a contributing editor for the American Institute of Architects' New York Chapter publication, eOculus.
Website: www.murrye.com
Latest from Murrye Bernard