KU.BE by ADEPT/MVRDV: An Experimental Community Center
Frederiksberg, a community within Copenhagen, seeks to build an experimental, new type of community center that emphasizes healthy and active lifestyles, along with more traditional or passive social and cultural pursuits. This 4,000 m2 (approximately 43,000 sq. ft.) building is slated for completion in 2015 and cost 130 million Danish krone (DKK) (approximately 25,061,660 USD). The KU.BE or "Kultur -- og Bevægelseshus" or House of Culture and Movement was designed by Adept and MVRDV and realizes an ambition to create a place of high architectural quality that is sustainable. The House of Culture and Movement will no doubt be architecturally captivating and contribute in a real way to the community's health and well-being.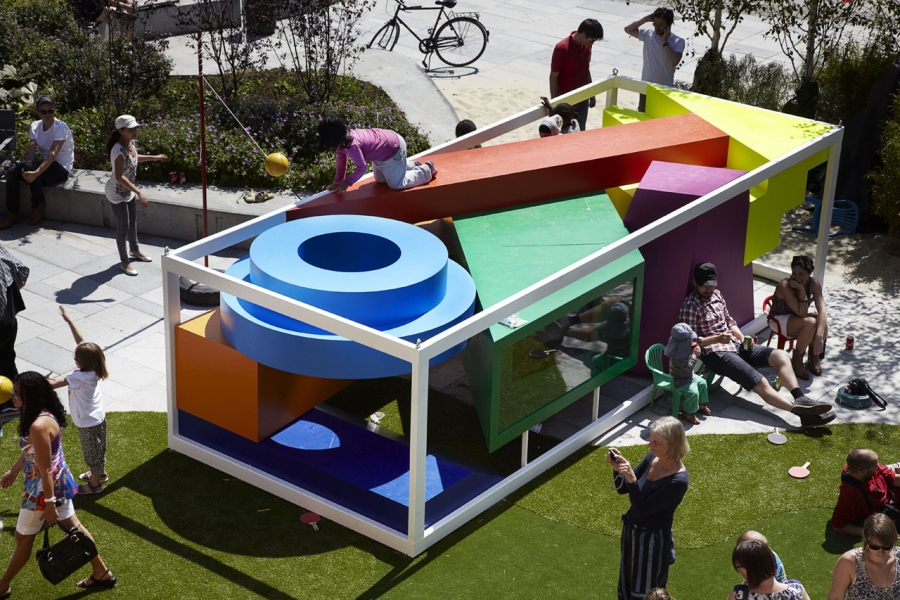 A Fusion of Flatlanders
Denmark and Holland are two lands that are both celebrated for bike culture, design, and architecture, as well as their flatness. The collaboration of ADEPT Architects and MVRDV on the House of Culture and Movement merges some Danish and Dutch sensibilities. Both Denmark and Holland are known for a pragmatic approach to architecture, but with the Danes showing more restraint and the Dutch expressing more playfulness. Thankfully, Adept and MVRDV's winning entry offers "all of the above" in a competition proposal that is straightforward and interwoven, precise and lively.
Urbanity & Conviviality
The project is both a master plan for a complex of three buildings and a detailed design for KU.BE, the first building. For both, the approach celebrates urban vitality and the connections to the city of Frederiksberg. The master plan carefully relates to the surrounding area, which is being developed in connection to the Flintholm station, an important train station that connects the Copenhagen Metro and S-train systems. For ADEPT and the design team, Frederiksberg should be an expression of democratic design, social well-being, and warm gregariousness. It only makes sense that the project is then not only site-specific, but also that it seeks to dissolve the boundary between the three buildings and the surrounding landscape and cityscape. The landscape, designed by SLA, is integrated conceptually with the buildings, where the programming crosses the divide between inside and outside, especially within the courtyard-like space between buildings. These buildings are grouped together by an evocative "Urban Curtain," an open fence-like perimeter element connecting them that could be expressed in a number of ways and is yet to be finalized in design. The Urban Curtain could be actual fabric curtains, a trellis, vertical bike racks, fountains, lighting, or more. The exact nature of this Urban Curtain will be part of the community involvement aspect of the project, in which community members are invited to suggest functions and expressions of the structure. This community input phase has recently begun, and the architects have built a 1:10 model of the building, just large enough for kids to climb on.
The love of city life has also greatly influenced the design of the building, which is expressed like the city itself. The program contained seven conceptually defined "Zones" based on different types of activities, and these were interpreted quite literally and proposed as seven separately defined building forms. The character and expression of each form is inspired by the nature of the activities they will contain. The zones are then packed and arranged inside a larger rectangular volume. The leftover space between the different activity elements then becomes the street-like inner connection and circulation space. This connection space ("Play Zone") is marked by its white walls; each of the other zones is coded by its own color theme.

An Energy Star
Sustainability was also an essential element required in the program and was taken seriously by the winning team. With the consultation of the London-based engineering firm Max Fordham, the KU.BE project is expected to achieve the best energy class (A1) of the EPB, a European energy standard called Energy Performance of Buildings, which requires that the building use less than 50 watts per square meter per year. This rating will be achieved through some unique natural ventilation design, a greater temperature range in the Play Zone, solar panels on the roof, high-performance glazing, and more.

The Active City
New possibilities for the city and buildings seem to be emerging as represented by this project. Those pleasant experiences of walking or sitting suddenly seem to be more rooted in 19th century humane city visions. The democratic and empathetic contemporary city is now not only for strolling or shopping, but also for sweating in: for skateboarding, climbing, running, biking, and the like. This trend includes a greater age range and increases possibilities for participation and interaction. Folks might just lose some weight, (or otherwise get a little healthier) and experience a different kind of togetherness with others, and the city might become all the more vibrant in a new way.

Greg Vendena, LEED AP is a writer, consultant, and architect based in Copenhagen, Denmark, with a background in design, construction, green building, and energy efficiency. His experience includes not only architectural design, but mixing concrete, building custom LED lighting, and energy auditing. He holds degrees in Architecture from Cranbrook Academy of Art and Arizona State University, and a Fine Art degree from California College of the Arts. His work and work together with others has been featured in the Cooper Hewitt National Design museum, and has been published and exhibited extensively. However, playing with his son and riding a bicycle around Copenhagen are what he enjoys the most.
Latest from Greg Vendena