Brooklyn Bridge Park: Linking Harbor, Infrastructure and the Urban Fabric
Although it is surrounded by water, New York City offers few opportunities to physically interact with the shoreline. The new Brooklyn Bridge Park proves an exception; its 85 acres of green space and recreational facilities, designed by landscape architecture firm Michael Van Valkenburgh Associates, will span 1.3 miles of post-industrial waterfront between the Manhattan Bridge and Atlantic Avenue, bracketed by the East River and Robert Moses' tiered Brooklyn-Queens Expressway.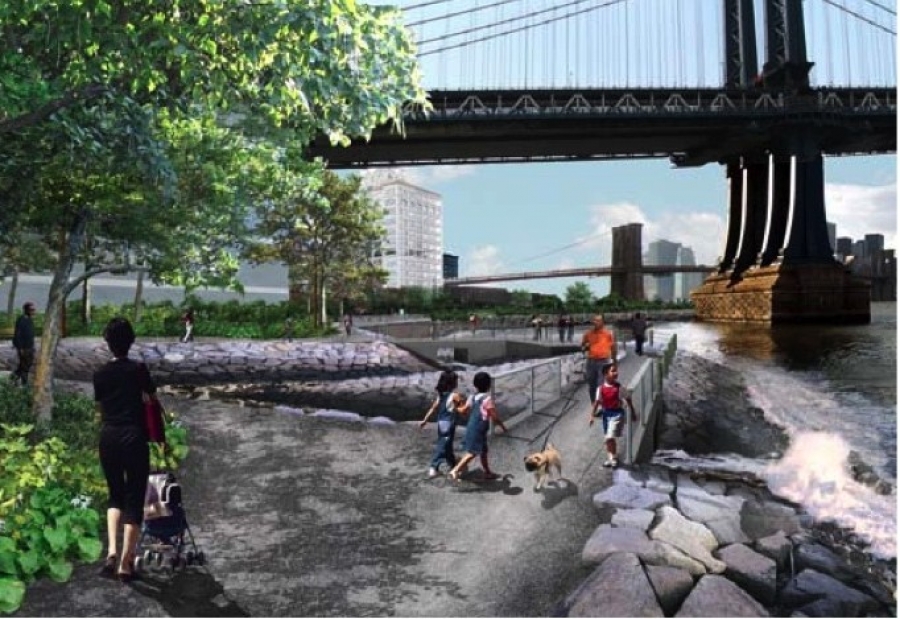 For a century, the New York Dock Company operated within the distinct blue warehouses with sawtooth roofs that lined the shore. In 1983, as the shipping industry shifted toward suburbia, they abandoned the piers and the government slated the land for private development. Thanks to tireless advocacy and millions in government funding, a park is under construction that will transform the six existing piers into a landscape potentially on par with NYC's most beloved, Olmsted's Central and Prospect Parks; if it's not comparable in scale, then It certainly is in terms of ambition.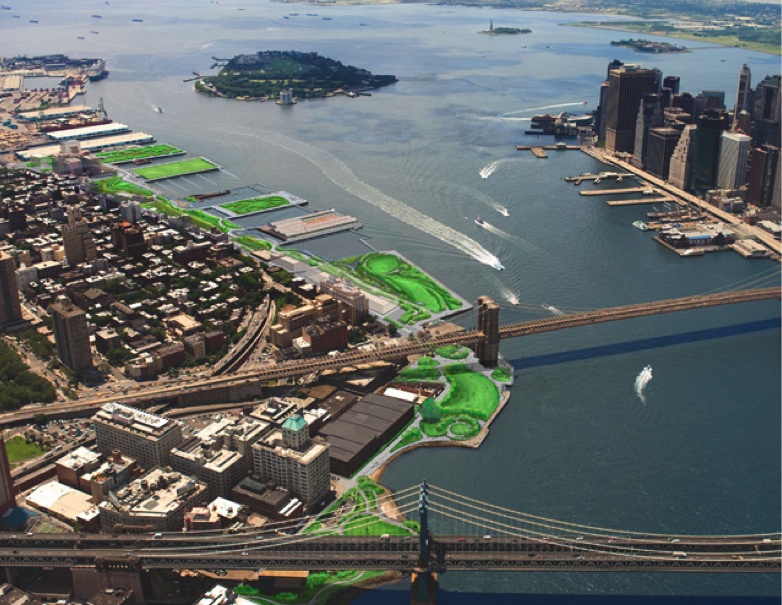 Even the Brooklyn Bridge Park's schedule is an impressive one; since construction began in 2008, most of the former warehouses have been demolished and Piers 1 and 6 opened to the public this year. It is projected that approximately two-thirds of the Park will be complete by 2013, and it will tie in with existing parks between the Brooklyn and Manhattan Bridges: Empire--Fulton Ferry Park, which is undergoing improvements including a Jean Nouvel-designed pavilion to house a restored 1922 carousel, and the Main Street Lot, a former parking lot that was converted to parkland.
MVVA's goal was to connect visitors with the waterfront and its views of the harbor and city, which the firm accomplished through the inclusion of several floating pathways, boardwalks and beaches, fishing piers, and safe water for paddling in kayaks and canoes. "Usually there are guardrails when you walk out on a pier and you have the exact same experience walking back," explains MVVA Project Manager Stephen Noone, but at Brooklyn Bridge Park, "you can actually walk along the water and engage the river and the reconditioned waterfront." For those who prefer land-based activities, there will be 40 acres of recreational space including tennis, handball, basketball, and volleyball courts; playing fields for soccer, softball, and lacrosse; hockey and ice skating rinks; plenty of playgrounds; a bike path; and a year-round indoor recreational facility.
"You can actually walk along the water and engage the river and the reconditioned waterfront." Stephen Noone, Project Manager at MVVA  on the human experience at the Brooklyn Bridge Park

Sustainability also played a large role in many aspects of the design, guiding the creation of natural habitats such as coastal shrublands and forest, wetlands, marshes, tidal pools, and a wildflower meadow. Photovoltaic cells capture solar energy and green roofs insulate the gatehouses and maintenance buildings. Stormwater retention will supply over 70% of the park's irrigation needs, and the visibility of cisterns will serve to remind visitors of the city's commitment to the environment.
Given the amount of demolition required to make room for the Brooklyn Bridge Park, MVVA chose to incorporate salvaged materials from the warehouses, including structural frames and fixtures, mooring cleats, and light fixtures from the Port Authority's occupation. These forty-five-foot tall industrial wooden light poles will illuminate the park and respond to the scale of the nearby bridges, whereas the 16-foot-tall historical light poles typical of NYC parks would have been lost in the landscape. Another reclaimed material from the warehouses is recycled pine timber, which will find a second life as park benches, wood decking, and cladding for new structures. Granite salvaged from the deconstruction of bridges in other parts of NYC comprises the Granite Prospect, amphitheater-like seating in the newly opened Pier 1. In order to mitigate noise from the Brooklyn-Queens Expressway and shield park-goers from wind, clean fill from the Metropolitan Transit Authority's East Side Access project will be molded into 20-30 foot hills.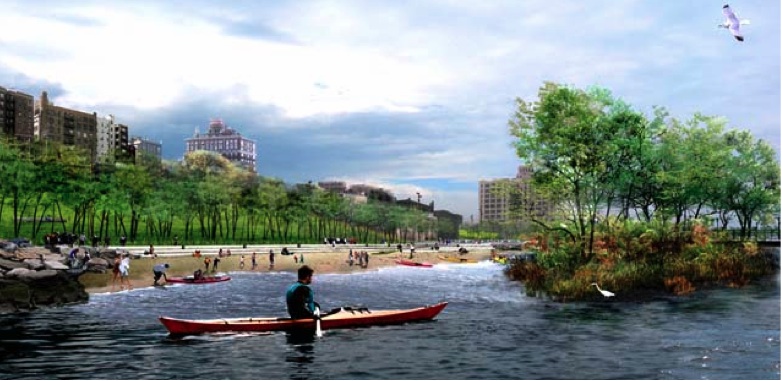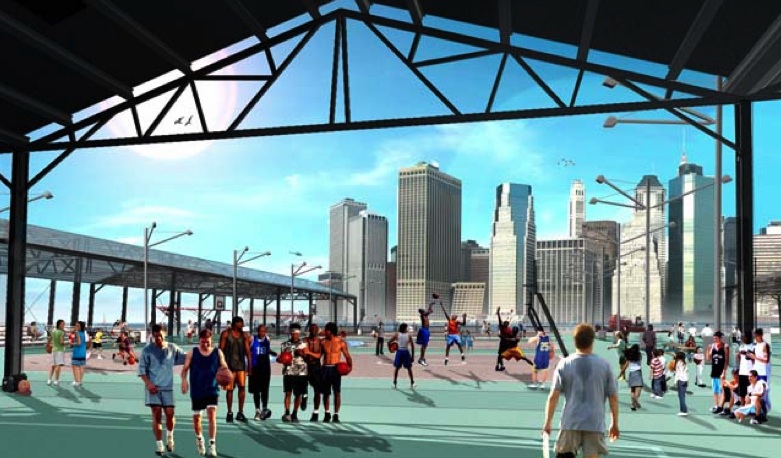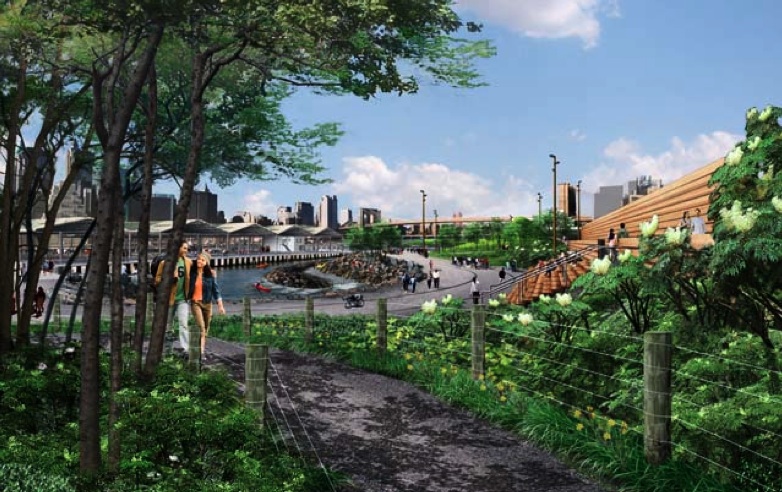 Though the government is picking up the $350 million tab for the park, a unique public/private partnership will provide for operations and maintenance costs, which are projected at $15.2 million annually. Limited commercial developments will allow the park to remain financially self-sustainable through income generated by 1,210 residential units and 225 hotel rooms as well as cafés and small retail stores. "We're able to subsidize maintenance rather than rely on the ebbs and flows of city funding,"  according to Noone. Though these operations will cover only 10% of the parkland, critics have been skeptical as to whether this will infringe on citizens' feeling of ownership in the park. However, there is no shortage of examples of parks with similar partnerships, such as Millennium Park in Chicago, and NYC's own Central Park Conservancy and Battery Park City.
Despite the summer heat, thousands of people have already lounged on the two expansive lawns of Pier 1 and wandered along its waterfront promenade and tree-lined pathways, which reveal unexpected and ever-shifting views of Manhattan's skyline. Further down the shore, Pier 6 is a stroller magnet, featuring a playground with rope swings, two-story high slides, a water-play area and several climbing structures. As these two piers hint, each of the four forthcoming piers will offer a distinct experience while mitigating the turbulent East River and the confines of the borough's dense, urban landscape.
While the Brooklyn Bridge Park will include modern amenities and promote a range of fitness activities, it also reflects the city's shipping legacy by incorporating salvaged, industrial-grade materials and it responds to the scale of surrounding infrastructure, including two of NYC's most notable bridges and one of its most despised roadways. The Brooklyn Bridge Park will allow visitors to experience the shore in its natural state, but it won't provide an escape—rather, it frames the city.

Murrye is a freelance writer based in New York City. She holds a Bachelor's degree in Architecture from the University of Arkansas and is a LEED-accredited professional. Her work has been published in Architectural Record, Eco-Structure, and Architectural Lighting, among others. She also serves as a contributing editor for the American Institute of Architects' New York Chapter publication, eOculus.
Website: www.murrye.com
Latest from Murrye Bernard