Bathtubs and Surrounds: Refinish or Replace
As mentioned in the "Wallpaper Removal" article, my wife and I are currently in the process of updating our 1980's home.  Concentrating on the kids' bathroom, we first removed all original wallpaper and selected updated paint colors and flooring.  Realizing that our dull, worn out, almond fiberglass tub was not going to fit in with our vision, we decided to look into the different refinishing and replacement options.  We also decided that if the tub was going to go, so to was the almond toilet and vanity.  Before I realized it, I was replacing everything but the rough framing.  While maintaining a positive attitude and considering our long term objectives, I began to tackle the project in my spare time while allowing the kids to use our bathroom.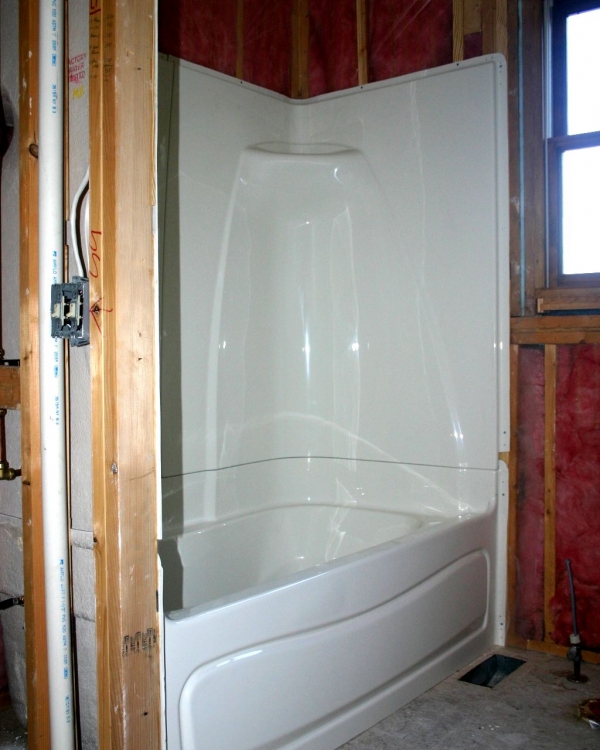 Our first decision was whether to refinish or replace the existing bathtub and surround.  The National Kitchen and Bath Association estimates the total cost to remove and replace a bathtub is $3,000 or more.  We thought about other alternatives and, at first glance, refinishing sounded like a great idea.
Refinishing
Fiberglass bathtubs and surrounds can be refinished or reglazed along with acrylic, cultured marble, and cast iron.  There are professional services available that cost anywhere between $800 to $1200.  Another option would have been to refinish it myself with a do-it-yourself kit.  Refinishing would save money, time, and the hassle of removing the old bathtub and surround and installing a new one in its place.  After further research we learned about problems associated with refinishing, including chipping and peeling of the paint or glaze after only a few weeks or months.  We also learned that it is suggested that you wax the new finish every 6 months and you shouldn't clean with aggressive rubbing as it can loosen or cause the finish to peel.  Not to be lazy, but having taken care of our recreational boats for most of my life, waxing my kids' bathtub and surround every 6 months wasn't something my wife or I were interested in doing.  In addition, my wife cleans with aggression.  We determined refinishing wasn't a durable long term solution for us because it would cover up the problem rather than solve it.
Molded Liners
Another option we looked into was molded liners.  They can be made of PVC and acrylic, and cost more than $2500, depending on the system and accessories.  Liners are adhered to the existing bathtub and surround, essentially making the space smaller.  That, in addition to the risk of mold and mildew caused by moisture being trapped between the old bathtub and surround and the new molded liner, made our decision relatively easy.  We decided to investigate the replacing options available.
Bathtubs and Surrounds
Realizing the needs of our kids' bathroom, we searched for the perfect bathtub and surround, a happy medium between form and function.  Looking at what we were going to replace - a recessed, solid fiberglass one-piece unit - there were specific dimensional requirements we had to meet.  We wanted the bathroom to have a timeless appearance that would last well into the future.  A fairly straightforward goal, and yet, selecting the perfect one can boggle the mind.  The options included a wide variety of materials, each presenting their own advantages and disadvantages, whether it be cost, appearance, installation, or maintenance.  Materials such as cast iron, steel, fiberglass, acrylic, polymers, wood, stone, and metal can each be damaged in some way and none are impervious to everything.

We immediately eliminated wood and stone due to their material composition and inherent disadvantages.  Wood in contact with water tends to warp, crack, or split, and stone is porous and brittle.  Either one in the kids' bathroom would result in severe water damage to our kitchen below.  Metal (brass or copper) was not an option because the cost was too high and it did not complement our vision.

Looking purely at material cost, fiberglass is typically the least expensive.  Porcelain enameled steel, acrylic, cast polymer, and cast iron are typically the most expensive.  While cast polymer (cultured marble, granite, and onyx) appeared easy to install and care for, we didn't care for the swirl and stone appearance.  Cast iron tubs, in my mind, are the best tubs on the market.  They have a 50 plus year life expectancy, they are timeless, durable, retain heat well, and are available in a variety of colors.  Not wanting to drive up the cost any more than we already had, we made a conscious decision to not tile the walls.  That, in addition to being concerned about the material weight (300 lbs. to 600 lbs.), caused us to reluctantly eliminate cast iron. We were left with a choice of fiberglass or acrylic.

Both fiberglass and acrylic are light in weight and have multi-piece products allowing for easy installation.  Through our research, we learned that fiberglass is not as durable as acrylic and doesn't hold heat as well.  We also learned that acrylic has a longer expected life span, and the thru color construction of acrylic tubs resists fading.  Thinking about our young children and the possible destruction that could occur over the next twenty years, durability is essential in meeting our long term objectives.
Installation
We settled on an acrylic, three piece sectional bathtub and surround for under $1000.  It is comfortable; it's the right color; it has a timeless design, convenient built-in accessories, and a raised outside edge that is ideal for our project.  Installation required demolition of the existing drywall and fiberglass bathtub and surround, additional fiberglass insulation, installation of rough and finish plumbing, placing and securing of the new acrylic unit, and hanging and finishing new drywall.  I installed the new acrylic unit with the help of a friend.  The extra set of hands was necessary because of the unit's size and to ensure the proper placement of the wall pieces. Using common tools and silicone sealant, we were able to place the new bathtub portion in its location and connect and place the surround pieces, all from inside the bathroom walls.
Maintenance of Acrylic
Maintenance of the acrylic unit requires routine cleaning with mild, non-abrasive cleaners.  Liquid ammonia, hydrogen peroxide, white vinegar, or baking soda can be used to remove soap deposits, stains, scale, and mold/mildew.  Scratches can be removed with fine grit sandpaper and liquid polish.  As with all types of bathtubs and surrounds, the walls should be wiped down to reduce any type of build-up after use.  Also, if I choose to wax and buff the surround surfaces years on down the road, the finish will restore to its present day luster.

I am currently working on completing the remainder of our kids' bathroom.  My wife and I are pleased with the sturdiness and appearance of the new bathtub and surround.  It will look a lot better when drywall is hung, repaired, and painted.  I look forward to completing the project and taking a long, quiet, hot bath.
See also: Maintenance Tips: Bathtubs and Showers

Jeff is an Editor-at-Large for Buildipedia.com who writes and edits Featured At Home and Knowledgebase content. Prior to joining Buildipedia, Jeff's work experience included carpentry, construction documentation, specification writing, construction administration, project management, and real estate property inspection. Jeff is a member of the Construction Specifications Institute (CSI) and an educator at Columbus State Community College and enjoys challenging DIY home improvement projects.
Latest from Jeff Calcamuggio