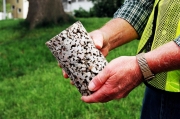 Contractor to Contractor: In this first of a two-part series, contractor-turned-homebuilder Fernando Pages Ruiz introduces permeable pavement, which allows rain and snow to seep into the ground.
What is Pervious Pavement?
Pervious concrete came to the attention of the building community in the United States after Congress passed the Clean Water Act in 1987. With restrictions in the amount of storm water runoff permitted from roads, parking lots and other impermeable surfaces, some developers began to look for environmentally-friendly alternatives. They found it in an exotic, water-sucking concrete first tested in Florida about 30 years ago as a flood-control device. Engineers placed highly porous concrete paving in spots along Florida roadways frequently submerged by heavy downpours. The permeable surface provided a quick-drying roadway that didn't stay flooded after the storm.