2011 Solar Decathlon: Team New Zealand's First Light
Anyone who has glimpsed New Zealand's picturesque beaches or the rolling green hills and mountainous terrain showcased in films like "The Lord of the Rings" can imagine why New Zealanders value their country's natural beauty and enjoy spending time outdoors. Team New Zealand is competing in the 2011 Solar Decathlon and is comprised of Victoria University of Wellington students from the Schools of Architecture, Design, Marketing, Commerce, Tourism Management, and Building Sciences. Their entry is titled First Light because "New Zealand is the first place the morning light shines at the start of a new day," and it conveys the students' pride in their country to attendees on the National Mall in Washington, DC, all the way on the other side of the world. In fact, First Light is the Solar Decathlon's first and only entry from the Southern Hemisphere.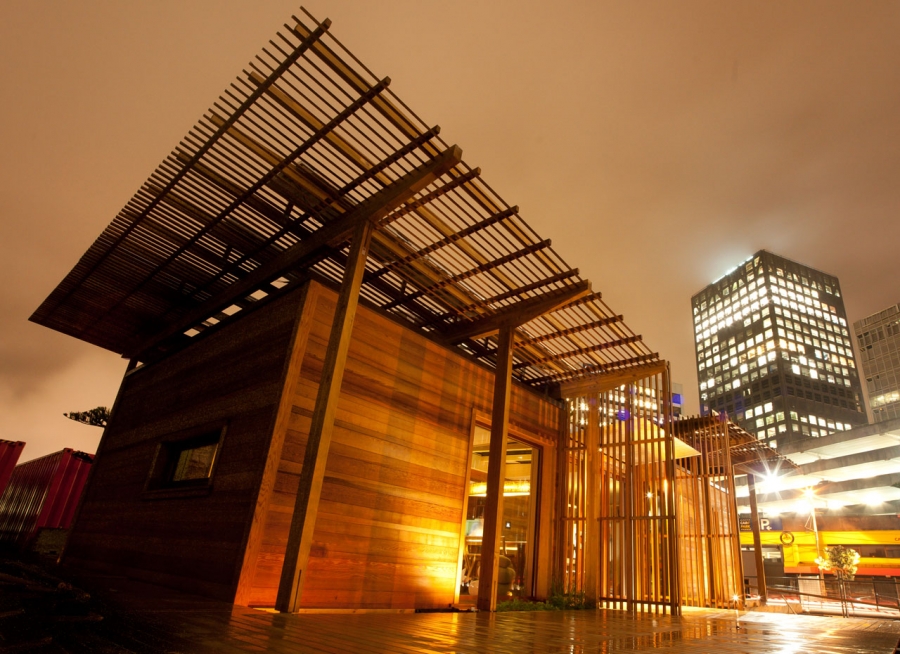 First Light is a modern reinterpretation of the the Kiwi bach, a traditional mid-20th century New Zealand holiday home. These modest retreats, usually located near the beach, were sustainable before it was a trend as they were often comprised of collections of recycled building components. "We felt that a big part of 'bach culture' is a sense of adventure and a connection with the surrounding environment — in a land that we wanted to express as uniquely New Zealand," explains team member and M. Arch candidate Eli Nuttall. To that end, the team specified natural and low-maintenance materials, such as western red cedar cladding and recycled sheep's wool insulation, and relied on passive design strategies to keep occupants comfortable. They designed the layout of the home to allow owners to comfortably entertain multiple guests year-round in spaces with strong connections to the outdoors.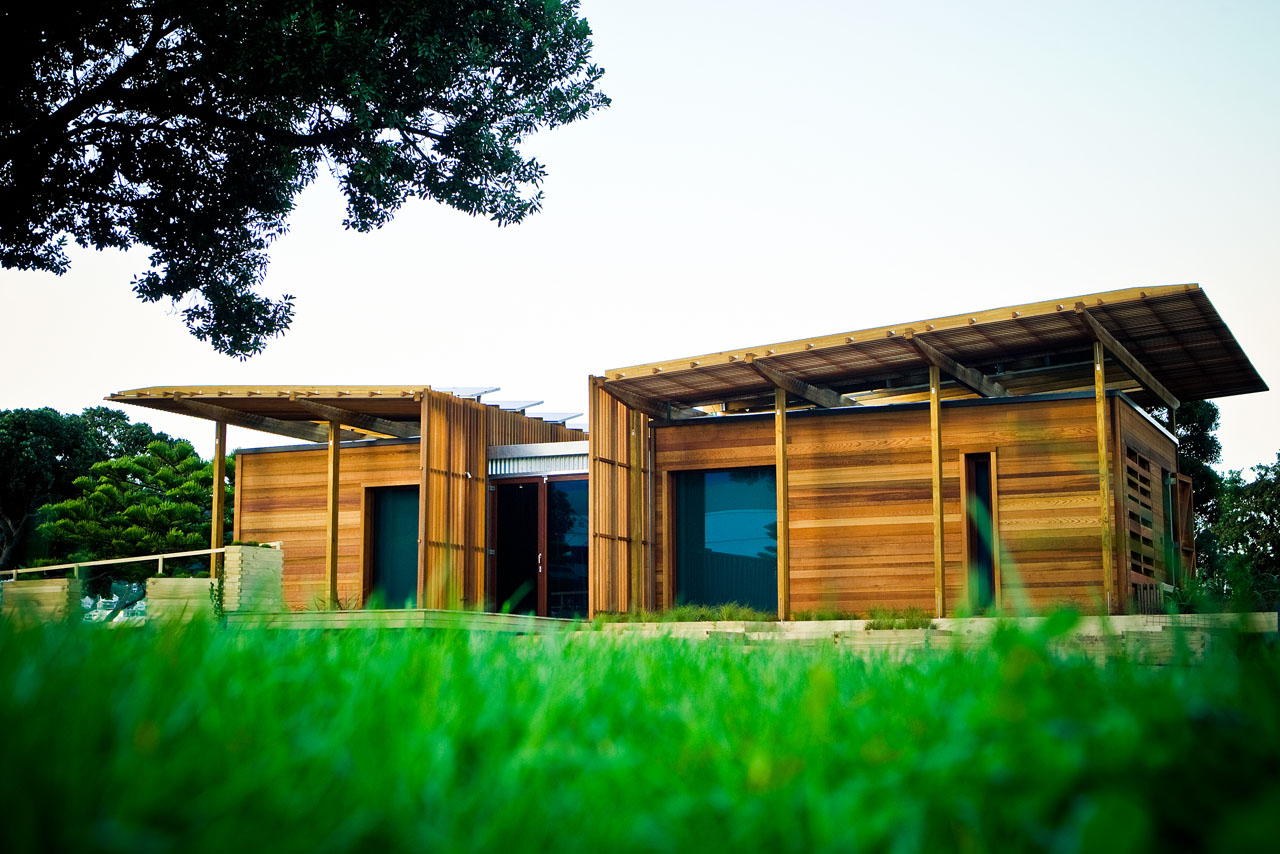 A deck bisects the center of the house, bridging public and private interior spaces. The central space, which is protected from the elements but embraces the outdoors, serves as the focal point and heart of the house, where occupants cook, dine, and socialize. It is lined with low-e triple-glazed windows and features a skylight with an automated roller blind to maximize and mitigate natural light. Two bi-fold doors allow for ventilation and allow the space to completely open up to the exterior deck. As a supplement to these passive strategies, solar panels are mounted on a cedar canopy atop the home's defining split butterfly roofline to provide power and hot water.
"There is a lot of demand out there for this sort of thing and we hope to continue our creative involvement in this field." Eli Nuttall, M. Arch candidate
Though First Light is modeled on a vacation home, it was intended as a permanent residence for a couple. It was recently sold at an auction, and following Solar Decathlon 2011, it will return to New Zealand and its new owners. The student team, along with Victoria University, are exploring commercial opportunities as a result of the project, according to Nuttall: "There is a lot of demand out there for this sort of thing and we hope to continue our creative involvement in this field."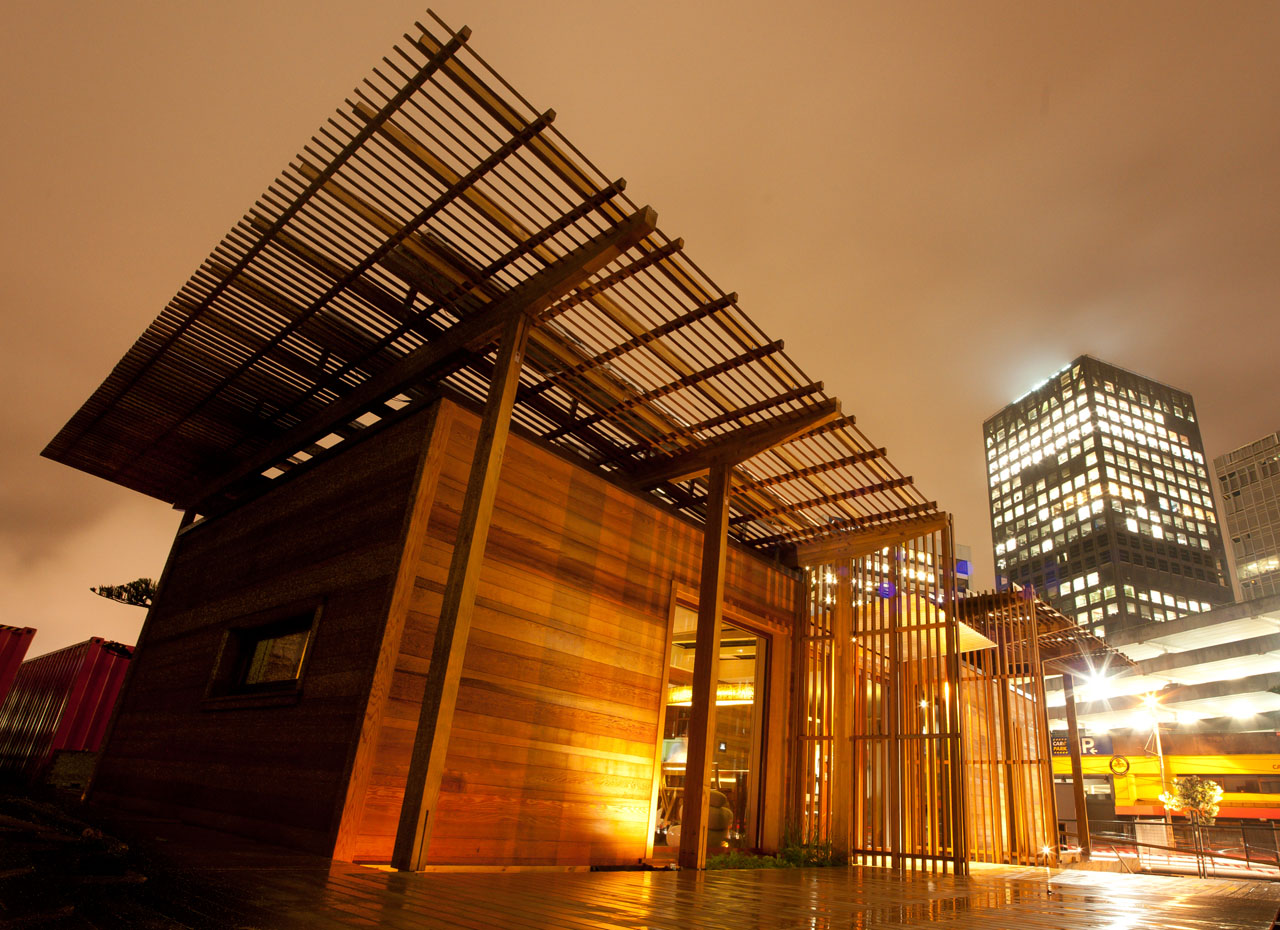 Murrye is a freelance writer based in New York City. She holds a Bachelor's degree in Architecture from the University of Arkansas and is a LEED-accredited professional. Her work has been published in Architectural Record, Eco-Structure, and Architectural Lighting, among others. She also serves as a contributing editor for the American Institute of Architects' New York Chapter publication, eOculus.
Website: www.murrye.com
Latest from Murrye Bernard