A (BIM) Model for Space Savings
What if your firm could help your clients to increase their net income by 4%?
It may seem hard to believe, but simply documenting how your clients will use space in their buildings is a critical input into space management. Proper management of space and occupancy can equate to dramatic, bottom-line savings for your clients.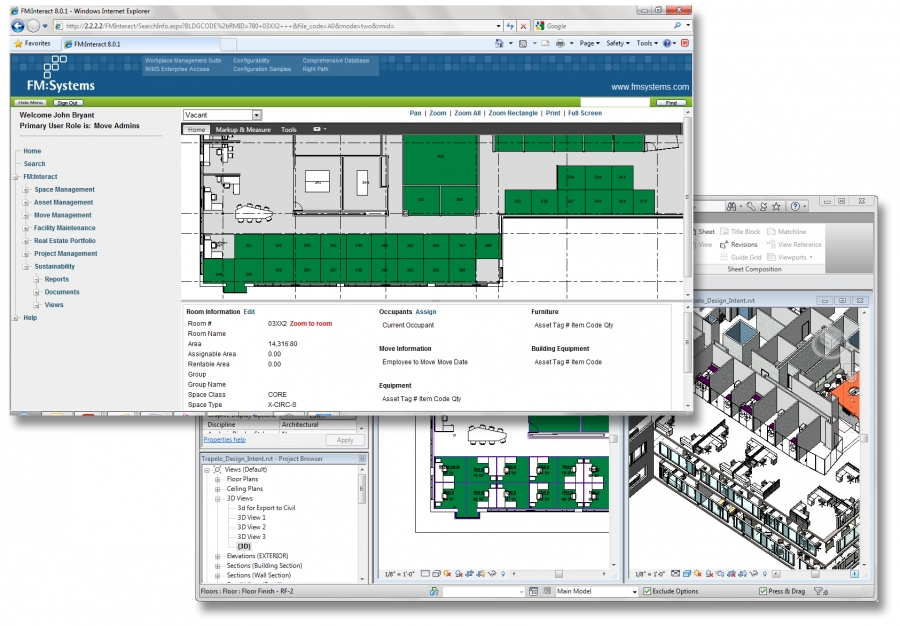 The Business Case for Space Savings
AEC professionals know that building owners commit significant capital to new construction and major projects, but do they realize that first costs of a building are only a fraction of the life cycle cost of a property? According to the International Journal of Facility Management, design and construction costs account for just 5%-10% of the full life cycle cost of a building (read the full report here). What's more, real estate and facilities costs typically represent the second largest expense for most organizations (behind personnel). What does a problem of this scale mean? With the proper tools, policies, and processes for management of space, a global technology firm was able to right-size its portfolio, resulting in $60 million in recurring annual savings.
So how does this work? Organizations with mid-size to large property portfolios may have difficulty keeping track of how much space they have and how they're using it. Not only are their buildings constantly changing with reconfiguration of space, but their organizations are changing, too, with new business initiatives or reorganizations resulting in thousands of personnel moves every year. Last but not least, mergers and acquisitions require integration of real estate portfolios -- and often result in excess space.
With detailed information about the amount and type(s) of space, space planners uncover opportunities to consolidate operations and dispose of unnecessary space, eliminating costly rent and operating expenses associated with the space. Even if a property can't be disposed, simply decommissioning excess space can reduce operating costs.
Building BIM Models for Space Savings
How can you and your BIM models help? First and foremost, it's critical that you understand your client's business operations. In terms of portfolio composition, some organizations carry more office space than others, but almost all organizations have a need to accommodate office-based work. Knowing your customers' policies and processes for tracking space will help you create BIM models that support space planning and management.
You can model rooms and areas in your models in a number of ways:
Space Classification: Planners classify space to understand how it is used -- identifying work space for personnel, meeting areas, circulation, etc. An example of how planners use space types to optimize space is looking at ratios of support space to personnel space to benchmark their facilities.
Space Standards: Planners use space standards to ensure that occupants get the right spaces for their job functions and to simplify configuration. One organization realized that, with a high percentage of contract workers in their building's population, they could eliminate much of the filing and other desk space typically required. Contract workers simply needed a place to sit with their laptops and coffee. By creating a new space standard with higher density, the facilities team was able to defer the construction of a new building on campus -- avoiding a $40 million capital expenditure.
Area Measurement Standards: Accurate and consistent area measurement is a fundamental of good space planning. For example, without accurate area measurement, analysis of occupant density is impossible. Understand the area measurement rules for the standard your client uses (BOMA, IFMA, FICM, RICS, etc.) and model rooms and areas accordingly.
Departmental Allocations and Space Chargebacks: Allocating space to groups has been a key driver of value for space management. Space chargebacks (essentially internal "rents" charged to the department using the space) place the cost of space into the operating budgets of the departmental managers. This incentivizes managers to return space to facilities so that space can be reallocated and used to meet the needs of other groups.
Occupancy: Managing occupancy -- or knowing "who sits where" -- is another key driver of value. The facilities and real estate team for an international energy company was tasked by management to determine whether additional space was needed in their headquarter's office tower. With detailed knowledge of current occupancy and the ability to forecast future space requirements, the VP of real estate was able to say with confidence that they did not need to exercise the expansion option for their lease -- saving the company $1.5 million with that one decision.
As you can see, detailed spatial models of a building can play a key role in helping space planners to optimize space use. As a BIM specialist, you can help by making sure that you're modeling the spatial configuration to properly capture every space in the building. Start today! Talk to your clients and learn how your firm can use BIM to help them drive down real estate costs.

As VP of Product Management and Strategic Alliances, Marty helps FM:Systems better understand the needs of its customers and bring new products to market. Marty's current focus is the convergence of BIM and the operation of sustainable, cost-efficient buildings. Key activities include leading the FM-BIM Working Group and conducting customer and market research on the application of BIM models and data in the operational phase of the building lifecycle.
Latest from Marty Chobot