Green Homes vs Traditional Homes
In recent years, the U.S. home building industry has undoubtedly seen its troubles. The downturn in the economy has forced many builders to rethink how they approach their market now that it is much smaller. In many cases those builders have chosen to address the increasing demand for green homes. By offering green homes, many builders are now meeting their customers' needs for energy- and water-efficient homes with a healthier environment and financial benefits. What once was a niche can now be seen as mainstream. According to the United States Green Building Council, their LEED for Homes program has certified 10,000 homes since it started in 2008. This sounds very impressive, but what is a green home, and what are the benefits compared to a traditional home?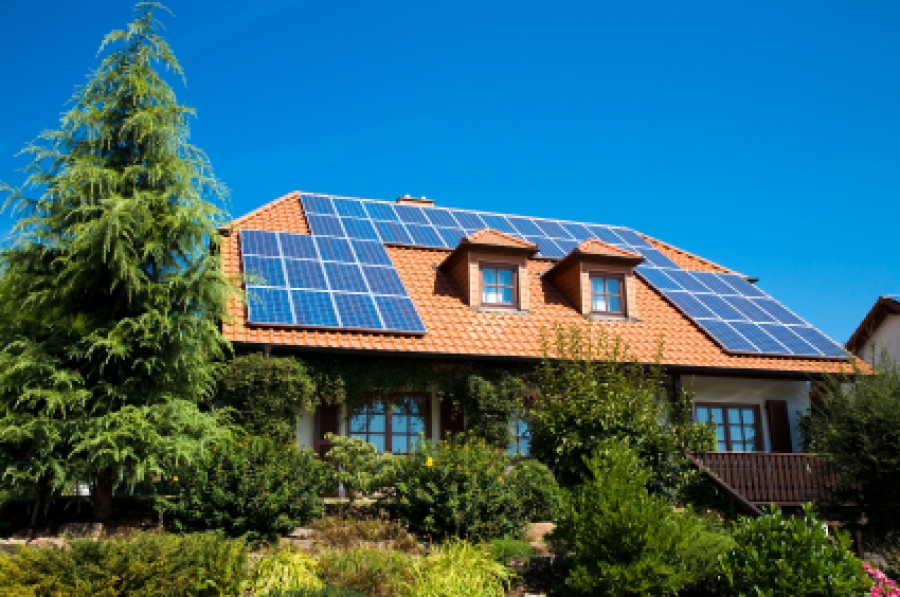 Third-Party Verification
One of the most important things to look for in a green home is third-party verification. Unfortunately, many builders falsely classify the homes that they offer as green. Much like an inspector is trusted to give a third-party opinion on a home's condition, third-party verification programs are trusted to qualify the home as truly green. The most popular of these programs is the above-mentioned USGBC's LEED for Homes certification program. For the most part, LEED for Homes is the most comprehensive of third-party verifications, covering every aspect of a green building. In addition to LEED for Homes, the Environmental Protection Agency (EPA) and the U.S. Department of Energy (DOE) provide the Energy Star rating system. This verification program focuses mostly on energy efficiency, which is a key part of green buildings. Finally, third-party verification programs at many local levels can be influential in buying or building a green home.
Key Features
The features of a green home can be hard to identify for most home buyers and home builders. According to "Choosing Green" by Jerry Yudelson, any green home has five key components: sustainable site and location, water conservation, energy conservation, materials, and indoor environmental quality.
Financial Benefits
Many studies have shown that green building can be achieved at little to no additional cost, but that does not tell the entire financial story of a green home. The most efficient way to analyze the financial benefits would be to look at both the cost premium and the savings associated with that premium, for each feature of a green home.
Sustainable Site and Location: It is very hard to identify any type of cost premium or savings directly attributed to using this feature to build green.

Water Conservation: A newly constructed home can implement products with the WaterSense label at no additional costs and achieve a water savings of 20% when including the water heater savings and the water itself.

Energy Conservation: Energy conservation is definitely the most intensive when it comes to cost premiums for implementation. However, it also has the largest potential for savings. Minimum savings can be achieved at no additional cost by pursuing passive design strategies. The next step up from passive design in the level of green (and ultimately the level of savings) would be implementing advanced building envelope materials, like structural insulated panels (SIPs). SIPs can be installed for approximately $2 per linear foot of exterior wall. That equals a total premium of less than $500 for a typical one-story home, which will bring an energy savings of 50%. According to the DOE, the average annual energy expense for a single family home is $2,200. So SIPs can save up to $1,100 per year. To reach the savings associated with a net-zero energy home, renewable energy would have to be implemented on top of the other features. A geothermal energy system could achieve this goal with a cost premium of approximately $7 per square foot, while a photovoltaic system (solar) would require up to a $25,000 total premium.

Materials: Choosing materials is always a matter of preference and taste. Green products are available at every quality level and at prices comparable to their non-green counterparts. For that reason, no cost premium is associated with the materials chosen for purchase. However, choosing recycled and reused products can save money.

Indoor Environmental Quality: Non-toxic materials can often be purchased at no premium, and ventilation and lighting can typically by increased through smart design. The financial benefits here are difficult to assess.
As you can see, green homes are a great alternative to conventional home building in every application. The finished product offers increased health, energy and water savings, a higher standard of living, and numerous financial benefits. Often a green home can even result in local real estate tax savings. Certainly, as green homes continue to take shape, their competitive advantage will be clear and traditional home building will become a thing of the past.

Michael Tolson is an entrepreneur focusing on "green" real estate development in Toledo, OH and surrounding areas. He currently owns Tolson Construction, and The Tolson Development Company. In an attempt to further drive businesses, Michael has completed an Executive MBA and a Graduate Specialization in finance from the University of Toledo. His companies focus on commercial and residential buildings using the United States Green Building Council's LEED rating system. With this in mind, Michael has earned his LEED Accredited Professional designation.
Latest from Michael Tolson MBA, LEED AP