Winter's extreme temperatures and excess moisture can be rough on not only the exterior, but also the interior, of your home.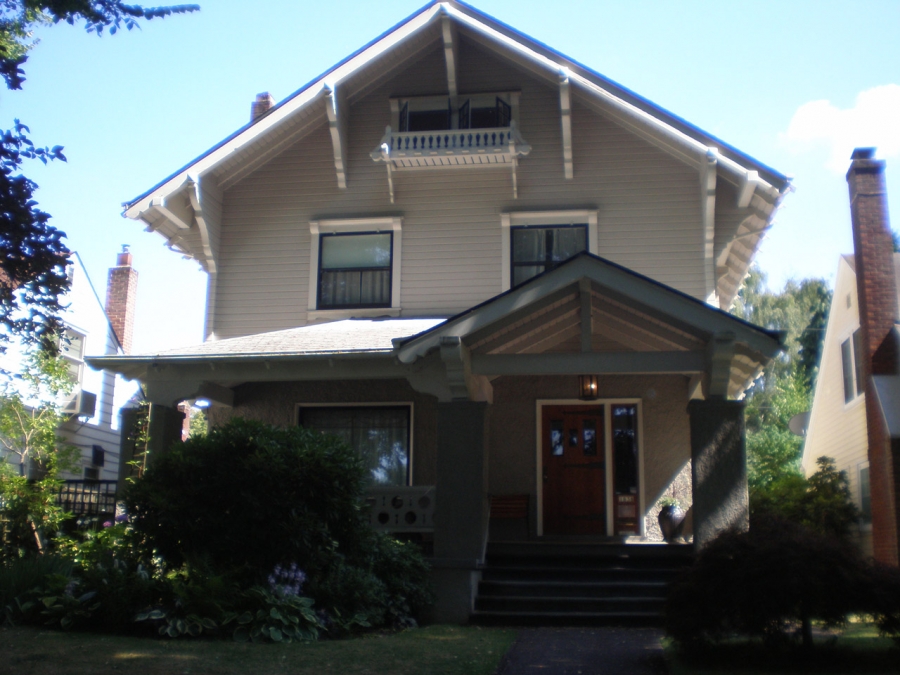 High winds, snow, and heavy rain can damage the exterior, while freezing moisture can damage pipes and cause leaks throughout the home.
According to Todd Schmidt, president of Renovations Unlimited, one of the biggest culprits to home damage in the spring is water. "Basically you've gone through winter with all the freezing and thawing," Schmidt said, explaining that costly problems will arise throughout the home if regular maintenance is not completed. The following list can help you to take a proactive approach to spring home maintenance and to avoid serious issues in the long run.
Repair damaged exterior. Spring is the best time to check the exterior of your home for damage that may have resulted from extreme winter weather and to plan for maintenance projects that can be completed in the approaching warmer months. Look for and repair any peeling paint, and check roof shingles for any damage. Damaged shingles should be repaired or replaced right away, because high winds that often come in spring months could do further, more expensive, damage if left in poor condition.

Check downspouts and gutters. Although Schmidt recommends cleaning gutters, downspouts, and drain tiles in the fall, it's still important to make sure "everything is clear so the lines will keep flowing" in the spring, Schmidt said. "Some trees, like oak trees, don't lose their leaves until late in the fall or early winter, so the leaves can still get clogged in the winter. When weather permits, in the spring, follow up and make sure there's nothing in the gutters and downspouts." Also make sure gutters drain properly and route water away from the home.

Replace filters. Check filters on all HVAC equipment, including your air conditioner and dehumidifier, and replace, if necessary.

Guard against varmints. Look for signs of roaches, termites, bats, and rodents in your garage and yard and deal with them appropriately. If left unchecked, these animals can significantly damage the infrastructure and finishes of your home.

Check your sump pump. "Most people never think to check their sump pump," Schmidt said. "It's one of those things that you don't really know it's not working until it quits. In the spring, you have a lot of thawing and April showers, and that's when your sump pump will tend to get a big workout." Most sump pumps last between three and five years, according to Schmidt, but depending on individual use, the pump could last a lot longer or have a shorter life, so homeowners should consider their use and adjust their maintenance schedule accordingly. Schmidt said some security systems also include float switches, which can be installed in sub pits and alert home owners when the sump pump malfunctions.

Clean. Clean dehumidifiers, fans, dryer vents, air conditioner coils, and drain pans. Also be sure to clean all chimneys, if applicable.

Look for leaks. Melting snow and rain make spring the optimal time of year to check for leaks throughout the home, because the moisture makes leaking areas easier to spot. Start in the attic to check for signs of a leaky roof. Then work your way down, checking all windows and door sills, and look for signs of leaks, such as puddles, in the basement. If you have a deck, be sure to also look for excess moisture where the deck attaches to the house. Lastly, check drains for possible leaks throughout the season.

Check operation. Open, shut and lock all windows and doors to ensure that they are working properly. Test fixtures, such as kitchen and bath fans, to make sure they are working properly. Also, check operation of dehumidifier and air conditioner.

Test electrical equipment. Check all electrical equipment, such as maintenance tools, for damaged cords. All smoke and CO alarms should be tested as well. However, no alarm should be kept for more than 10 years, so make note of the purchase date of all alarm systems, and replace at least every 10 years, even if still operational.
In addition to the aforementioned action items, homeowners can prepare their home for spring prior to the season's arrival. "A lot of what people think of as [spring maintenance] should really be done in the fall going into winter, like blowing out your sprinkler system to prevent freezing," Schmidt said. Schmidt also advices that home owners take a proactive approach to home maintenance in general to avoid bigger problems down the line. "If it's too old, go ahead and get it replaced," Schmidt said.

J. Mariah Brown is a technical research writer and the owner of Writings by Design, a comprehensive business writing service company that specializes in business development, promotion, and client outreach. She has worked in a variety of technical and non-technical industries including, but not limited to, Government, Non-Profit, Engineering, Translation and Interpretation, Christian and Women's Publications, and Fashion and Beauty. She is a graduate of the prestigious E.W. Scripps School of Journalism at Ohio University and is currently pursuing a master's degree from Gonzaga University in Communication and Organizational Leadership.
Latest from J. Mariah Brown