Which kind of countertop should you get? Our guide will help you to decide which of today's most popular countertop materials will best work for your style, budget, and habits.
If you have walked through your local home improvement store's showroom lately, you have probably noticed how many countertop options are available. Whether you are interested in durability and low maintenance or are in search of design flexibility, there is a material for you. Prior to making a purchase, you should be aware of each material's attributes to ensure that it will meet your needs.
Concrete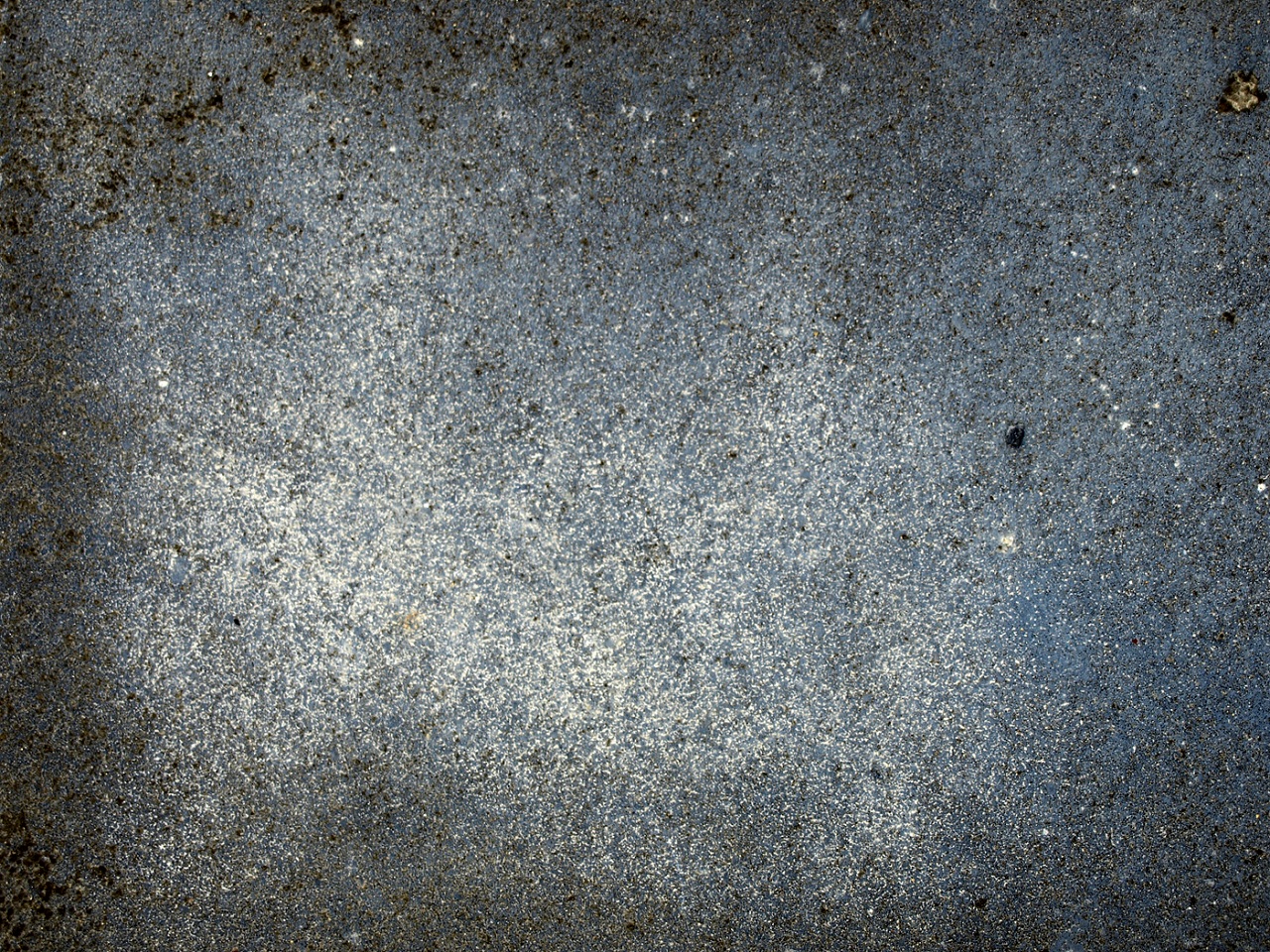 Concrete is a hard and durable countertop material that is both heat- and scratch-resistant. A wide variety of colors, textures, and finishes are obtainable through multiple stains, pigments, aggregates, and coatings. Concrete countertops can be pressed, troweled, or ground to customize the surface finish, and they can be polished to mimic quarried stone.
Concrete countertops are either precast (cast off site and shipped ready to install) or cast on site. Size is limited only by shipping restrictions and manpower during installation (a 10 square foot concrete countertop can weigh as much as 200 pounds). Typically, concrete countertops are between 1 1/2" and 2" thick. (Thickness varies depending on the desired appearance and application.) Also, custom fabrication allows for material inlays such as drain boards, cutting boards, and glass, among others.
If not properly maintained and sealed regularly, concrete will get stained due to its porous properties. Although concrete countertops are resistant to heat, it is recommended that a heat pad be used to eliminate any possibility of discoloration. Also, over time, hairline cracks can develop. Concrete countertops are priced similarly to solid surface countertops. Learn more about concrete countertops.
Metal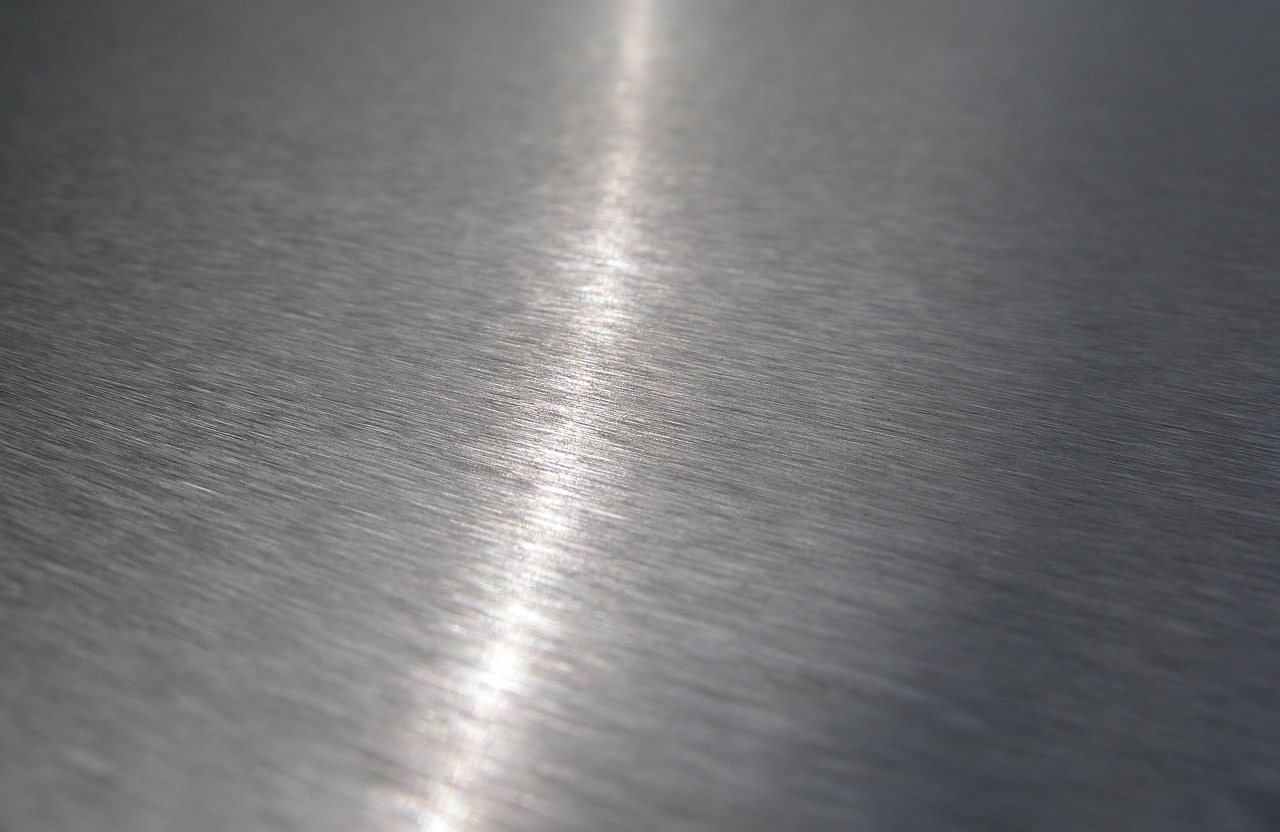 Commonly found in restaurants, metal countertops are experiencing a renewed popularity in residential kitchens. Metal countertops are nonporous and, as a whole, are resistant to heat, not susceptible to scratching, and have excellent hygienic properties. Depending on the material (stainless steel, copper, zinc, and nickel), options selected (backsplash, how the sink is mounted, etc.), and size, metal countertops may cost anywhere between $75 and $200 a square foot.
Stainless steel countertops, which are the most popular, are low-maintenance, durable, and easy to clean and have a long lifespan. They have a consistent finish that is resistant to staining and does not corrode as easily as other metals. Stainless steel countertops (typically 16-gauge material in residential applications) are fabricated on site from templates and glued to the substrate. As with all metals, a thicker gauge will allow for a quieter and more durable surface.
Stainless steel countertops can have a glossy or dull appearance with random grain and brushed finishes. Brushed finishes are the most common because they show less wear and fewer fingerprints. Drawbacks of stainless steel countertops include fingerprints showing until the surface wears, as well as susceptibility to denting.
Plastic Laminate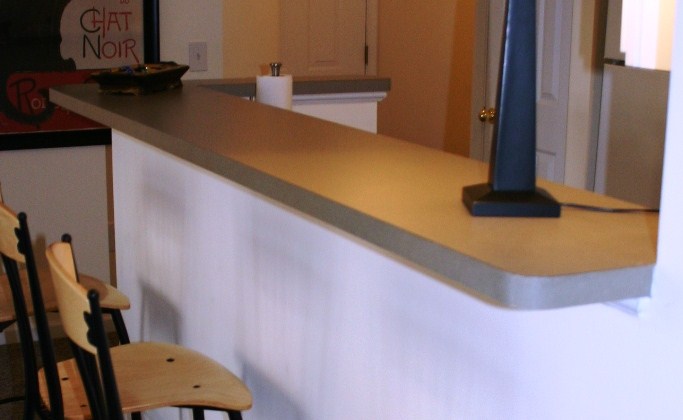 Plastic laminate countertops are both impact- and bacteria-resistant. Sharp objects can damage the surface in ways that are not repairable. Although the surface is waterproof, the installation seams are susceptible to water penetration that could damage the substrate. Plastic laminates should be protected from heat and chemicals, as they may cause surface damage and/or delamination. Although plastic laminate countertops are low-maintenance and highly stain-resistant, any stains (such as those from dyes and pharmaceutical products) are non-removable and should be avoided.
Plastic laminate countertops are an economical solution and are readily available through material suppliers and home improvement stores. Learn more about plastic laminate countertops.
Solid Surface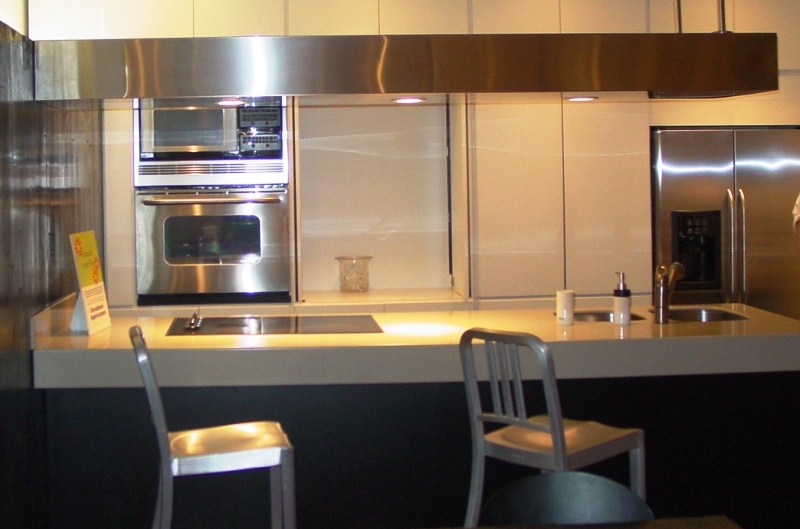 Solid surface countertops, Corian being the most widely known, are available in several solid colors, in pattern and veining combinations that resemble marble and stone, and in translucent options. They are nonporous and offer resistance to scratching, stains, chemicals, and bacteria. During installation, the seams are sanded and virtually disappear. Because solid surface countertops are a solid color throughout, minor scratches and chips can be removed through sanding. Machined edge detail options include setback, profiled, built-up with similar color, and inlaid. Finishes include matte/satin, semi-gloss, and high-gloss.
Manufacturers of solid surface countertops commonly offer either a 10- or 15-year warranty. Although solid surface countertops are repairable, cutting should be done on a cutting board, spills should be cleaned up immediately, and hot items should not be set directly on the surface.
Solid surface countertops are priced competitively with quartz and natural stone and are readily available through material suppliers and home improvement stores. Learn more about solid surface countertops.
Stone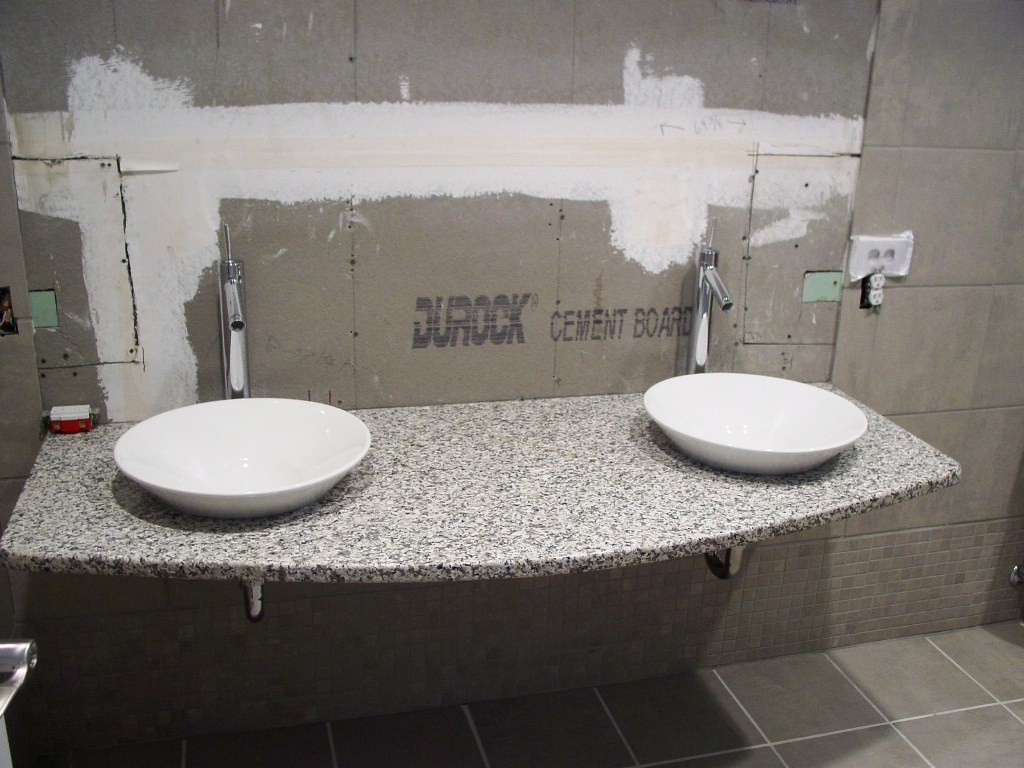 Natural stone countertops offer a variety of aesthetically unique design options and are available in several thicknesses, with multiple edge details. Granite, which is the most popular, is available in a variety of colors and veining patterns, is durable, and is both heat- and scratch-resistant. However, granite is a porous material that is susceptible to staining, especially when in contact with oil. To prevent staining, a sealant should be applied once a year.
Soapstone, which is another stone countertop option, has better stain-resistance than granite but not as many color options. Due to soapstone being a soft and extremely dense material, scratches can be repaired through sanding. Also, because soapstone is a nonporous material, it does not absorb stains. This leads to easy clean-up and low maintenance. Another stone countertop option is slate. Slate is not as durable as granite, leading to the possibility of chipping and/or cracking, but it offers slightly more color options than soapstone. It is recommended that cutting should be done on a board to prevent scratching. If scratches do occur they can be buffed out. Slate is a nonporous material and does not require sealing. Because slate can lose its original luster over time, polishing should be performed to restore the surface. Marble is another stone countertop option, and it offers a smooth surface that is ideal for working with dough and baking. It is not as durable as granite and is susceptible to staining, especially when exposed to acidic foods.
Wood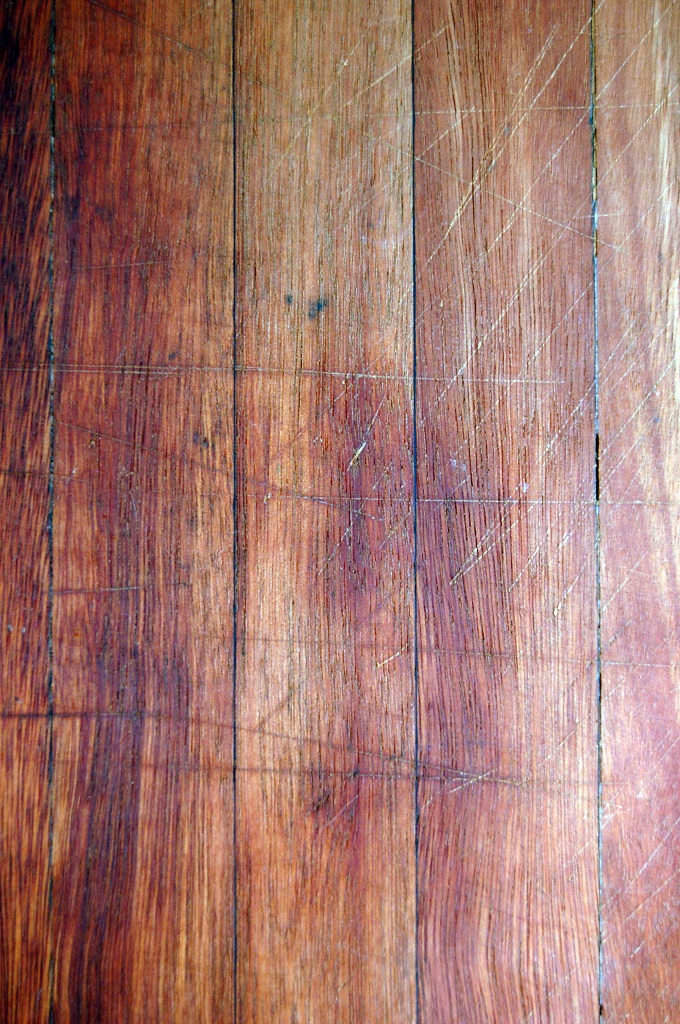 Wood has a warm, natural beauty; is rich with texture; and is naturally hygienic. The inherent properties of wood protect against bacteria that are common to food preparation areas. Wood countertops can be divided into two categories: decorative and functional. In comparison to other countertop materials, wood costs more than plastic laminate and, generally, less than granite and solid surface.
Decorative wood countertops are purely aesthetic, requiring cutting board protection during use. Face-grained planks are typically laid parallel to one another and adhered together to form the surface. This method of construction reveals the wood species' natural grain; treatment with oil serves to protect the countertop and provide a glossy finish.
Functional wood countertops, also referred to as butcher block countertops, are durable and can be used during food preparation. Available in a variety of thicknesses and shapes, functional wood countertops are commonly between 1 1/4" and 6" thick. In most cases, functional wood countertops are stained to reveal the natural beauty of wood; however, they can also be painted in virtually any color. Scratches and other signs of wear can be sanded and repaired.
Because wood is a porous material, it is prone to water damage. These countertops must be properly sealed when intended for use around a sink or other source of water. Wood countertops are susceptible to staining if not properly sealed and, in comparison to other common countertop materials, are harder to clean.
Ceramic Tile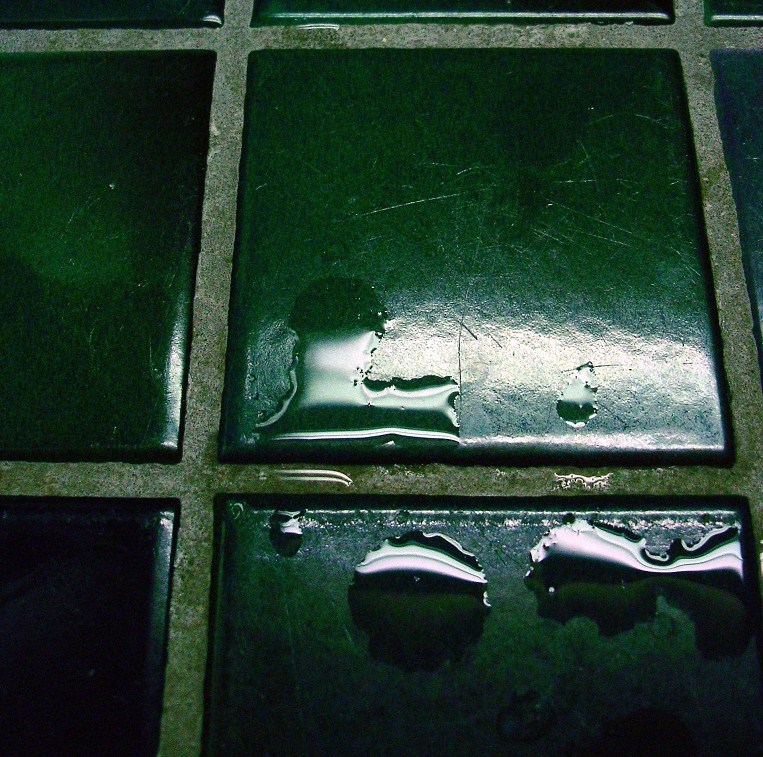 Ceramic tile countertops offer a large variety of color, pattern, texture, and size options. Advantages include durability, heat resistance, and design flexibility. Repairs are also relatively easy. If a tile breaks it can be removed and replaced with a new one without affecting the whole surface. A major drawback of tile countertops is that the grout is susceptible to staining. The surface needs to be sealed to achieve any level of stain resistance. Also, cutting boards will need to be used during food preparation due to the uneven tile surface.

The Buildipedia research and writing staff consists of dozens of experienced professionals from many sectors of the industry, including architects, designers, contractors, and engineers.
Website: buildipedia.com/
Latest from Buildipedia Staff