Talking About Outdoor Kitchens
The trends sweeping the American architectural front include a great shift to the outdoors. Among outdoor living spaces, the one idea that has gained incredible popularity is the outdoor kitchen. With sweltering heat waves oppressing the nation, Americans want to perform their cooktop operations alongside their grilling in the great wide open. With the housing market still in decline, homeowners are also looking for ways to increase property values and stay content with staying put. We talked with interior designer Joshua Ingraham of Joshua Ingraham Design, who offered some of his best advice for effectively and efficiently incorporating an outdoor kitchen into your home.
Embrace Simplicity
As the old adage goes, "Less is more." Ingraham agrees with this philosophy wholeheartedly when it comes to designing an outdoor kitchen. "A lot of the time people tend to go overboard and get very excited about the outdoor space," he says, "but you really only need the essentials. Make a list of what you're actually going to use those things for, and supply that space only with what is necessary. Don't get caught up in extra side burners, refrigerators, if you're not going to use them -- it's a waste of money," Ingraham says. "It's really important to know what you want and what you're going to use beforehand, and plan properly." Understanding your needs and personality is vital to creating a space that works for you and doesn't put unnecessary stress on your budget. He does point out, however, that as far as appliances go, you get what you pay for. The more you spend, the longer it will last.
Mind your Materials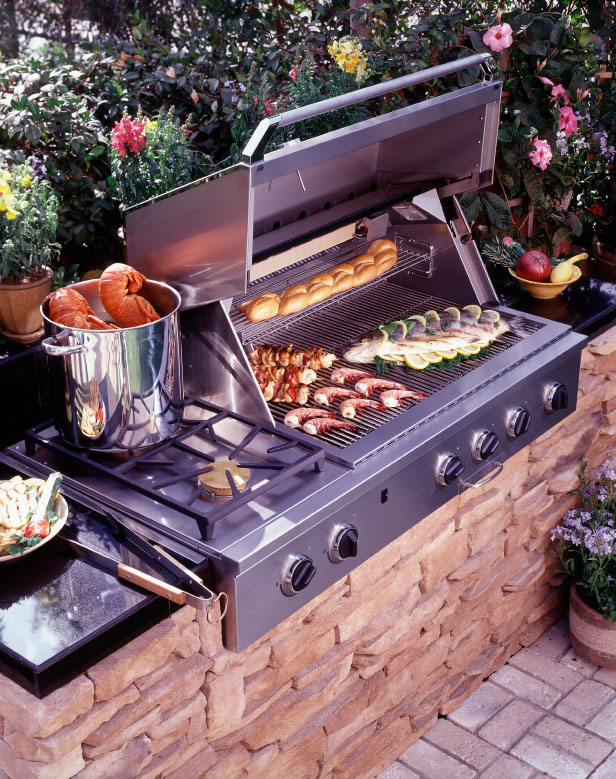 Planning is essential when designing an outdoor kitchen, and Ingraham stresses the importance of finding the appropriate cabinetry, countertops, and flooring. "A big thing that I run into is people selecting materials that are not meant for outdoor space," he explains. "There is a whole line of materials that are made primarily for outdoors, the weather, the elements. A lot of people cut corners on the budget, thinking they are buying something cheaper, and end up putting something outdoors that isn't meant to be outdoors. Then they end up having to replace it next year, and it ends up being so much more expensive." He recommends sticking with natural products, marble and granite being his top choices for countertops.
For cabinetry, Ingraham recommends Marine Board -- which is exactly what it sounds like. "It is what boats are made of," he explains. "You can have it completely customized to its size, shape, and color. They make for a very chic and fancy look when done right. It's meant to get wet. It's meant to have snow on it, have heat on it. It's meant to be in the sun. It's meant to be wiped off with Windex and it lasts for years." For flooring, he suggests concrete. "Usually we're building a new structure, so a new foundation has to be poured. And so instead of pouring the foundation and then laying wood floor or slate floor or something typical of an outdoor space, I tend to leave the foundation exposed, then stamp a pattern, or score a large tile pattern, and paint it a color," Ingraham says. He points out the incredible durability of concrete and its versatility, which make it perfect for outdoor spaces.
Consider your Climate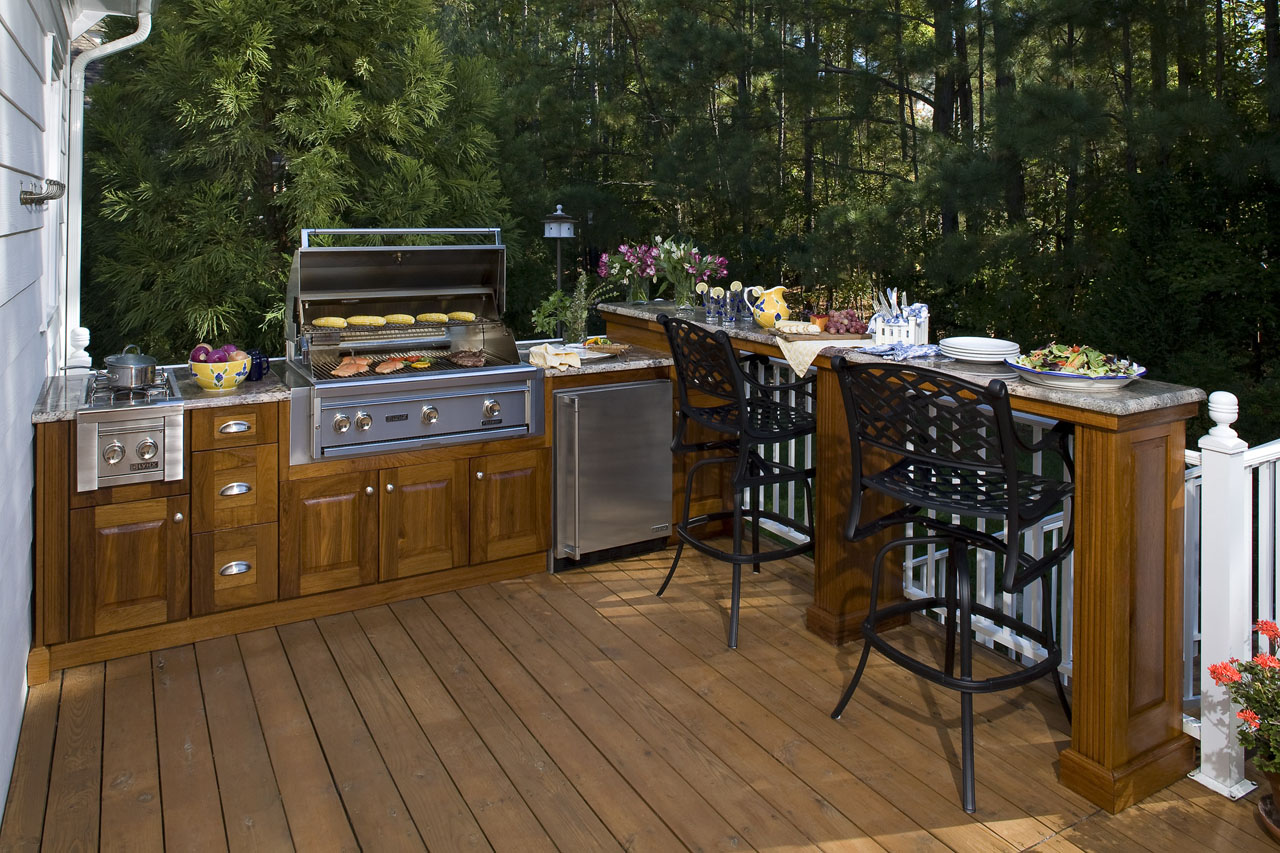 When you will be able to use your outdoor kitchen will depend on the climate in your area. Warmer areas obviously have it easier, and residents of mild climates can use their outdoor kitchens all year. Those of us up north, however, needn't be forced indoors in any but one season. "If you know your climate, then you can get creative with what you want out of your space, and make just about anything work," Ingraham says. He mentions installing fans, heating systems, or even heated flooring in your outdoor kitchen to extend the amount of time you can use it. He also points out that timing is incredibly important when it comes to planning and creating your outdoor kitchen. "I have a lot of clients who come to me once the weather is warm and say, 'Oh, it would be nice to have an outdoor space.' Which is great, but it takes all summer to build that outdoor space. We spend all summer doing it, and then there is no time to really enjoy it," Ingraham explains. "If you know you're going to do it, or you think you may, it's best to start it a few months prior to summer starting, because it can take from 3 to 6 months to actually get up and running." Although we can't predict the weather with complete accuracy, preparing for it will help us enjoy our outdoor kitchens longer.
Maintain Consistency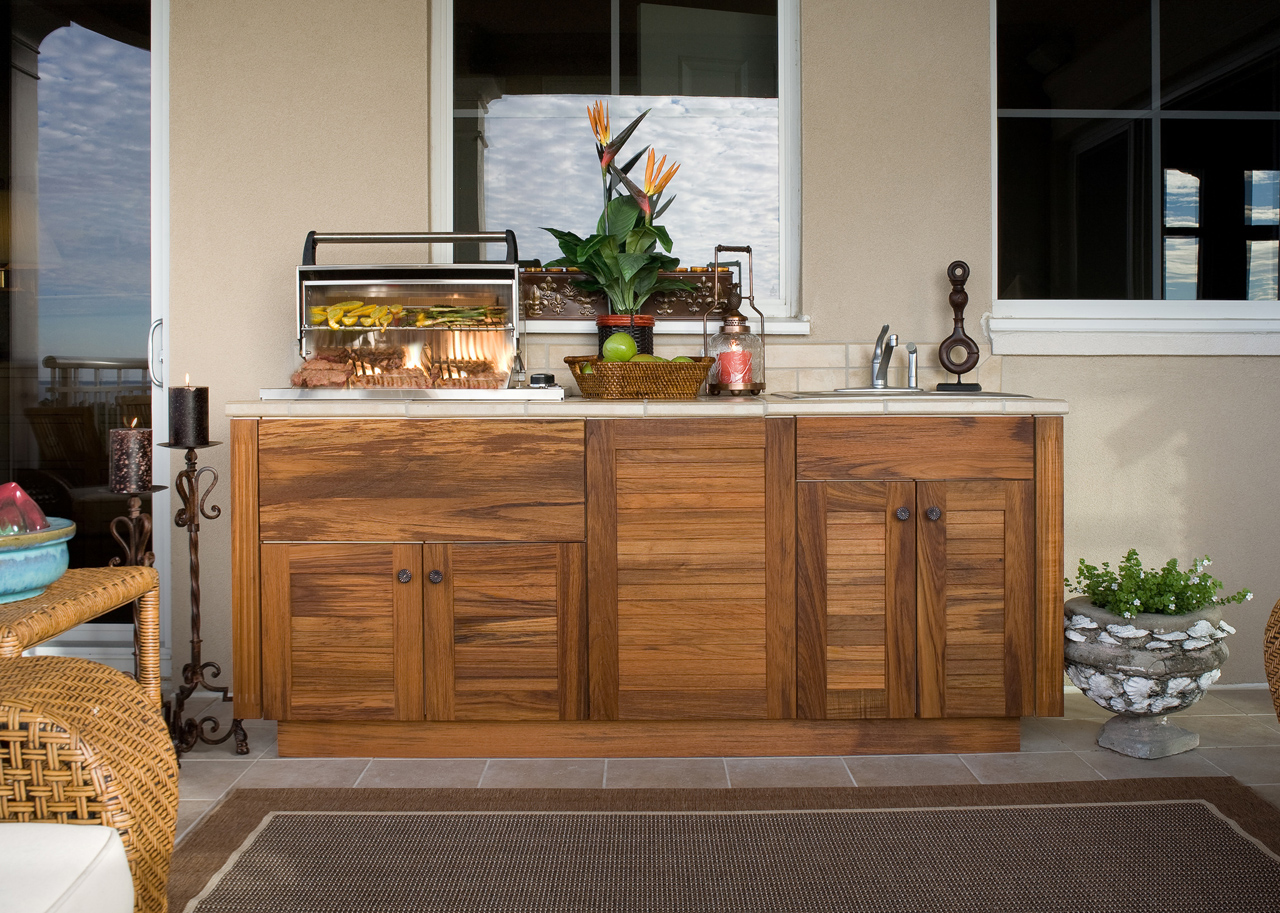 If you're moving beyond the basic grilling pad in your backyard, you may consider building a whole new structure for your outdoor kitchen. "With any permanent structure, unless you know this is the house you are going to spend the rest of your life in and you will not move, make sure to make it consistent with the architecture of the rest of the house," Ingraham says. "Don't make it any bigger than the original house, or a whole different style. You want to get your resale value out of it. And so many people get into this love affair with an outdoor idea that they have, and you have to kind of fight the urge. When speaking of outside space, resale value is one of the issues that you should really pay attention to because it is an add-on to your house. It becomes part of the architecture, and you can take a few steps back if you don't do it properly. Take your neighbors into consideration. It is your space, but you're not the only one that will be looking at it." Finally, the existing structure should be consistent with your new outdoor kitchen because you want it to feel like a part of your home.
Consult a Professional
As most experienced designers and architects will tell you, performing renovations alone is not the best idea. "My biggest piece of advice I give to clients is always to seek the help of professionals," Ingraham says. "Because it is outdoor, the outdoor kitchen does have to be permanent, needs to be drawn up and planned properly, and there are experts out there for a reason. So many times people attack it on their own and they get in over their head, then the budget expands, and they're never happy when that happens. Most people who are going to put the chunk of change down to do one of these outdoor kitchens want it to look good, and they have to remember they have to look at it for the next 20 years probably. Even if you don't hire an interior designer, go to your local kitchen store -- many will provide services. You just go and you can order your cabinets from them, your countertops, and your appliances. They'll set up the whole blueprint and help walk you through it with the professional side. It makes a world of difference." Proper planning is the key to efficiency and avoiding costly mistakes.

Tara is a freelance writer currently pursuing a Master of Urban Planning, Development, and Design at Cleveland State University. Her writing has covered a wide breadth of topics, but she particularly enjoys meaningful work concerning community development, sustainability, and design. Her articles, blogs, and musings have been featured in various online and print publications, and she hopes her words will inspire creativity and innovation as we work toward social and structural change.
Website: tarasturm.com/
Latest from Tara D Sturm