Metal decking is used in a wide variety of commercial and industrial applications. It includes steel roof and floor decking, aluminum floor decking, and acoustical metal decking. Metal decking typically has a ribbed or corrugated profile that is achieved through a process called roll forming. Large sheets of metal are pulled off of rolls and led through rolling dies that create the ribbed profile. Metal decking is used for flooring and roofing and also for the creation of forms for concrete. Metal decking is installed by using screws or pneumatically driven pins and can also be welded.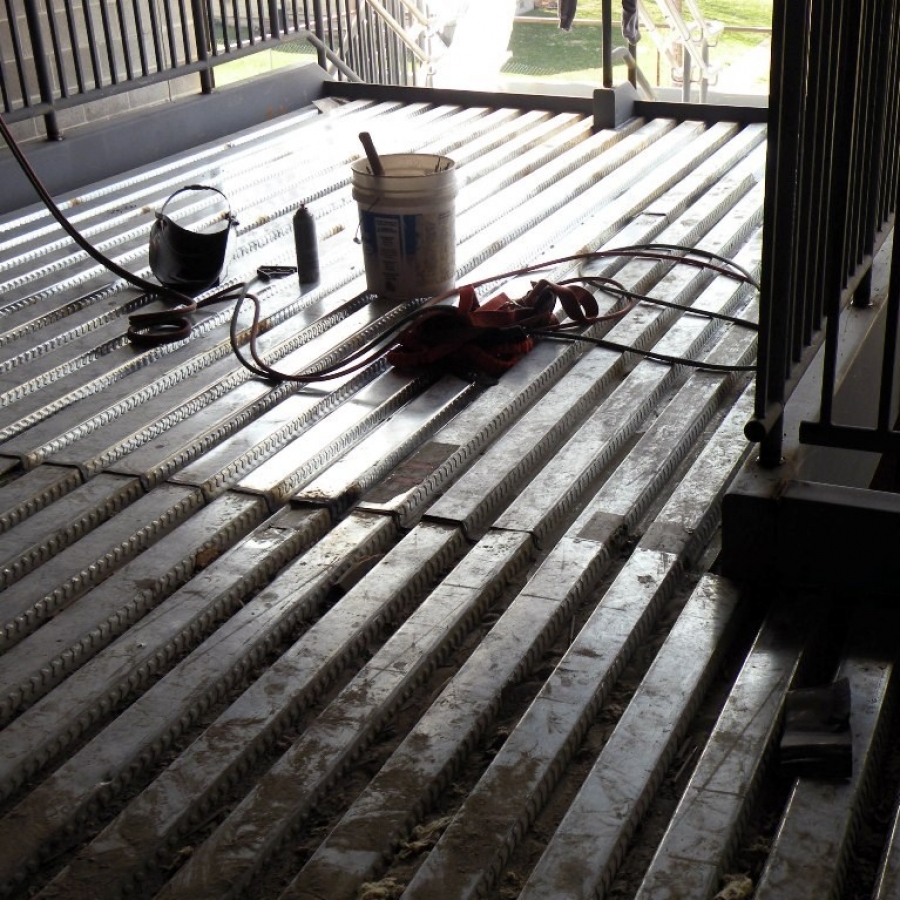 Types of Metal Decking
Steel decking, when used as flooring, can provide additional stability to a structural frame. When used as roof decking, a narrower rib pattern must be created to increase strength and support roofing materials. Steel decking is an economical, permanent, easy-to-install option for builders. As a cold-rolled steel product, it offers high quality with little maintenance. Steel decking exposed to the elements will typically be galvanized to prevent rusting. The large variety of steel gauges and coatings available means that steel decking can easily comply with code requirements.
Acoustical metal decking is made from steel that has been rolled and formed into ribs. The indentations are then filled with acoustical batting, which provides varying degrees of sound absorption. Acoustical decking is tested and given a Noise Reduction Coefficient rating (NRC). The NRC is the measure of the amount of noise energy absorbed by the surface of the decking and is averaged over commonly occurring frequencies. The rating can be used by the consumer to make certain the material chosen will provide the desired level of sound absorption. This type of decking is ideal for use in large facilities where sound control is an issue, and because it can be curved, it is often used in the construction of domed sports arenas.
Advances in aluminum alloying techniques allow aluminum decking to be more widely used than in the past. The use of aluminum can keep construction costs down and allow for a wider variation in the look and feel of decking. However, unlike steel decking, which acts as its own support, aluminum decking requires additional supportive structures.
Metal Decking Manufacturing Process
alt=""

The Buildipedia research and writing staff consists of dozens of experienced professionals from many sectors of the industry, including architects, designers, contractors, and engineers.
Website: buildipedia.com/
Latest from Buildipedia Staff