Wood frames are an assembly of structural members that are secured to a rough opening to accommodate doors and windows. Wood frames contain all of an opening's elements, including ornamental infill such as glazed sashes. For both interior and exterior doors, the frame is recessed to accept hinges and a strike plate, where fasteners or deadbolts extend into the frame for security. Wood material is not a good conductor of heat, a fact which allows for energy efficiency in exterior doors and windows. Structural members may include a head jamb, sill, mull and side jambs, depending on the type of opening. Factory-built frames are available with prefinished, unfinished, or primed surfaces; factory-built window frames may also integrate aluminum or vinyl cladding.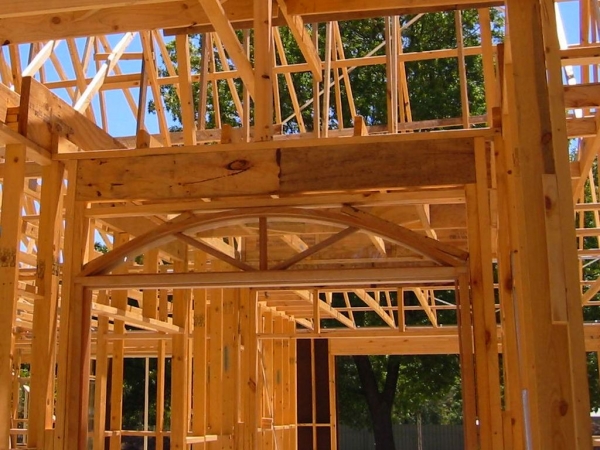 Stick-built or custom wood window frames contain glazed sashes for double hung, hopper, tilt/turn, casement, awning, clerestory and fixed windows. They are constructed from a variety of solid lumber species. A frame includes a sill along the bottom, a head, and two side jambs, with a parting bead and an exterior blind stop to contain the sash. The frame's structural members can be fastened together using rabbet or dado joinery methods. Wood window frames are typically square or rectangular in shape, although they may have an arched or circular head jamb. Frames for ornamental openings or for functional louvers which provide ventilation are constructed in the same way as ordinary frames, and simply contain different infill materials.
Wood door frames can contain a variety of interior and exterior door types, such as flush panel, stile and rail, glazed, or louvered. The frames may contain sidelights, a transom, or borrowed lights. Lights, as they are commonly known when installed adjacent to doors, can be constructed in the same way as wood window frames, and then joined or mulled together with the door. They can also be constructed as part of a larger frame with a continuous head jamb, separated from the door with mullions.
An interior door frame includes a head and two side jambs with a door stop to terminate the swing of a door. These frames can be constructed from solid lumber, finger jointed strips, or wood veneered laminated lumber or composite material. An exterior door frame includes a threshold along the bottom, a head, and two side jambs that typically have a weather-stripping kerf cut in a single rabbet jamb. These frames are constructed from laminated veneer lumber, wood substrate with wood veneer, solid lumber, or finger jointed materials.
Wood frame jambs are available in varying width and profiles. A 2x4 wall with 1/2" drywall on either side has a jamb that is 4 9/16" wide. A 2x6 wall with 1/2" drywall on either side has a jamb that is 6 9/16" wide. Jamb extensions are available for custom widths, or a split jamb can be used. A split jamb has two pieces, one male and one female, that join together over the width of a wall inside an opening. Jamb profiles, known as a double rabbet and single rabbet, are milled with built-in stops. Additional jamb profiles incorporate an applied stop or ploughed-in stop on a wood frame. The frame's structural members are commonly fastened together using rabbet, dado, dowel or biscuit miter joinery methods.
Certain applications require fire rated door assemblies, which do allow for rated wood frames. Rated wood frames can achieve 20, 45, 60, 90 and 120 minute ratings. Special applications may require an acoustical frame that achieves a particular STC rating. Various materials, depending on tested assemblies, can be installed within the shim space behind the wood frame to reduce the transmission of sound.
Exterior wood window and door frames require ongoing maintenance, including scraping off loose paint, puttying damaged surfaces, and painting every few years. Some manufacturers make products that address the prevalent problem of wood-rot at the base of windows and doors, which is caused by exposure to the exterior elements. These products may have composite materials finger jointed at the base of jambs, be treated to the core, or be dip or surface treated with wood preservatives. Protection of wood and treatment varies between manufacturers.

The Buildipedia research and writing staff consists of dozens of experienced professionals from many sectors of the industry, including architects, designers, contractors, and engineers.
Website: buildipedia.com/
Latest from Buildipedia Staff