Custom Ornamental Simulated Woodwork
Custom ornamental simulated woodwork is a versatile, durable, moulded millwork that has no structural abilities. Throughout history, old world craftsmanship has created ornate carved wood architectural details to enhance both the inside and outside of our buildings. Today several companies have the ability to custom mould plastic, from a unique design and specification, into a precise architectural ornament for use on the interior or exterior of a building.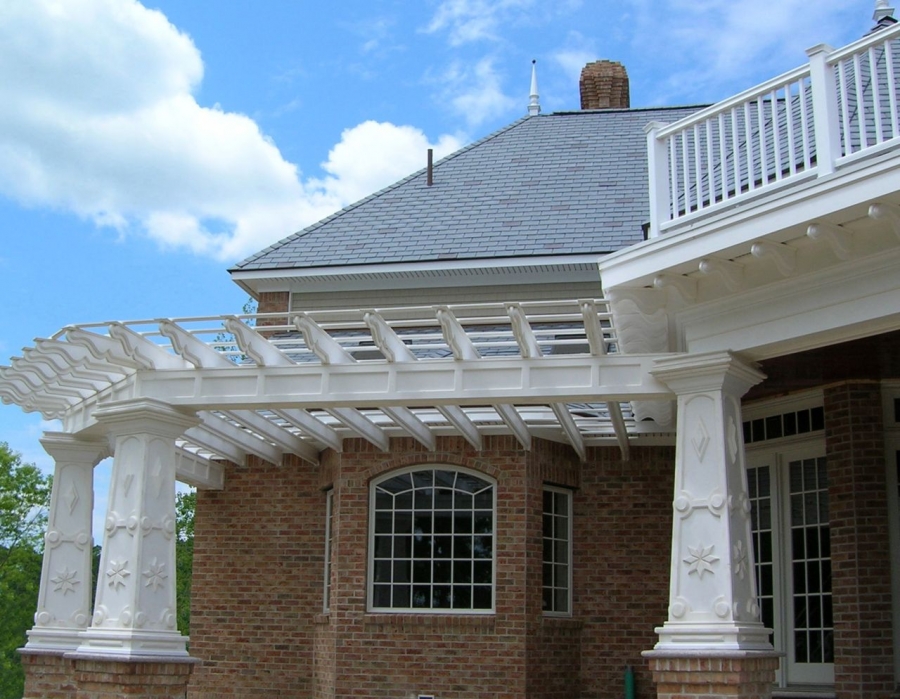 The plastic that is commonly used for moulding is polyurethane (PU), which was invented in 1937 by Otto Bayer and company at I.G. Farben in Leverkusen, Germany. Since that time, polyurethane has been further developed, and several different formulations have been created. Each formulation ranges in stiffness, hardness and density; some are open cell and some are closed cell. High density polyurethane used for moulded millwork is a rigid, closed cell product.
Companies that manufacturer moulded millwork today have product lines that contain thousands of different stock pieces. Types of ornaments may include accents, friezes, domes, medallions, niches, rosettes and brackets. Some of these manufacturers specialize in creating custom, unique products. These manufacturers will have a design and engineering department as well as CAD drafting capabilities, and they are able to produce a custom mould. The process of moulding high density polyurethane begins with a manufacturer's proprietary liquid mixture, which is poured or injected into a custom mould. While in the mould, the mixture is kept under pressure, allowing it to expand and harden. When the mixture has formed into the desired shape it is removed from the mould. Any excess formations are removed from the edges and a coat of prime paint is applied.
Moulded polyurethane millwork can be saw cut, drilled, nailed and glued, using common woodworking tools and equipment. Fastening in an exterior application requires the use of non-corrosive nails or screws. After installation, the primer coat should be lightly scuffed and cleaned and an additional coat of latex or oil based paint applied as recommended by the manufacturer. In exterior applications, this will provide UV protection. The finished product can be cleaned with a mild dish soap detergent and rinsed. Repairs, to fill in dents or gashes, can be made with automotive body filler or exterior-grade plastic wood filler. Should a moulded product break, it can be reassembled using a urethane based adhesive.
Ornamental simulated woodwork created from high density polyurethane offers several advantages over traditional wood or metal. Due to the closed cell nature of the product, neither moisture nor insects can penetrate the material. Moulded polyurethane millwork is a virtually maintenance free product: it will not crack, warp or split; it will not rust; it is dimensionally stable; it is lightweight; and it resists mildew and fungus. Typically more expensive than traditional custom wood millwork, custom ornamental simulated woodwork is an excellent substitute for paint-grade mouldings.

The Buildipedia research and writing staff consists of dozens of experienced professionals from many sectors of the industry, including architects, designers, contractors, and engineers.
Website: buildipedia.com/
Latest from Buildipedia Staff