Standing Seam Sheet Metal Roofing
Standing seam sheet metal roofing refers to a flat metal panel that is seamed or interlocked together along the edges of a turned up vertical leg.  There are four basic ways the vertical legs of adjoining panels can be secured or seamed. They can be mechanically seamed, or have snap together seams, tongue and groove seams, or hooked seams. Standing seam metal roofing panels can be custom fabricated in the shop or roll-formed on-site. Metal roof systems fall into two categories: structural and architectural.  A standing seam sheet metal roofs is an example of an architectural system. These roofs are designed to be a watershed system rather than a water barrier system, and require slopes of 3:12 (or 14 degrees) or greater.  Architectural roof panels generally have a flat surface with a ¾ inch to 1 ½ inch raised vertical seam running the length of the panel.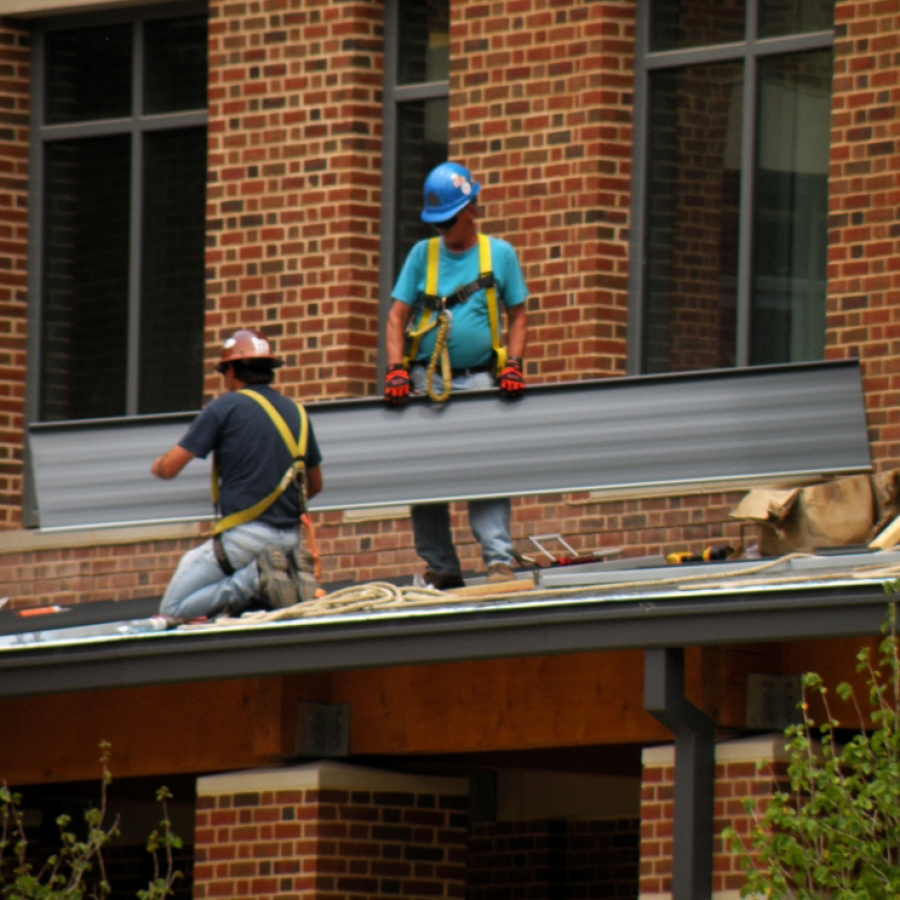 A mechanical seam is one of the more effective ways of securing panels. Typically this seaming method is accomplished by using an electric seaming device that slowly runs along the seam, folding the metal end over itself to form a waterproof seal.  The snap-on seam requires no special tools or equipment. After panel clips are secured in place, a separate cap is snapped over the panel edges. This seam system is not as watertight and therefore is more suitable to steep-slope roofs. The tongue and groove seam system can also be used on steep-slope applications.  Edges of these metal panels are designed to interlock when placed side by side.  The hooked seam method is popular with metal shingles and with horizontally installed metal panels known as Bermuda style.  In this system the panels or shingles are interlocked with the previous panel; sometimes these seams can be soldered or sealed.
Panel lengths may vary by manufacturer, but are usually limited by shipping and transportation restrictions. Panels can also be formed on the job site from coil stock and be fed through specific roll-forming equipment, which allows longer full length panels to be installed.  Panel widths typically vary from 12 inches to 24 inches. However, wider panels may be succeptible to a condition known as oil-canning, which is irregular thermal expansion that causes waviness in the flat panel. Longer metal panels require consideration during the design process to accomodate greater expansion and contraction.
Materials typically used for metal roof panels include: Zinc-Coated (Galvanized) Steel, Aluminum, Copper, Stainless-Steel, Aluminum-Zinc Alloy-Coated Steel, Zinc-Tin Alloy-Coated Copper and Stainless-Steel, and Zinc Sheet.  Finishes are available from the manufacturer and can include 2, 3 or 4 coat Fluoropolymer, Siliconized Polyester, or Plastisol (an epoxy primer with a vinyl plastisol topcoat).
Advantages of using standing seam metal roofs include:
Light weight Strong and durable
Design flexibility and opportunities
Energy efficient
Fire resistant
Recyclable
Long lasting material
Labor efficient
Can increase the resale value of homes
Disadvantages
Thermal movement required
Expansion of metals may cause noises
Possibility of galvanic reaction if dissimilar metals are used
New metal uses more energy
Initial cost higher than most other roofing materials
The first significant use of standing seam roofing was a copper roof on Christ Church in Philadelphia in 1744.  Before that, metals such as copper and lead were used mainly as flashing material. Sheet iron first began being produced in the U.S. in 1794, ending the dependence on imported sheet metals from England. The galvanizing process originally developed in France made its way to the U.S. by the 1850's.  And in 1857, the U.S. Mint in New Orleans installed the first galvanized roof.  At Monticello, Thomas Jefferson installed a standing-seam tin roof because of his firm belief in the new material. Eventually, more rolling mills began producing sheet metal, and it became a common roofing material because of its low cost, light weight, and low maintenance.

The Buildipedia research and writing staff consists of dozens of experienced professionals from many sectors of the industry, including architects, designers, contractors, and engineers.
Website: buildipedia.com/
Latest from Buildipedia Staff