Roof decking pavers have created new opportunities for otherwise lost and unusable spaces.  Roofs and decks now have the ability to be functional, attractive exterior pedestrian plazas and living environments.  Pavers can be installed on roof decks and promenades, terraces, balconies, patios, plazas, arenas, roof gardens, and even on mechanical access walkways.  Roof decking pavers come in a wide variety of colors, finishes and textures.  Because of it's durability and strength, concrete is the primary material used to produce roof decking pavers.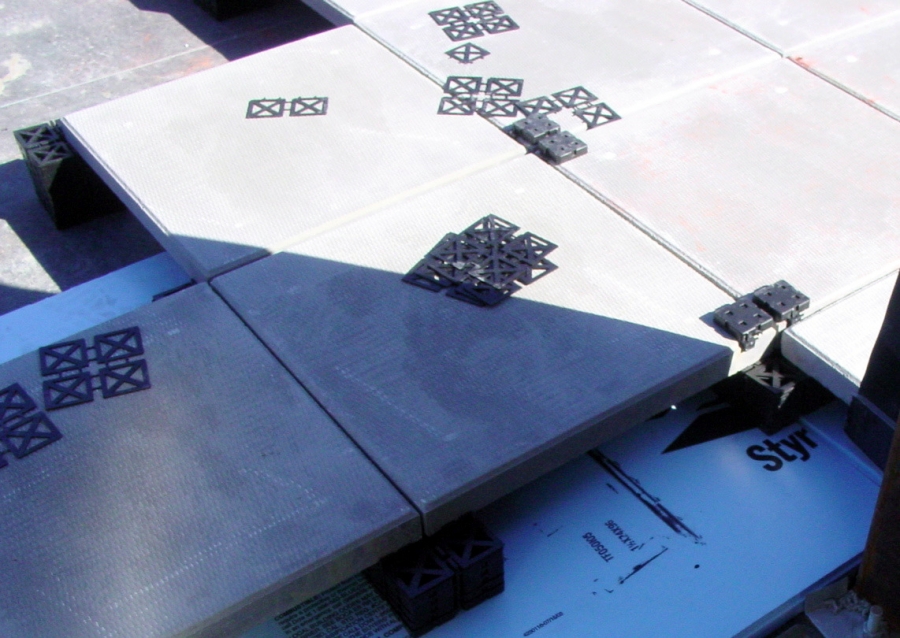 Decking materials for roofs consist of concrete pavers and roof paving slabs.  Concrete pavers are most commonly used in pedestrian and vehicular applications.  Pavers can take on various shapes but do not exceed a 4:1 length to thickness ratio.  The thickness of concrete pavers ranges from 1 1/2" for areas where the weight of the pavers is critical to 3 1/8" for areas with vehicular use.  Roof decks of below grade buildings, for example, use concrete pavers to support vehicular traffic.
Roof paving slabs, on the other hand, can range in size from 10" x 10"  to 36" x 36".  Their thickness typically ranges from 1 1/2" to 2", and they are intended for pedestrian applications only.  As the name implies, roof paving slabs are concrete based which makes them ideal for use as roof ballast.  When roof paving slabs are larger than 12" x 12", they should be installed on pedestals with a 1/8" gap between each slab to allow for drainage.  Roof paving slabs can also be set in sand over a drainage mat and mortar setting bed.  As with any modification to a roofing system, it is critical to verify with the roofing manufacturer the compatibility between roofing pavers and supports and the roofing system, in order to maintain all warranties; it is also necessary to verify with the structural engineer that the supporting structure can handle the added load.
Advantages of Pedestal-Set Paving Units
Provides a level surface
Conceals the roof slope and roof drains
Quick installation
Removal of paving units allows access to waterproofing system and roof drains
Provides a space to conceal electrical conduit and mechanical piping
Provides protection to the roof waterproofing system from deterioration, foot traffic, equipment, and environmental stresses

The Buildipedia research and writing staff consists of dozens of experienced professionals from many sectors of the industry, including architects, designers, contractors, and engineers.
Website: buildipedia.com/
Latest from Buildipedia Staff