Door hardware includes items essential to the operation, control, security, weather resistance and acoustical performance of doors.
Hinges and pivots support doors in their frames and are available in various sizes and types to accommodate the size and weight of the door, and the frequency and severity of its use. Traditional knuckle-types hinges include mortise or surface, plain or anti-friction bearing, swing-clear, and pivot-reinforced. Features include safety studs, hospital tips, and non-removable pins. Special types include electrified, concealed pocket-type, spring-assisted self-closing, and continuous hinges.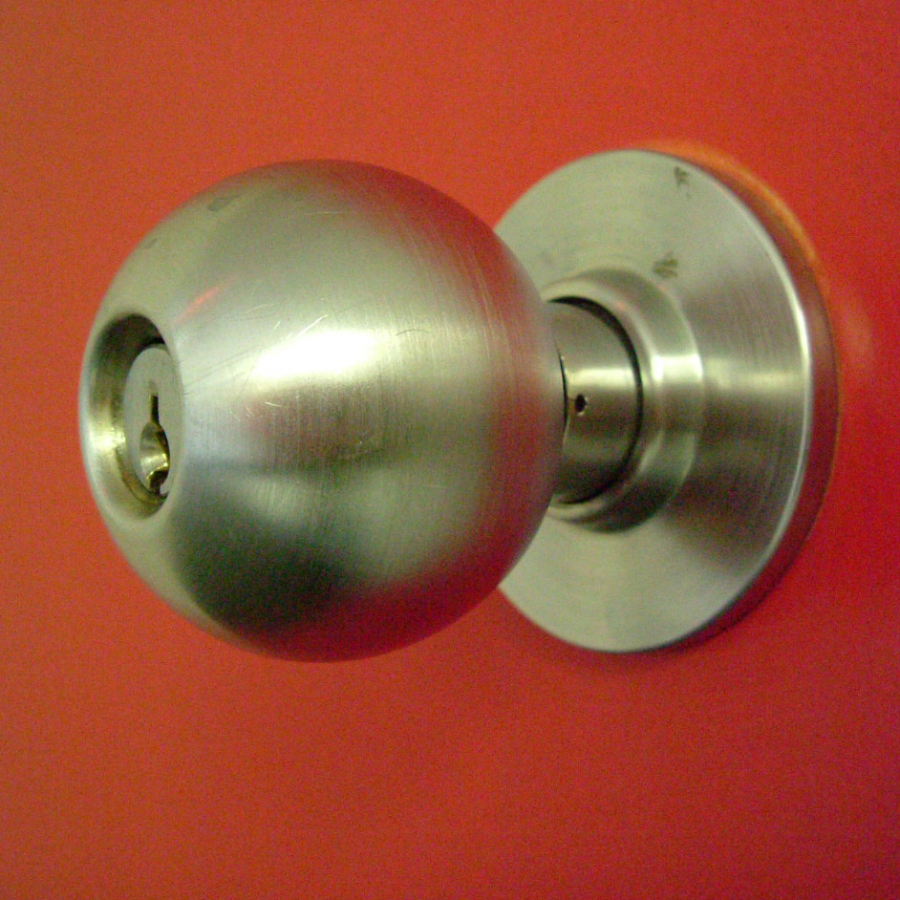 Locks and latches secure doors in a closed position and determine the level of security and operating function of doors. Bored or cylindrical locks are mounted in larger round openings in the face of the door and connected to a smaller opening in the edge of the door for the latch. Mortise locks are mounted in rectangular cases installed through the edge of the door with smaller holes in the face of the door to connect to levers or knobs and locking cylinders. Because of the way they are built, mortise locks are more durable and provide greater security than cylindrical locks, but they are more expensive and require more door preparation. Locksets are further described by function, such as passage sets (non-locking), privacy locks, entrance locks, classroom locks, storage room locks, etc. Keyways for cylindrical locks are located in the operating lever or knob while keyways for mortise locks are in keying cylinders separate from the knob or lever.
Bolts are designed to secure a door leaf in a closed position and may be manual or automatic. They may be concealed within a door or applied to the surface.
Exit devices include panic and fire exit devices with a horizontal push bar or pad to release the latching mechanism. They may be connected to vertical concealed or surface rods or mortised within the edge of a door, or they may be rim-type devices that are surface-mounted on the door face.
Operating trim includes various types of push and pull devices.
Mullions can be permanent or removable and provide a common vertical frame between a pair of doors. Astragals are applied at the edge of a pair of doors without a mullion to seal against the passage of light, sound, smoke or fire.
Closers can be surface-applied, concealed in the head of the door or frame, or recessed in the floor, and they control the opening and closing of a door.
Protective trim is plastic or metal sheet that can be applied to the faces and edges of a door to protect against damage and abuse.
Stops and holders protect walls from damage due to opening doors, and they can hold doors open. Codes prohibit holding open fire doors without an automatic means of closing in an emergency.
Thresholds and weather stripping are applied at the perimeter of doors to keep out the weather.
Fire-rated hardware is required to be used for rated doors.
Finishes for hardware include polished and matte metal finishes in brass, chrome plated or stainless steel, oil rubbed bronze, or paint.
Specification of door hardware is complicated by the need to meet owner security needs with various types of products from many different manufacturers, while complying with strict code requirements for safety. Door hardware consultants and security consultants are often retained as experts to see that all requirements are met.
BHMA (ANSI) Standards are used in specifying door hardware functions and performance.

The Buildipedia research and writing staff consists of dozens of experienced professionals from many sectors of the industry, including architects, designers, contractors, and engineers.
Website: buildipedia.com/
Latest from Buildipedia Staff