Painting was originally a method of representing, documenting, or expressing the varied interests, subjects and beliefs that were a part of society. Paint as a material or method of decorating buildings did not become popular until the 19th century. Master builders and architects of the day used more permanent materials, such as carved stone or marble, colorful ceramic tiles, or pigmented stucco and plaster to develop their designs and decorate the exteriors of buildings.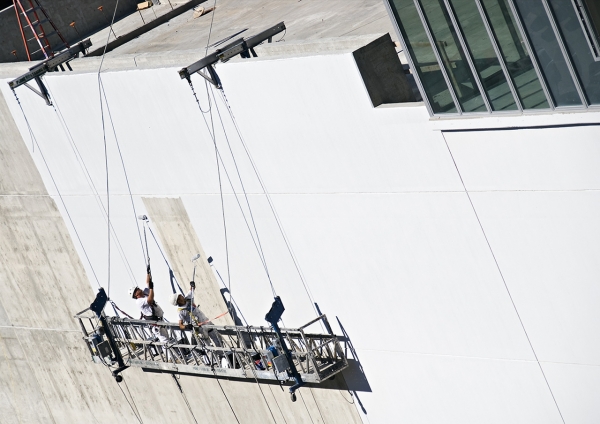 In North America, the paint and coating industry had to wait until the Industrial Revolution before paint reached broad availability. Until then, paint was made by hand for each application. Painters or owners would use the various pigments that were available and mix them with linseed oil to produce a binder which would protect and beautify their buildings. Lead and arsenic were two of the common minerals used as pigments; they were widely available and were used for hundreds of years. This made being a painter a rather dangerous profession. Lead, a natural occurring ore, when added to the linseed oil binder, made the paint extremely durable and allowed the color to last for years.
The first recorded paint mill in America was reported to be in Boston in the 1700's. By 1867, the first prepared or "ready mixed" paint was patented by D.R. Averill of Ohio. In the last half of the 1800's, paint factories sprang up in urban centers throughout the country. This happened in response to the growing homeowner and industrial acceptance of ready mixed paint, and the cost savings associated with not having to ship a relatively heavy product great distances. At about this time, one of the world's largest paint companies, Sherwin Williams, started manufacturing architectural and industrial paint.
Our contemporary painting products consist of countless compounds uniquely formulated to fill specific roles. Paint with additives will protect metal on ships, bridges and lawn furniture from rusting. Drywall is not only made more beautiful by paint, it can also be turned into a washable surface. Wood that protects the interior can also be protected from harsh exterior elements. Non-skid paint will aid foot traffic, while roadway paint will aid vehicle traffic. Today, paint product lines range from environmentally friendly paint used to decorate and protect our homes to translucent coatings used in the food industry. Paints are used in the manufacturing of just about everything, from washers and cars to the space shuttle.
Whether it is from the simple concept of providing protection to our structures and making them last longer or adapting compounds in response to environmental concerns, paint has long had a role in "green building." Today low VOC (volatile organic compounds) formulas do not pollute, and contribute to healthier air quality.
See also: Faux Painting

The Buildipedia research and writing staff consists of dozens of experienced professionals from many sectors of the industry, including architects, designers, contractors, and engineers.
Website: buildipedia.com/
Latest from Buildipedia Staff