Residential Plumbing Fixtures
Residential plumbing fixtures differ from commercial plumbing fixtures in that they are not usually constructed to be as durable. All faucets, spouts, strainers, traps, waste piping, stoppers, stops, and escutcheon plates are considered trim and are included in Residential Faucets, Supplies, and Trim.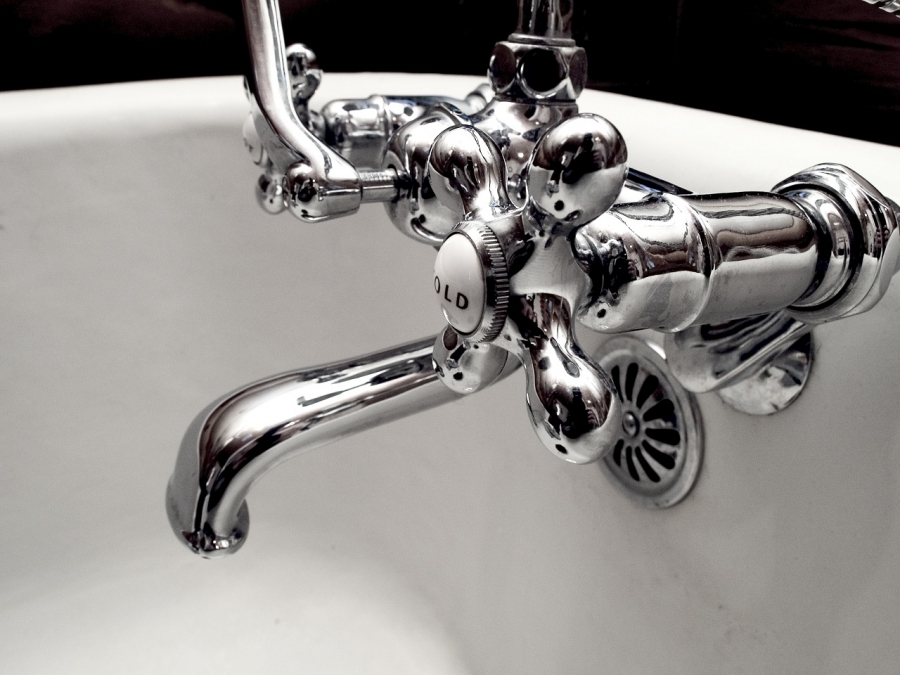 The lavatory for a residence may be free-standing, wall hung, counter mounted, or basin only type. Some have overflow protection cast into the fixture. Free standing lavatories are usually comprised of a basin and a stand or base. These fixtures may be manufactured by Kohler, American Standard, Crane, or numerous others. The most common materials for a lavatory include molded plastic, white vitreous china, marble, or porcelain. Lavatories may have rectangular, oval, or corner bowls.
The kitchen sink for a residence is usually counter mounted. Kitchen sinks may be single bowl, double bowl, triple bowl, or triple bowl made for a corner. While garbage disposals are not required, they are usually provided, but they are not considered to be part of the plumbing fixture. The majority of kitchen sinks are stainless steel, but porcelain, concrete, and composite construction are examples of other materials that are used.
Laundry sinks may be constructed of fiberglass, stainless steel, crushed stone composition, or structural polypropylene. They may be free-standing, wall mounted, or self-rimming counter-mounted, and they may have one or two bowls with drain boards.
Bathtubs may be molded acrylic, fiberglass, or enamel over steel or cast iron. There are some exotic materials used for bathtubs as well. Bathtubs may come with a built-in shower head. Modern bathtubs can either be made to look like the bathtubs of the past, or be radically different. They can be molded to make you even more comfortable while you bathe.
Toilets are usually white vitreous china, although custom colors are available. They are also called water closets, because many come equipped with a water tank. There are basically two types: the tank type and the pressure assisted. Both toilets have pros and cons. There is one toilet that is electric, called an Incinolet. This toilet was designed for remote areas without a sewer system. An example of this would be a toll booth on a remote token-required highway. Toilets do not usually include a seat; the seat is sold independently. Seats may be made of solid plastic, molded plastic, or wood.
Bidets are usually vitreous china colored to match the toilet, and they have no seats.
Showers come in all shapes and sizes and all have faucets and temperature control. Showers today can be part of a tub or can be fixtures themselves. Except where they are part of the bathtub, the shower consists of a shower head, spraying unit, and a floor drain. Everything else associated with the shower is actually considered architectural finishes.
Little maintenance is required for most residential plumbing fixtures. If cleaned weekly with cleaners approved by the manufacturer, a long life and good appearance should be expected.
See also: Maintenance Tips: Bathroom Vanities

The Buildipedia research and writing staff consists of dozens of experienced professionals from many sectors of the industry, including architects, designers, contractors, and engineers.
Website: buildipedia.com/
Latest from Buildipedia Staff