A furnace is an enclosure through which air is either drawn or pushed, and it contains, at minimum, a method for filtering and heating the air. A furnace may also have a method of cooling the air (or removing heat from the air, thus leaving it cooler). Furnaces are commonly used heating and cooling devices.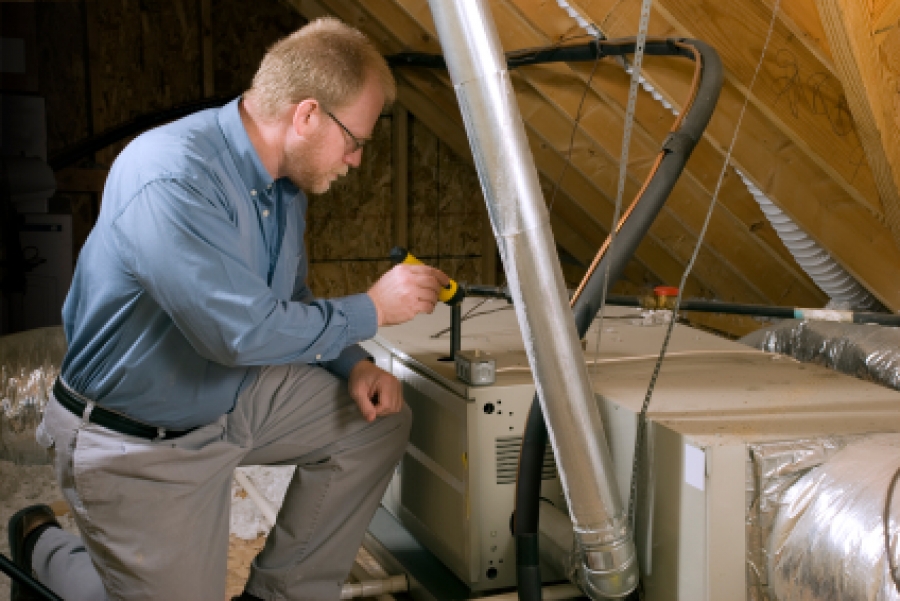 Although the above video discusses primarily gas fired furnaces, it should be noted that there are also electric furnaces, oil furnaces, and even wood burning furnaces. Furnaces can be installed that are either vertical (up-flow or down-flow) or horizontal units, and either blow through or draw through. They can be electric resistance based or fuel fired based.
There are many systems which can perform the task of heating and cooling a space; some of the benefits of a furnace are that there are a wide variety of models, makes, fuels, directions, and installation methods to choose from.
Several things must be considered when installing a furnace, including unit vibration and AC condensation. Every unit will produce some vibration. Therefore, precautions must be taken to guard against transmitting those vibrations into the rest of the structure.
Some devices which prevent transmission of vibration through the base include:
Neoprene pads
Concrete housekeeping pads or inertia base
Springs
Some methods of preventing transmission of vibration through the ductwork include:
Using flexible ductwork between the furnace and the ductwork
Using smooth transitions out of the furnace
Maximizing the distance out of the furnace before the first turn
Using turning vanes in all abrupt changes in direction
If the unit is used for air conditioning, it will condense moisture out of the air. A method must be provided for the unit to dispense with moisture collected from the air. Usually this is accomplished by placing a drain pan inside or outside the furnace. If no drain pan is provided, and the unit is used for air conditioning, then the moisture will take the path of least resistance to escape the unit. Tubing or piping out of the drain pan should lead water to the nearest floor drain. (The plumbing contractor should have installed a floor drain near the furnace or in some other suitable location to accommodate the condensed water.) The tubing must have a P-trap in it of a predetermined size. On many air conditioning systems, a negative pressure is created inside the air handler. Without a condensate trap, AC condensation can be sucked back inside the furnace and be entrained in the air stream.
Furnace maintenance is minimal. Once a month, the filter should be inspected. Depending on the rating of the filter and how fast it fills with dust and dirt, inspect a minimum of at least once a month. Then, if it is clogged with soot, either clean or replace it. Even furnaces with "automatic clogged filter indicators" should be visually checked.
The useful life expectancy of a furnace is about 15 years. After that, you should expect to do repairs. The controls can fail, the burners can fail, the blower can fail, and the condensing unit and/or its compressor or fan can fail.
The two major manufacturers of gas furnaces are United Technology (Carrier, Bryant, Heil, DayNight, Payne, Tempstar, and Comfortmaker brands) and Goodman (Janitrol and Amana). Other brands include Rheem (Ruud), American Standard (Trane), and Lennox (Armstrong). All offer furnaces in a range of capacities and efficiencies, and we think manufacturers generally deliver on those specifications. Each brand offers a generally similar array of key features.
It should be noted that the indoor unit (furnace) should be match-rated with the outdoor unit. It is not necessary that the units be manufactured by the same company, but if they are, you may have a better chance of them being match-rated.

The Buildipedia research and writing staff consists of dozens of experienced professionals from many sectors of the industry, including architects, designers, contractors, and engineers.
Website: buildipedia.com/
Latest from Buildipedia Staff