Green roofs mitigate urban heat island effect, control stormwater run-off, reduce sound reflection and transmission, and lower heating and cooling costs, as well as sustain local wildlife. They also look really, really cool.
Instead of discussing the benefits of green roofs, we are celebrating the visual appeal of these sustainable works of architecture from around the world. Included are BIG's 8 House and TED Cube Building; Renzo Piano's California Academy of Sciences; the Nanyang Technological University School of Art, Design, and Media; Vector Architects' Green Technology Showroom; the OUTrial House by Robert Konieczny of KWK Promes; and Zaha Hadid's Dongdaemun Design Park and Plaza.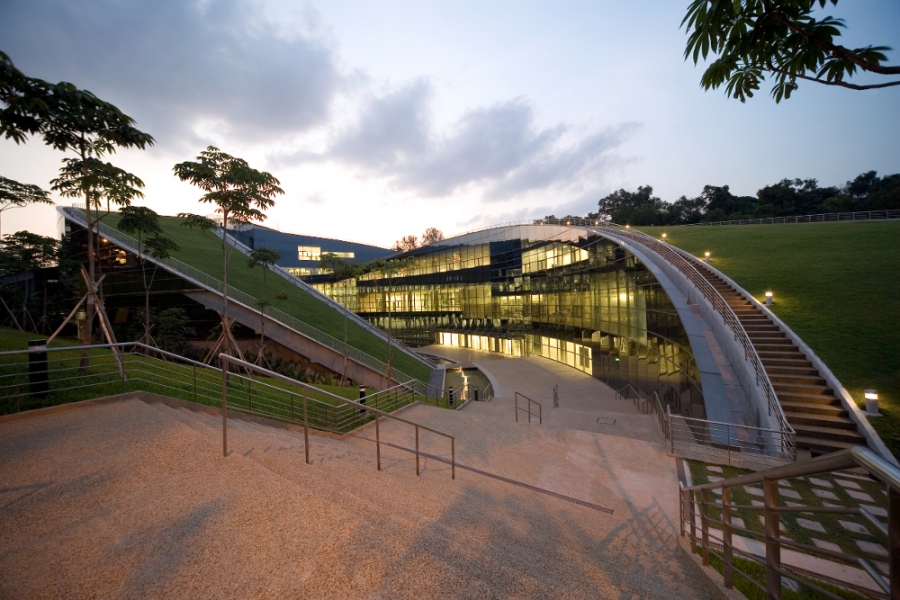 Bjarke Ingels Group's (BIG) 8 House
BIG's 8 House in the Copenhagen neighborhood of Ørestad won the 2010 Scandinavian Green Roof Award. When viewed from above, the 1,700 sq. m. roof curves to form a figure eight. The green roof is located on the 11-story descending slope at the end of the building and is oriented from east to west to maximize the light needed to sustain its plant life. Along with offices and retail stores, Denmark's largest apartment building boasts 475 residences, and residents enjoy a communal area in the center. To foster diversity among the residents, the apartments range in size and price.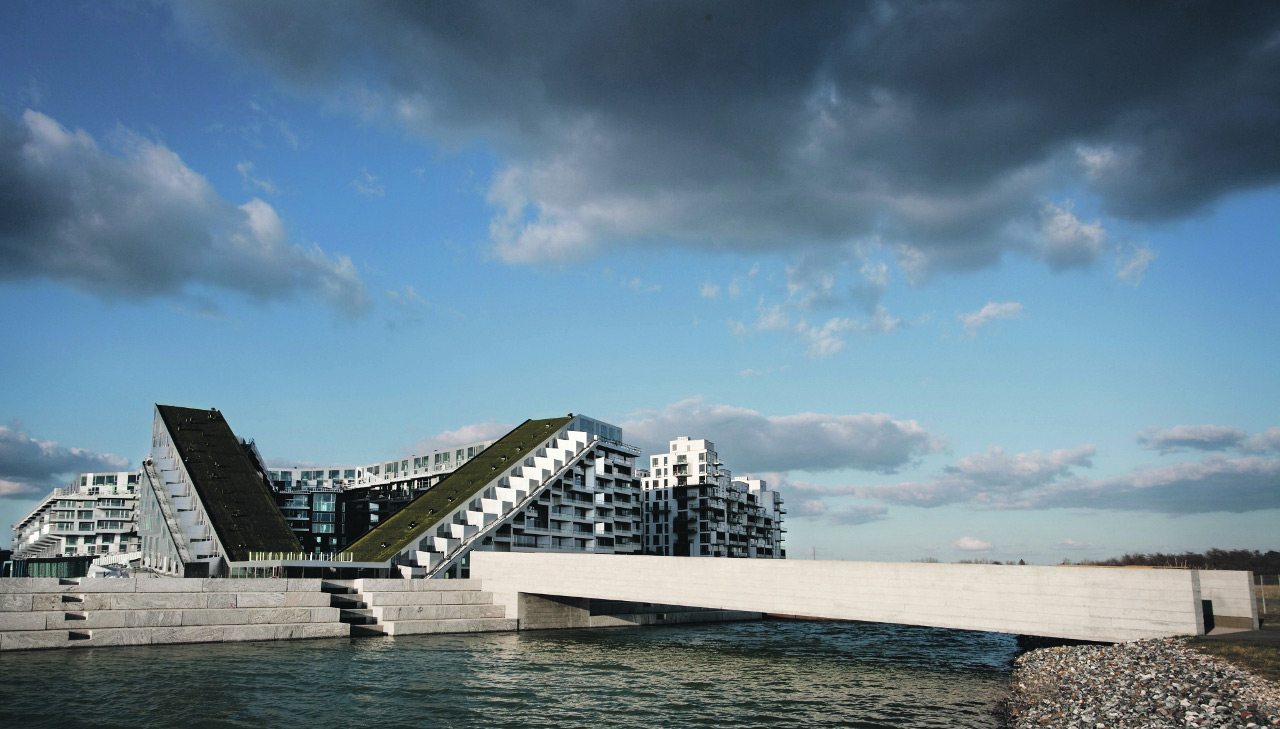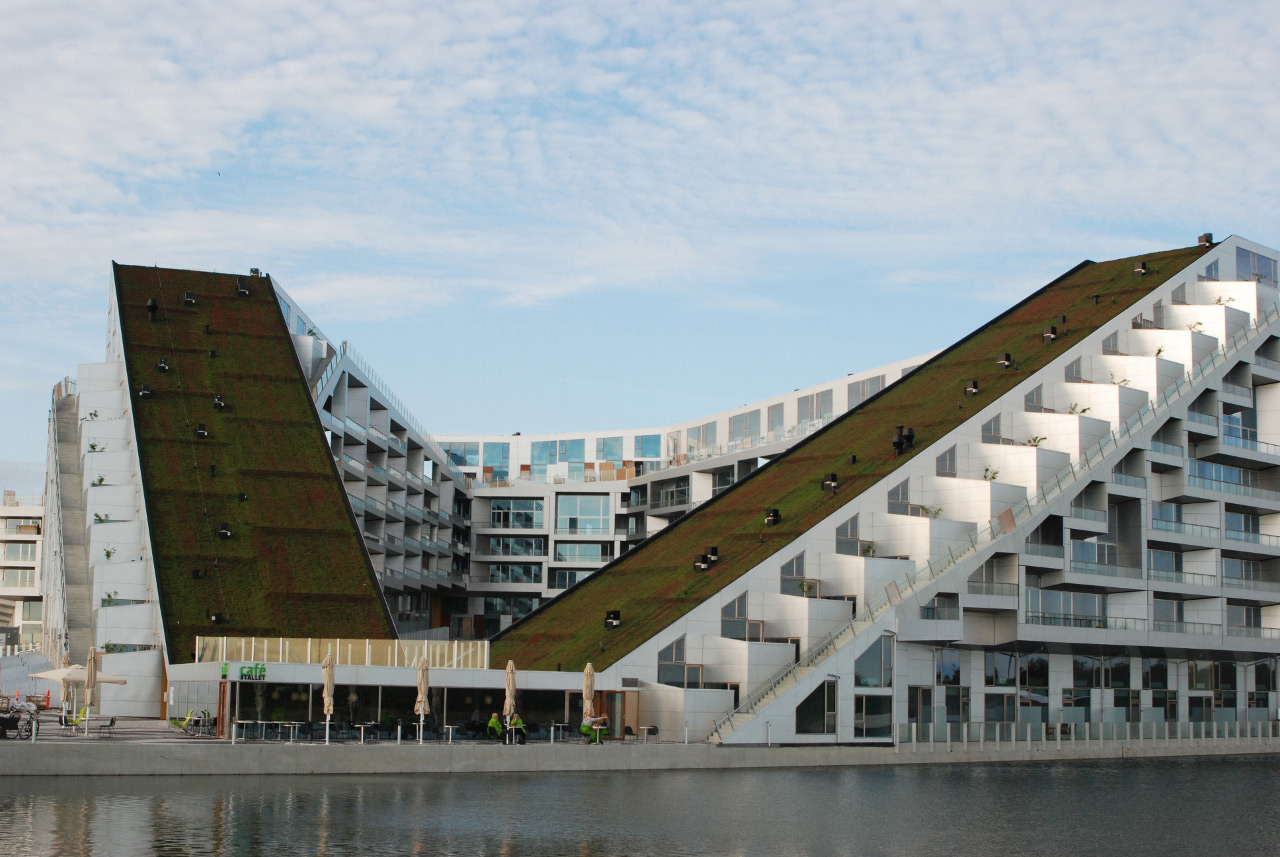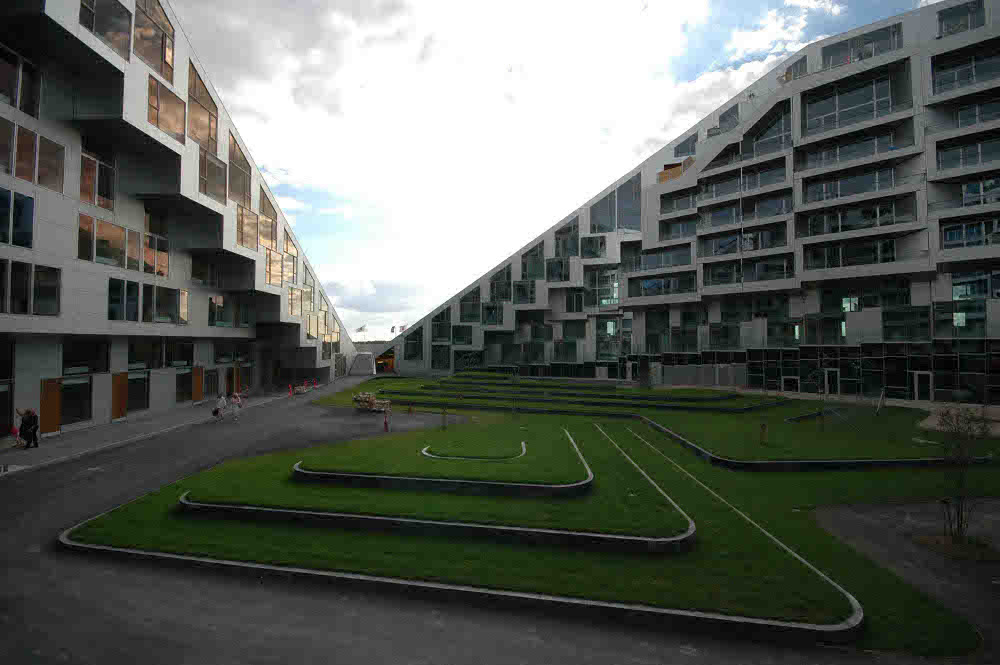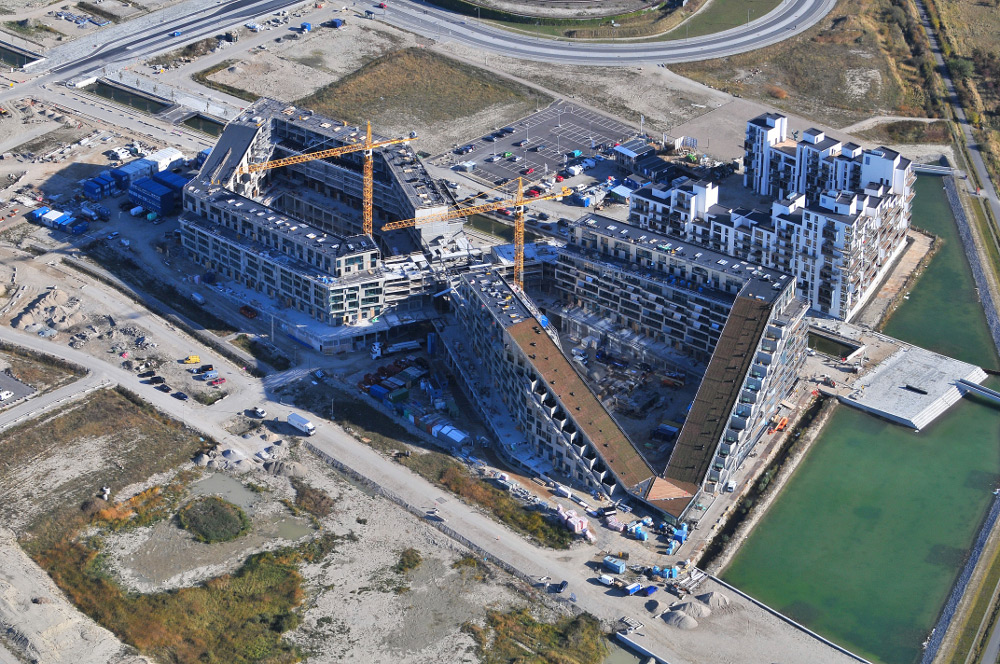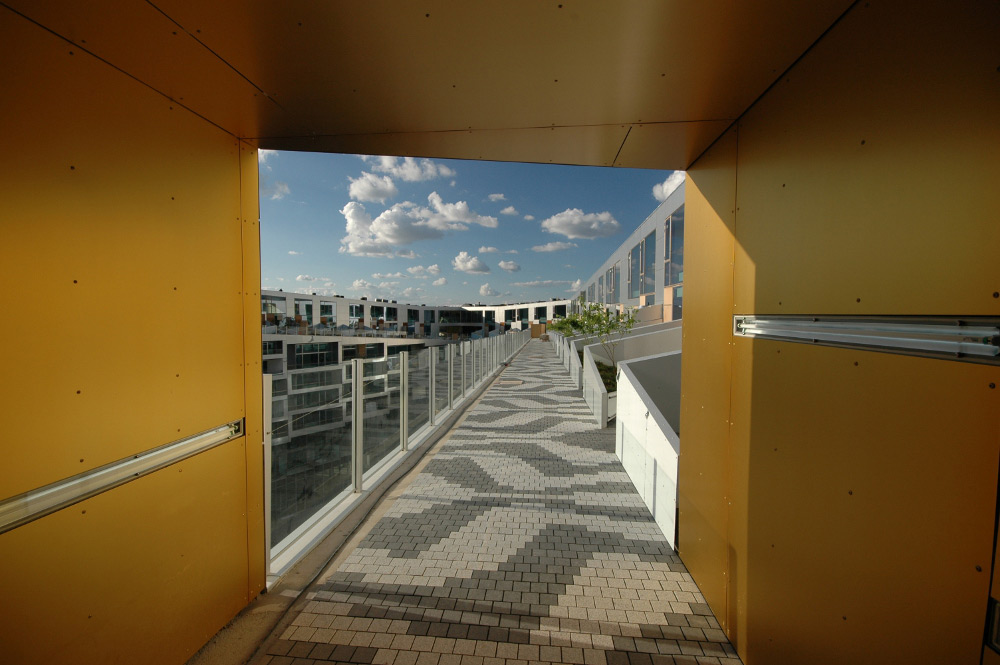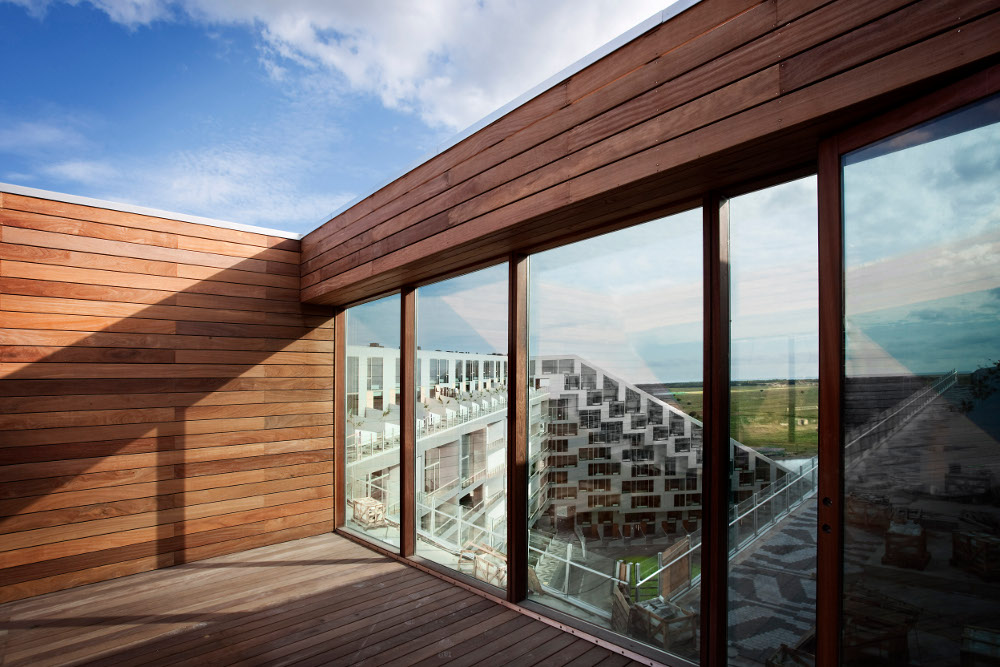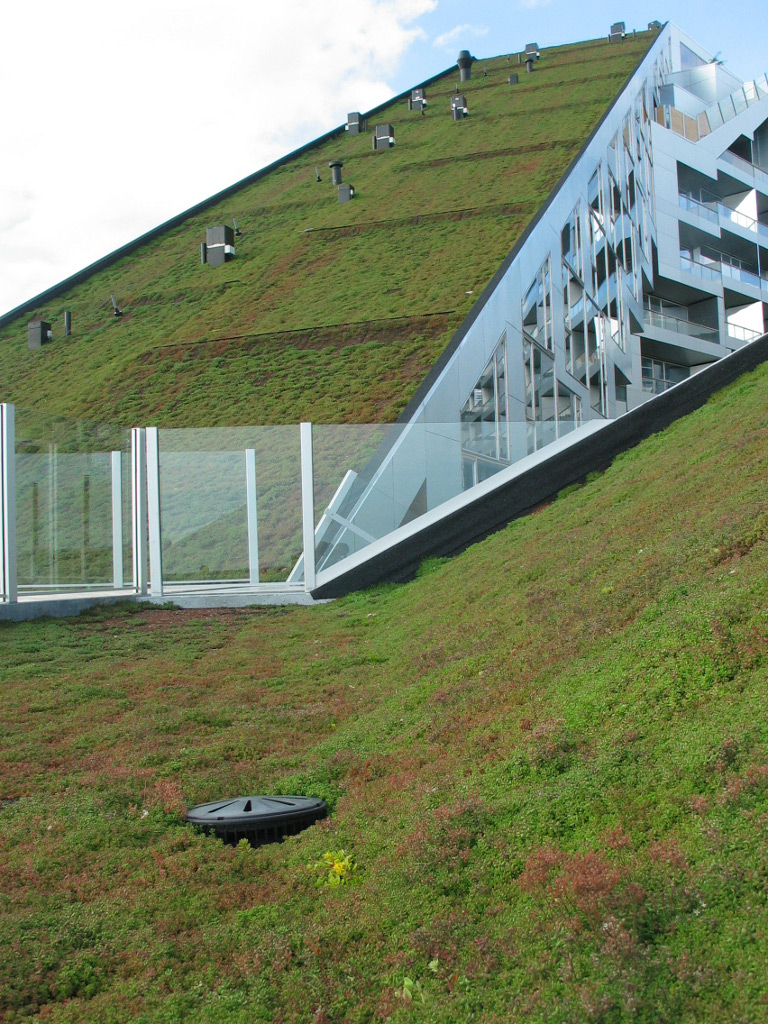 Nanyang Technological University School of Art, Design, and Media
The Nanyang Technological School of Art, Design, and Media in Singapore by CPG Consultants is a five-story academic building with a glass façade, which in a warm, sunny climate is beneficial because it does not retain much heat and keeps the building cool. It is surrounded by a wooded area in the campus, which cuts the amount of light and heat further. Made up of carpet grass, the roof blends into its surroundings seamlessly. The undulating roof creates a natural, open, and informal gathering space for students to meet and relax. Adding to the serenity, there is a pond in the middle of the U-shaped building.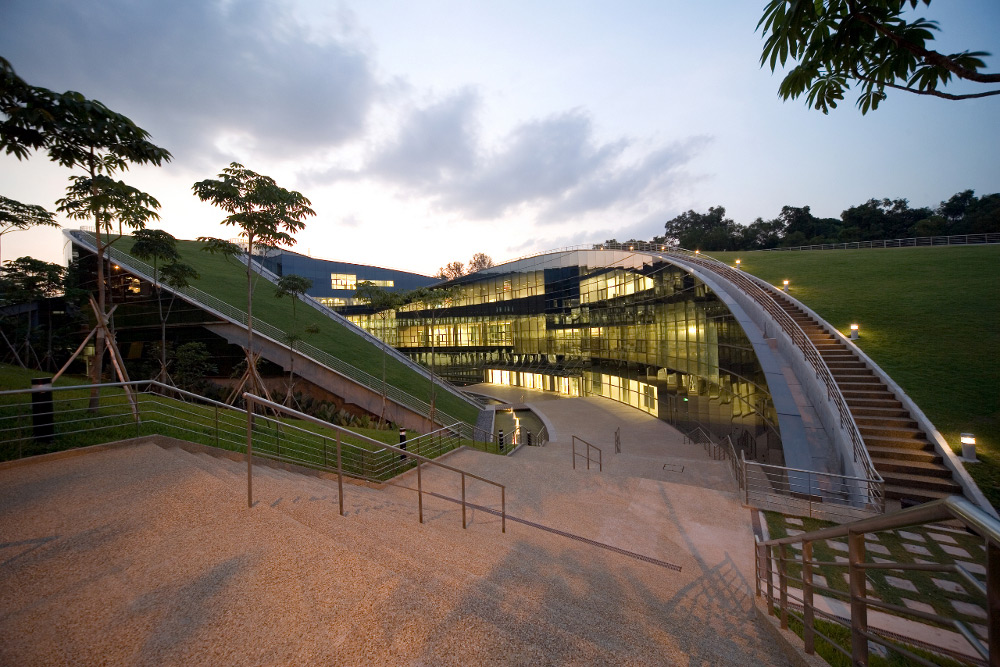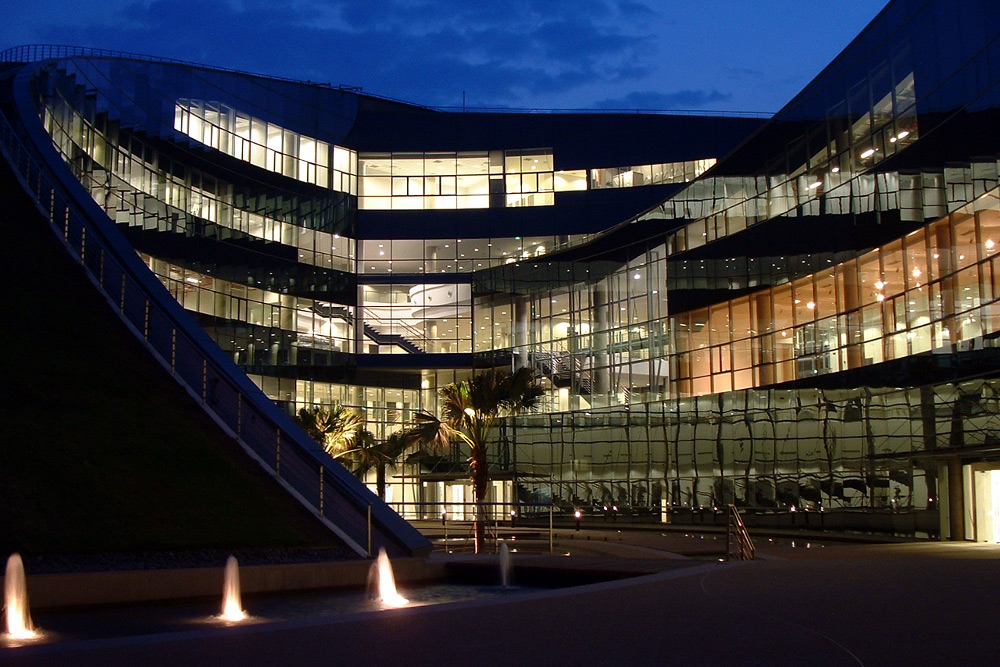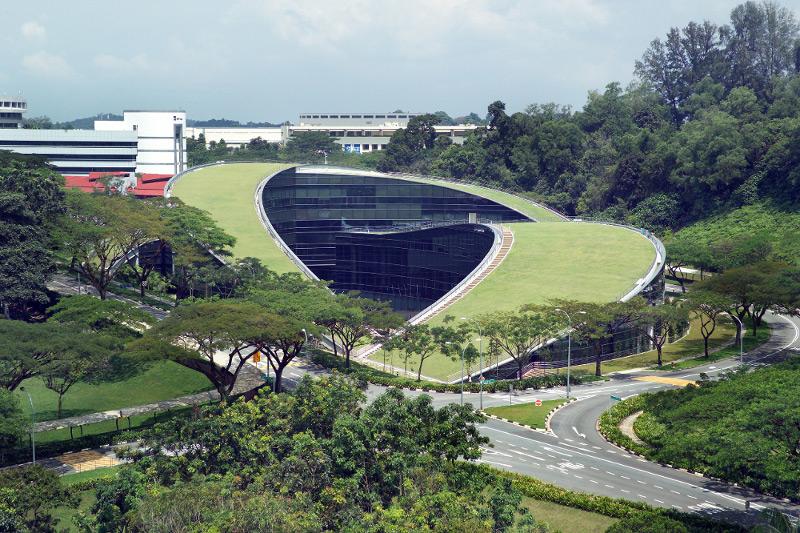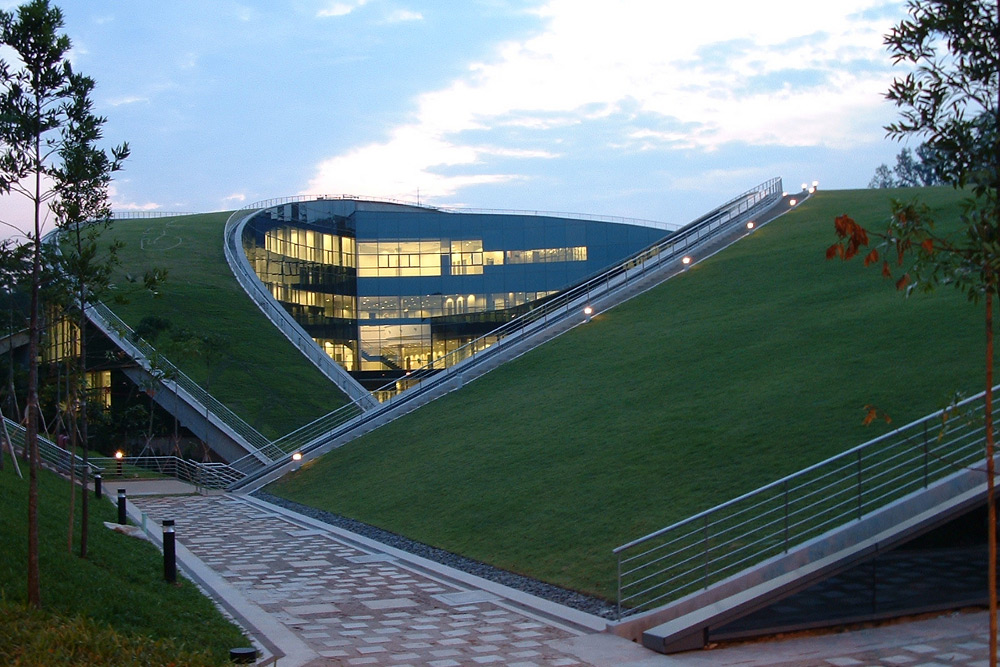 CR Land Guanganmen Green Tech Showroom
Built in 2008 by Vector Architects in Beijing, China, the 500 sq. m. Green Technology Showroom is actually temporary. After three years, the building will have been built, demolished, and recycled in a way that impacts its environment the least. It was built without a foundation, which will allow for an easier tear-down. Located on the central lawn of a residential compound, the Green Technology Showroom is made of a recyclable steel structure that does not retain heat. The vertical grass paneling system provides insulation.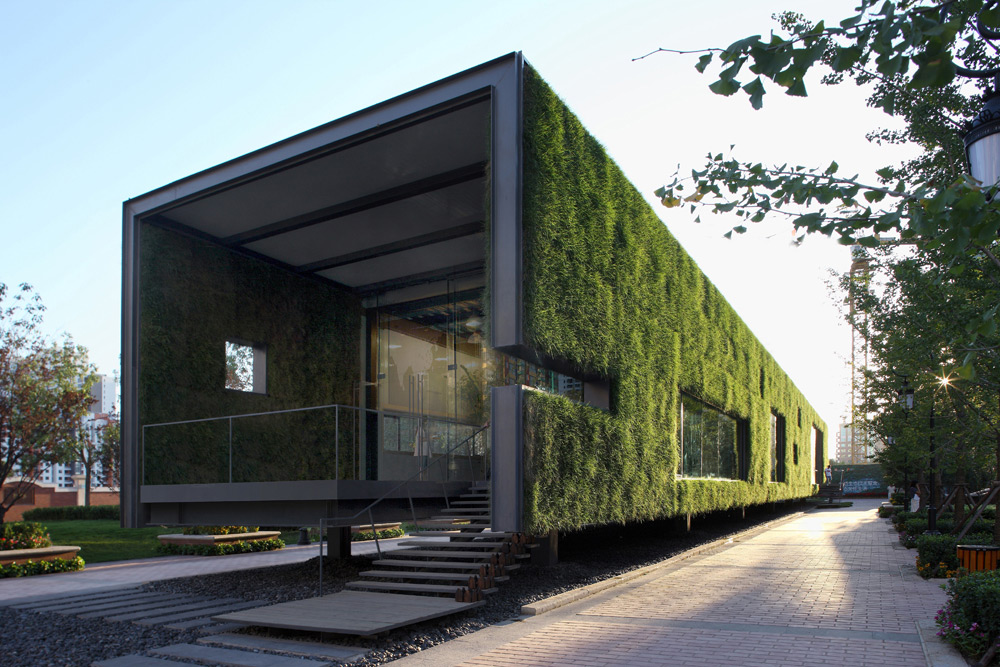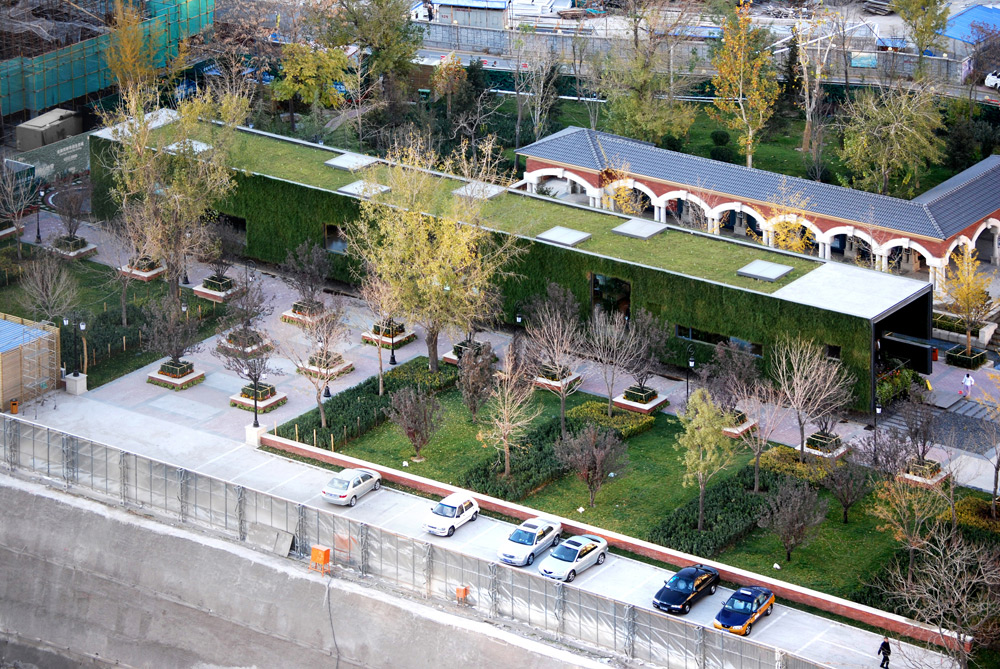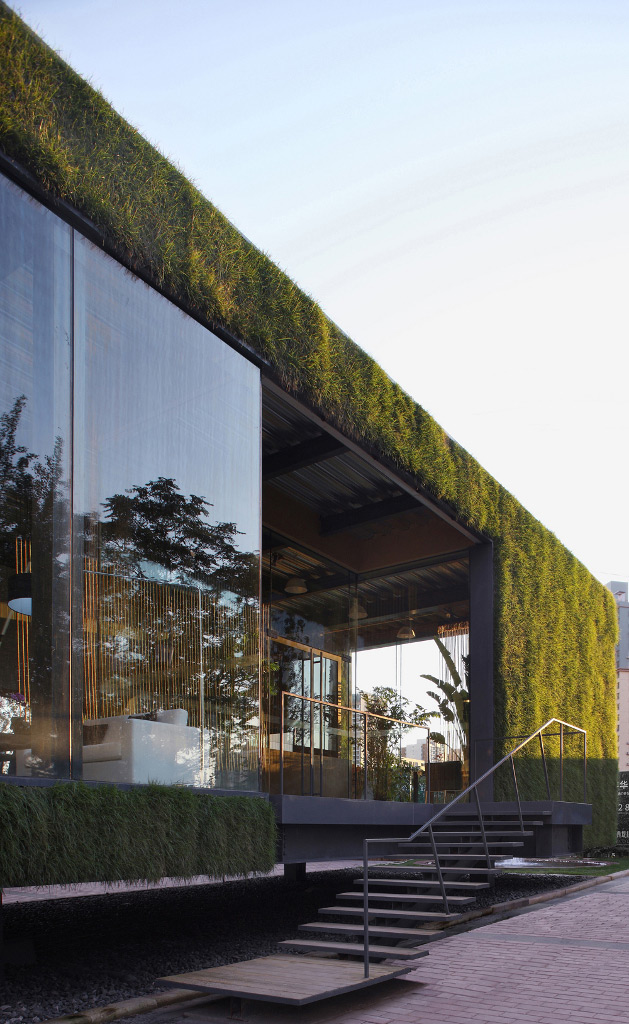 Renzo Piano's California Academy of Sciences
Italian architect Renzo Piano was in charge of giving this San Francisco science museum a face-lift. Located in Golden Gate Park, the 2.5 acre green roof is rectangular when observed from above. From the ground, however, several large spherical elements are visible. Located within these elements are a planetarium and rainforest. Also, circular skylights are distributed over the surface of the roof, allowing natural light and ventilation into the spaces below. California native greenery is used to keep maintenance low.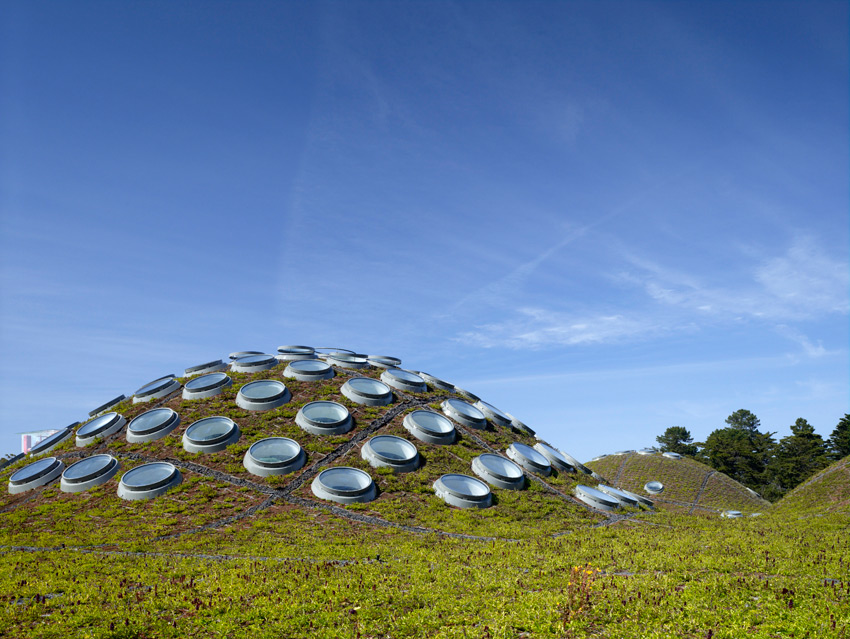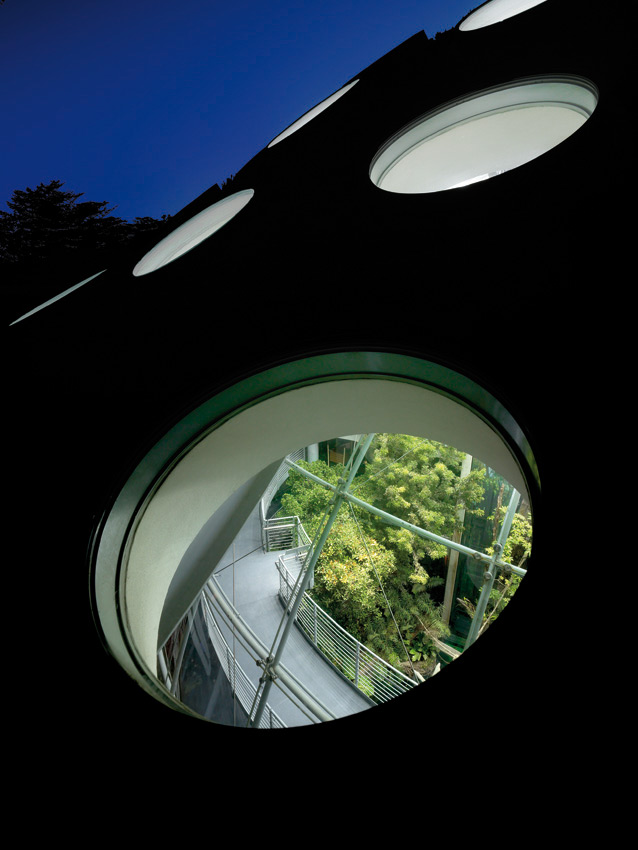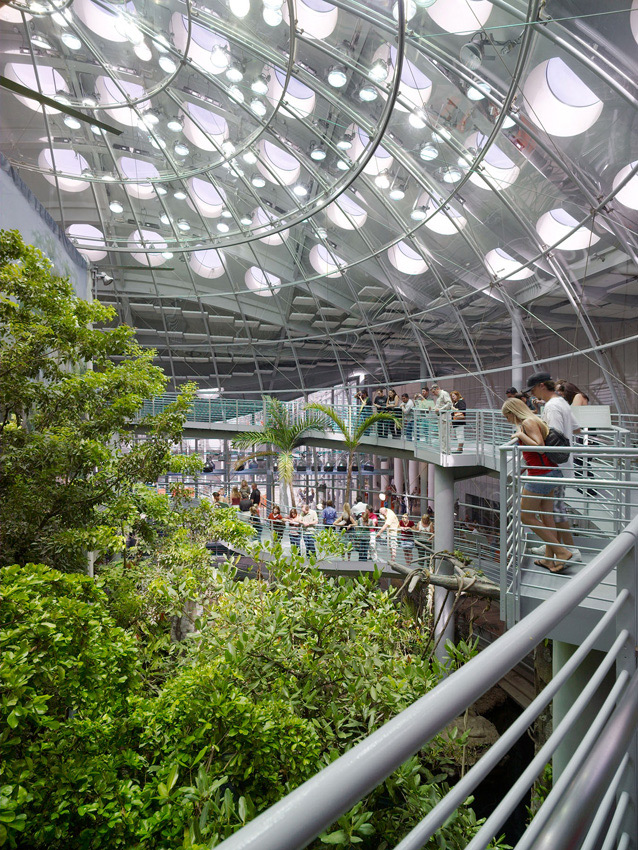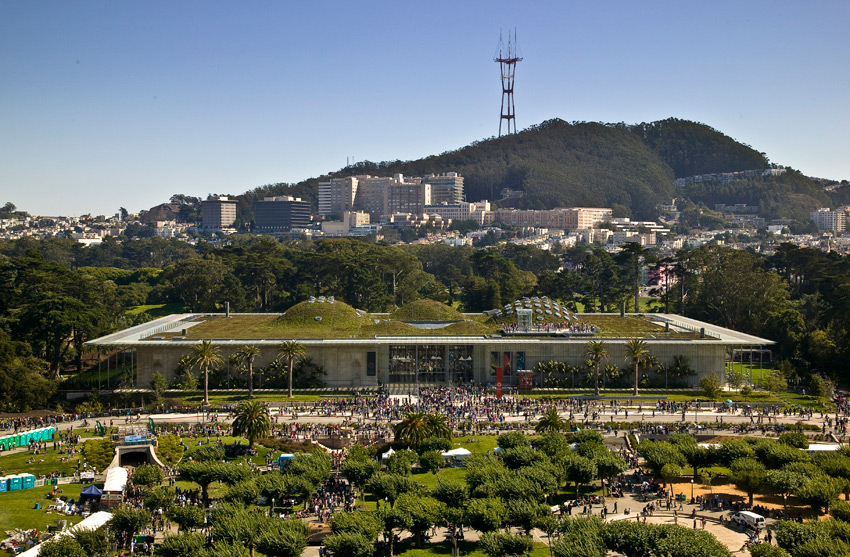 OUTrial House by Robert Konieczny | KWK Promes
Architect Robert Konieczny created a small house, recording studio, and conservatory for a rock musician in Ksiazenice, Poland. Reminiscent of a Frank Lloyd Wright design, the building is actually carved out of a hill and uses the displaced grass for the roof. Simple in design, the square OUTrial House has concrete walls and its usable green roof is accessible from within the house.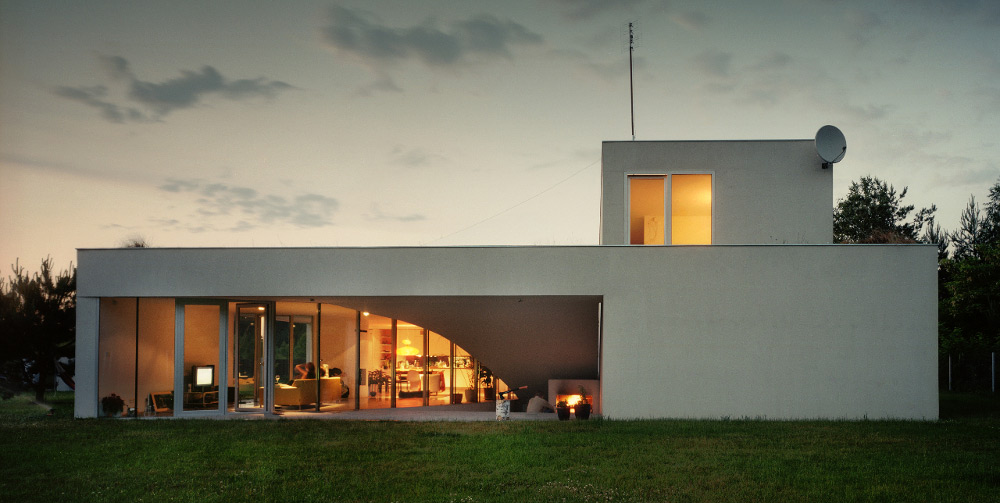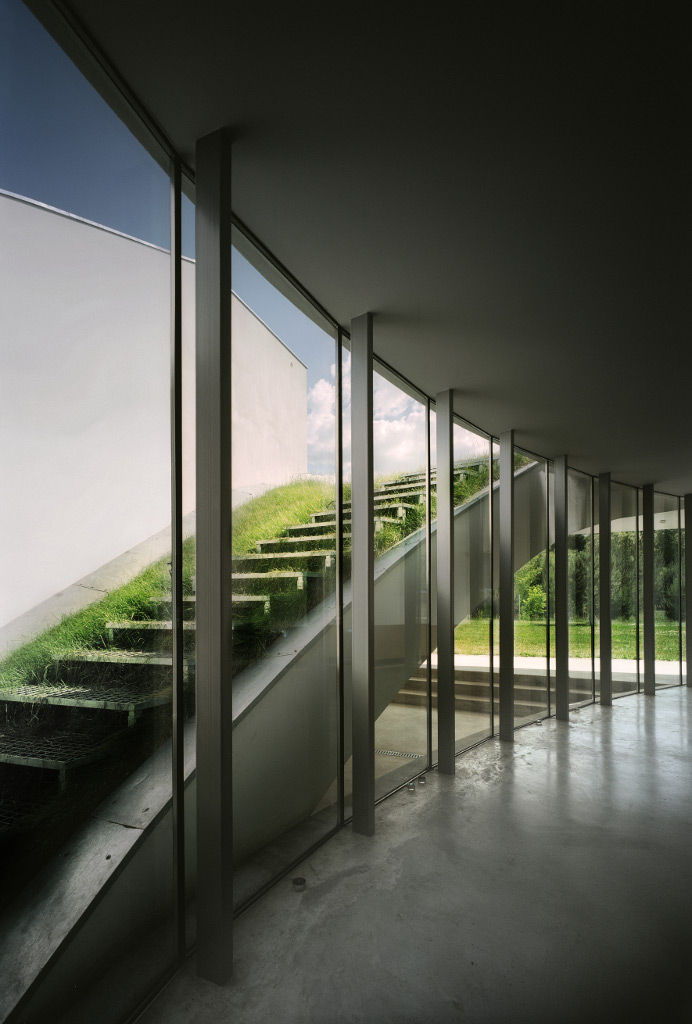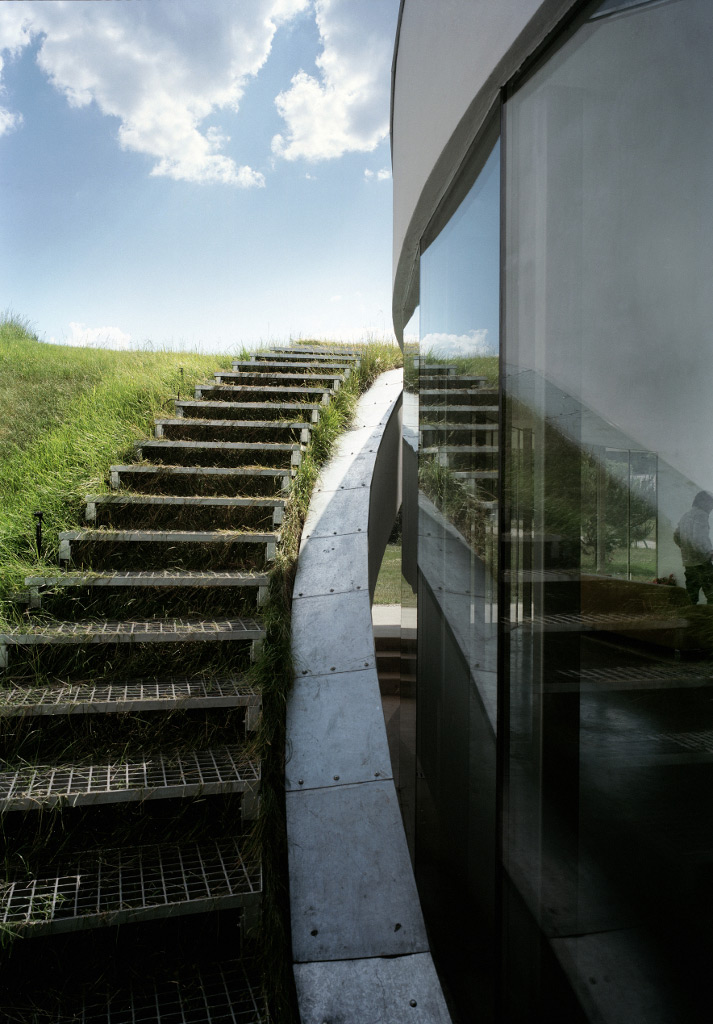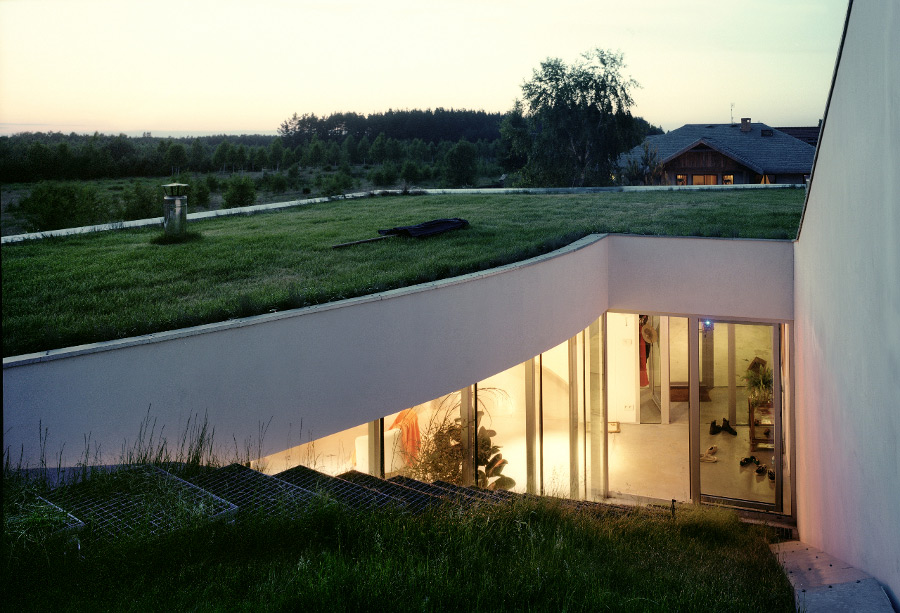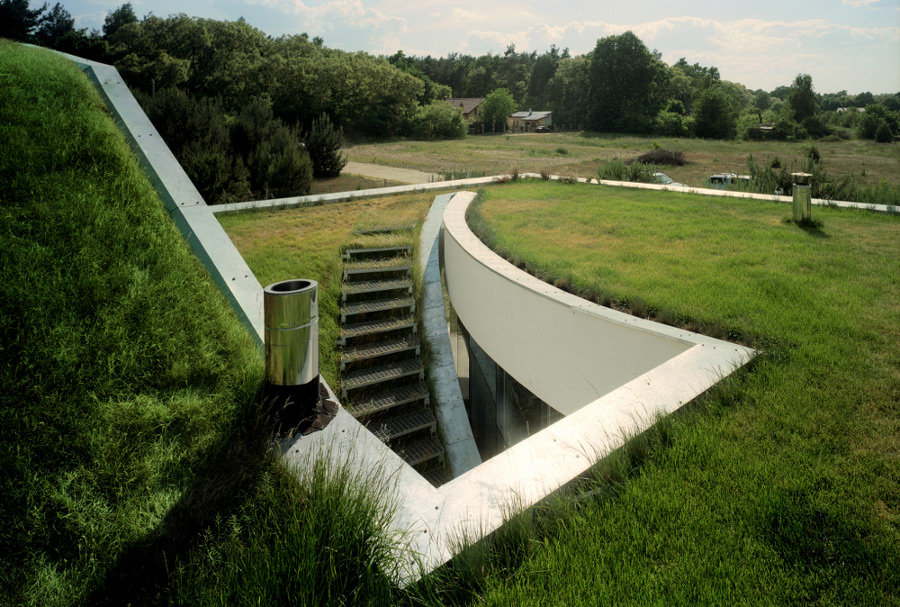 Zaha Hadid's Dongdaemun Design Park and Plaza
Centered around the ancient city walls of Seoul, South Korea, Zaha Hadid's Dongdaemun Design Park and Plaza will contain a design museum, library, and educational facilities. Influenced by Korean paintings, the garden will contain reflecting pools, lotus ponds, pebble beds, and bamboo groves. The fluid shapes of the building, lacking sharp angles, fuse with the garden to create an organic feel. Inside, the thin line of windows and extensive use of concrete on the walls, floor, ceiling, and supporting pillars contrast sharply with the outside gardens.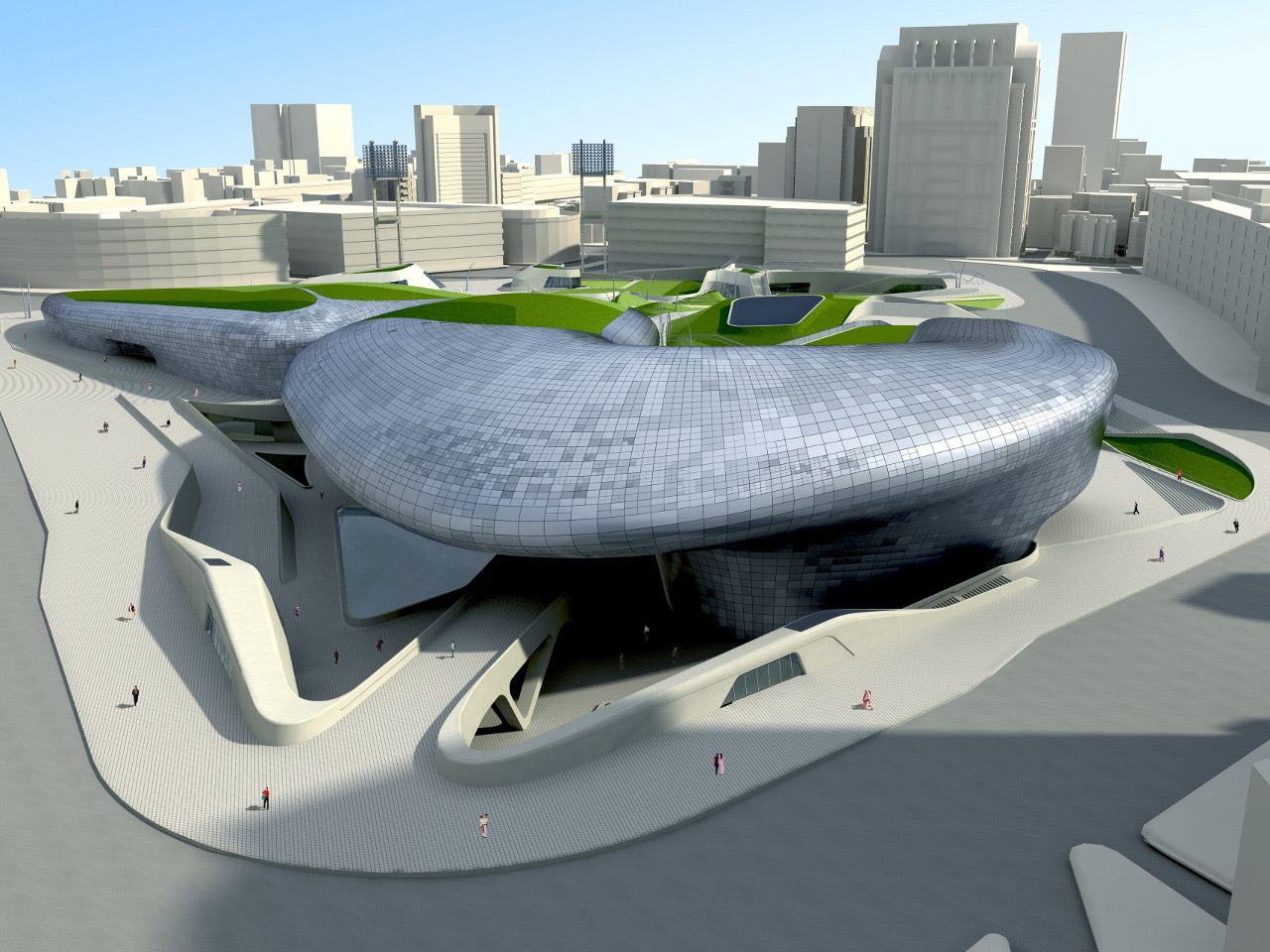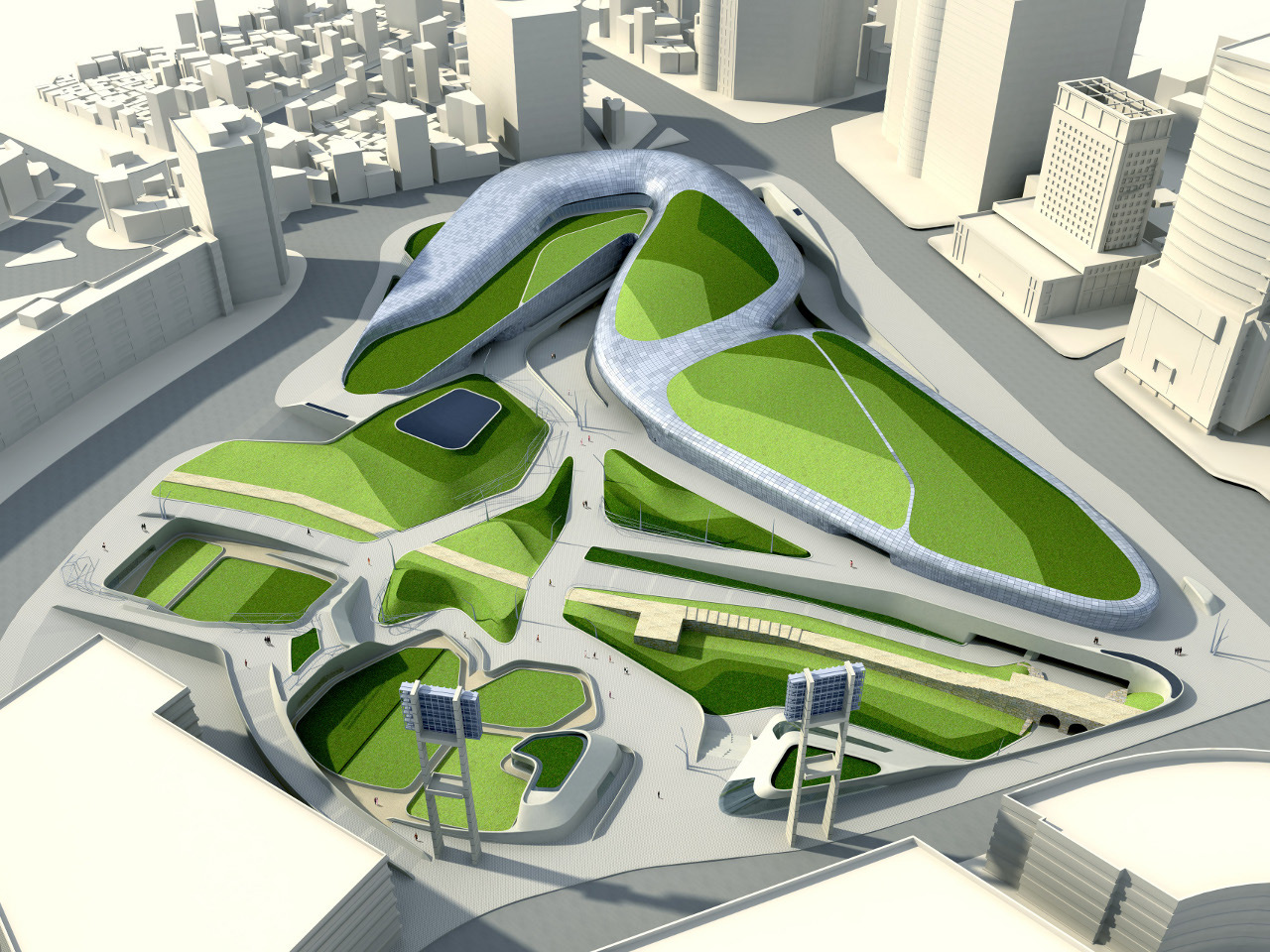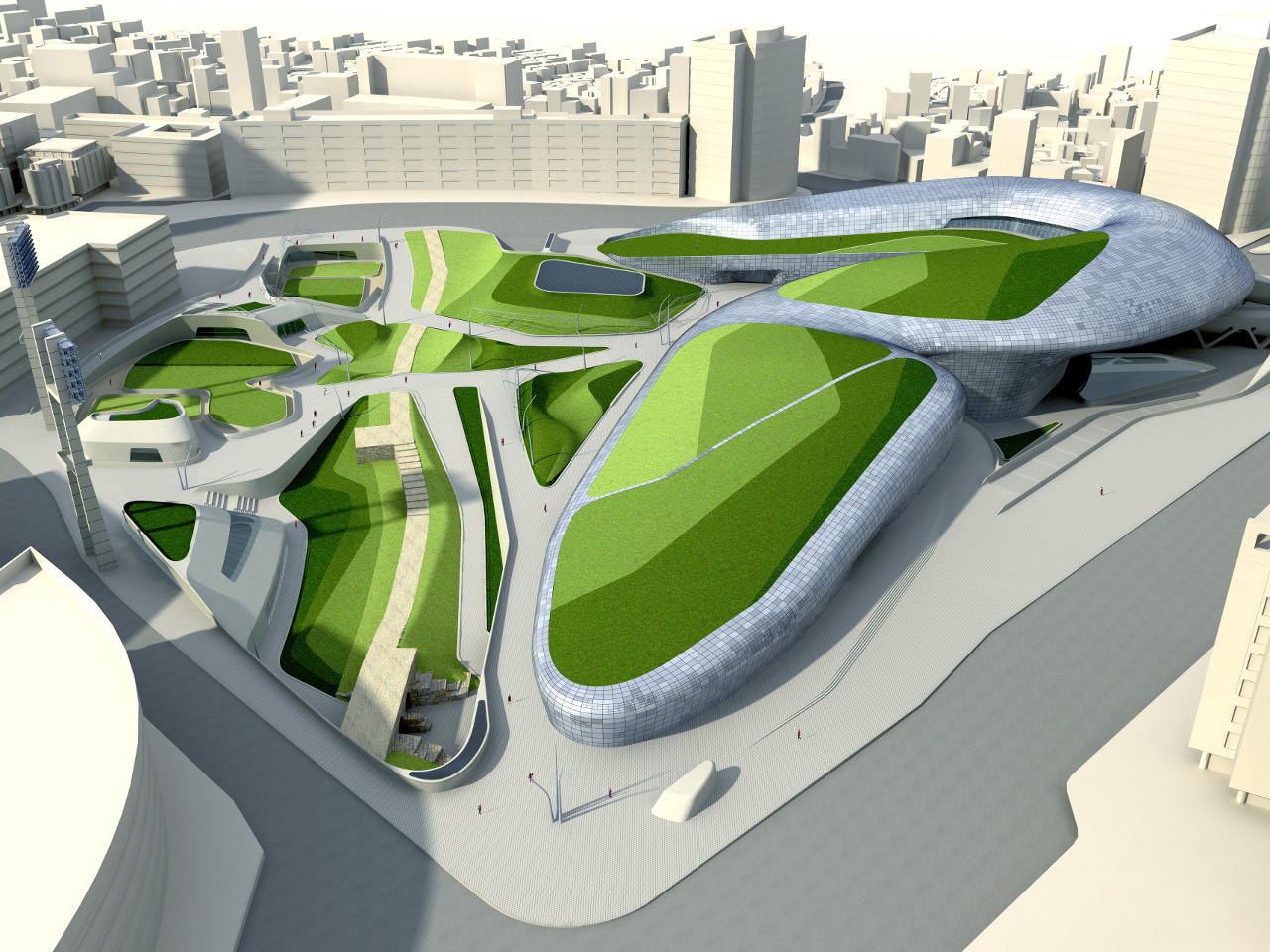 BIG's TED Cube Building
Aptly named, this BIG creation in Taiwan looks like a cube-shaped black hole out of a sci-fi movie. Recessions throughout the building might give the impression of a portal to another world but in actuality lead to open areas that allowing people to walk through. BIG's futuristic creation will not be barren: on top of the 57-m-high building will be a grove of trees encircling a rooftop performance area, which will provide a naturally cooled public park.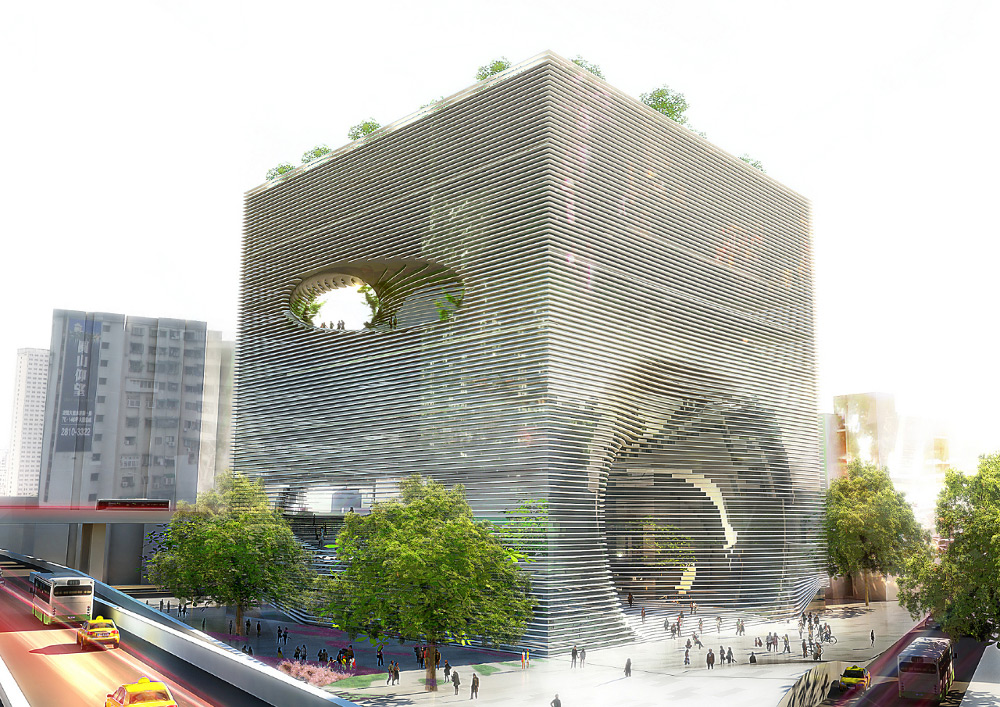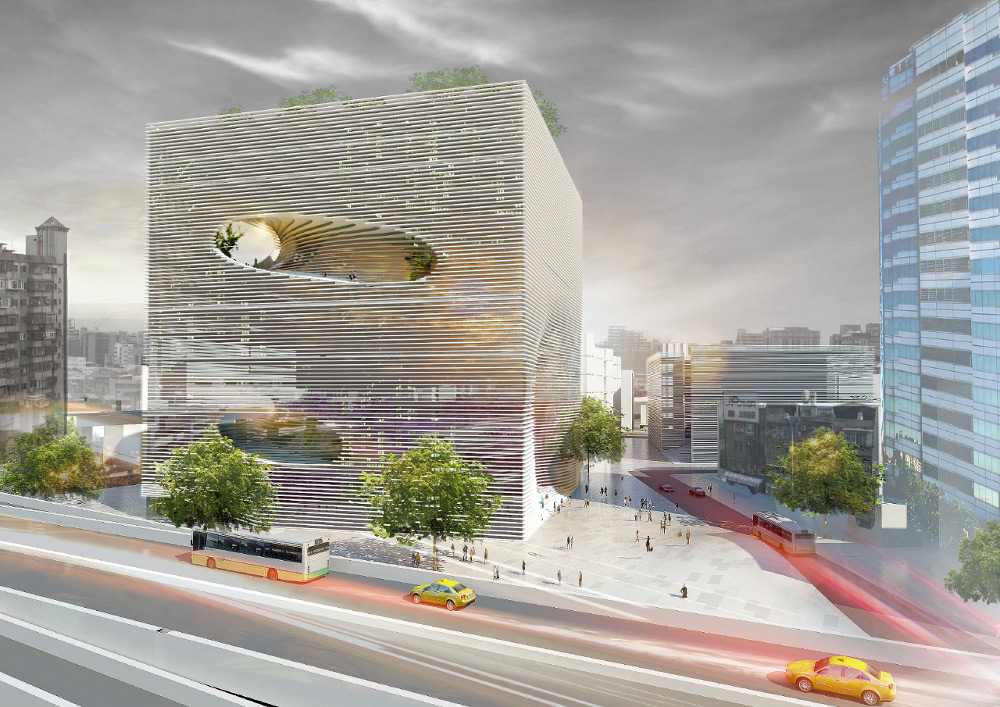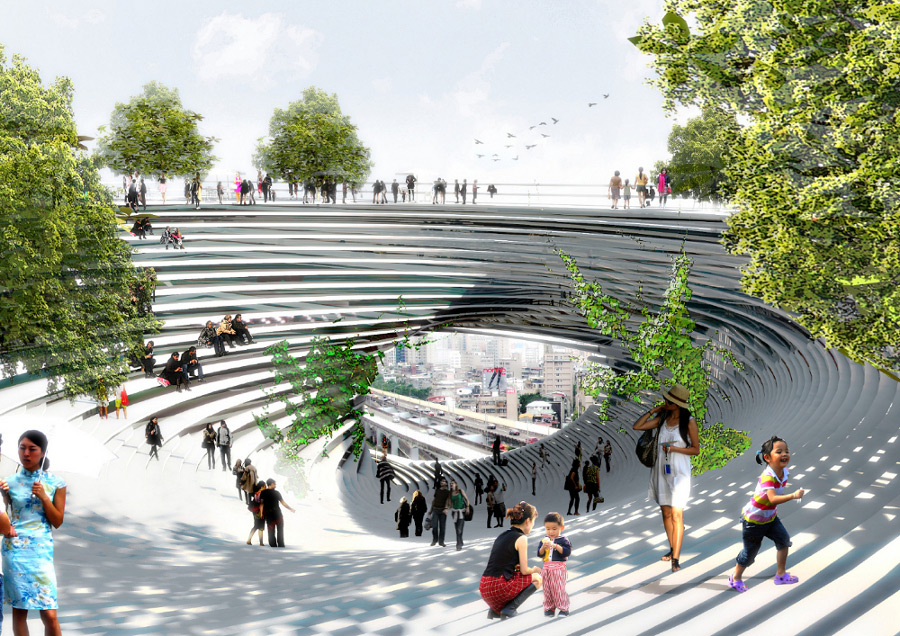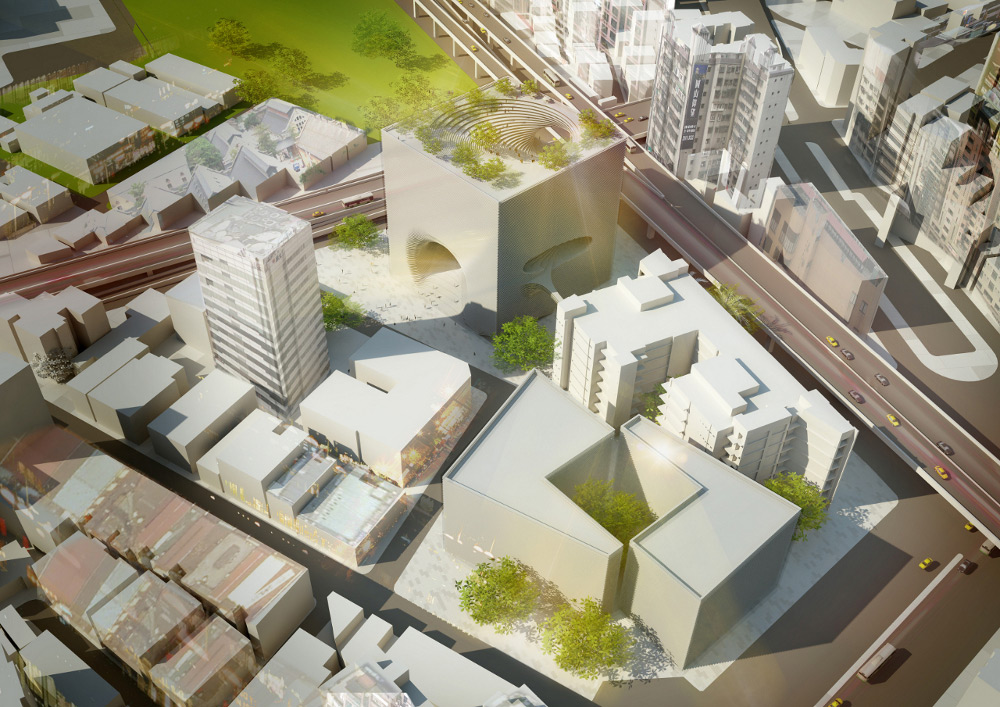 An alumni of The Ohio State University, Ms. D'Errico obtained a degree in travel writing  through a study program that she created herself. For two years Ms. D'Errico served as a staff writer for The Animal Insider, a quarterly publication based in Columbus, Ohio, and has also worked as a review scout for the Columbus division of Yelp.com. Now she is trying her hand at covering ecologically responsible and sustainable architecture for Buildipedia.com.
Latest from Carla D'Errico