Lord, Aeck & Sargent Design Novelis Headquarters
Architectural firm Lord, Aeck & Sargent (LAS) recently created an innovative, collaborative environment for aluminum rolling and recycling company Novelis' top engineers, scientists, and customers.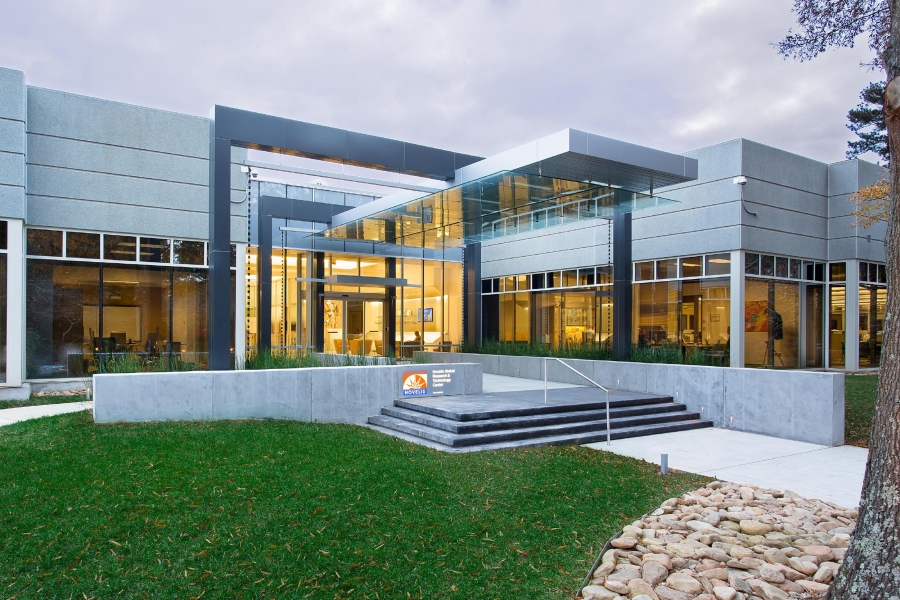 Lord, Aeck & Sargent created a research facility that possessed finishes similar to those in Novelis' headquarters in nearby Atlanta, Georgia, and incorporated modern elements and well lit work spaces. Located in nearby Kennesaw, Georgia, the one-story, 160,000-square foot Global Research & Technology Center was previously warehouse and office space for a chemical manufacturer. "It was a challenge to balance existing infrastructural elements, such as entries, restrooms [and] traffic patterns with the goal of designing a new cutting-edge space," Lord, Aeck & Sargent Associate Interior Designer Jarrett Muncy, IIDA, LEED AP BD+C, said.
The designers added an extra element, striving to incorporate the company's signature product, aluminum, into several aspects of the design. "A visual tie between the aluminum in the project and the aluminum products on display helped create a highly unified environment," Frank André, AIA, LEED AP, a senior associate at Lord, Aeck & Sargent, said.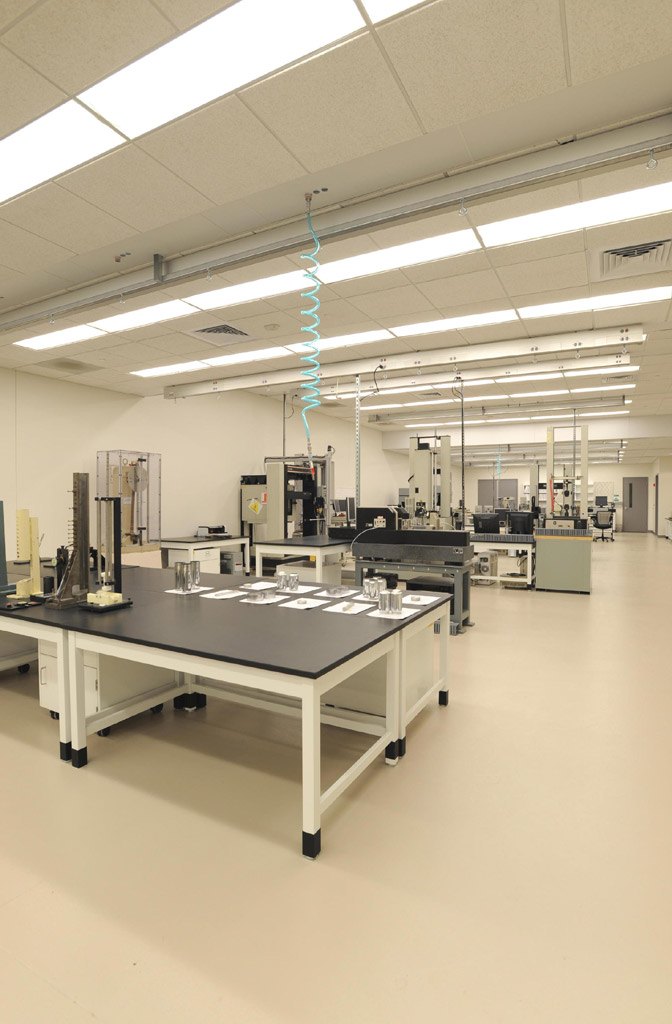 The research center's 38' long public entrance, constructed of aluminum-covered steel, and sidewalks featuring embedded aluminum is reminiscent of Novelis' profound impact in the rolled aluminum and aluminum can recycling field. In addition to updating the surrounding landscaping, Lord, Aeck & Sargent also added a glass, illuminated canopy to the entrance, which was formerly constructed of precast concrete and glass. "Aluminum is a very versatile and durable material, so we were able to use it in a variety of applications," André said. "Because it is naturally corrosion-resistant, we employed it as cladding. We were able to capitalize on Novelis' industry connections and use a solid aluminum panel in lieu of a more conventional panel product, which lent an authenticity to the project."
The center's interior offers a blend of offices, laboratories, and meeting space for Novelis' team of engineers and scientists, as well as areas that showcase the broad spectrum of uses for Novelis' materials, including a world map completely constructed out of recycled aluminum cans and an aluminum car body. "Novelis aluminum was also used in the production of floor tiles," Muncy said. "Due to the numerous off-the-shelf aluminum architectural product options, the integration of aluminum throughout the project offered great opportunity." Glass with various transparencies, porcelain tile, engineered quartz surfacing, and wood veneers were also used throughout the interior of the building, according to Muncy.
Lord, Aeck & Sargent designed laboratories for materials development and testing and retrofitted the existing office space. Previously sparse warehouse space, the new laboratory space with 30'-tall high-bay space features a 16,000-square foot pilot beverage can production line, two overhead cranes and reconfigured warehouse space. The building also features a mechanical mezzanine to optimize space.
Designing Beyond Aesthetics
Lord, Aeck & Sargent designed the Global Research & Technology Center with functionality in mind. "In addition to selecting materials for aesthetic reasons, materials were specified for functionality," Muncy said. "They had to be easy to maintain and offer the owner a long life of use, reducing the need to be replaced as often."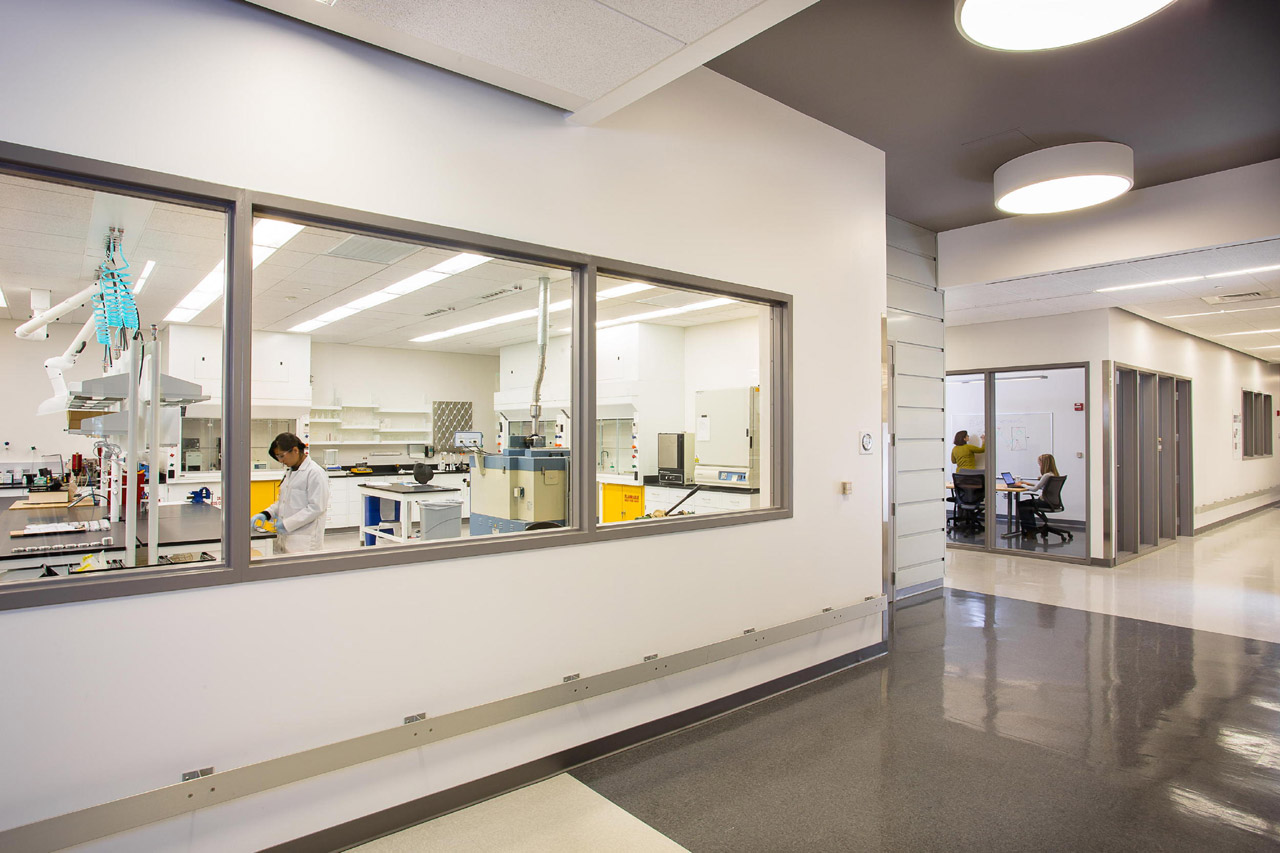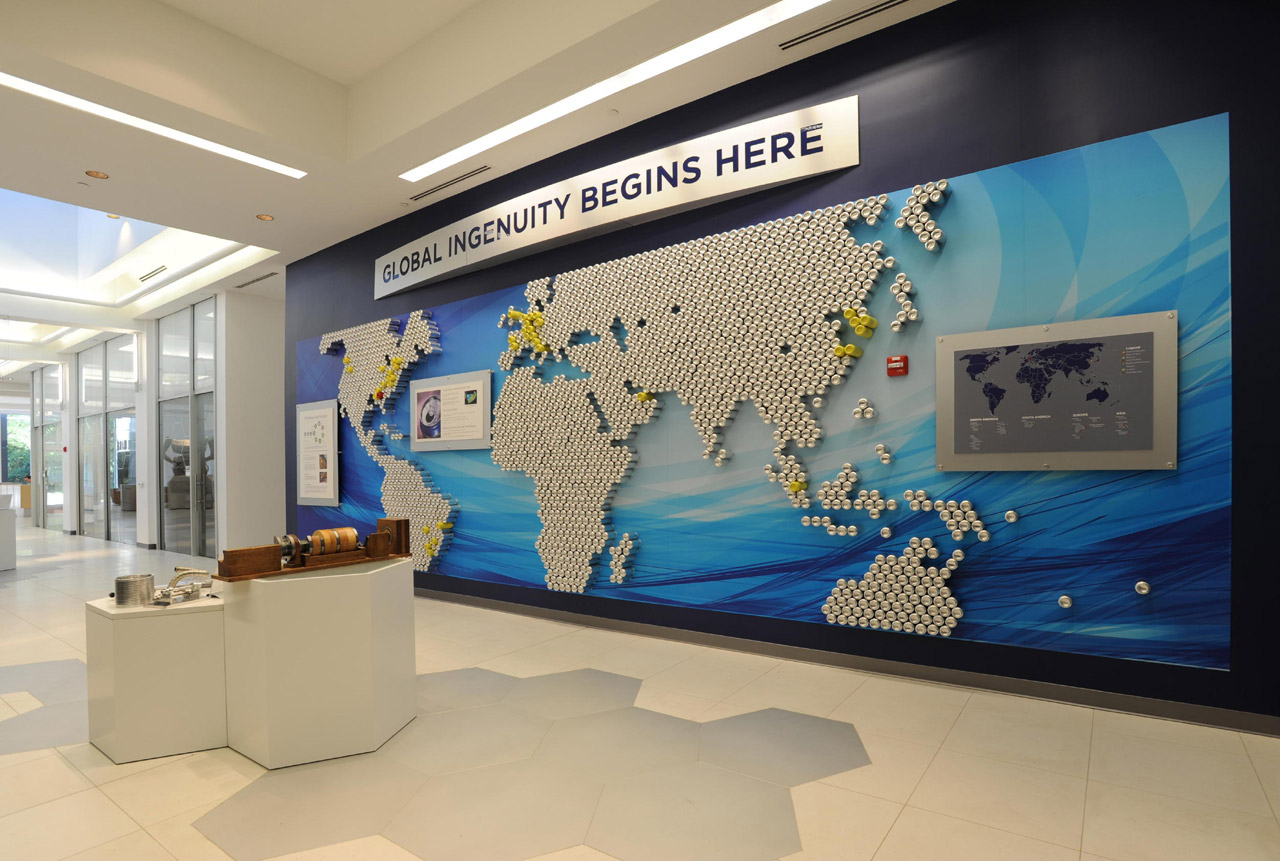 Designers were also cognizant of the center's environmental impact. "In addition to reusing some of the original steel structure, we also incorporated natural skylights in the canopy to minimize energy use, and we provided for a drought-tolerant and low-maintenance landscape solution," André said. Rain chains were also used in the entryway to direct water to plants in the newly landscaped areas.
The center's lab space, which is positioned along a 480' corridor, was designed with furniture that can be easily reconfigured as new lab equipment is acquired. The corridor is also decorated with aluminum panels, a reveal around the ceiling, and large round specialty lights at the lab entryways, meant to resemble the shape of an aluminum can, and lined with windows, which enable visitors to witness the Novelis' team at work.
"We capitalized on the existing skylights and incorporated new ones to bring natural light into a deep floor plate," Muncy said. "This light penetration was increased by vast amounts of glazing at offices, meeting rooms, and research space. By face-lifting the existing infrastructure, planning around set building elements, and weaving new client-specific materials into the design, we were able to provide a completely new spatial experience for Novelis."
Future plans for expansion include an aluminum rolling mill for automotive aluminum sheets. The property has approximately 35,000 square feet available for this purpose, as well as other additions.

J. Mariah Brown is a technical research writer and the owner of Writings by Design, a comprehensive business writing service company that specializes in business development, promotion, and client outreach. She has worked in a variety of technical and non-technical industries including, but not limited to, Government, Non-Profit, Engineering, Translation and Interpretation, Christian and Women's Publications, and Fashion and Beauty. She is a graduate of the prestigious E.W. Scripps School of Journalism at Ohio University and is currently pursuing a master's degree from Gonzaga University in Communication and Organizational Leadership.
Latest from J. Mariah Brown