Renzo Piano's Ronchamp Expansion: Competing with Le Corbusier
Recently completed is architect Renzo Piano's addition to Le Corbusier's Ronchamp Chapel. The expansion includes a visitor's center as well as an Oratory and housing for nuns from the Community of Poor Clares.
No student escapes architecture school without learning about—and likely becoming enamored of—the Chapel of Notre Dame du Haut by Le Corbusier. This icon of 20th century architecture is situated atop a hillside in Ronchamp, France, a single structure in communion with the natural landscape. Now it has company.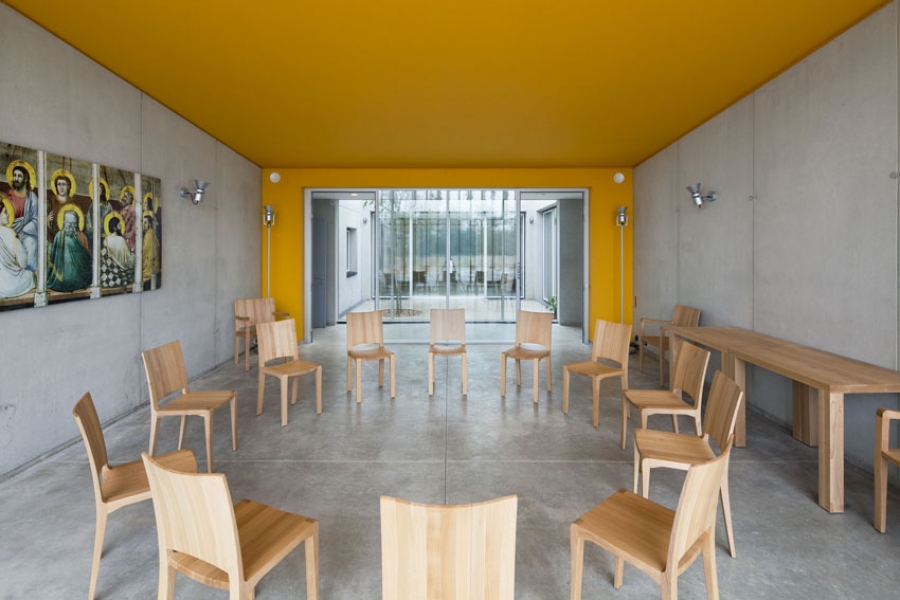 Completed in 1954, the Chapel of Notre Dame du Haut occupies the former site of a 4th century Christian chapel that was destroyed in World War II. Le Corbusier's sculptural design is at once starkly modern and strikingly spiritual. Thick concrete walls cant toward the upturned roof, calling to mind the billowing sails of a ship. The south wall is the most photographed: punched openings filled with stained glass look like an abstracted version of the Gothic ideal.
Although the chapel is not a convenient tourist destination, it draws over 100,000 architecture buffs and religious pilgrims each year, necessitating a new visitor's center. The nuns of the nearby Community of Poor Clares also wanted to move nearer the Chapel, requiring a convent and supportive spaces. The Association de l'Oeuvre Notre Dame du Haut, the same foundation that worked with Le Corbusier all those years ago, selected Renzo Piano to design the $16 million expansion project "Ronchamp Tomorrow." The foundation was impressed by his portfolio of elegant and contextually reverent designs, such as Switzerland's Fondation Beyeler near Basel and Paul Klee Center in Bern.
Piano's expansion to the chapel was inaugurated in September, despite initial protests from many architects who feared it would take away from the significance of the original structure, including Rafael Moneo, Richard Meier, and Cesar Pelli (although many architects signed an online petition in support of the project, including Massimiliano Fuksas, David Adjaye, Tadao Ando, and John Pawson). Piano, initially hesitant to take on the project himself, was persuaded by head nun Sister Brigitte de Singly to create a sacred space that promotes silence and prayer.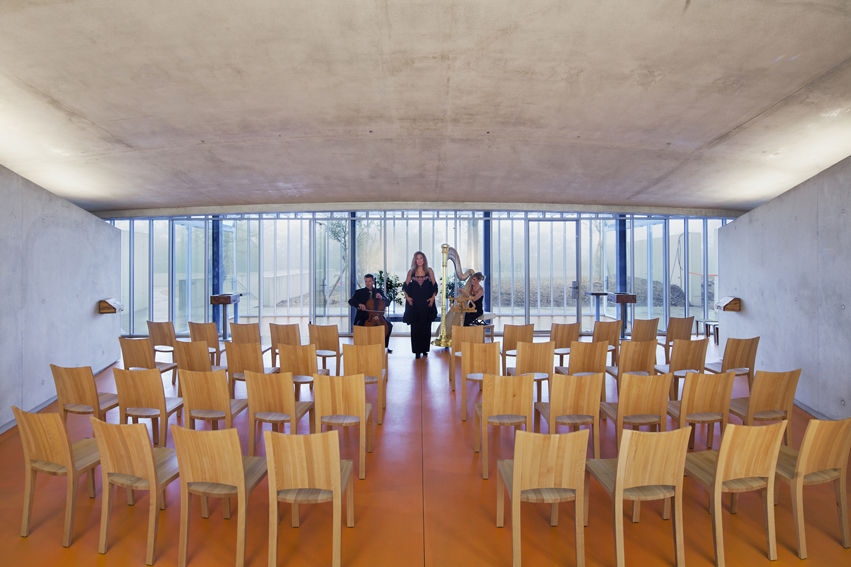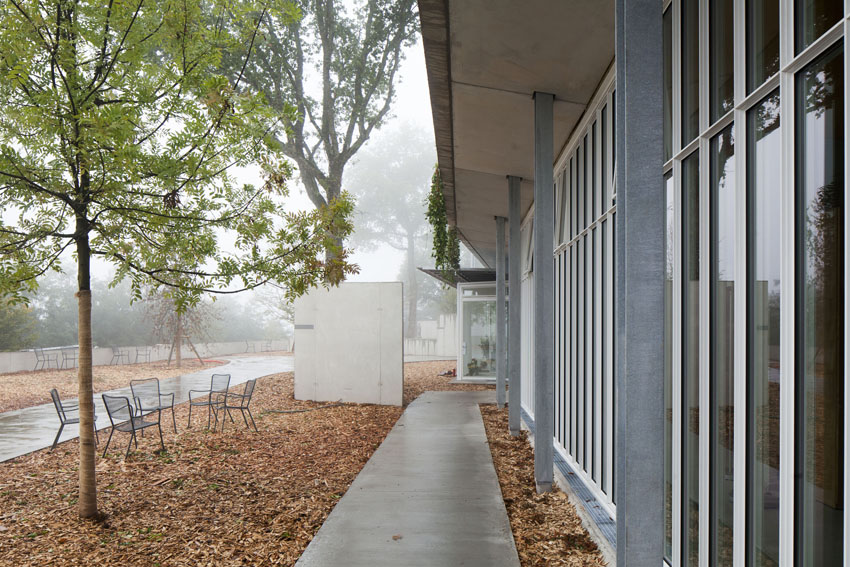 The central themes reflected throughout the project are spirituality, contemplativeness, and tranquility. Piano respectfully located the new programmatic elements at least 300' away from the iconic chapel, nestling and partially burying them into the hillside so they are not actually visible from above. Landscape architect Michel Corajoud created the site design, which will be completed next year, and includes a new parking lot to replace the existing asphalt one with more integrated plantings, lots of new trees throughout, and an enhanced pathway leading to the chapel.
Piano, in his typically restrained fashion, selected a material palette similar to and complementary of the chapel: concrete, glass, zinc, and wood. In all, there are three new structures: a 4,800 sq. ft. Gatehouse for visitors and an Oratory and housing for the nuns, each totaling around 9,700 sq. ft. The Gatehouse, with its welcoming glass facade toward the parking area, replaced the existing pink visitor's center. Its program includes a ticket office, corner shop, meeting room, and administrative space, as well as a bioclimatic garden and archival storage and research space.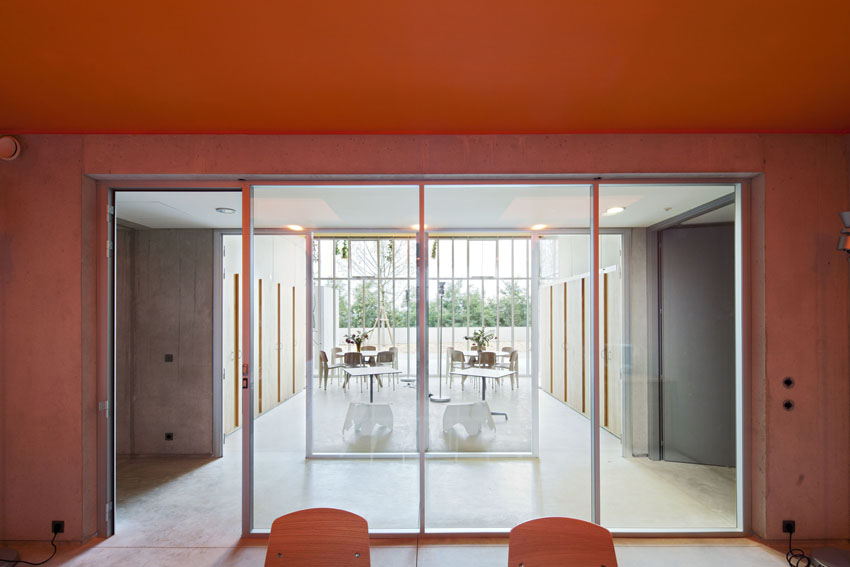 The convent for the Community of Poor Clares contains 12 units for living and meditation, and these independent concrete modules are clustered down the hillside. The spaces are spare, but each features custom wood furniture, glowing orange walls, and a glazed wall to capture the spectacular valley views. They also open onto private winter gardens to provide the nuns with places for contemplation. A separate structure that serves as an oratory is a spiritual retreat open to religious pilgrims. It includes a common space with a refectory and workshops.
Interestingly, neither Le Corbusier nor Piano consider(ed) themselves religious people. Yet both architects created spaces conducive to silence and prayer that are uniquely of their times and, by most accounts, will continue to coexist harmoniously.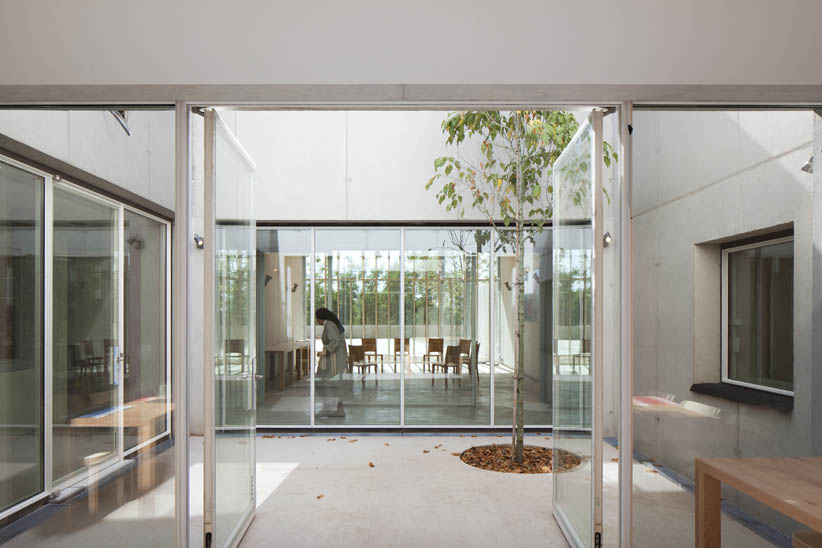 Murrye is a freelance writer based in New York City. She holds a Bachelor's degree in Architecture from the University of Arkansas and is a LEED-accredited professional. Her work has been published in Architectural Record, Eco-Structure, and Architectural Lighting, among others. She also serves as a contributing editor for the American Institute of Architects' New York Chapter publication, eOculus.
Website: www.murrye.com
Latest from Murrye Bernard