Camping Influences Home Design
If you're planning to build a house on a rural site, it's a good idea to try to camp there first, to get a sense of the site's key features and best orientations. These houses blur the boundary between indoors and outdoors.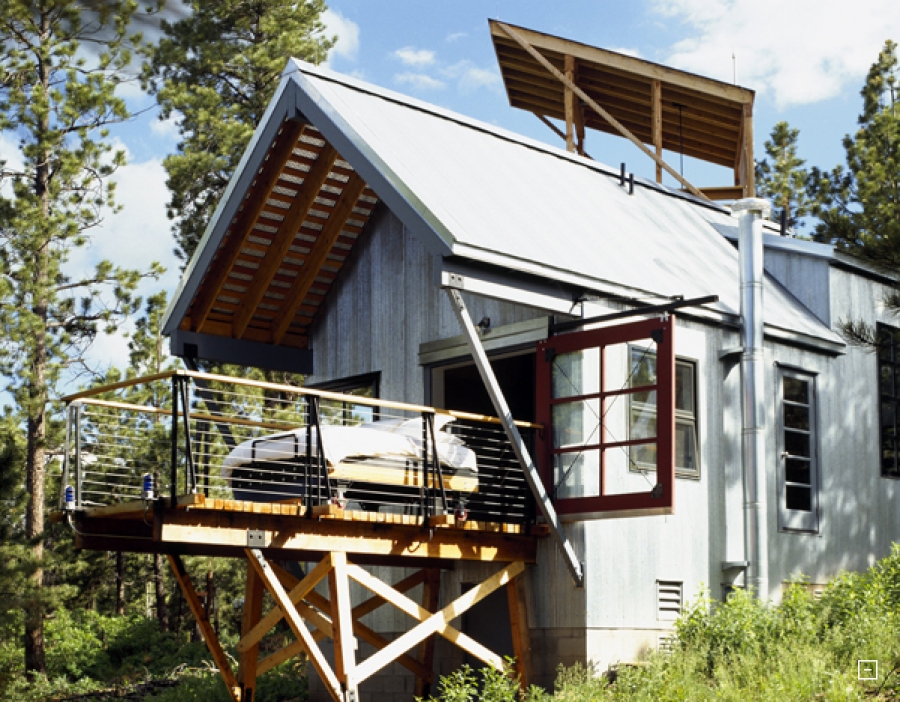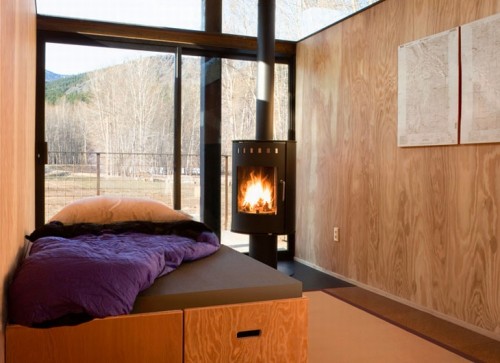 In my case — during an overnight stay in the Los Padres National Forest near Santa Barbara in a sleeping bag that must have been rated for indoor use only — camping only made me appreciate beds and bedrooms all the more. While lying awake in the cold, I started to think about ways to include aspects of camping without actually leaving home. Seattle architect Tom Kundig, of the firm Olson Kundig, is especially adept at what I would call "civilized rustication"; that is, heightening an outdoor experience indoors. For example, consider this plywood bedroom with a round Rais wood stove: I'd call it architectural camping (no doubt that sleeping bag is rated for actual warmth).
---
Home Builders Resource Center
Brought to you in partnership with:

Browse these plans and others at
http://www.houseplans.com
.
---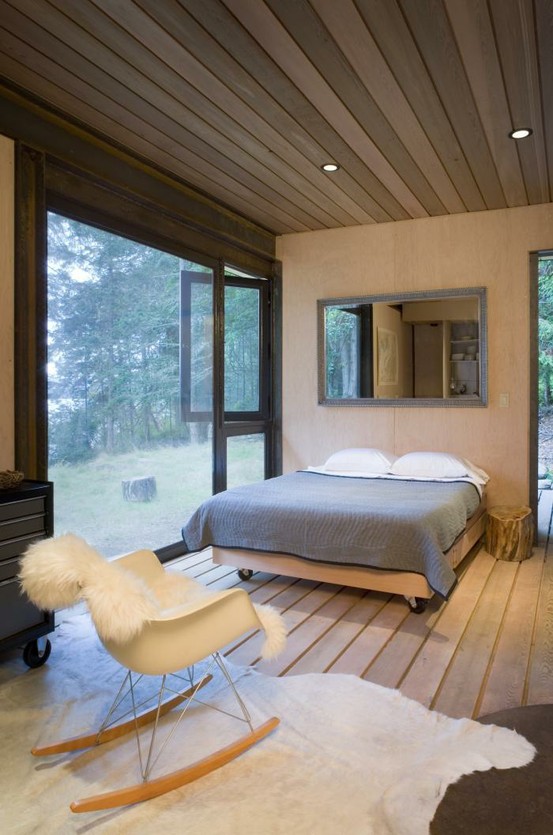 The wood grain, expanse of glass, platform bed, and stove are enough to create a feeling of being in a landscape without actually strolling into the wild (photo courtesy of stylecarrot.com). A bedroom in another Kundig cabin has an outdoor vibe because of the decking and open/screened walls (photo by Tim Bies, courtesy of justthedesign.tumblr.com).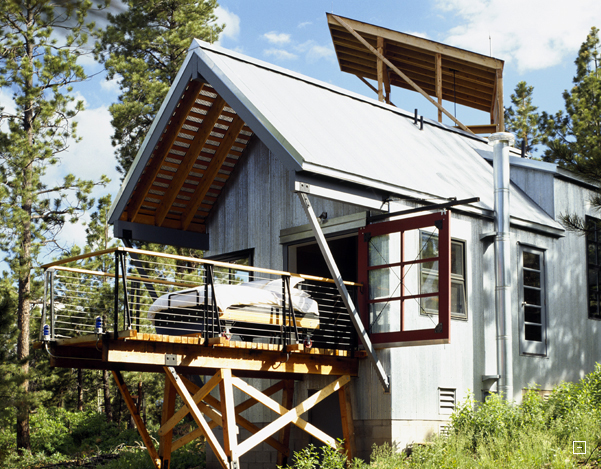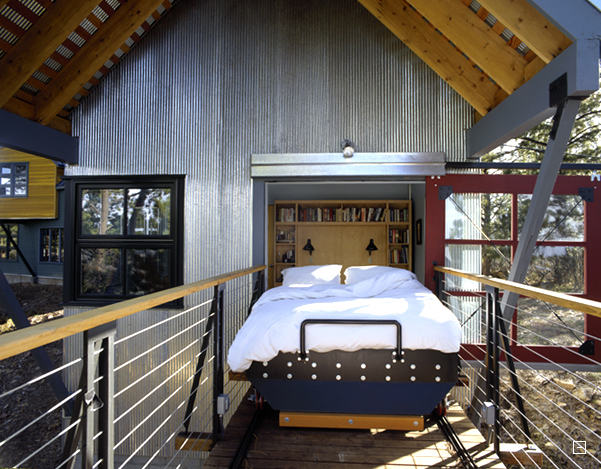 Berkeley architects Richard Fernau and Laura Hartman have often experimented with blurring the boundaries between inside and outside. One of my favorite examples is their Laybourne House and Art Barn in Telluride, Colorado, shown here. When it's time to say goodnight, the bed, which is on rails, rolls onto the sheltered porch (photos courtesy of fernau+hartman.com).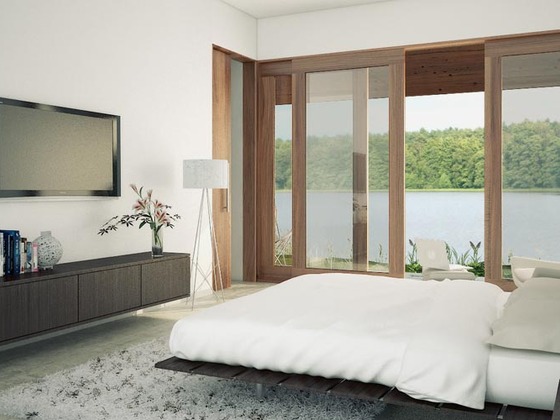 If that seems a bit extreme, maybe well proportioned, operable window walls will do the trick, as shown in this modern cabin by Braxton Werner and Paul Field.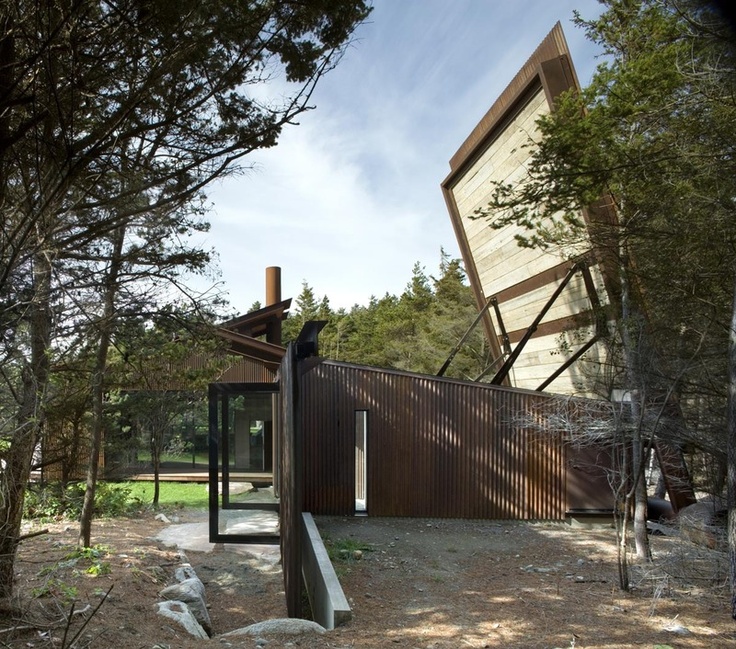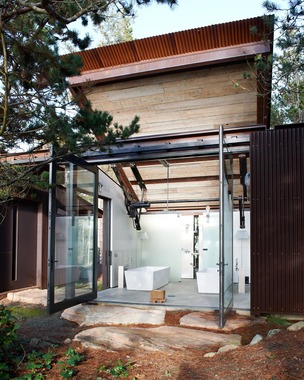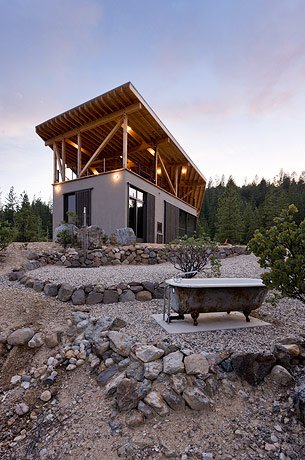 The idea of bathing outdoors is always fun to consider in warmer weather. You can simply plumb the tub somewhat away from the cabin, as shown in this design by the innovative Japanese firm Atelier Bow-Wow (photo by Iwan Baan). Or you can blow the lid off convention as Tom Kundig demonstrates in this bathing pavilion, which features a crank that raises the roof. It's part drawbridge, part cabin — a wonderfully kinetic and (I would guess) invigorating bathing machine (photos by Tim Bies, courtesy of Olson Kundig).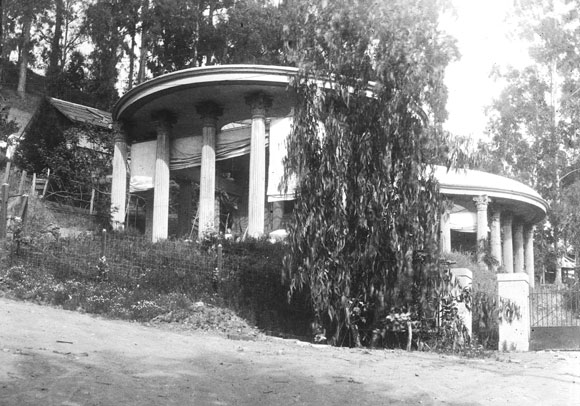 The idea of the camp-as-house has long been a strong and suggestible architectural idea — remember the Great Camps architecture of New York's Adirondacks in the late 19th century? A particularly quirky early 20th century example is the Temple of the Wings in Berkeley, designed by Bernard Maybeck and A. Randolph Monroe and built in 1914 for Charles and Florence Boynton as a riff on Greco-Roman architecture (photo courtesy of Berekeleyplaques.org). It consists of two circular open-air pavilions defined by 34 Corinthian columns. Canvas shades provided weather protection and a measure of privacy. I guess a colonnade is all you really need to make a camp your home — maybe now I can get to sleep.
For more on outdoor-oriented cabins, click here.

Daniel P. Gregory is Editor-in-Chief of Houseplans.com, the largest online source of architectural house plans. The author of Cliff May and the Modern Ranch House (Rizzoli, 2008) as well as numerous articles on California architecture for magazines and books, Dan holds a Ph. D. in architectural history from U. C. Berkeley.
At Houseplans.com he has developed an expanding collection of exclusive plans by award-winning architects from across the country and around the world, from Not So big House author/architect Sarah Susanka to Melbourne modernist Leon Meyer. His weekly blog Eye On Design covers home news and trends.
Before joining Houseplans.com he was Senior Home Editor of Sunset Magazine, where he ran the AIA-Sunset Western Home Awards Program, helped develop the Sunset Breezehouse prefab by Michelle Kaufmann, and served as editorial director for the magazine's Idea House Program.
Website: www.houseplans.com
Latest from Dan Gregory