House of the Month: Saratoga Creek House by WA Design
A single-family home conceived as a series of pavilions harmonizes with its site, while showcasing several art-meets-architecture pieces.
David Stark Wilson, AIA, is one of those rare architects who pursues passions beyond his profession. An avid mountaineer and photographer (his third monograph is soon to be hot-off-the-press), Stark Wilson's love of nature is evident in his built work, particularly in his designs' relationships with their sites and his subtle incorporation of texture and color. He founded the design/build firm WA Design in San Francisco's Bay Area in the mid-1980s. Since then, the firm has completed a range of residential and commercial projects including the Saratoga Creek House, for which it simultaneously served as architect and contractor.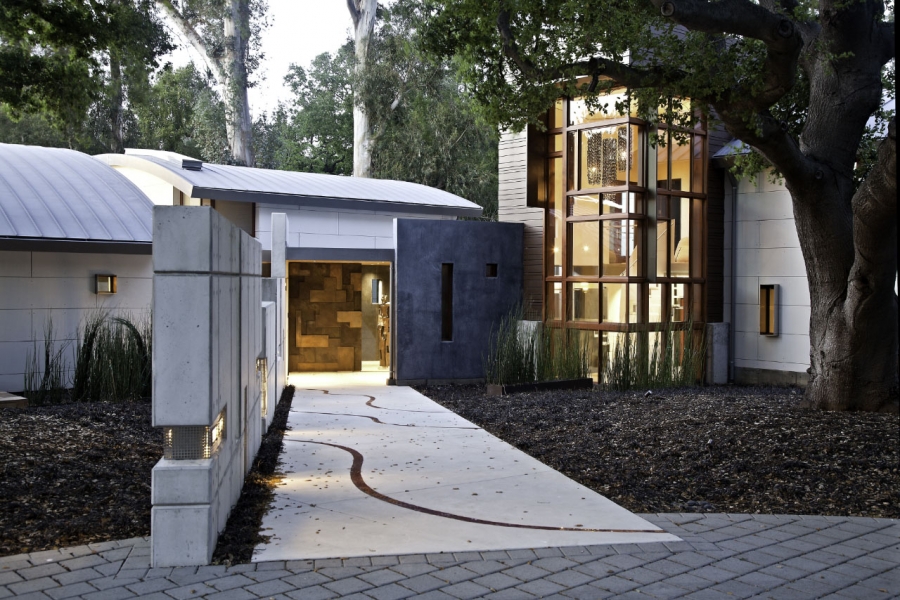 WA Design was engaged to envision a home to accommodate a family with three children. They had purchased a lot in Saratoga, California, a community located south of San Francisco. However, the site's biggest assets – large, mature oak trees and a winding, seasonal creek – also proved challenging for the architect. These beautiful obstacles, coupled with existing easements, limited the buildable footprint on the otherwise spacious two-acre lot.
Stark Wilson's solution was to create a series of pavilions with vaulted roofs positioned carefully across the site so as not to disturb the oaks. Each pavilion that comprises the home serves a specific programmatic function; the main volume contains an open living/dining space, and other elements include a bedroom wing, a guest house, and a garage/media room. In all, the home spans 7,000 square feet, including plenty of glazed perimeter area that allows the residents to constantly reconnect with the outdoors. These volumes also define outdoor spaces including courtyards, patios, and a pool, as well as grassy open lawns.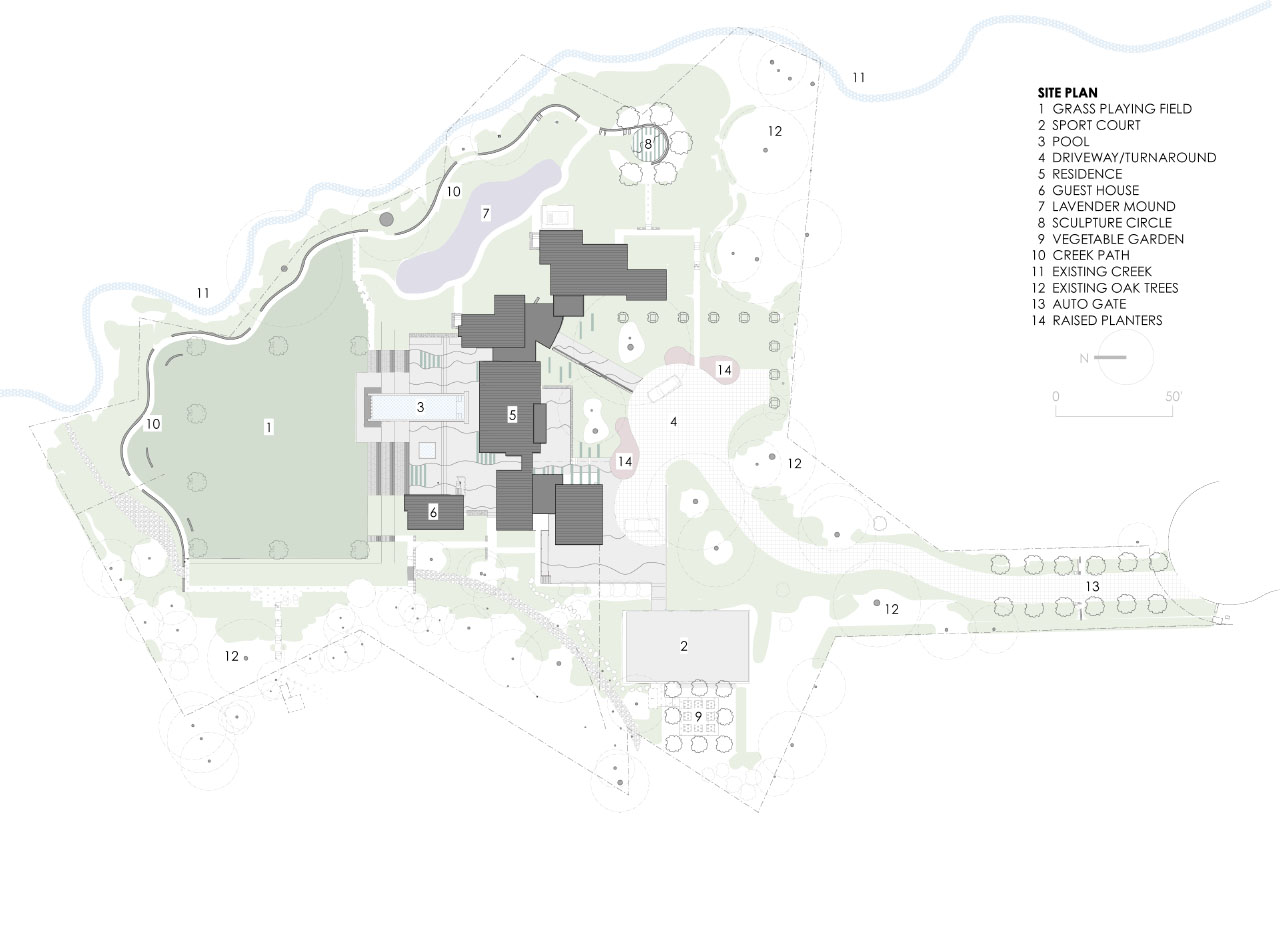 The separation of programmatic functions calls to mind the factory vernacular, and Stark Wilson's material selections emphasize this functional aesthetic. Sculptural concrete walls frame paths and views; the vaulted roofs are finished with gray zinc; the pavilions are clad with Swiss Pearl cement board and Fundermax siding, a recycled content hybrid material from Germany that looks like wood. Contributing to the home's sustainability, most of the exterior cladding was installed as a rainscreen assembly.
On the interior, the material palette tends more toward the natural: Choctaw sandstone lines the fireplace and hearth, contrasting with, yet complementing, the walnut millwork and plaster walls. Throughout the home, there are three memorable "statement" pieces. In the main living/dining/kitchen volume, which features soaring ceilings, a bronze-clad soffit brings the space down to a more intimate scale while simultaneously referencing its vaulted roof form. The soffits appear to float thanks to indirect lighting above, and integrated low-voltage MR16 lamps provide more focused light for tasks below. Although the designers considered several different materials for finishing the soffits, including resins and perforated metals, patinated bronze offered the warmth and texture they wanted.
Another curved element that stands out on the interior is the elliptically-shaped master closet. It is finished with dark gray plaster, which gained its horizontally striated texture when the subcontractor raked it with a notched trowel. However, the real centerpiece of the house is the glass stair that connects the 'living' pavilion with the 'sleeping' pavilion. It is housed in a primarily glass enclosure and features glass treads wrapping a central translucent resin panel. Climbing the stair is like "being in a little jewel box," explains Stark Wilson, and it allows the family to catch glimpses through the glass and into the garden.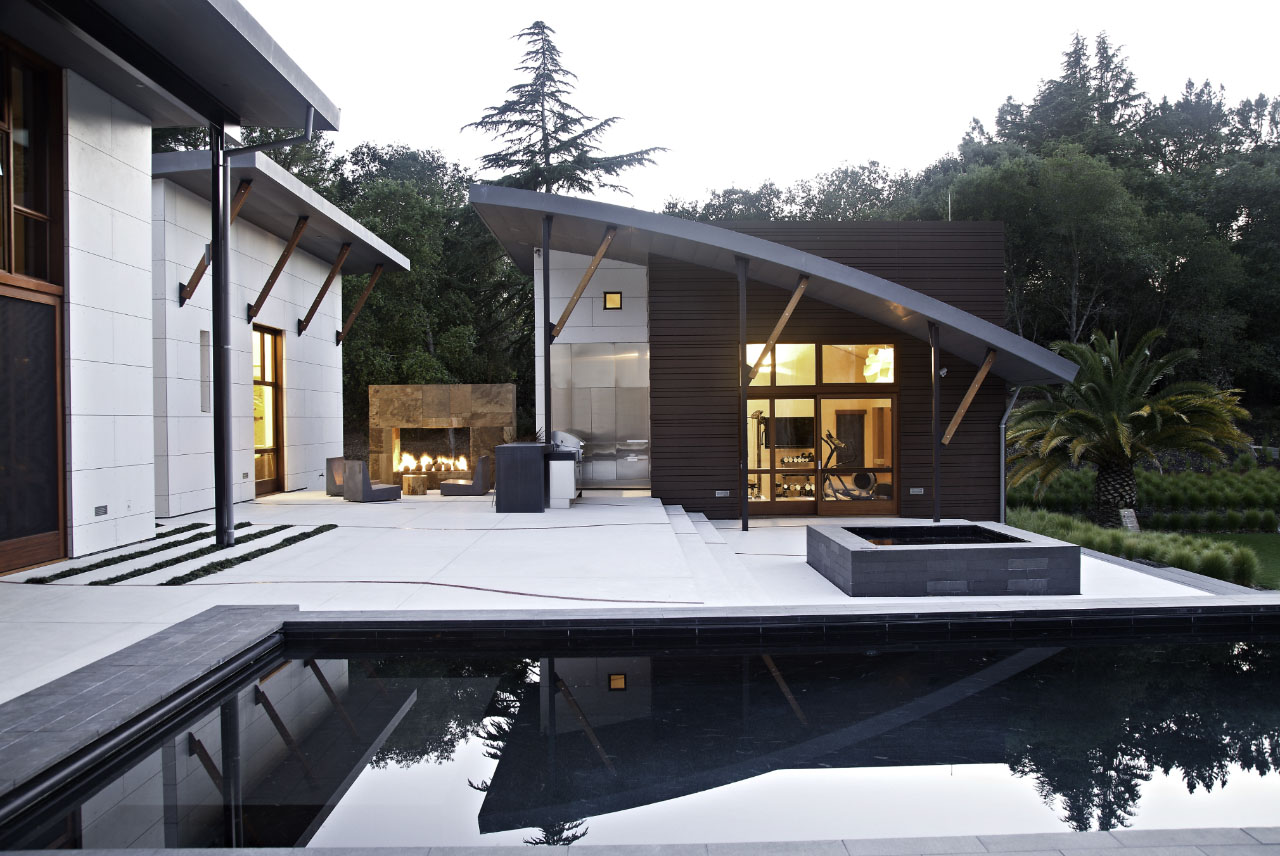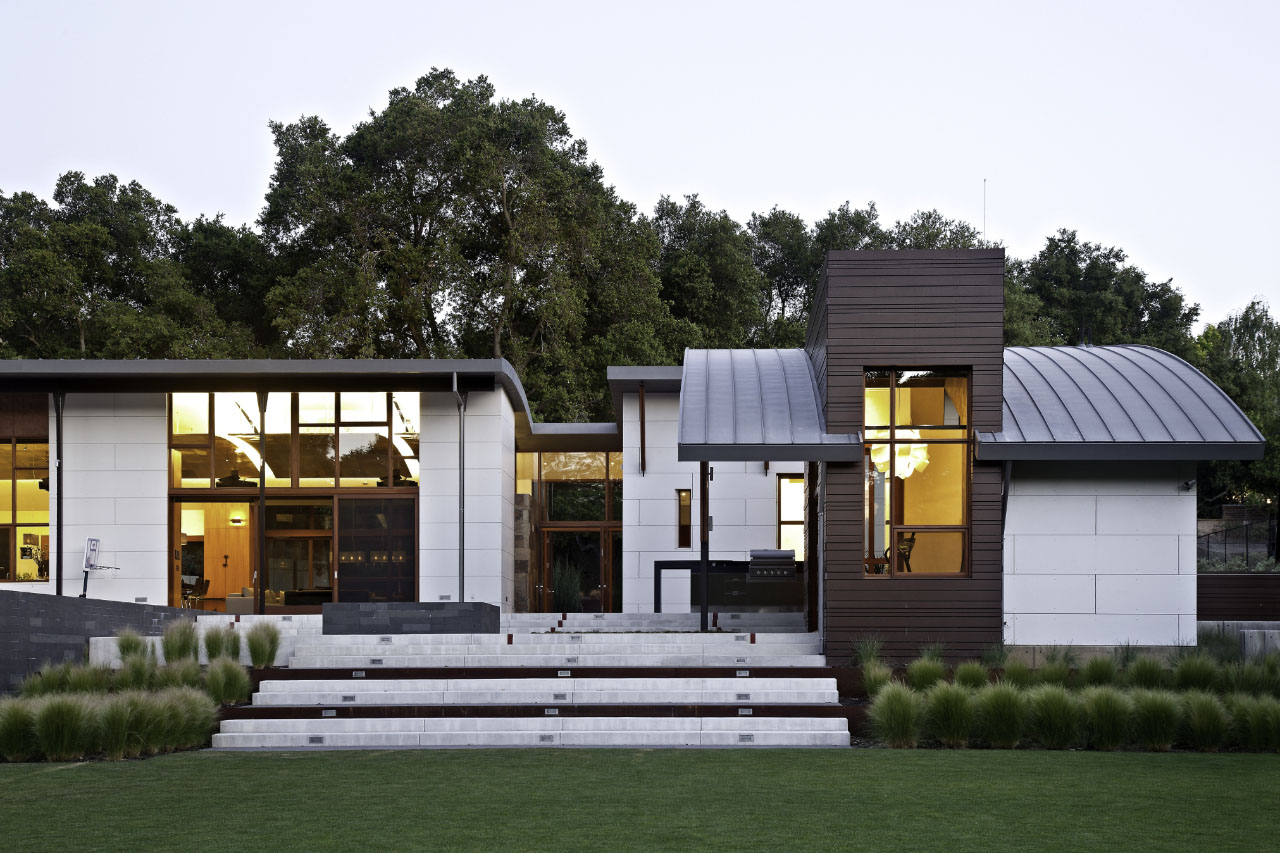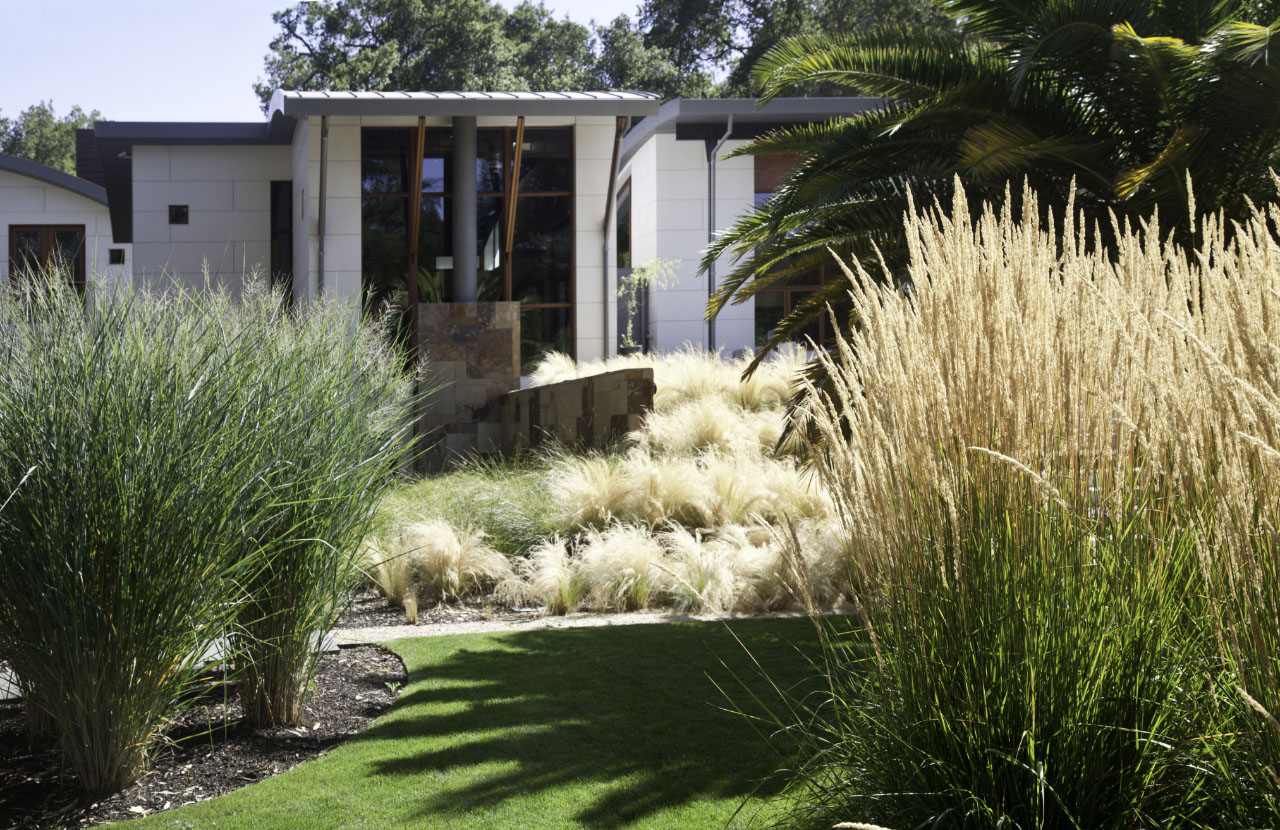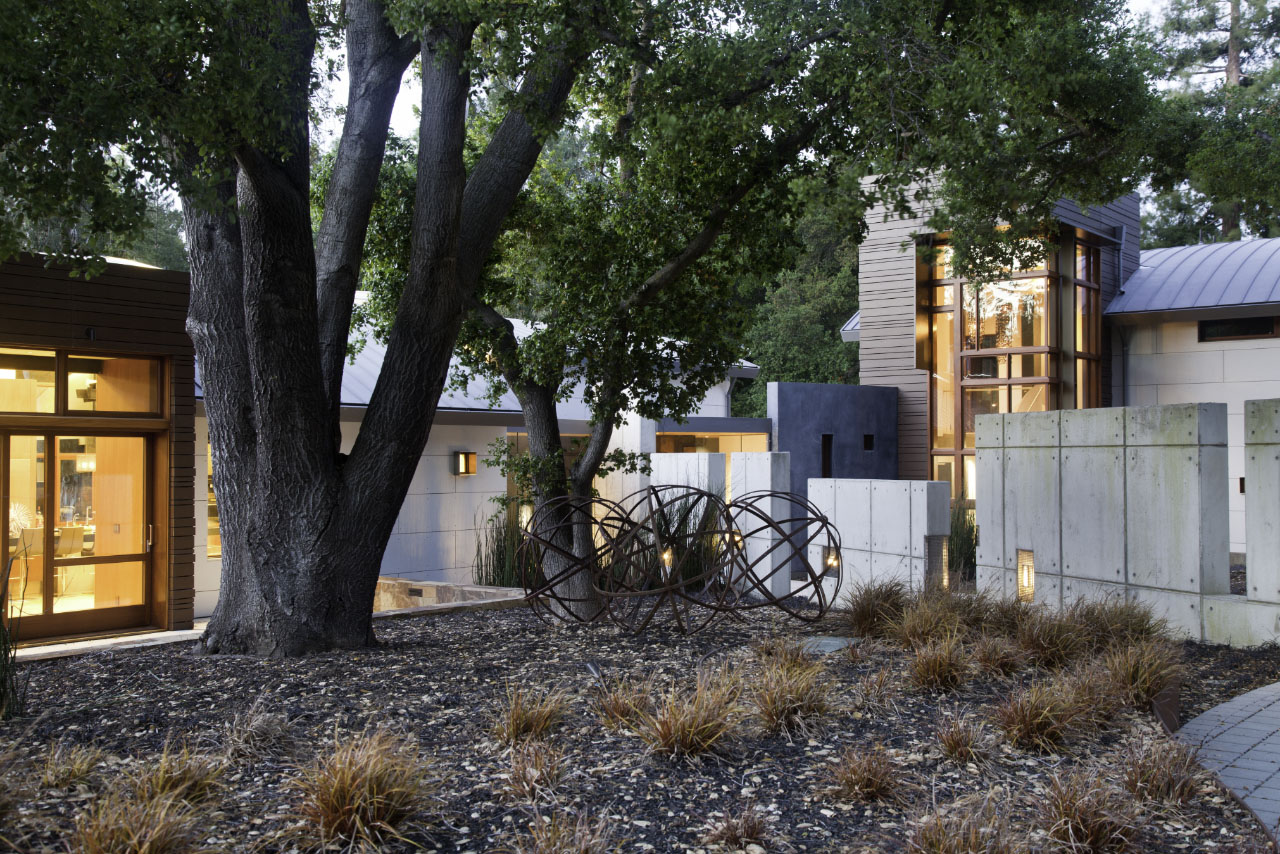 And ultimately, the design is all about the outdoors. Though when one thinks of San Francisco, cool and rainy days come to mind, residents of Saratoga, only an hour drive away, enjoy a climate more similar to that of Southern California. The family who lives in the Saratoga Creek House frequently entertains, so they get plenty of use out of the myriad of outdoor spaces framed by the home's layout. WA Design articulated a cozy outdoor kitchen complete with bar and fireplace, and also designed comfier-than-they-sound concrete chairs that flank the pool. For the landscaping, the designers selected drought-tolerant species, including many native California species. Non-invasive grasses prove low-maintenance, and mounds of lavender planted on a rigorous grid provide unexpected pops of color.
The clients, who have cultivated a collection of outdoor sculptures, asked Stark Wilson to design one. "As an architect, I had never designed anything that wasn't intended to be used on some level, that was purely visual," he explains. But he readily took on the challenge, which forced him to "look at the landscape design holistically" and draw inspiration for his sculpture's form. He positioned the art piece in the bend of a granite block-lined walkway that follows the creek. The sculpture itself is delicate by contrast to the blocks, comprised of vertical stainless rods that rise in an undulating form. It serves as a scrim, filtering views and perceptions—from certain angles it seems transparent, and from others, nearly solid. Similarly, experiencing Stark Wilson's architecture requires a bit of exploration, which in turn, causes the viewer stop and appreciate the backdrop—i.e., nature.
Wilson has published two photography books. One features vernacular architecture around California (Structures of Utility, Heyday Books, 2003 - heydaybooks.com/book/structures-of-utility) and another highlights Mount Whitney and California's other majestic mountain peaks (Above All, Heyday Books, 2008 - heydaybooks.com/book/above-all). His third book will soon be released by Images Publishing.

Murrye is a freelance writer based in New York City. She holds a Bachelor's degree in Architecture from the University of Arkansas and is a LEED-accredited professional. Her work has been published in Architectural Record, Eco-Structure, and Architectural Lighting, among others. She also serves as a contributing editor for the American Institute of Architects' New York Chapter publication, eOculus.
Website: www.murrye.com
Latest from Murrye Bernard