Kitchen Design Trends and Ideas
We've all heard the phrase "champagne taste on a beer budget," right? This certainly applies to kitchen design and decorating. Our space is an integral part of our lives -- as we spend a good deal of life at home -- and it doesn't take a Feng Shui expert to understand the value of creating a space that is personalized, practical, and, of course, positive.
---
Home Builders Resource Center
Brought to you in partnership with: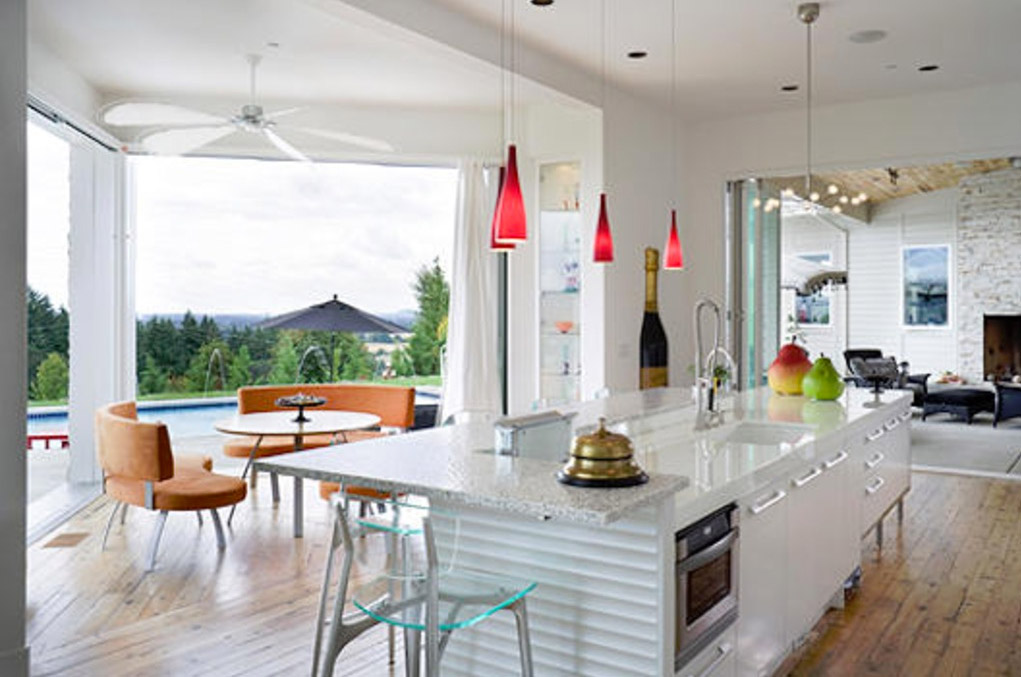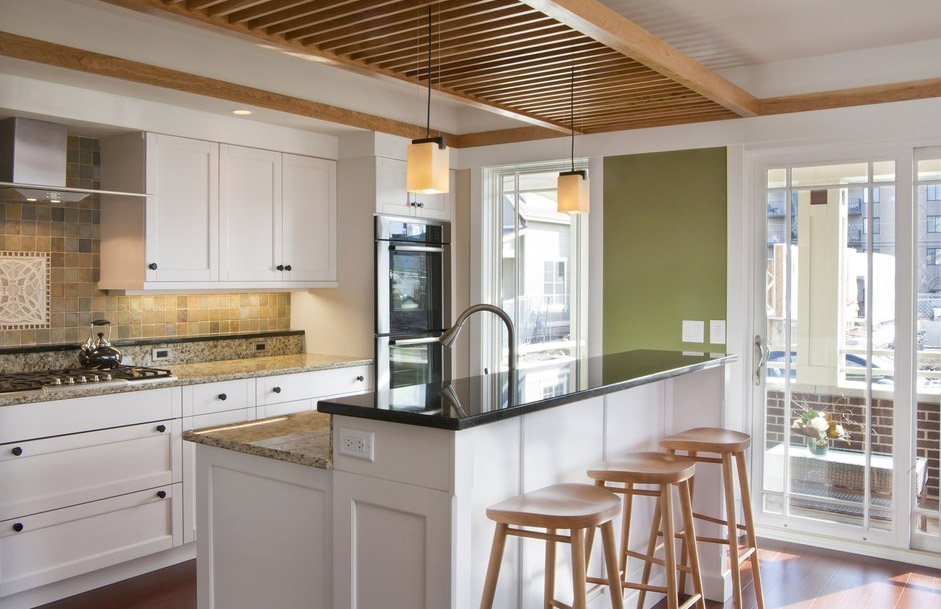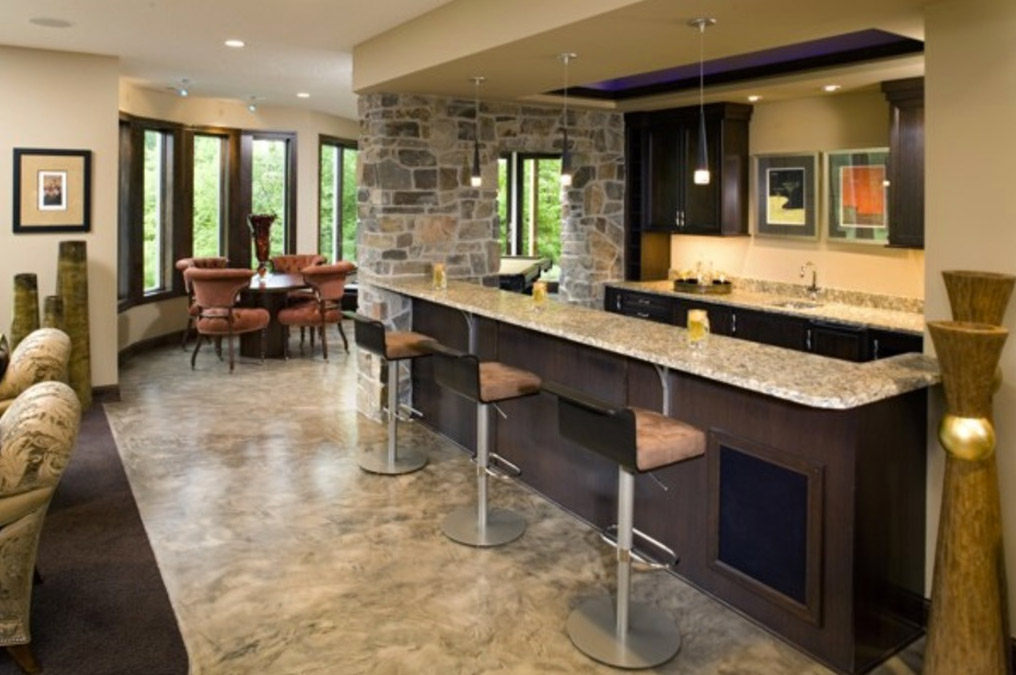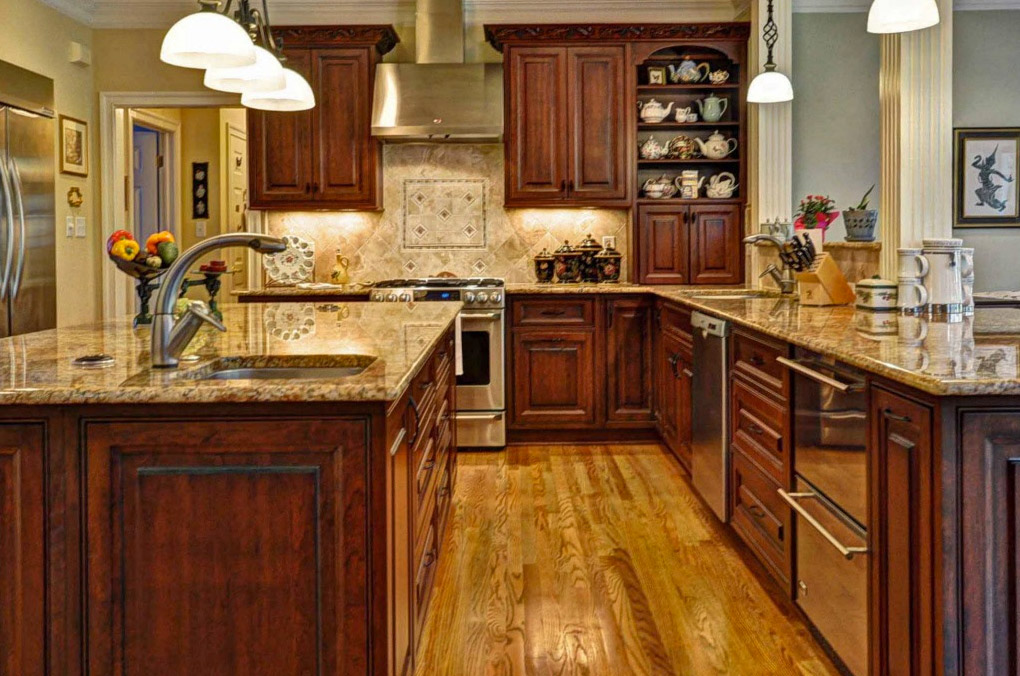 Browse these plans and others at
http://www.houseplans.com
.
---
The kitchen, in many ways the center of the home, needs to be highly functional and efficient. Consequently, it tends to be the hardest and most expensive room in the house to put together. We talked to a series of kitchen design experts in order to learn how you can incorporate the latest trends into your own kitchen -- whether you're drinking Dom Pérignon, Miller High Life, or anything in between.
Simplicity
These days it would seem that less is more. Patricia Davis Brown, a certified kitchen and bathroom designer and author of her own blog, gives insight about trends she sees in kitchens. "I think that what is going on right now is indicative of our times," Brown says. "The look of simplicity is becoming very powerful, and that's a statement. Design is a statement of what is going on in our world today, and we're seeing a lot of clean lines and simple slab Euro door styles in eco-friendly materials such as bamboo, as opposed to the last 20 years, where we saw a lot of old-world style, heavier looks."
Top Shelf: Redoing your countertops makes a huge impact, and choosing the right materials is important. Brown explains the move away from granite, so commonly used during the housing boom. "I think people are tiring of it. Granite is busy, and has a lot of movement," she notes. "People are asking for a cleaner look, opting for a calmer stone such as limestone, marble, or man-made materials such as quartz. There is more consistency in pattern and color."
High Life: Doing something as simple as tactical planning of accents can create a simpler look in your kitchen. Lori Gilder of Interior Makeovers Inc. is an an architectural interior designer to Hollywood's elite and writes her own blog, Diary of a Renovation. She suggests that "a few strategically placed collectibles on display shelves with some wonderful lighting will create a greater impact than multiple clusters of displays at every turn." Even more affordably, make sure you keep things tidy and eliminate any clutter.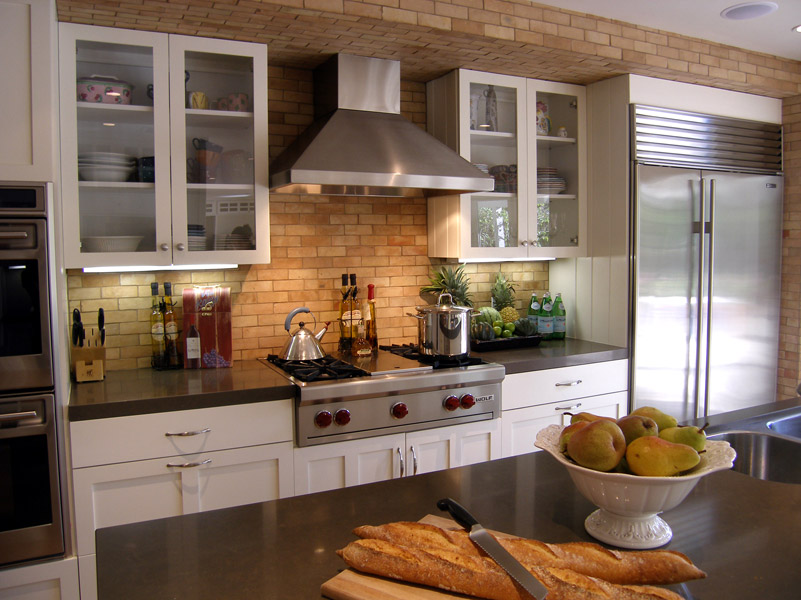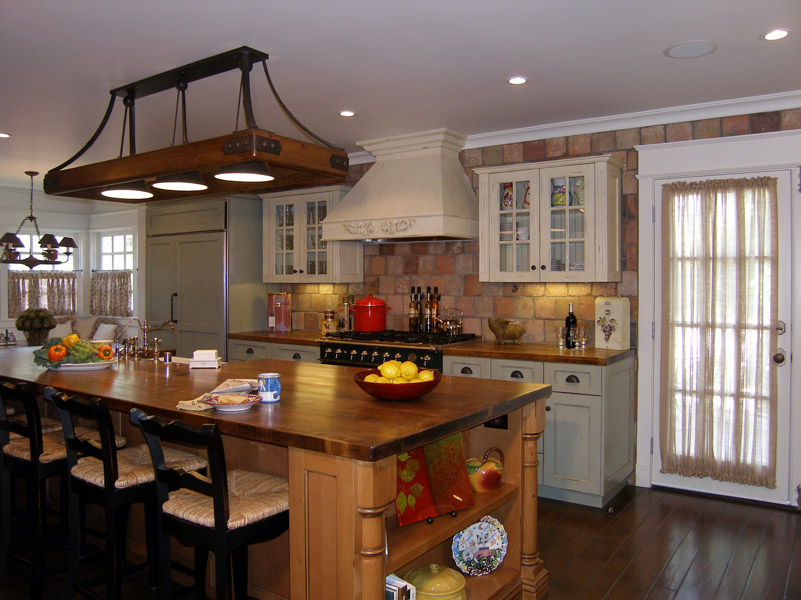 Transition
Michelle Workman, the incredibly talented (and fabulously personable) designer responsible for spaces used by big names from J. Lo to John Travolta, certainly understands the elegance of traditional elements, but she emphasizes the importance of making them fresh and personalized. This "Revisioning of the Traditional" will give you everything you need, as she explains. "You get crisp and clean. You still feel grounded in tradition, but have a new take on it. I think that people really gravitate toward that because it feels familiar. It's something that's always been used, yet putting a spin on it makes it look really fresh and startling, in a good way," Workman says.
Top Shelf: Workman suggests looking for finishes that can deliver durability and versatility. "I'm a big marble girl for countertops. I'm anti-granite. It's a harder surface, but it doesn't have the beauty or movement of marble," she says. "Marble also ages, and I really like that because it feels like a lived-in space. It's a classic element, too, and it lends itself to a modern look." She also suggests reusing elements original to the home -- for example, rechroming hardware to update the traditional look of a space.
"The look of simplicity is becoming very powerful, and that's a statement. Design is a statement of what is going on in our world today, and we're seeing a lot of clean lines and simple slab Euro door styles in eco-friendly materials such as bamboo, as opposed to the last 20 years, where we saw a lot of old-world style, heavier looks." Patricia Davis Brown, "Dig This Design" blog
High Life: Fresh reimagining can be done for less, Workman reminds us. "I'm a big fan of wood floors. I like a wide plank. One of the things I've been doing lately is staining them in colors -- a grey or a white, so that it doesn't feel old-world at all," she says. "A painted floor if you already have hardwood floors is probably one of the most inexpensive things to do. Sand it down, paint it, and lacquer it yourself. It looks incredibly fresh and new, and much less expensive than tiling. Another thing: if the person has glass-fronted cabinets, painting the interior of the cabinets is a way to really make it pop."
Sustainability
Green initiatives seem to be radiating into all realms of design. Karen Ellentuck is an interior designer in Seattle and has won several regional awards for her kitchen designs. She explains, "I think the whole issue of green design and sustainability is on the forefront and will carry on, especially in these times when people are trying to be a bit more economical. It's important for people to get value for their money. People are using recycled materials, recycled glass countertops, energy-saving appliances (and most appliances are now). Water-saving products for plumbing fixtures and energy-efficient lighting are popular right now, as well as cabinetry built in certified woods, using low-VOC materials and paint."
Top Shelf: Gilder explains, "Transforming your home into a more healthful and energy-efficient one doesn't have to happen all at once. As your old appliances age and need to be replaced, purchase new Energy Star appliances. It could translate into an energy savings of up to 50% compared with traditional products." There are also many newly emerging flooring choices for those who wish to build or replace their kitchen floor. "I believe we are seeing more FSC hardwoods, bamboos, Marmoleum or Linoleum tiles, and even cork, which is not only sustainable and renewable but extremely comfortable underfoot," Gilder says.
High Life: DeAnna Radaj, interior designer and Feng Shui specialist of Bante Design LLC, gives us tips on incorporating sustainability into design for less. "Think Energy Star appliances -- this goes for small appliances as well such as blenders or microwaves; recycled materials for countertops such as glass, concrete, or paper; and textiles made from natural fibers (organic cotton, bamboo, jute, seagrass, recycled PVC)," Radaj says. "Also use any artwork/ceramics and food from local sources. Buy local whenever you can."
Ergonomics
Though maintaining a clean, uncluttered, and simple look is certainly in vogue, accessibility and function are becoming integral elements in design trends. Hallie DelVillan of Skynear and Company shares her observations. "An interesting trend I notice is that kitchens are becoming more ergonomic: having everything at your fingertips, like this idea of hanging utensils or dishtowels, putting microwaves in more easy-to-reach places. This likely coincides with the baby boomer generation aging and needing this kind of easy access to their kitchen," DelVillan says. Stephen Reilly of SLR Architecture Inc, has had a similar experience. "A trend I've seen this year is functionality," Reilly says. "The latest or hottest material is not nearly as important this year as value and functionality for most of my clients."
Top Shelf: If designing a new kitchen, Radaj advises using "the triangle" in placing appliances -- the sink, stove, and refrigerator -- to minimize steps and increase efficiency. Brown suggests installing cork flooring. "It is a nice eco-friendly product and is nice in that you can stand and work on it and is friendlier to a person's back than solid flooring. It can be dyed as well for different color options," Brown says.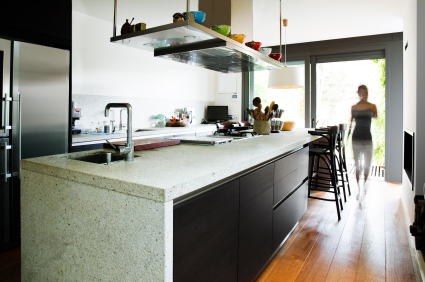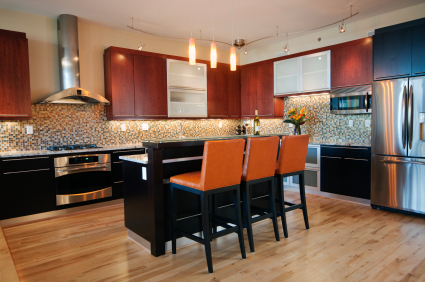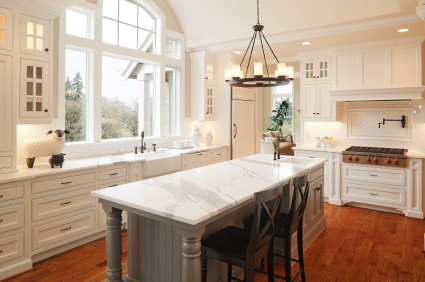 High Life: Radaj suggests we "incorporate the four levels of lighting for safety reasons and looks. These include ambient, general, task, and accent." Increasing the amount of light allows us to work more efficiently and comfortably. Rearranging your kitchen to fit your personal use of the space will be beneficial -- find a chic silverware holder or contemporary spice rack for functionality and style.
Personalization
Workman emphasizes the importance of personalization. "I think where people go wrong in decorating kitchens is heading to a big box store and not thinking outside of the box, thinking about what they can repurpose. They end up getting a kitchen that every Tom, Dick, and Harry has. The problem is not finding inspiration in their own home or lives to bring into their space -- so it ends up really not being decorated," Workman says. "If you have an old collection from a grandmother, put the pieces in lighted boxes and hang them on the wall in the kitchen. There are so many things that can be done to personalize and avoid the cookie cutter."
"The latest or hottest material is not nearly as important this year as value and functionality for most of my clients." Stephen Reilly, SLR Architecture Inc.
Top Shelf: Brown explains to us that "budget is really set by the materials that you pick, so the number one thing I can suggest is to hire a professional to help you design and plan. Once you have a plan, finding the materials to meet the budget is the easiest part, but you have to have the plan in order to work a budget."
High Life: For those with limited funds, Gilder suggests infusing new life into worn, old cabinetry by repainting, restaining, or refacing all the drawer and door fronts and dressing it up with gorgeous new hardware. Radaj mentions, "Changing out your wall color is an inexpensive and easy way to change the look of any room. You can also change out table linens (runner, napkins, placemats) and centerpiece for another inexpensive impact."
Kitchen decorating is trending toward practical and functional design, including an increased awareness of our impact on the environment. Our tips can certainly be incorporated into any size kitchen with the right amount of resourcefulness and creativity -- regardless of budget.

Tara is a freelance writer currently pursuing a Master of Urban Planning, Development, and Design at Cleveland State University. Her writing has covered a wide breadth of topics, but she particularly enjoys meaningful work concerning community development, sustainability, and design. Her articles, blogs, and musings have been featured in various online and print publications, and she hopes her words will inspire creativity and innovation as we work toward social and structural change.
Website: tarasturm.com/
Latest from Tara D Sturm