Tips for Designing a Kitchen on a Budget
Whether you're building new or working with an existing space, designing a kitchen can get costly. Major renovations aside, however, there are ways that you can affordably design your space without sacrificing aesthetic quality – you just have to get a bit more creative and a whole lot craftier with your budget. We've put together a few tips for altering or building your kitchen for less, while still accomplishing a fantastic and fresh new look.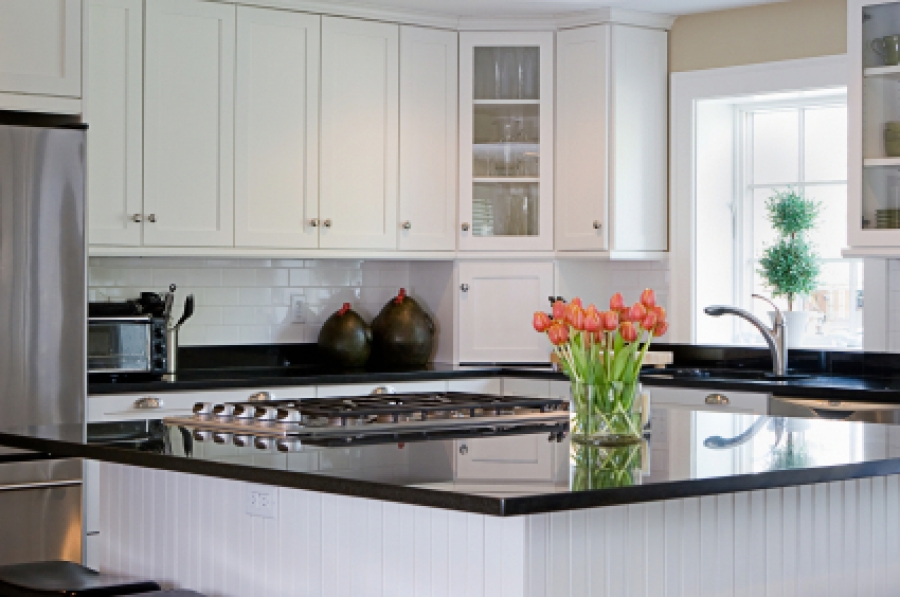 Paint
Though it seems rather common sense, the most dramatic way to alter the look of a room for the least amount of money is by changing colors in the space. Walls cover an incredibly large area, and will benefit immensely from a fresh coat of paint -- even if it the color is only slightly different from the existing color. Walls are not the only surfaces where paint can awaken the room. Try painting cabinets -- the exterior, or the interior when you have glass-paned cabinetry. Re-staining or painting kitchen furniture may be a fun (albeit long and arduous) DIY project, but will certainly be more affordable than replacing your kitchen dining set or buffet seating.
Rethink Textiles
Replacing textiles in your kitchen is a simple and inexpensive way to alter the color and feel of a room. Kitchen towels, curtains, table runners for seating areas, pillows in a breakfast nook, or cushions on chairs can all be switched out. Something as simple as getting new pot holders can spruce up a room. There are tons of inexpensive textile options out there -- including scouring thrift or consignment shops for curtains, or even sewing them yourself (curtains are a great beginner's sewing project for anyone wanting to attempt the craft). Even kitchen chairs with built in fabric covered cushions can easily be reupholstered using basic tools, new fabric, and a heavy duty staple gun. Experiment with different textures and fabrics to give the space a bit more depth.
Add Natural Elements
Embracing nature in your decor does two things: it livens a space, and it makes a room seasonally relevant. The kitchen is likely the most appropriate venue for natural decorative elements because it already houses so many fruits of nature. Putting produce on display can serve as functional storage while being playful if supplemented with some other bits of nature. Summertime flowers in a glass vase look fresh and cooling if filled first with bright lemons and limes. An earthy basket of gourds and various types of squash will look perfect for fall if sprinkled with fall-colored leaves and acorns. There are so many ways to incorporate these natural elements, and the best part is that most of them are free! Get creative and embrace the season rather than fighting one you don't care much for.
Play with Light
Lighting in an area has a profound effect on how we experience that space. Beyond the basic switching out the curtains, playing with different types of window dressings is a cost effective way of making a big impact. If your kitchen has standard blinds, something as simple as taking them down and giving them a thorough cleaning can do wonders. Installing different types of blinds that allow different amounts of lighting, or filter light differently can adjust the mood and the feel of your kitchen as well. Try standard wooden or even colored venetian blinds, or rip the blinds out altogether and instead hang flowy curtains with a bit more movement. Let your preferences for how the space should feel dictate your lighting choices -- the same goes for lighting fixtures. Pulling down glass globes and either cleaning them or replacing them will have a profound difference.
Examine Functional Elements
Understand how you use space in your kitchen. The way things are positioned not only alters the functionality of a room, but how it is perceived as well. Moving around wall hangings and decorative or functional elements so that they are more readily seen is one way to impact the look of a space. Rearranging the items on your counter to those you use the most, and displaying them attractively can be inexpensive and practical. Finding unique containers to house silverware, for example, puts these tools at arms' length and provides a reorganization that doesn't sacrifice storage space. Hardware can be removed from cabinetry, your sink, and either painted (in the case of hardware) or replaced to cause a dramatic change in the look of the space without spending colossal amounts of money remodeling your kitchen.
While the economy may (still) be getting you down, don't use it as an excuse for not improving your space. There are so many great DIY projects out there to help you design your kitchen on a budget -- no matter how tight.

Tara is a freelance writer currently pursuing a Master of Urban Planning, Development, and Design at Cleveland State University. Her writing has covered a wide breadth of topics, but she particularly enjoys meaningful work concerning community development, sustainability, and design. Her articles, blogs, and musings have been featured in various online and print publications, and she hopes her words will inspire creativity and innovation as we work toward social and structural change.
Website: tarasturm.com/
Latest from Tara D Sturm