Good kitchen design makes entertaining easier. Here's how to create a kitchen with an intelligent workflow.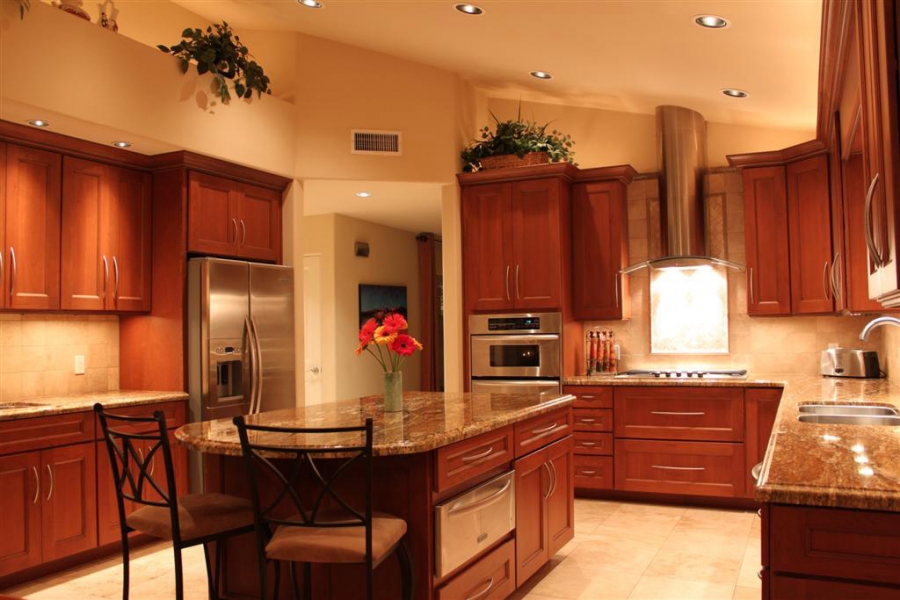 ---
Home Builders Resource Center
Brought to you in partnership with: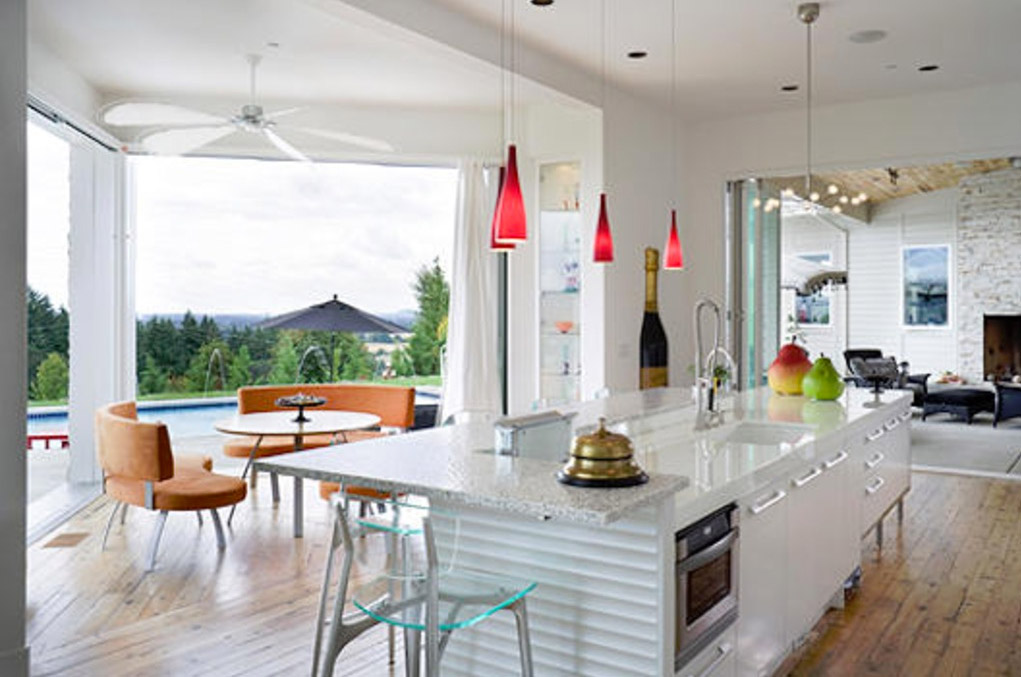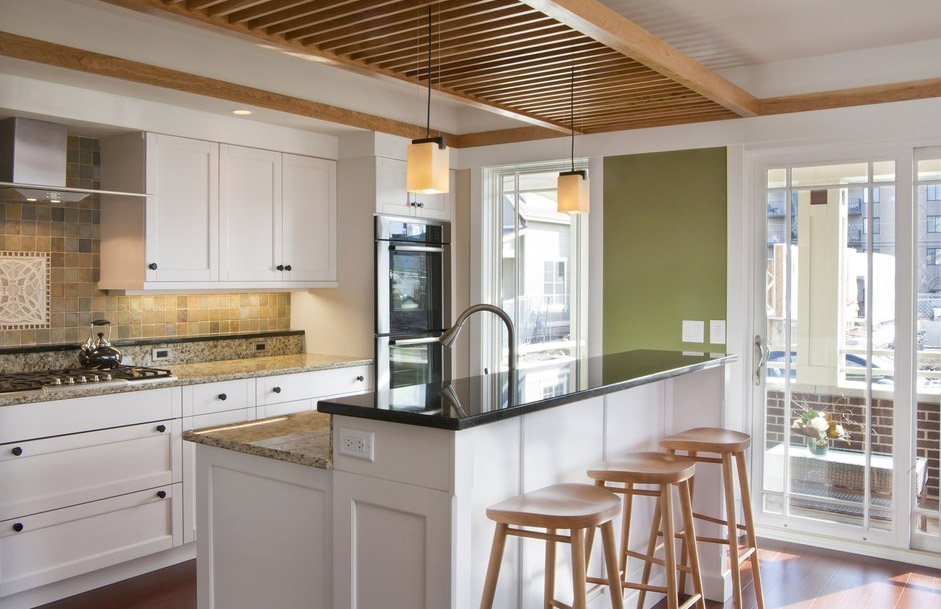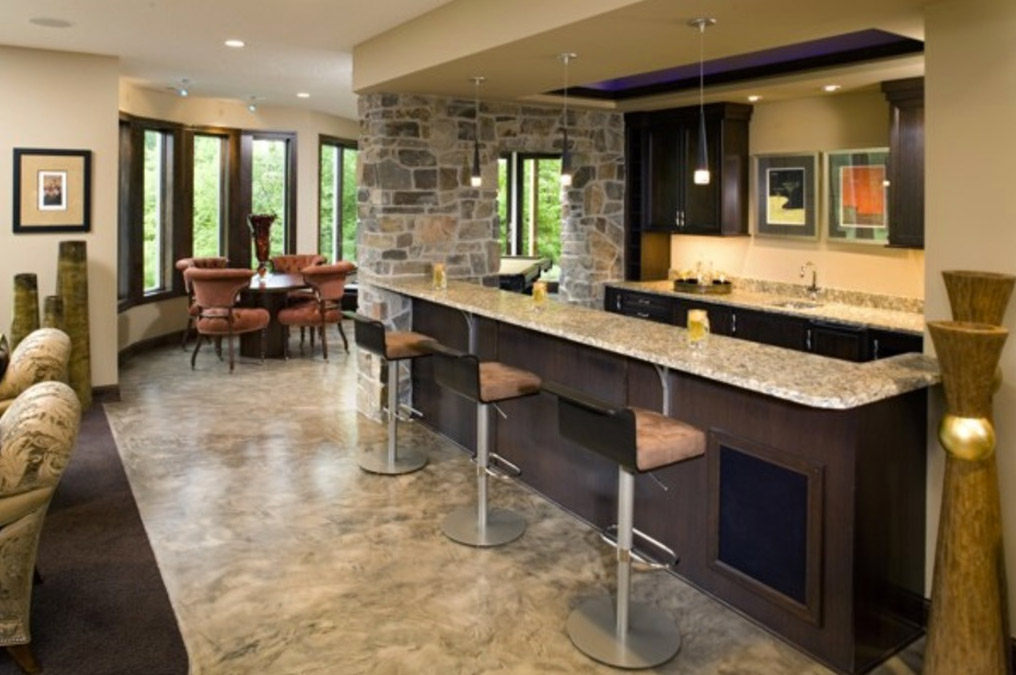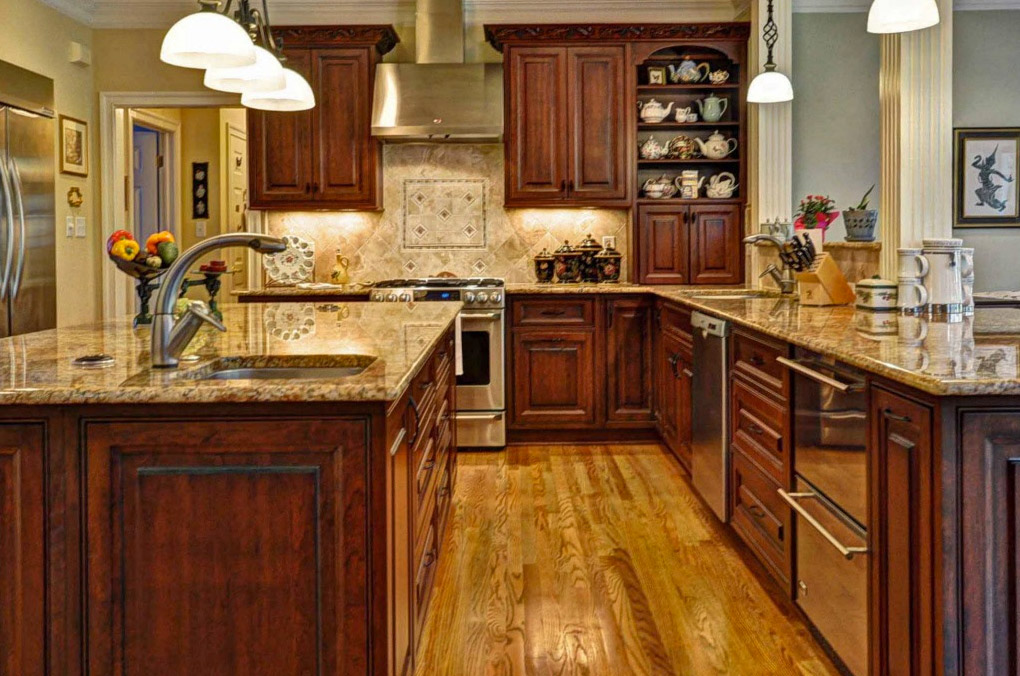 Browse these plans and others at
http://www.houseplans.com
.
---
Without a doubt, the kitchen is the busiest room in any house, especially when you're entertaining guests. A well planned layout can make your kitchen a pleasure to work in, as well as add value to your home.
There's no such thing as the perfect kitchen design – kitchens can range anywhere from efficient and functional to hellishly awkward, and from tiny kitchenettes to grand spaces that would make a professional chef feel like a king.
In recent years, the trend has been to open the interior spaces around the kitchen to allow in more light and create a large, common area for activities shared by busy families. The modern, open kitchen presents a stark contrast to the formal rooms walled off from the kitchen in previous eras.
Today, kitchens are typically merged with or connected to family rooms and great rooms, which feature high ceilings, lots of windows, and patio doors leading onto decks.( I'm pretty sure that the "living room" died sometime in the 1990s.) Informal seating at a kitchen island, bar, or peninsula allows us to have coffee and a chat, watch the kids, catch the TV news, and keep the cookies from burning – all without leaving the room.
Since every kitchen has its unique set of problems and opportunities, you need to give serious thought to practical everyday functionality, whether you're renovating, buying, or building. Remember, even if you have a small family now, homes that can accommodate the needs of multiple generations are in demand. People are planning to house their aging parents in the future, and the U.S. population of immigrants, who traditionally live in multi-generational households, is growing.
Kitchen activity zones
The scenario outlined below is based on a casual potluck dinner party with family and friends, but the same logistics apply for the average busy family. The kitchen "zone map" illustrates a few basic design fundamentals to consider when planning a kitchen or assessing a kitchen when house shopping. A key factor in getting the most from your kitchen draws on the organizing principle that two or more activities can happen in the same place, providing that they occur at different times.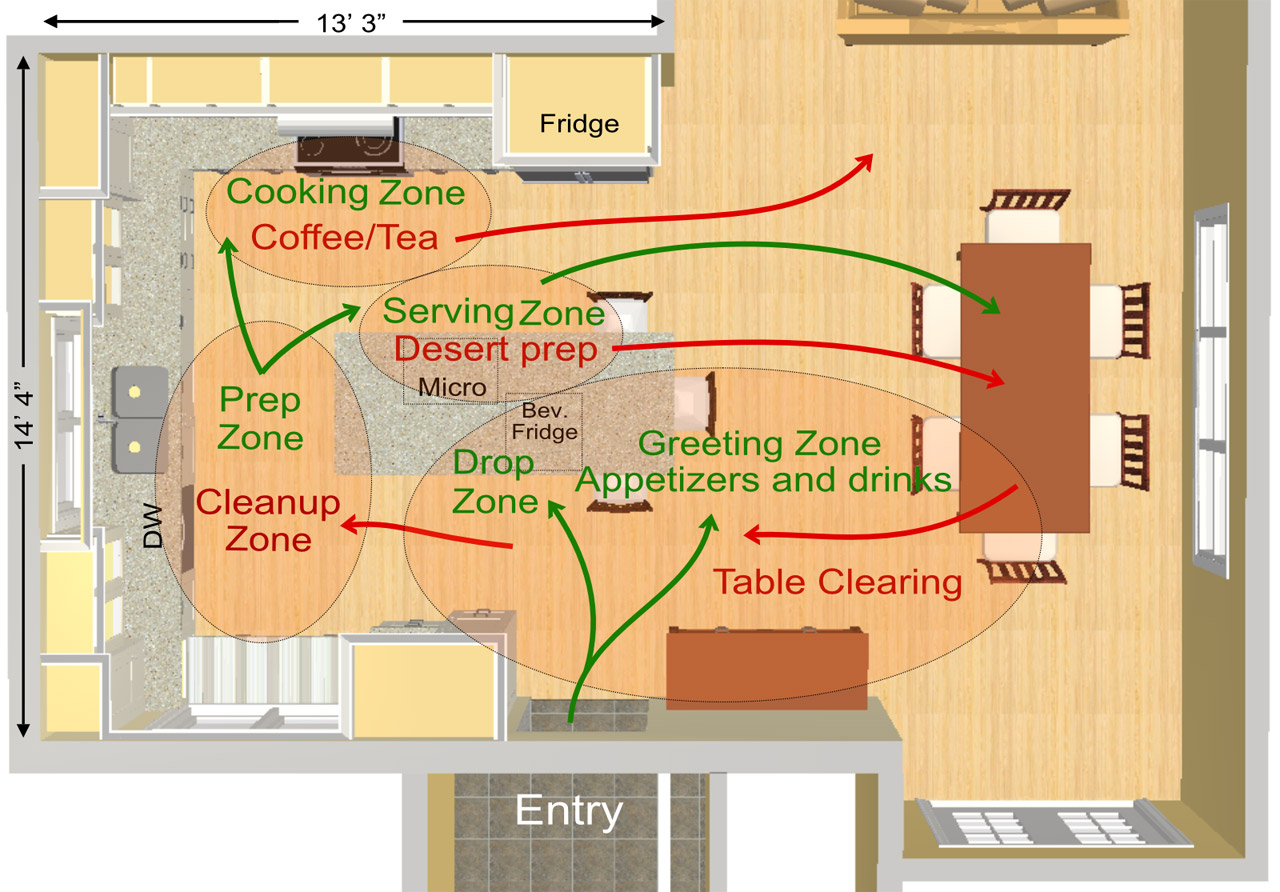 Kitchen Illustration Key:
GREEN - Everything labeled in green indicates activities prior to sitting down for the main course.
RED - Everything labeled in red indicates activities after finishing the main course through clean up and after-dinner coffee.
Kitchen size - 14' 4" wide x 13' 3" long
Island - 3' 3" x 7' 9"
Aisles - 42" wide
Why this kitchen layout works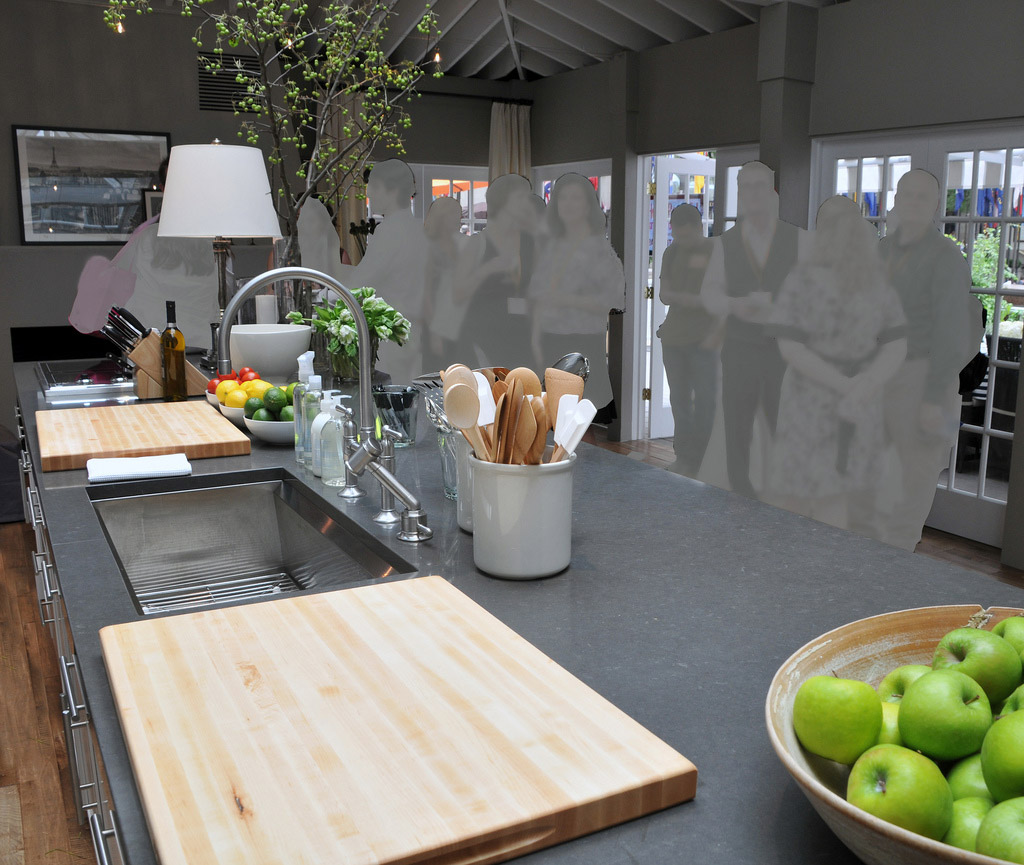 The main reason that this kitchen layout works is that the critical workspaces - the sink and stove - are isolated from the traffic routes. Guests arriving with a casserole or a bottle of wine can drop them on the island, say "hi," grab an appetizer and a drink, and then mingle without interfering with the meal preparations.
Another plus of this kitchen layout is that the fridge is close to the gathering zone, so anyone looking for another beer or more dip can grab it without disrupting the cooks. This particular kitchen layout could easily accommodate three or four people working in the prep, cooking, and serving zones - making salads, cooking, warming casseroles, organizing plates, etc.
When you look at the activities shown in red you can see that they follow a natural circular path: dinner dishes, for example, are cleared along one aisle to the sink while desserts and coffee are served from the other side of the island. At the end of the evening, clean casseroles dishes and food containers can be placed on the island for guests to claim on their way out the door.
Just replace "guests" with "kids" and you can see how well this kitchen layout works for a typical family at any mealtime.
Islands and peninsulas are valuable kitchen "real estate" if you have enough room: they provide wide-open counter space, additional seating, and direct traffic flow. If adding an island to a kitchen will potentially obstruct one leg of the "work triangle" (stove–sink–fridge), consider adding a small prep sink or refrigerator drawers in the island to create an alternate work triangle.
Difficult kitchens
Sometimes there's little you can do to improve a poor kitchen space without major reconstruction and expense. Window and door locations drive the design and function of most kitchens. A large kitchen space may look attractive until you realize that the "highway" from the mudroom to the family room runs up the middle – right between the sink and the stove (not so good_.
My pet peeve is spaces that are exactly the "wrong" size - too narrow for a proper island and too wide for placing cabinets and appliances on parallel walls without leaving wasted space in the center of the room. Invariably, guests tend to occupy this space in a well meaning, but futile effort "to stay out of your way" while you're preparing dinner.
Whether you're entertaining friends or simply spending time at home, a well planned kitchen will make it a more enjoyable and relaxing event. Take the time to consider how a space will suit your lifestyle and particular needs, and you'll avoid future disappointment and frustration with your kitchen.

Rick Atkinson works from (and on) his century-old farmhouse in New Brunswick, Canada. His professional and freelance career has ranged widely, contributing to an unusual mix of experience: as musician, retail manager, video producer/editor, CAD designer, woodworker, DIYer, beekeeper. He keeps a close eye on global events, particularly energy and climate change, new technologies, and long-term social and economic trends. Currently, Rick freelances in Kitchen & Bath cabinet design and CAD drawings for a custom cabinet shop. After hours, he creates original woodworking projects and plans, and writes about home improvement and design on his blog,StonehavenLife.com.
Latest from Rick Atkinson