James Hardie Helping Rebuild a Stronger U.S. Northeast Coast
James Hardie takes an active role in the post-Hurricane Sandy rebuilding process. Its building products will help to achieve Mayor Bloomberg's exhortation to rebuild smarter, stronger, and more sustainably to weather future storms.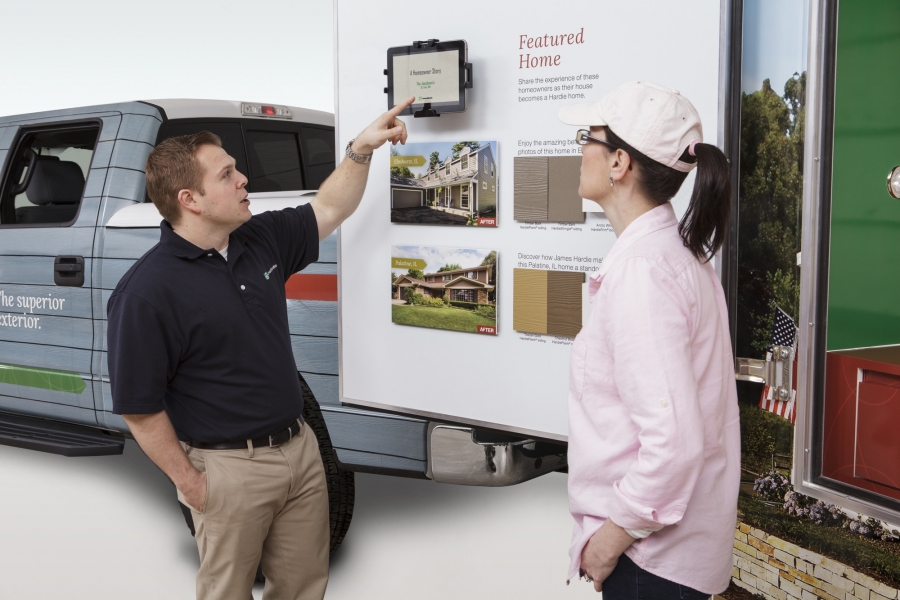 James Hardie Building Products is taking an active role in helping to rebuild a stronger U.S. Northeast Coast in wake of last fall's Hurricane Sandy with its participation in The Shop 'Til You Drop Rebuild-A-Room Project on Saturday, April 6, 2013. James Hardie will help get the rebuilding process off to a running start for homeowners and their residential contractors with two raffles of James Hardie products at the event, to be held at Breezy Point Lumber, 28 E. Market St, Breezy Point, N.Y. The event will be hosted by Family-to-Family, Inc., along with Breezy Point Lumber and Breezy Point Hardware, and will run from 10 a.m. to 2 p.m. EDT.
Event attendees can register on-site to win a James Hardie exterior siding package raffle valued at $4,000 that will include up to 2,500 square feet of HardiePlank® lap siding, HardieShingle® siding, and HardieTrim® boards. James Hardie siding products are a durable, lower-maintenance alternative to vinyl or wood-based siding. They are Engineered for Climate® and designed to meet the specific needs of the weather conditions of the Northeast Coast. They are available pre-finished with ColorPlus® Technology, which gives homes a beautiful, consistent coating that performs better, lasts longer, and looks brighter. Attendees can also register for an interior package valued at $700 that will include up to 700 square feet of HardieBacker® cement board, which is fire-resistant and helps prevent damage from mold and moisture. Raffle winners will be announced at 2 p.m.
"James Hardie is committed to working together with homeowners, residential contractors, and home builders to rebuild a stronger Northeast Coast after the damage caused by Hurricane Sandy six months ago," said Robert Abbott, Vice President, James Hardie. "Protecting homeowners and their families from future severe weather events starts with choosing the most durable materials. That's why we're working with residential contractors and builders throughout the Northeast Coast, including the Rockaways, to help them better counsel homeowners about the benefits of fiber cement products as they make important rebuilding decisions."
James Hardie will also have a truck and trailer at the event where homeowners can learn more about James Hardie siding products, and view a wall of the company's HardiePlank lap siding, which is installed on more than 5.5 million homes in North America. They can also meet local residential contractors who have worked with James Hardie on projects.
You can learn more about James Hardie's commitment to rebuilding the Northeast Coast by visiting www.jameshardie.com/strongershore.
About Family-to-Family
Family-to-Family is a non-profit national relief organization dedicated to creating one-to-one connections with families looking to help other American families struggling with hunger, tragedy or economic standing. The Family-to-Family programs create a bridge between communities with enough to share, with areas of the country in need. For more information about Family-to-Family, follow Family-to- Family on Twitter at @famtofamily, or 'like' on Facebook at www.facebook.com/famtofamily.

James Hardie Building Products is the global leader in fiber cement technology, providing siding, trim and accessory product solutions to architects, builders and homeowners. Established more than 100 years ago, James Hardie was the first to introduce fiber cement products to the U.S. in the 1980s as a durable, lower- maintenance alternative to wood and vinyl. James Hardie products combine innovation, versatility and safety by offering a variety of design possibilities matched with specific performance attributes relative to the climate where the product is being used. Currently installed on more than 5.5 million homes, James Hardie products have earned a favorable reputation within the industry and have been specified in some of the country's most prestigious projects. http://www.jameshardie.com
Website: www.jameshardie.com