Take a Bath…or a Shower…with Fypon® Products
Forget your little yellow ducky... next time you're in the bathroom, bring along your Fypon millwork pieces. Made of a closed cell structure that resists high humidity and moisture, Fypon urethane products are ideal for adding decorative style to bathrooms.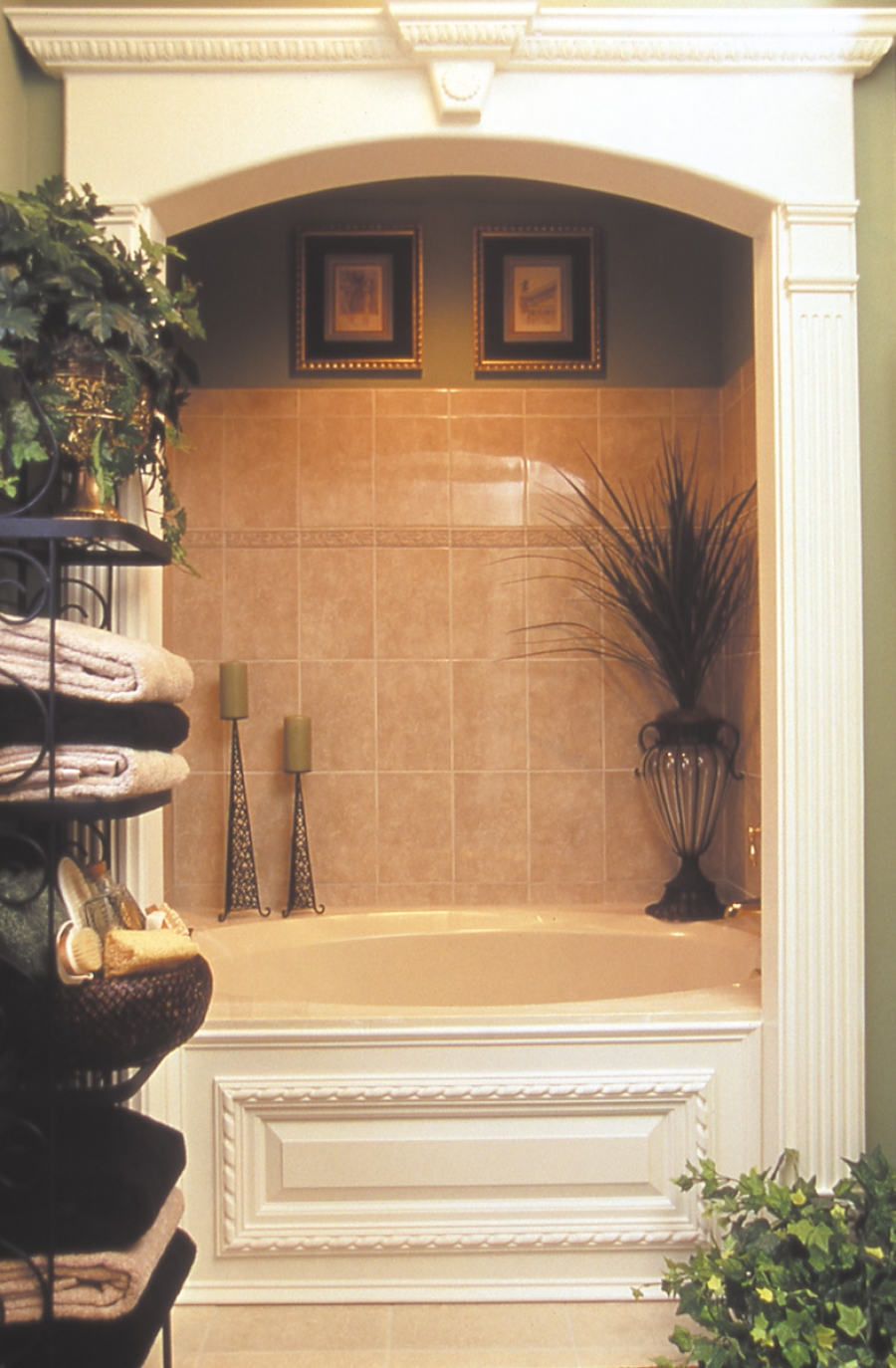 "When I wanted to create an elegant yet restful bathroom setting on a limited budget I added Fypon pieces," says Atlanta homeowner Candy Carson. "New moulding and accent pieces gave the room a much-needed facelift without breaking my bank account."
Carson added a small wall niche, a two-piece ceiling medallion, and egg-and-dart moulding to her master bathroom. A dark, open cupboard of towels was painted and transformed by surrounding it with a set of fluted pilasters and glass shelves.
"The Fypon products made a dramatic and impressive change in my bathroom," says Carson. "I don't have to worry about soaking in a hot bath because the pieces resist humidity. Now my bathroom looks like something you'd find in a luxury hotel, yet I created it all myself."
Projects for the Bathroom
To create your own dream bathroom, Fypon experts recommend one of these do-it-yourself projects:
Project 1 - Install a set of pilasters on both sides of your shower stall and a door crosshead overhead to upgrade the look of your bathroom. No problem if the panels get wet because the urethane pieces resist moisture.
Project 2 - Surround mirrors in the bathroom with painted or stained urethane mouldings. Paint, faux finish or stain the mouldings to complement the room.
Project 3 – To add a touch of elegance to your bathroom setting, install a small wall niche in a focal point of the room. Use for displaying a flower arrangement or piece of artwork to carry through the theme of your bathroom.
Project 4 – Look up … and add mouldings to your bathroom. Steam rises from showers and sinks, but that's not a problem when using these moisture-resistant mouldings. An easy project is to install crown mouldings in your bathroom to add distinction to the room.
Project 5 – Install brackets or corbels either underneath or on top of bathroom cabinets or shelves to add dimension and visual appeal.
Fypon pieces come pre-primed and ready for installation. All products need to be glued and nailed or screwed to the surface, then painted to your preference. To locate the closest Fypon dealer to you and learn more about Fypon products, visit http://www.fypon.com/dealerlocator/.

Fypon offers thousands of decorative millwork elements in a variety of architectural styles to enhance the interior and exterior of America's homes. Each piece is crafted from tough, weather-resistant, high-performance materials that are resistant to decay, insect infestation, and water damage for long-lasting beauty and low maintenance.