Serving Up Elegance with Fypon® Products
When homeowner Lindy Lukert was designing her new home, she looked to Fypon products for ways to add elegance to her dining room setting. The results serve as inspiration to other homeowners for spicing up their formal dining areas.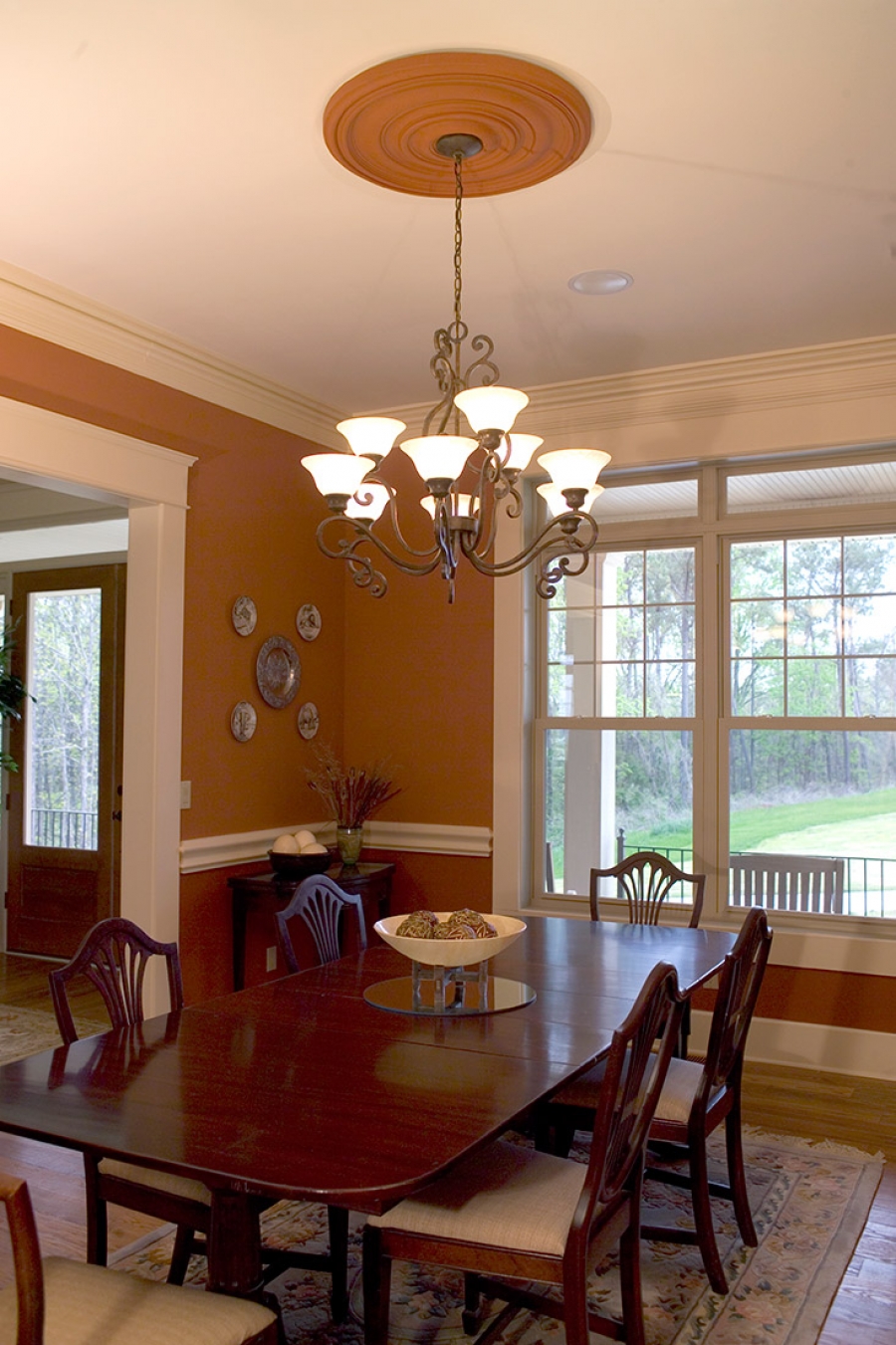 "I love the richness of mouldings in every room --- at the ceiling and floor levels and everywhere in between," says Lukert. "Many of our ceilings are extremely tall, and I didn't want to worry about yearly maintenance of the mouldings. That's what led me to Fypon products. I understand the closed-cell nature of these pieces means less work long-term and I'm all for that!"
To gain the elegant yet comfortable atmosphere she desired, Lukert requested her builder add in Fypon chair rail mouldings, massive crown mouldings and base trim moulding in her dining room. She had a ceiling medallion added to the center of the room to accent a lighting fixture above the table. Combined, the pieces helped Lukert create a warm, welcoming haven for guests and family.
Projects for the Dining Room
To create your own elegant dining room, Fypon experts recommend these do-it-yourself projects:
Project 1 – Chair rail moulding, originally designed to prevent people from damaging walls when pushing chairs back from the table, is a standard in dining rooms. Add Fypon chair rail moulding to break up the room and consider painting (or wallpapering) in different colors above and below the moulding.
Project 2 – Truly set the dining room off by adding pilasters and a crosshead to the entry way area of the room. Usually reserved for the home exterior, this immediately gives a special welcoming message for guests joining you for dinner.
Project 3 – To enhance the elegance of a dining room, install a wall niche at a focal location and then use the niche to display a favorite piece of art or a prominent flower arrangement.
Project 4 – Install a two-piece Fypon ceiling medallion around the top of a light fixture or ceiling fan. The interlocking pieces fit snuggly together so you don't have to take down the fixture or worry about dealing with electrical systems.
Project 5 – Top off the interiors of windows in the dining room with a pediment above a window surround. Be subtle and add a simple crosshead or be bold and add a rams head, sunburst, peaked cap or acorn pediment to draw attention to the windows.
Fypon pieces come pre-primed and ready for installation. All products need to be glued and nailed or screwed to the surface, then painted to your preference. To locate the closest Fypon dealer to you and learn more about Fypon products, visit http://www.fypon.com/dealerlocator/.

Fypon offers thousands of decorative millwork elements in a variety of architectural styles to enhance the interior and exterior of America's homes. Each piece is crafted from tough, weather-resistant, high-performance materials that are resistant to decay, insect infestation, and water damage for long-lasting beauty and low maintenance.