5 Surprising (and Surprisingly Easy) DIY Security Ideas
Home security comes in many different shapes and forms. Many homeowners opt for traditional security companies that offer comprehensive home protection, backed by professional alarm monitoring. However, you can secure your home in a few less traditional ways, some of which you may have never considered before. If you are a DIY enthusiast looking to make your home a little safer, here's how you can secure your home on your own.
Landscaping
Not only can landscaping improve the curb appeal and thus possibly the value of your home, but it can actually help make your home more secure as well. Dense trees and shrubbery can provide burglars with shadowy hiding places, which is why you should keep trees and plants well trimmed. In fact, it is a good idea to keep shrubs in your yard pruned to a height of 3' or less. You may also want to consider planting thorny bushes near your windows, as they could possibly help to deter burglars. If you have a little more time and money to spend, consider putting up a fence around your backyard or entire property. Although a determined intruder can certainly hop over a fence, this obstacle will at least make his or her job a little more difficult. Burglars prefer to target homes with easy access and few roadblocks, so it is helpful to make your home a less inviting target.
Motion Lights
Outdoor motion lights are a great way to deter burglars. Motion lights will turn on automatically whenever someone is approaching your home, and lighting alone can sometimes be enough to startle burglars and scare them away from your property. Another benefit of motion lighting is that you don't have to keep your floodlights turned on throughout the entire night, saving you money on energy costs. You can also connect your motion lights to a timer so that they will turn on and off periodically. This can help make your home look occupied even while you are out of town.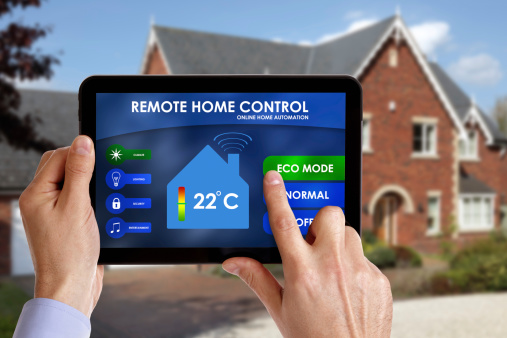 iSentry
Sometimes DIY security is as simple as taking advantage of what you already have in your home. iSentry is a free home security app that lets you do exactly that. With iSentry you can turn your home computer into a security camera and motion detector. All you have to do is turn your computer toward the area you want to monitor and the app will record footage and notify you if there is excessive motion in that area. You can also customize iSentry so that it will send you an email update whenever motion is detected. Although iSentry cannot offer complete home protection and can monitor only one specific area, it is still a good start and can serve as a helpful component of your DIY security system. It's perfect for apartment dwellers and renters.
Dropcam
Security cameras are a staple of DIY security systems. The Dropcam app made it onto this list because it allows you to easily monitor your home security cameras no matter where you roam. The app is free once you have purchased the Dropcam camera, and it allows you to watch live video surveillance of what is going on at home. Dropcam also has a helpful feature called TalkBack, which allows for two-way communication between your mobile device and your Dropcam camera. With this feature, you can talk to your kids or communicate with your pets while you are away. You can also use the app to turn your cameras on and off during certain times of the day, so you can record only the things you want. For instance, you can use the app to turn on your Dropcam camera in the afternoon when your kids are arriving home from school and then use the TalkBack feature to inquire about their homework situation.
Signs
If you can't secure your home with the real deal, it won't hurt to convince burglars otherwise. Signs like "Warning: Dog!" or "This home is secured" may help to deter burglars. Remember, criminals prefer the path of least resistance, so any roadblock (or sign indicating a roadblock) that you can place in their way will help to secure your home.
Penn is a writer and home automation guru. When he is not stuck behind a computer, he enjoys taking things apart simply to rebuild them.