Finish carpentry is the installation of finished wood or simulated wood materials on the interior or exterior of a building. Finish materials include wood trim or millwork, wood floors, paneling, frames, doors, cabinetry, shelving, stairs, railings, screens, shutters, ornamental architectural woodwork, and finish hardware. Finish carpentry occurs at a late stage in new construction or in the renovation of residential and commercial structures. The work involved is precise, and requires the use of specific tools and techniques. A variety of materials must be finished to fine tolerances, with a minimal margin of error allowed.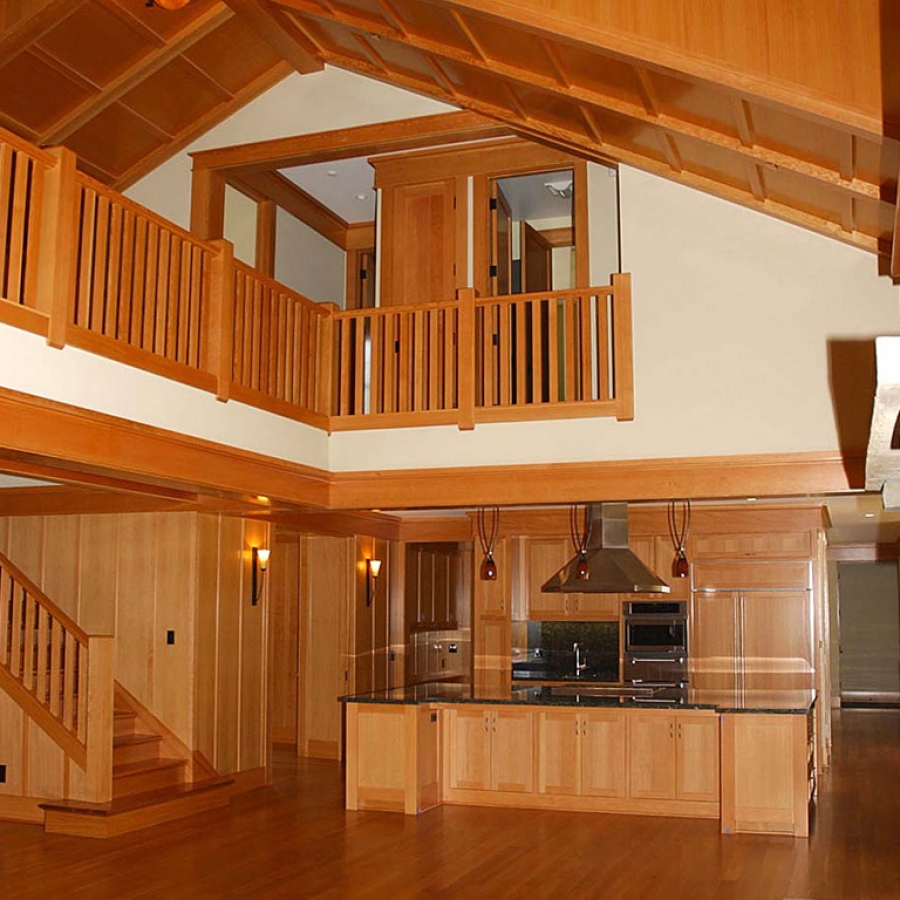 There are many different types of tools used in finish carpentry. Marking devices, measuring tapes, rulers and calipers are used to help achieve the accuracy required to construct tight joints and assemble properly working mechanisms, such as doors. When working around rough carpentry and other materials, it is necessary to make adjustments or modifications and place finish materials in such a way as to maintain properly adjoined angles and straight vertical or horizontal lines. Tools such as compasses, squares, plumb bobs and levels are frequently used to achieve proper alignment.
An understanding of the tools and techniques involved in finish work will result in an aesthetically pleasing finished appearance. In addition to ensuring plumb, level and square installations that are properly fastened, finish carpentry requires materials to be cut, joined, scribed and flushed.
Cutting, shaping and finishing wood or non-wood materials all require the use of sharp handsaws, power saws, routers, joiners, chisels, sanders, planes, rasps, files and clamps. Cutting may be as simple as a crosscut, to trim material to length, or a rip, to trim material to width. Attaching or fastening materials on an inside surface is accomplished with finish nails and adhesive. On the exterior of a building, galvanized steel or corrosion resistant fasteners and exterior grade adhesive are used. Hammers, mallets, pneumatic nailers, nail sets, drills and screwdrivers are used to secure material in place with proper fasteners for the specific application. The application of wood trim or millwork and other finish materials, however, requires additional cuts that allow two pieces of material to fit tightly together; this is called joinery. Joinery requires clean and precise cuts to fit materials together and, in most cases, adhesive and fasteners to hold them together. Specific types of joinery include the butt joint, rabbet joint, bevel joint, scarf joint, miter joint, half-lap joint, doweled joint, tongue and groove joint, dado joint, biscuit joint and coped joint.
Scribing traces the edge of a finish material which is to be cut with the irregular shape of the adjacent material, to allow both materials to fit together. Flushing planes a finish material's edge to an adjacent material's surface to allow finish materials to fit tightly together.
While finish carpenters typically have years of experience and tremendous skill in the craft of finish carpentry, the patient do it yourself homeowner with an eye for detail can achieve similar results. Materials and tools used in finish carpentry are readily available at lumberyards, home improvement centers and woodworking shops. Practice the techniques prior to working with actual finish materials, strive for plumb, level, and square surfaces, and remember the rule of thumb, "Measure twice, cut once."

The Buildipedia research and writing staff consists of dozens of experienced professionals from many sectors of the industry, including architects, designers, contractors, and engineers.
Website: buildipedia.com/
Latest from Buildipedia Staff