CSI Project Solutions: Drywall Delivery vs Transporting It Yourself
DIY remodeling projects have many benefits, but transporting drywall isn't one. Learn how and why to get your drywall delivered, saving yourself time, money, and headaches.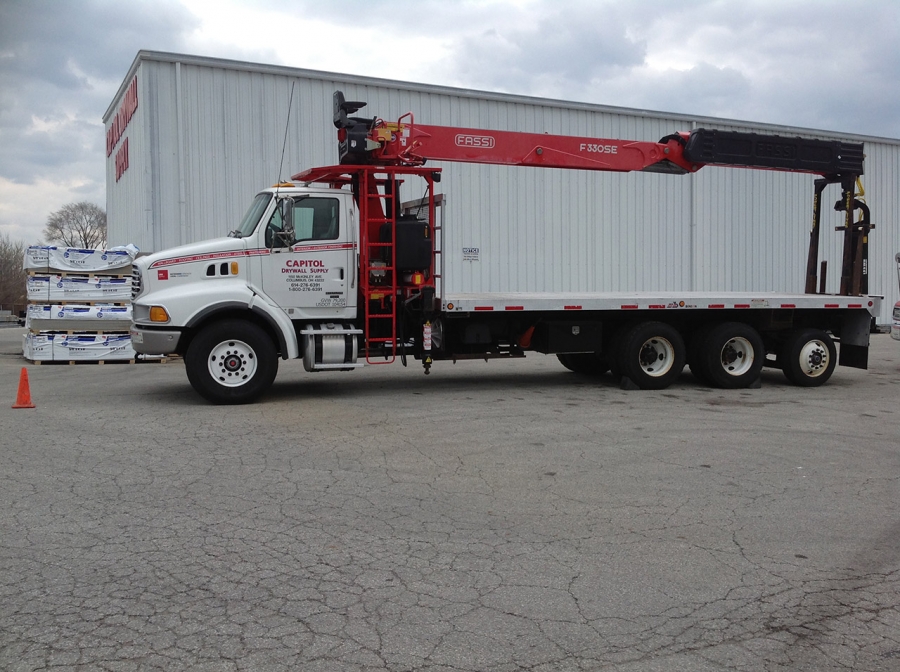 Renting vs. Delivering
Working on updating a bathroom, making your garage look cleaner, or undertaking almost any other DIY remodeling project? You may find yourself needing to get a few sheets of drywall, and you may be thinking about handling their acquisition yourself. Purchasing drywall means a trip to your local retail lumber yard or home improvement store, and bringing it home probably means renting a truck. At $19 for the first 75 minutes, it might seem tempting. A typical advertised price for a day is about $70, but if you look at the fine print of the rental agreement, you will see that this price often does not include mileage. Unless you live next to the store, expect that advertised price to just be the beginning. Renting a truck can be expensive.
Retail Limitations
Big box stores and national retail chains have everything you need for your DIY projects, whether indoors or outdoors. They focus on providing many options in one place, capturing as much of your business as possible, and their marketing seeks to get you to the store. Getting you home from the store is a different story. Servicing delivery for all the different types of products they carry is a major challenge – transporting the customer's purchases is outside their primary goal. This lack of delivery or transportation assistance becomes very evident after the purchase of drywall and/or appliances. Any time you purchase appliances, the topic of delivery comes up. It may not with a gypsum purchase. Drywall is stacked outside or at the front of the store, so it's easy to load in your vehicle, provided that you have the correct type of vehicle. The primary functions of American cars are to get better gas mileage, fit easily in parking spaces, and boost the social status of their drivers – not to transport drywall.
Drywall Delivery Options
You can get professional delivery service even if the retailer doesn't offer it. The Home Depot, Lowes, and other big box stores often have reciprocal agreements with local drywall houses. Moving drywall without some basic knowledge of how to proceed can be the hardest part of any construction or remodeling job. Damage can occur at various points in the process and not just to the drywall that you're moving, since drywall is heavy as well as awkward. You can hurt your back if you do not lift and handle it correctly. Placing the drywall in the part of your house you want to reach means navigating through doorways, hallways, and rooms full of furniture, all of which can be damaged, not to mention the time and effort it takes to rent or borrow a large vehicle, to load and transport and to unload the drywall, and to arrange for help in carrying the drywall. Leave this part of the process to the professionals, who will get your drywall where you want it, when you want it. Concentrate on your construction or remodeling project itself. Let someone else do the heavy lifting!
Remember to ask your retailer about this delivery option. Available services and pricing vary. For example, The Home Depot works with a national distribution network called L&W Supply, a professional organization dedicated to the gypsum business and its delivery. You place your order at the store, and The Home Depot does the rest: it contacts the local supply yard and arranges delivery with L&W Supply. All you need to do is wait at home for your order to arrive. Happy remodeling – don't forget the paint!

Thad Goodman currently covers the Great Lakes and Midwest for the National Gypsum Company as a CONSTRUCTION DESIGN MANAGER. His position calls on the Architectural Community educating on Gypsum Assemblies, Product uses. He authored this article while working in the panels division of Serious Energy, manufacturer of the acoustical drywall panel QuietRock. He has professional experience as a drywall installer and finisher; has managed a joint compound manufacturing plant for Magnum in Tampa, FL; and has worked for Georgia-Pacific Gypsum in field sales and as a district manager and an architectural consultant. He is an active member of the Construction Specifications Institute (CSI), currently the Institute Director of the Great Lakes Region President.
Website: www.nationalgypsum.com