CSI Project Solutions: Sound Control Options in a Warehouse
Warehouse space can appeal to developers and warehouse space is often available in prime downtown locations begging for redevelopment. However, cavernous warehouses often require special soundproofing before they can be remodeled into workspace.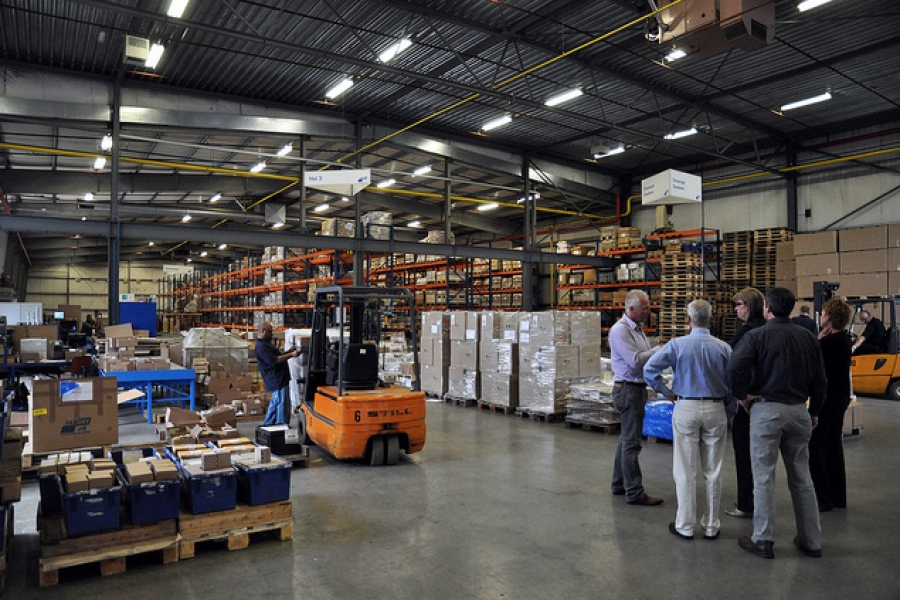 Turning an empty warehouse into functional workspace is a building process that must take noise into consideration. Constructing offices or meeting rooms means controlling sound, keeping one worker's noise from the next.
One of the primary drawbacks of the warehouse type of building is the height of the structure. The most logical conclusion would be taking the wall assembly from floor to ceiling. This would help to contain the sound; however, sound walls are more expensive than normal walls, and building them 25'–30' high is not always within the budget. Situations like this call for some creative thinking.
Remember that when you build to control sound, you are building a system. Sound moves exponentially and can travel through the common walls, the floors, and the ceilings. When sound travels around, under, or over a partition between two areas, it is called flanking sound transmission or sometimes simply "flanking." Flanking sound transmission can be prevented by paying attention to details like penetrations, solid walls that butt up against each other, and the correct and snug joins between dissimilar materials.
Warehouses most often have solid, thick concrete floors originally designed to support the movement of forklifts and other heavy equipment. So the sheer density and the mass of the typical warehouse floor promotes sound protection, but the height of warehouse ceilings and their usual lack of internal walls present developers and remodelers many problems with flanking sound transmission and other noise issues.
A recent job request I received involved just such a structure. Space was not an issue, but sound control was. The tenant was going to be using the middle of the structure as a call center, with office spaces clustered around the center. Building 30 or more walls 25' high was cost-prohibitive. The contractor was using a damped panel wall assembly: 5/8" firecode drywall on one side of a 25-gauge steel stud wall, 24" on center with un-faced insulation, and with a damped panel drywall on the other side. This wall assembly provided the fire rating needed to meet code and a thin wall with a sound transmission class (STC) number well above the code minimum of 55. As a cost-saving measure, the walls were only going to be run up 10', with a desired inside ceiling height of 8'. The problem on this job was the ceiling area.
This question was posed: "Will the ceiling provide adequate room-to-room sound protection if we use a drywall ceiling grid system and only put a damped panel on one side of the assembly?"
In this case, it would not. The reason is this is not a common situation, and therefore not tested. UL, Fire testing, Sound Testing costs enough that not every possible assembly is tested without a manufacturer seeing lots of similar industry sound assemblies to gain back his return on investment. So other options needed to be explored.
An acceptable assembly was found in the ceiling tile industry.
Armstrong offers an economical 2x4 panel called Fine Fissured School Zone, #1714 which offers a CAC of 40. If you add 6" of insulation on the back, 4 feet out on both sides of a common wall, you add 5 points. Thus, it can hit a 45. With the additional height on the demising walls of an extra 2 feet it helps defray the flanking of sound above and beyond this system. Pay special attention to return air grills, and Light fixtures using this type of application. These become the weak link…
References:

Thad Goodman currently covers the Great Lakes and Midwest for the National Gypsum Company as a CONSTRUCTION DESIGN MANAGER. His position calls on the Architectural Community educating on Gypsum Assemblies, Product uses. He authored this article while working in the panels division of Serious Energy, manufacturer of the acoustical drywall panel QuietRock. He has professional experience as a drywall installer and finisher; has managed a joint compound manufacturing plant for Magnum in Tampa, FL; and has worked for Georgia-Pacific Gypsum in field sales and as a district manager and an architectural consultant. He is an active member of the Construction Specifications Institute (CSI), currently the Institute Director of the Great Lakes Region President.
Website: www.nationalgypsum.com