Home Sweet Harlem: Modern and Affordable Housing in Sugar Hill
David Adjaye, the designer of the National Museum of African American History and Culture on the National Mall in Washington DC, also designed some of the most affordable housing in Manhattan. Harlem's Sugar Hill Housing Development by Adjaye Associates is now accepting applications.
Broadway Housing Communities, a nonprofit developer of supportive housing, alters the urban landscape of northern Manhattan by building affordable housing projects that showcase the work of local artists. They selected London-based Adjaye Associates -- founded by David Adjaye, who is leading the team behind the Smithsonian African American Museum of History and Culture on the Washington Mall -- to design their seventh housing project in Sugar Hill, a historic district of Harlem.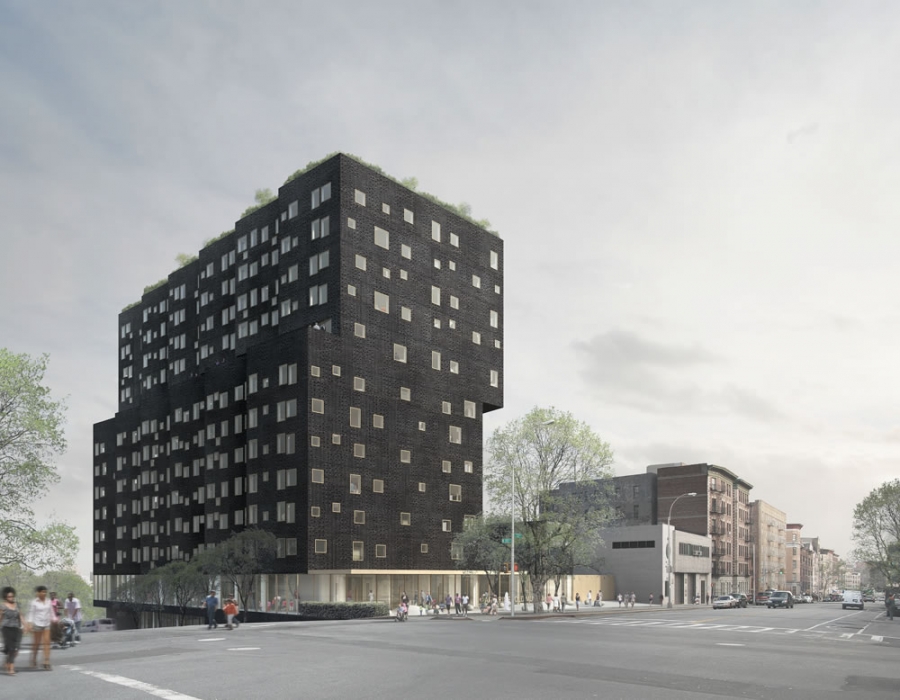 Sugar Hill is situated at the crossroads of racially diverse neighborhoods Washington Heights, Hamilton Heights, and Harlem, areas that are high-poverty and lack affordable housing. In the 1920s, Sugar Hill's Gothic Revival rowhouses served as the backdrop for the Harlem Renaissance and were home to famous figures such as W.E.B. Du Bois, Langston Hughes, and Duke Ellington.
The new, 13-story Sugar Hill housing development will provide housing for 124 families, including those who are low-income and homeless, on a budget of only $73 million, financed by a combination of public and private sources. Broadway Housing Communities purchased a site on Coogan's Bluff above the Harlem River at W. 155th Street and St. Nicholas Place. An existing parking garage must be demolished, although Broadway Housing Communities has agreed to photographically document the structure for the Municipal Archives and to preserve an element to display in the new building.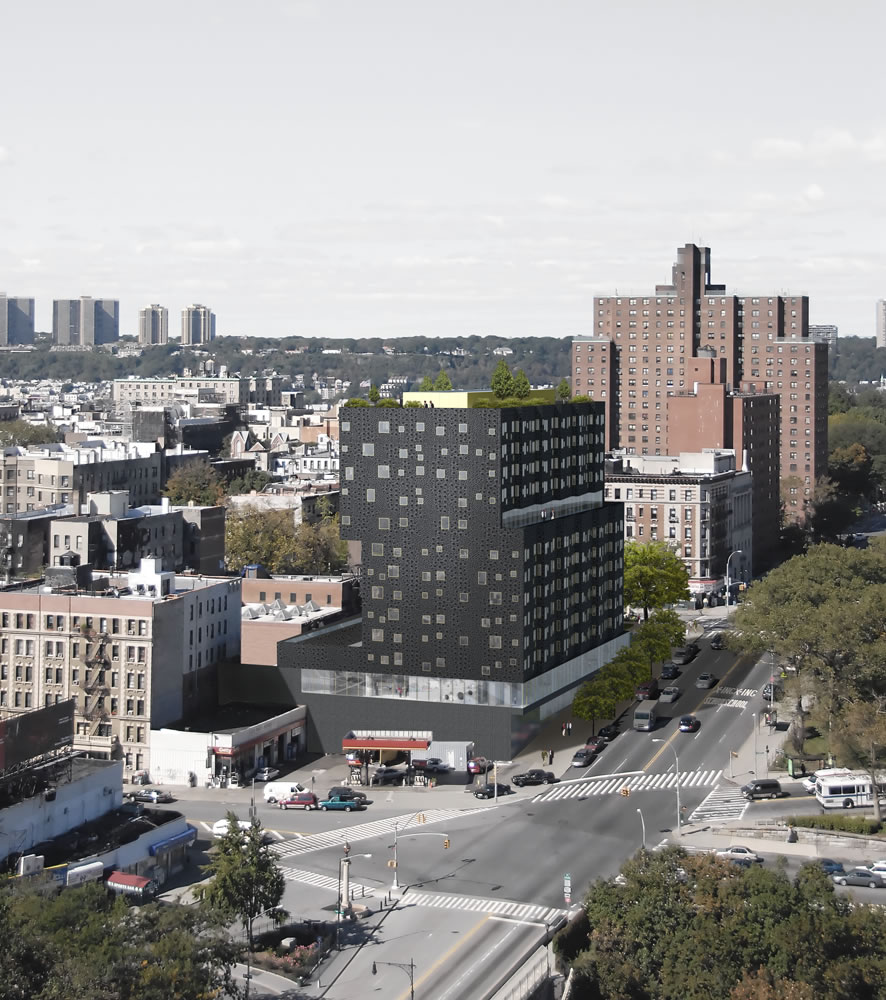 The building will be highly visible from nearby expressways and railroad lines, so Broadway Housing Communities sought a striking and modern design but also one that would fit within Sugar Hill's historic context. They formed a design advisory committee comprised of local architects and educators who unanimously selected Adjaye Associates, according to Broadway Housing Communities founder and Executive Director Ellen Baxter, because the design "honors the legacy of Harlem and the historic district." Broadway Housing Communities chose to pair the London-based firm with a local Architect of Record, SLCE Architects, a firm with experience building affordable housing in New York City and navigating its bureaucracy.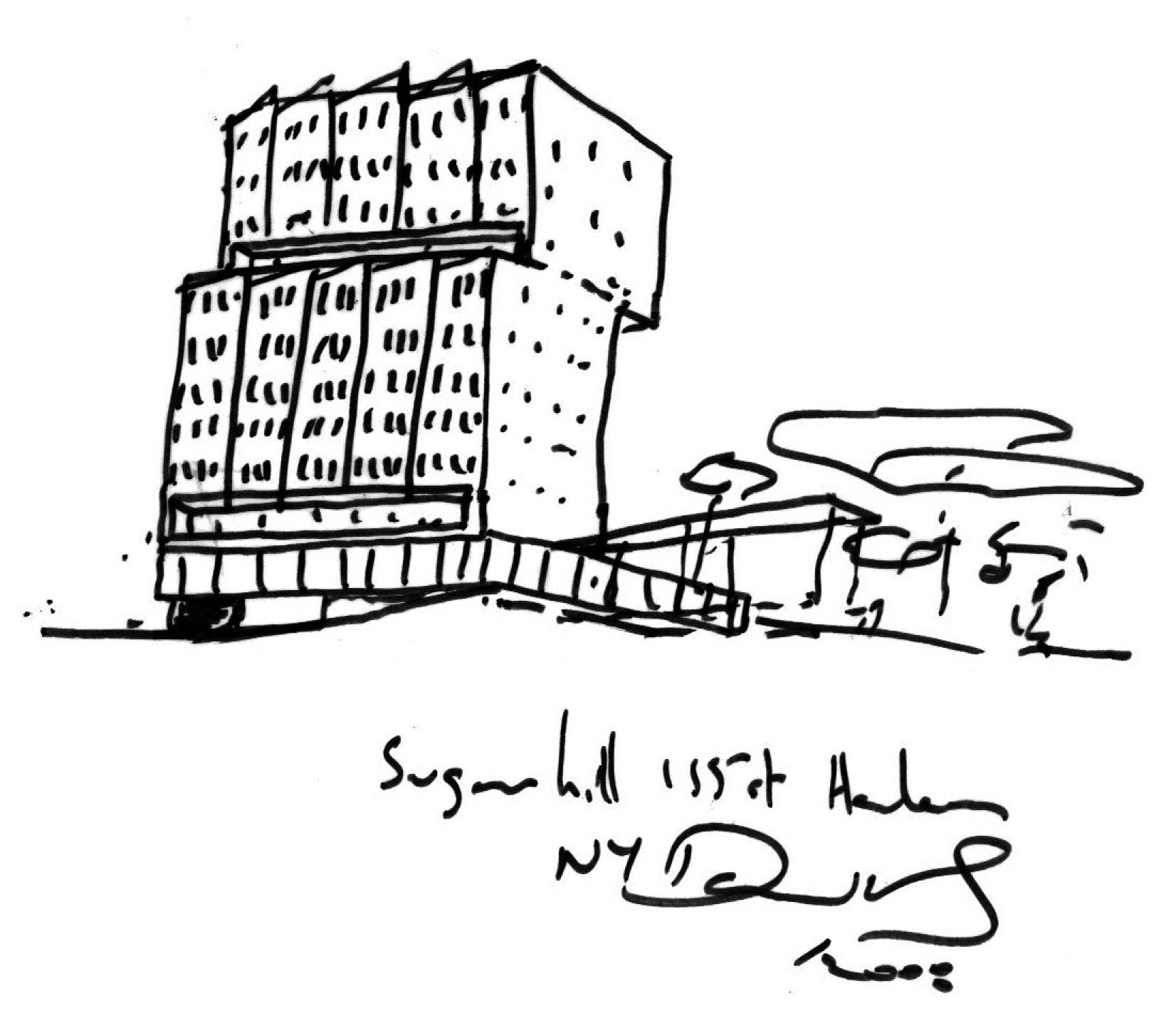 Adjaye Associates' design consists of two stacked rectangles, offset to create a 10'-0" (3m)-deep terrace. The volumes are clad in precast concrete panels tinted dark, grayish purple, which will shimmer like graphite in the sunlight. The panels will be etched with a rose pattern inspired by floral motifs in the terra cotta detailing of neighborhood buildings. Adjaye created a saw-tooth fenestration pattern to maximize views and reference bay windows, another common contextual feature. In Adjaye's words, his facade design recalls the "intricate masonry ornament and the articulation of the rowhouse bays of the neighboring buildings in the district."
Aside from providing much needed housing for the community, the Sugar Hill Housing development will also contain space for education, culture, and art. The gray volumes float above a glazed ground floor, forming an inviting entrance to the Faith Ringgold Children's Museum of Art and Storytelling, which will feature a permanent display of quilt art by Ringgold, a Sugar Hill resident, as well as rotating exhibitions. Lee H. Skolnick Architecture + Design Partnership is designing the museum's 18,000 sq. ft. (1,672 m2) interior, including a performance space, shop, cafe, media center, and library. The second floor of the building will house an early childhood education center, daycare, and Broadway Housing Communities offices.
Broadway Housing Communities had experimented with displaying the work of local artists and hosting educational programs for neighborhood children in a previous development, The Rio. Housing projects are typically internally focused, notes Baxter, and this approach generated "an overwhelming interest" among residents and community members: "Art has become a natural part of the everyday life of tenants and staff." She hopes that Sugar Hill's mixed program will generate the same response. A green roof atop the building will provide additional community space. Like the facade's etched pattern, it might be adorned with roses; Broadway Housing Communities is partnering with the nonprofit Heritage Rose Foundation to plant bushes on the property.
Construction is slated to begin on the Sugar Hill development as soon as the winter weather lifts. Baxter shares that "the neighborhood is pretty enthusiastic about an architect of David [Adjaye]'s stature building there."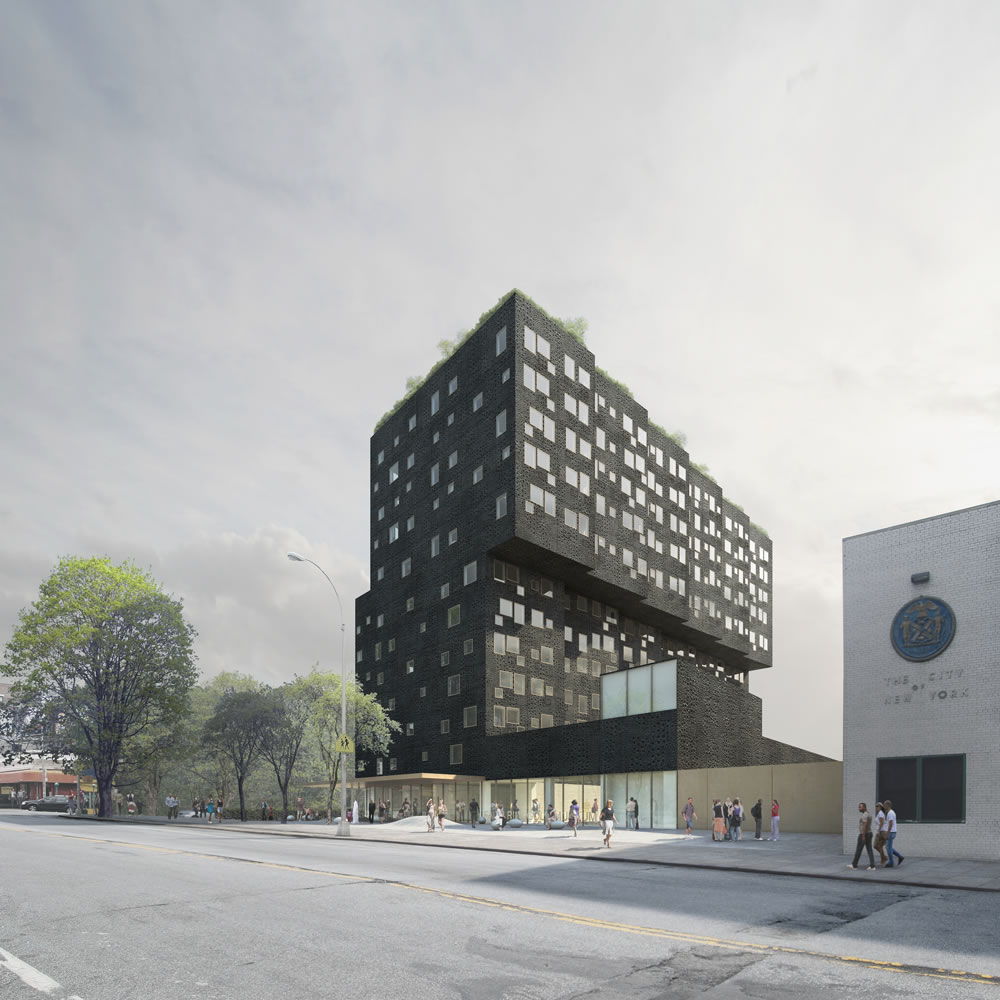 Sugar Hill Housing Development Images


Murrye is a freelance writer based in New York City. She holds a Bachelor's degree in Architecture from the University of Arkansas and is a LEED-accredited professional. Her work has been published in Architectural Record, Eco-Structure, and Architectural Lighting, among others. She also serves as a contributing editor for the American Institute of Architects' New York Chapter publication, eOculus.
Website: www.murrye.com
Latest from Murrye Bernard