Madrid's Viveros de Empresas Foster Economic Growth
Madrid's Moratalaz district finds itself with a new Viveros de Empresas (or "Business Incubator") that not only gives art school graduates a start in their professional lives but also gives Moratalaz increased architectural presence.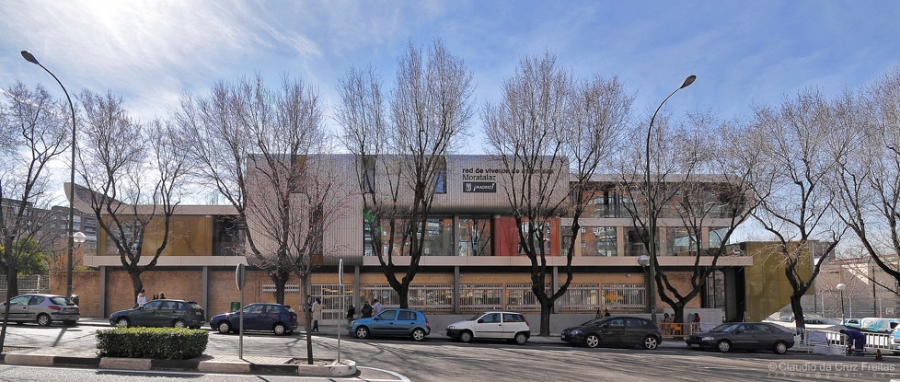 Architecturally, Madrid continues to be the gift that never stops giving. Despite the immense number of projects that have been suspended indefinitely due to the ongoing economic crisis, it's still possible to find new architectural gems even in some of the city's more inconspicuous districts.
In fact, many small-scale projects are slowly coming to life throughout the city, and a select few have the purpose of fostering local entrepreneurship. In the residential area of Madrid's Moratalaz district, you'll find one of seven Viveros de Empresas (or "Business Incubators") that have popped up in the outskirts of the city. These incubators, operated by Madrid Emprende, typically provide office space to help entrepreneurs formulate business plans and start companies without the burden of start-up costs. The offices are designed to be "thinking communities" where collaboration is encouraged; residency in these viveros is determined by a highly selective process that selects from many prospective candidates. These business incubator programs are government-sponsored and designed to assist start-ups and promote local entrepreneurship, therefore encouraging economic development within the city.
However, the Vivero de Moratalaz is distinct from the other six Vivero projects because it's the only business incubator that's used specifically for young art school graduates. This compact building of 1,000 square meters currently houses 13 offices that are explicitly designed to provide workrooms for talented new designers and artists. The nearby art school, Escuela de Arte 4, contributes to the continuing education of these new graduates once they are provided with working space. So far, the success rate of these projects is 95% and, in these trying times for Madrid's economy, these incubators offer a glimmer of hope for the city's economic growth.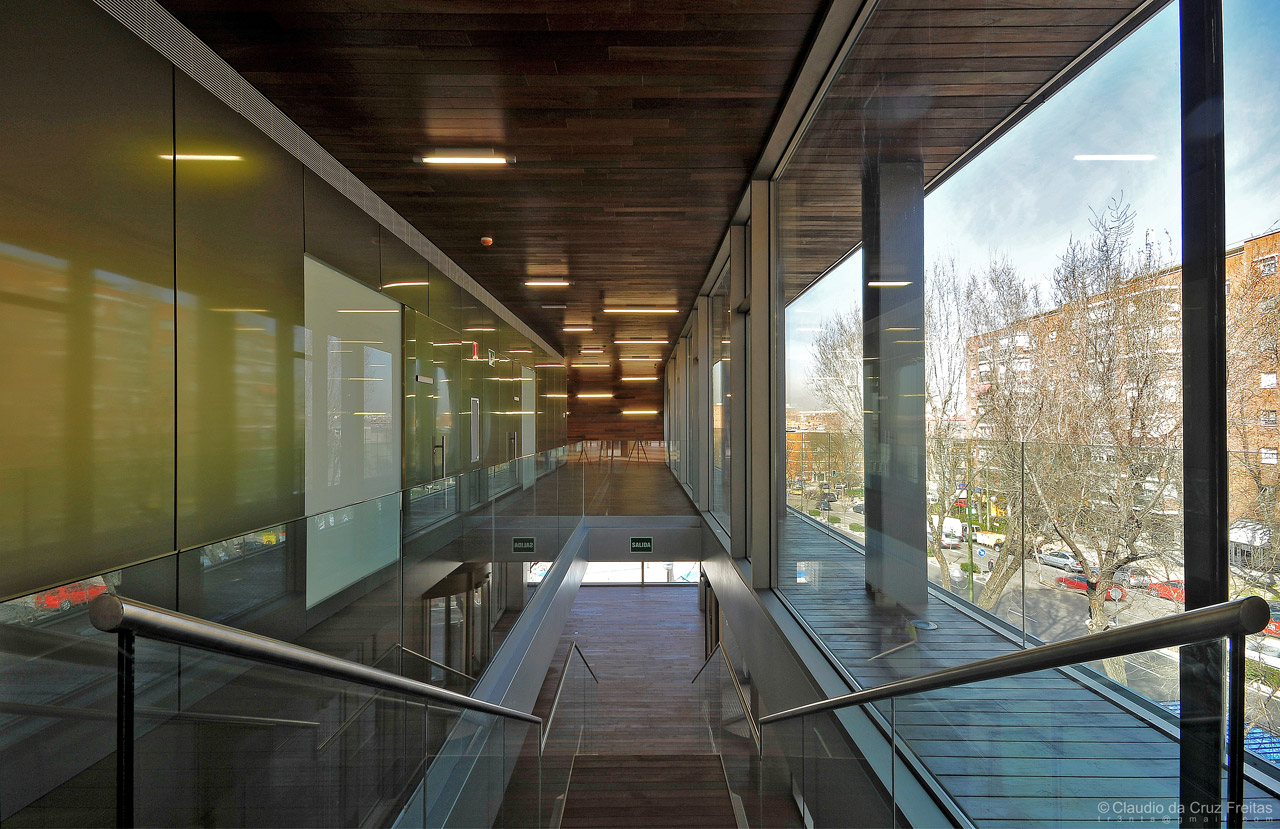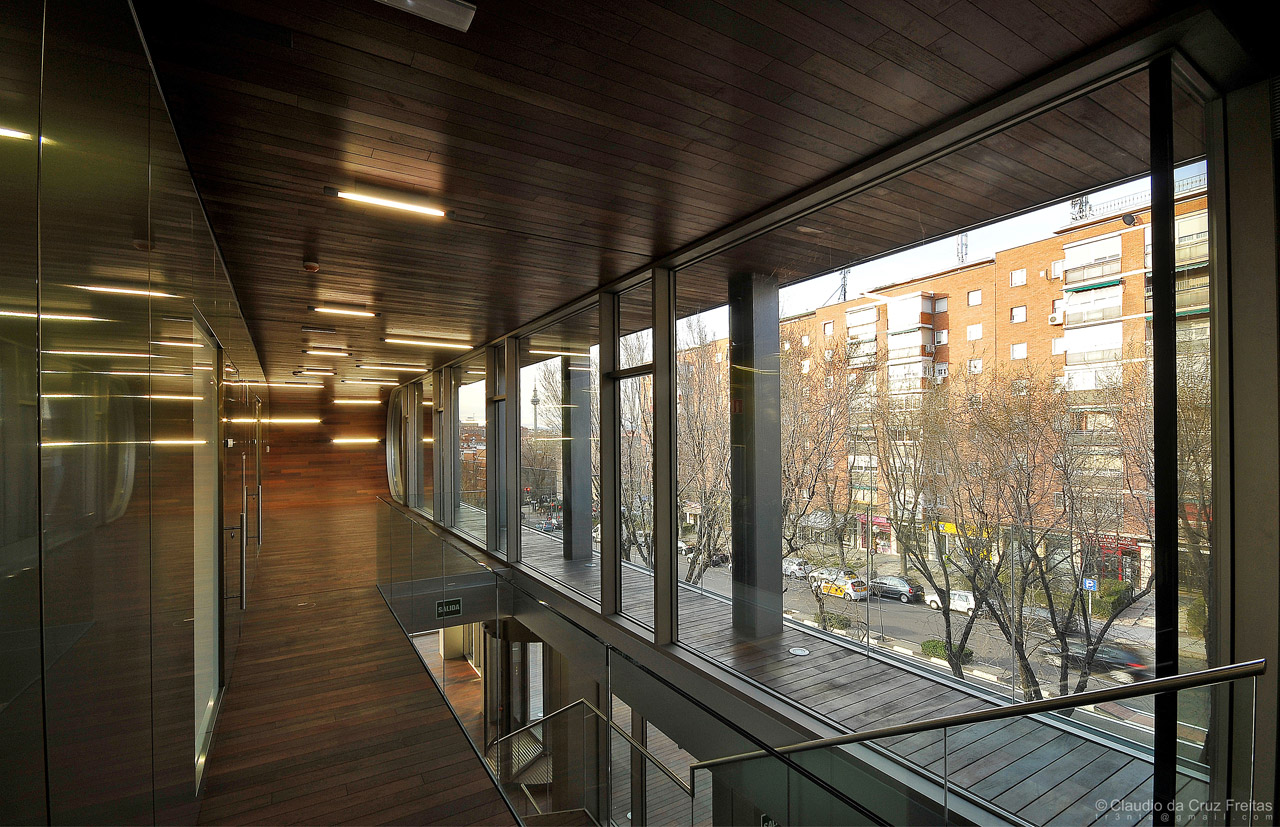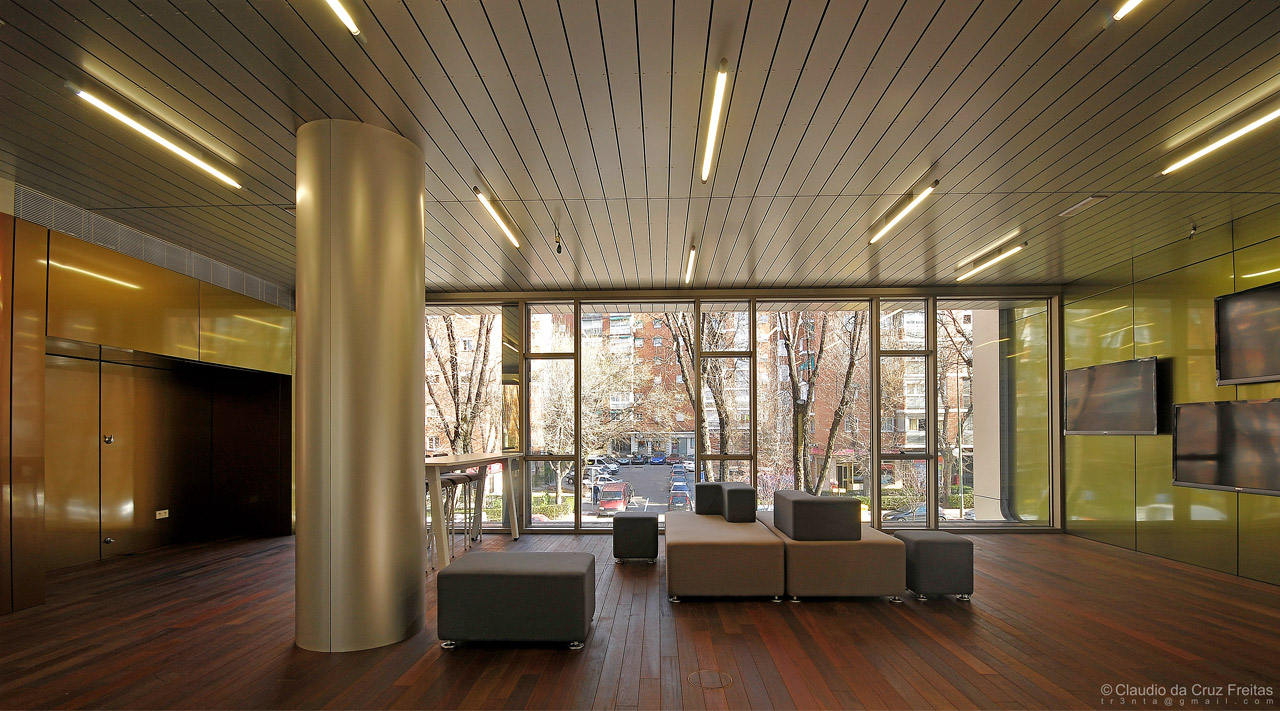 However, strong entrepreneurism and artistic spirit aren't the only things that are glimmering in the Vivero de Moratalaz. The building itself is a highly innovative design surely meant to inspire creativity and forward thinking among its young artistic residents.
Draped in aluminum Alucobond panels, the building's façade uses Madrid's ever-present sunshine to convert the exterior into a playful chromatic kaleidoscope, emitting iridescent arrays of orange, red, and yellow throughout the day. This colorful, avant-garde shell is enhanced with a horizontal curvaceous shape that continues throughout the building. The interior hallways and communal areas see the aluminum exchanged for dark wood flooring that seamlessly curves into vertical walls and onto the outdoor terraces. The result is an extremely dynamic two-story building inside and out, which is not only the result of inspired architectural creativity but one very clever solution to a very challenging building requirement.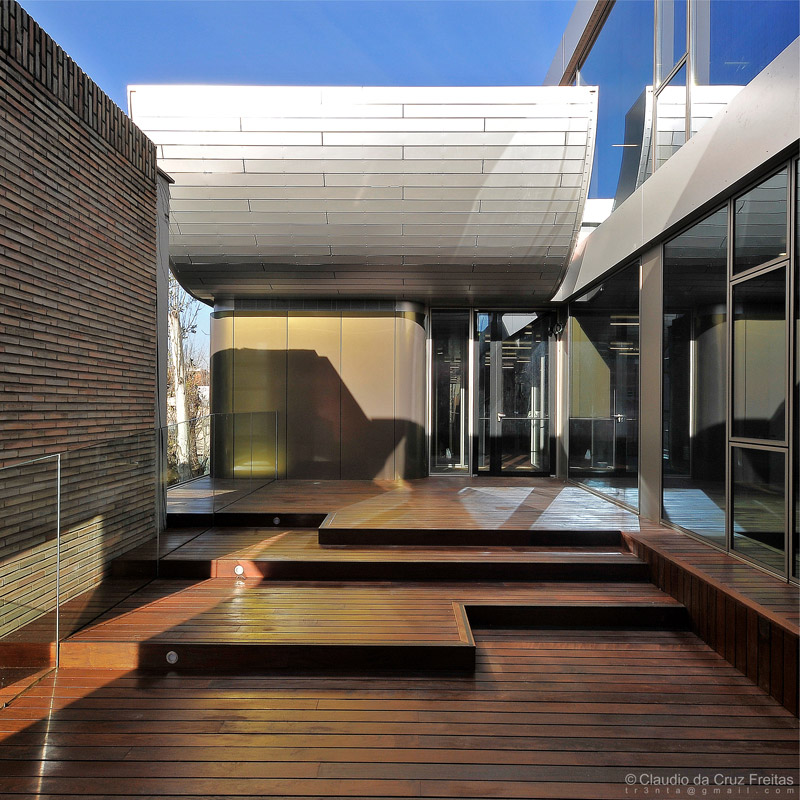 When Madrid's city council announced they were accepting architectural bids for the next Vivero, there was one very unusual stipulation imposed by the judges of the competition. As part of the building requirements, the architects had to come up with a new building that would literally fit on top of an existing structure, but without adapting the base structure to the new design at all.
The winning design, by Sara Solé Wert and Juan José García-Aranda Pez of a3arquitectos, took this daunting challenge head on, creating a new singular design sophisticatedly perched on top of the existing building.
The new building's measurements were precisely constrained to the length of the base building and used metal porticos and the Vierendeel beam system to absorb and distribute the weight of the new structure. The sleek design of the new two-story "top" manages to respectfully blend the two buildings into one pleasing aesthetic without swallowing the older building.
However, that pleasing aesthetic doesn't mean it doesn't stand out like a sore thumb among the rather drab and uniform brick blocks of the surrounding area. In fact, thanks to its colorful and unique exterior, the local Madrileños gave this little building a big nickname on the very day of its inauguration: The Pompidou de Moratalaz.
And yes, there might be a very slight resemblance to the quirky Parisian icon. But make no mistake, the Vivero de Moratalaz is 100% Spanish and certainly one of a kind.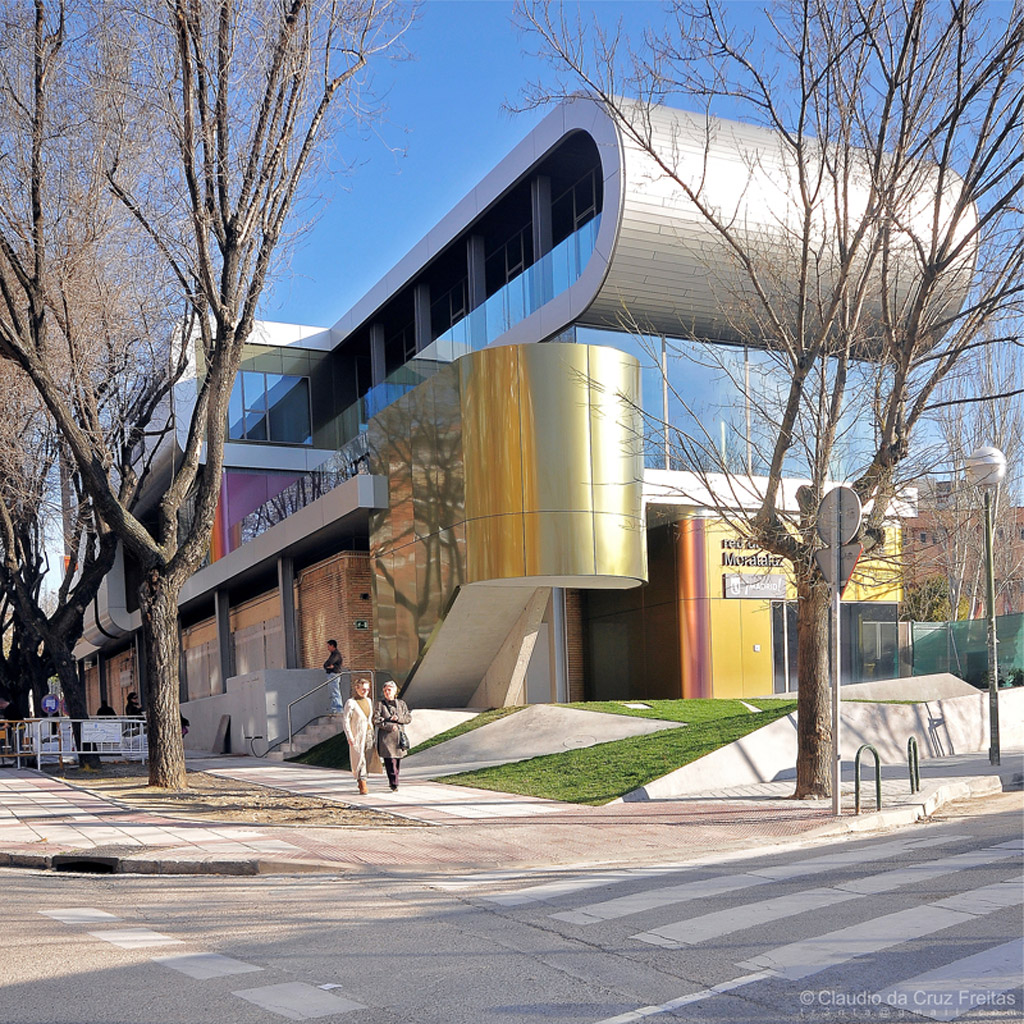 Nicole graduated from Georgia State University with a Post Graduate degree in Spanish to English Translation and a B.A. in Spanish and International Business. Presently living in Madrid, Nicole works as a freelance writer and translator and enjoys traveling around the Iberian peninsula taking photos of Spain's rich blend of historic and modern architecture. Her articles and photos have been published in various trade publications and websites.
Website: www.passtheham.com/
Latest from Nicole Jewell