To maintain a project's schedule, productivity, and ultimately, profitability, it is imperative that the job foreman and the office project manager and/or estimator are aware of weather and site conditions.  During this time of the year, material delivery becomes an extremely important part of maintaining project schedules and minimizing surprises.

Specifiers tend to create their products based on what manufacturers tell them.  This is not a bad idea; after all, no one has the time to research all the products used on site.  Manufacturers will indicate that their materials need to be pre-conditioned to the interior temperature for a period of time, usually 24 hours prior to installation.  The standard temperature is typically between 55 degrees Fahrenheit and 70 degrees Fahrenheit.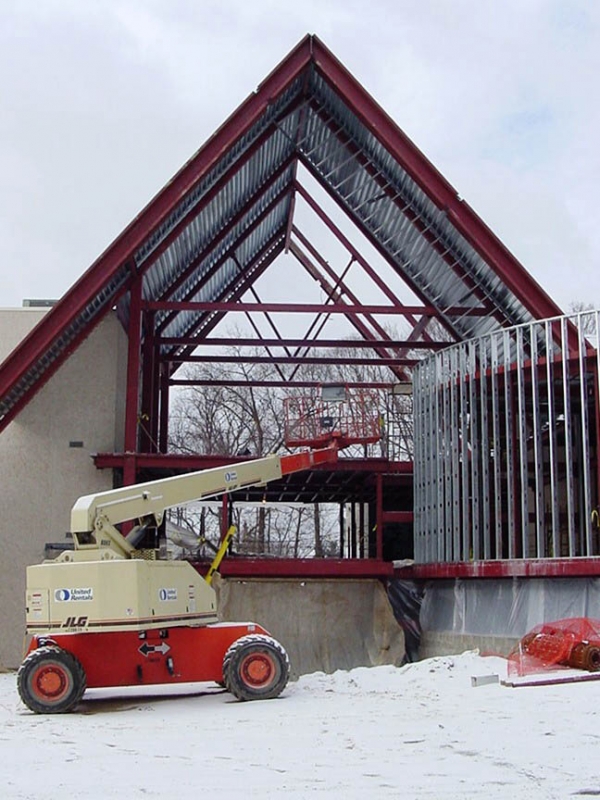 This also tends to be the standard temperature for a variety of other building materials: wood, drywall, floor tile, glues, compounds, and paint, to name a few.

A job foreman, if on site, needs to convey the specified temperature requirements to the general contractor.  Many times this request seems to fall into the realm of "I'll get to it," since this is a cost factor to the general contractor and other rough-in trades whose work may not require temporary heat.  As an office project manager or estimator, job site visits are often required and are mandatory if the job foreman is not on site.  Pre-construction job site inspections should verify:
Job Site and Building Access: Is the site muddy, can a truck get close enough to boom a load of drywall into the building, and is there excavation equipment on site to aid if a truck becomes stuck?
Weatherproofing the Building: Verify that water from rain and/or melting snow is not leaking into the building and that roofing, windows, and doors are capable of keeping future weather out.  Are pallets required to keep material off the floor?
Heated Building and Storage Areas: Are insulation and a vapor barrier in place to prevent or reduce the possibility of mold?  If temporary heat is required, is the area properly ventilated?
Water Availability: Is water available at a minimum of 55 degrees Fahrenheit for mixing and/or clean up?
Crew Concerns: If a heated temporary storage area is provided, is it large enough and properly ventilated to serve as a heated break area?
Without heat, the quality of the products installed is reduced and production is affected.  Examples of this include:
Due to drywall joint compound being installed in thin layers, it will freeze faster in cold temperatures.
Cold or damp drywall does not sand well and the surface will "fuzz," creating problems for other trades.
Wood trim will shrink as it warms, causing cracks or joints to open.
Adhesives will be more difficult to spread, causing uneven areas and future problems.
Paints and other coatings will not cover adequately.
These examples are just a few of the problems and quality issues that can be effectively reduced if temperature is addressed early and maintained throughout a project.

Lack of adequate job site temperature also affects the crews.   A few precautions that should be passed on to crews include:


Wear proper clothing: layer clothing to be able to adjust body heat during the work day.
Drink plenty of fluids to prevent dehydration that can occur in a cold environment (warm sweet beverages are the best).
Schedule warm up breaks.
Maintain proper ventilation in temporarily heated areas.
Educate employees as to cold weather problems.
Construction will continue throughout the changing seasons and upcoming winter weather; however, if job foremen and the office staff take the time to plan for cold weather job site conditions, material requirements and delivery problems will be minimized.  Also, production, quality, and profitability will not suffer, surprises will diminish, and customers will be satisfied.

Mark graduated from Southern Illinois University in 1969 and, after a tour in the military, went to work for Marr Knapp and Crawfis Architects and Engineers in Mansfield, Ohio. Mark worked with the architectural firm from 1972 through 1985, receiving his Ohio Architectural Registration in 1984. While with the firm Mark was responsible for specifications and project site coordination. From 1985 through 2008 Mark was a partner with Quest Interior Construction Co., specializing in commercial light gauge metal stud framing, gypsum board systems, acoustical ceiling systems, hollow metal doors and frames, and flooring. As a project manager Mark was responsible for material and labor estimating, purchasing, and project management.
Latest from Mark Reisdorf