Bathroom Design Trends and Ideas
Homeowners have not paid much attention to the bathroom in the past, but in recent years the bathroom has come under scrutiny in the design world -- and consumers are wanting more. Because the bathroom is such a small space, it presents some challenges in finding balanced and poignant design and décor. We've talked with expert designers about current trends in bathroom design, as well as some ideas for incorporating these fresh elements.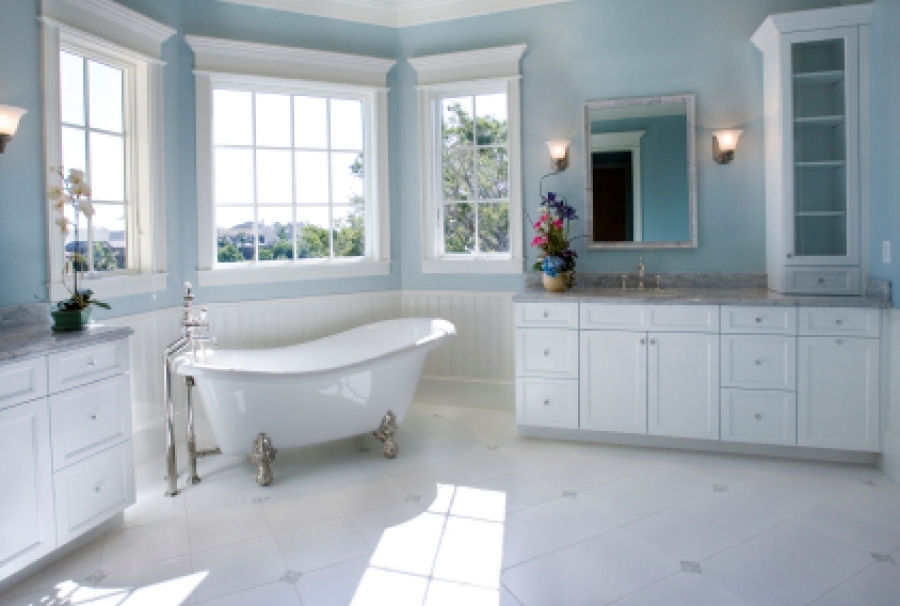 ---
Home Builders Resource Center
Brought to you in partnership with: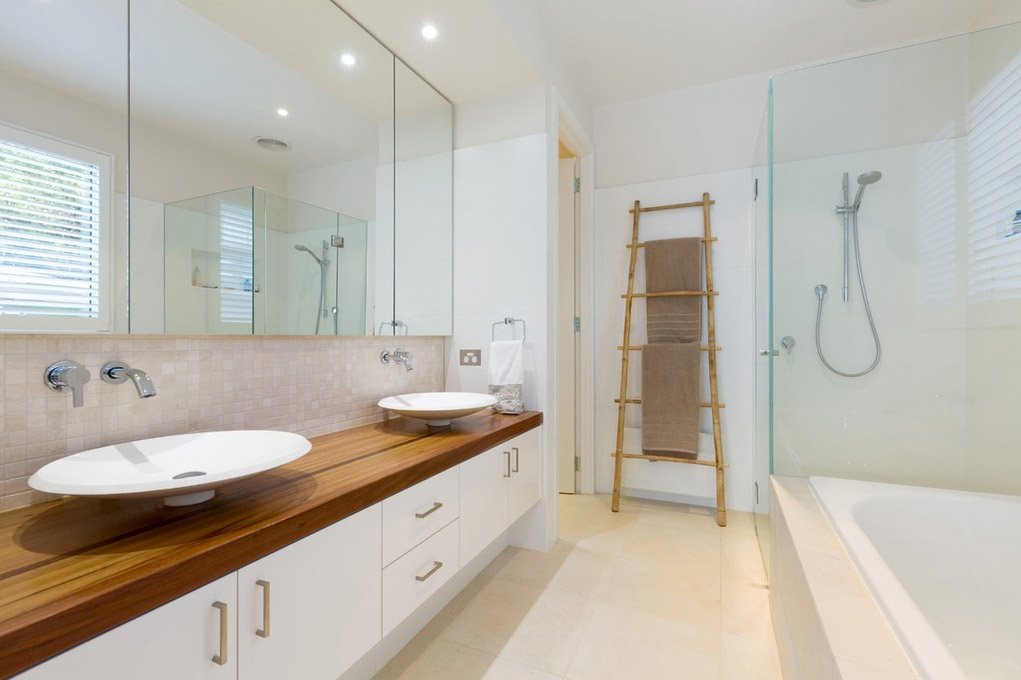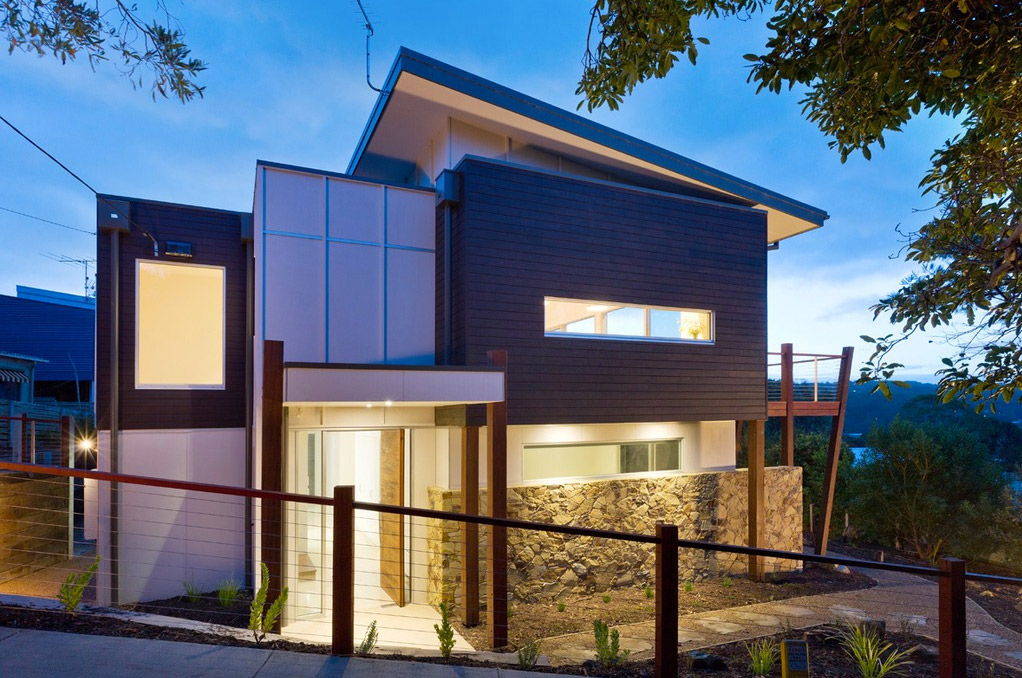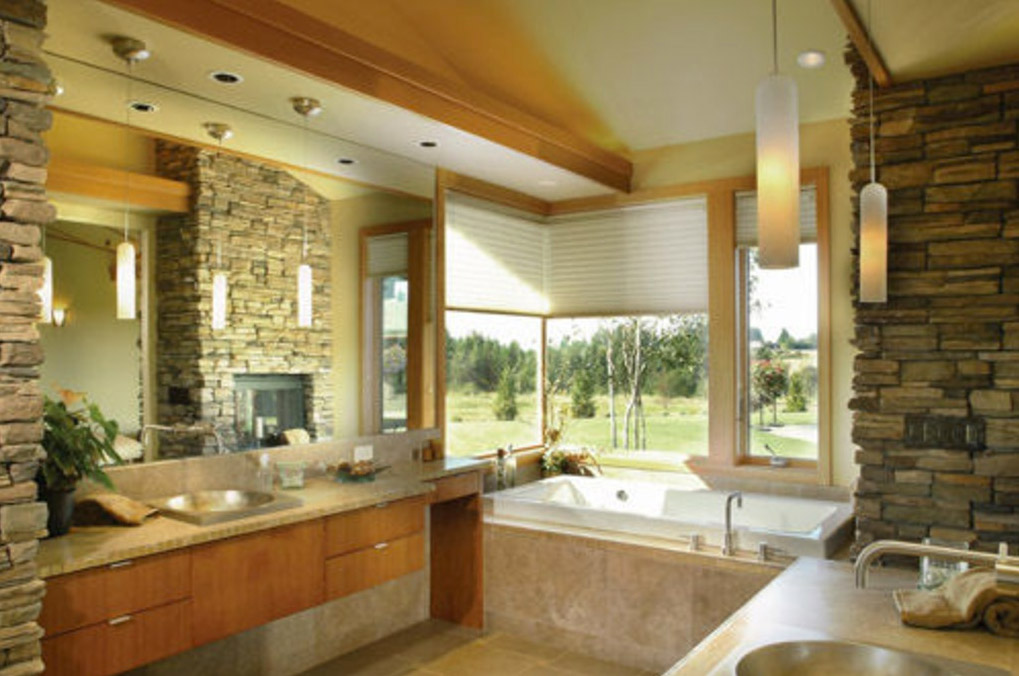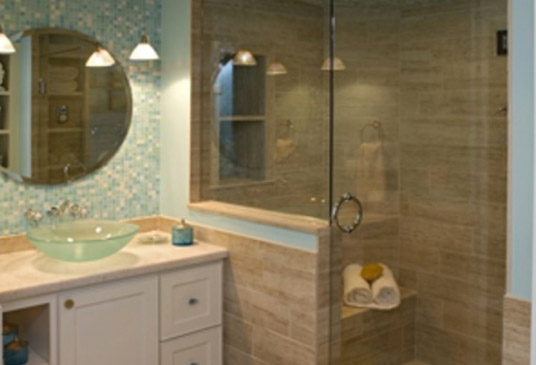 Browse these plans and others at
http://www.houseplans.com
.
---
Take it to the Spa!
Though all the designers we interviewed agreed that the bathroom is certainly a venue for personal choice and customization, they each mentioned the trend toward mellow, spa-like bathrooms. Colors, décor elements, and everything down to the faucets are meant to induce a relaxed state. Karen Ellentuck of Ellentuck Interiors is an interior designer in Seattle and has won several regional awards for her kitchen design. She tells us, "The tubs have gotten more sophisticated. Not just a jetted tub with a whirlpool, but Chroma lights, aromatherapy, different types of bubble massage -- the tub itself has really been evolving. There are also different forms and shapes and styles people are looking at to customize the bath for a different experience."
Bathroom Design Trends and Ideas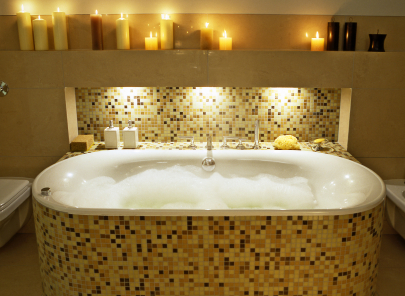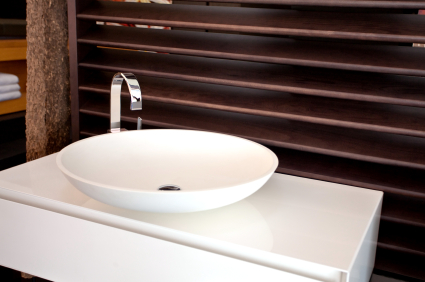 Think Luxury
Along with spa-like bathrooms, we also have the emerging trend of luxury, hotel-inspired spaces. Michelle Workman is incredibly talented at designing the interiors of Hollywood -- designing homes for stars including Jennifer Lopez and John Travolta. She gives us her take on the bathroom: "I think glamour is on an upswing as far as décor goes. The bathroom is really different because it can be really sexy. It can be very over the top and is very personal space." She mentions the rise of frameless shower stalls, pleased that outdated metallic pieces are taking their leave. "It's a beautiful aesthetic, fresh, and doesn't detract from what you're doing in the rest of the room," Workman says. "That's one of the main things I do when I'm doing a bathroom. If it's the only thing I can do, it's pulling out the shower and putting in a frameless."
Bathroom Design Trends and Ideas
"Adding dimmers and a place for candles by the tub is a must for relaxing and de-stressing in the bath. Be creative with tile and color here. Utilize real plants if possible, as they will thrive." DeAnna Radaj of Bante Design LLC.
Workman encourages thinking outside the box: "Keep a classic base, and then expand on that -- or twist it into something new. Incorporate penny rounds or Carerra marble, or marble of any sort. Instead of doing a ceramic tile you do a glass mosaic or you do a mirrored glass or something similar, with everything else conservative for a really big pop."
For even less work and big impact, painting is a great choice. Workman says, "In the bathroom, because it is such a small space, you can do really dark or really bold colors. When you have walls that are all the same color and a ceiling that is the same color, it becomes a jewel box, not an enclosure. It will be bold and rich and will give a huge impact."
Even more affordable? Ellentuck suggests "changing to interesting towel bars, changing out lighting fixtures, adding mirrors that are framed, making the room feel bigger with a larger mirror, or changing out your sink and faucet. Add instant elegance and ambiance by installing a pair of wall sconces flanking the mirrors or sinks over the vanity." Don't forget the ultra-luxurious heated towel bars!
Go Green!
Sustainability is making its way into the bathroom as well. Consumers want energy-efficient lighting, low-flow faucets, and toilets that waste as little water as possible. Beyond the functional aspects of the green movement, people want that look showcased. Whereas this may not mesh with the often mechanized and wired nature of certain luxury bathroom customizations, it seems rather intuitive in conjunction with spa-like bathroom settings. Our experts have a multitude of tips for bringing sustainability into the bathroom. Stephen Reilly of SLR Architecture Inc. stresses, "Buy the best-quality materials you can afford: it never pays to buy cheap stuff that falls apart." All that broken equipment, too, will ultimately end up in a landfill.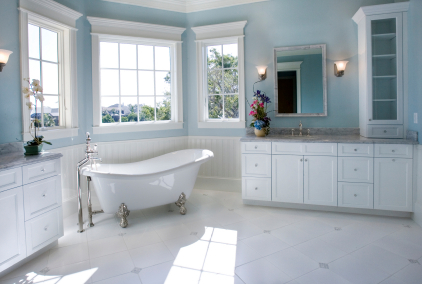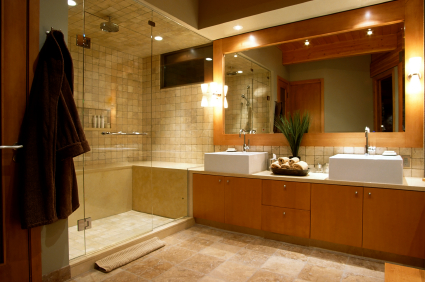 Bathroom Design Trends and Ideas
Gilder suggests, "Use low- or zero-VOC paints on your walls and even cabinetry if you're repainting them. VOC stands for volatile organic compounds, which are toxic gases that are emitted into the air while the paint is drying. Benjamin Moore's Natura paint is zero-VOC, completely odorless, and is available in their full range of colors and finishes."
Radaj says, "Use natural, organic bath and beauty products (If you can't pronounce the ingredients why are putting it on your skin?), textiles made from natural materials (organic cotton, bamboo, jute, silk), artwork from local artists, candles made from soy with organic cotton wicks, any aromatherapy from essential oils."
Workman gives her two cents: "My biggest green platform is to reuse. I love to find old pieces of furniture and reuse them -- not to mention things that were made 40 years ago are much higher-quality and less disposable than the things that are made today. In my house we had an old cast iron bathtub which was gorgeous, but the faucets were eroded. Many people would have just thrown it away or replaced the faucet. We rechromed it all and it was absolutely beautiful."
"In the bathroom, because it is such a small space, you can do really dark or really bold colors. When you have walls that are all the same color and a ceiling that is the same color, it becomes a jewel box, not an enclosure. It will be bold and rich and will give a huge impact." Michelle Workman
Although the bathroom may be the smallest room with the fewest components, so much can be done with these elements that will have a great impact. So get in there and update your bathroom for a calmer, more relaxed experience.

Tara is a freelance writer currently pursuing a Master of Urban Planning, Development, and Design at Cleveland State University. Her writing has covered a wide breadth of topics, but she particularly enjoys meaningful work concerning community development, sustainability, and design. Her articles, blogs, and musings have been featured in various online and print publications, and she hopes her words will inspire creativity and innovation as we work toward social and structural change.
Website: tarasturm.com/
Latest from Tara D Sturm