Winter Is Coming: How Is Your Indoor Air Quality?
Maintaining your home's indoor air quality is essential for your family's health and finances. Learn how to keep your home healthy and warm this winter by improving your indoor air quality.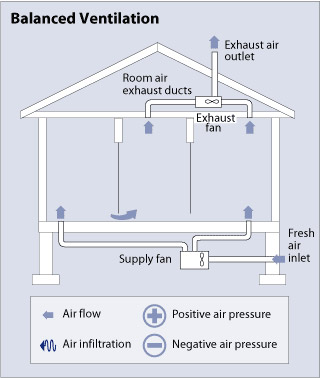 The Environmental Protection Agency (EPA) reports that indoor air is 3–5 times more polluted than outdoor air. That's a serious problem, especially when you consider the fact that it's estimated we spend 90% of our time indoors, with 65% of that at home. With winter coming, we're now closing up our windows and spending even more time indoors. To make matters worse, while we've been carefully sealing up our homes for better energy efficiency, we've also been closing off the leaks in our homes that used to do the job of exhausting stale, contaminated air and bringing in fresh, outdoor air. Getting an efficient, air-sealed house without sacrificing healthy indoor air quality is important.
Let's start by looking at where indoor air pollutants come from. New paint, carpets, insulation, and furniture are obvious culprits – the smell we associate with "new" things is actually the off-gassing of volatile organic compounds (VOCs), which are known pollutants. The cleaners we use everyday in our kitchens and bathrooms are also sources of contamination. Think, too, of what you track in from pesticide- and fertilizer-laden lawns, pets and their dander, tobacco smoke, and residual exhaust fumes from attached garages. Then consider how much moisture enters the air from showers, cooking, and from the breathing of a home's inhabitants. That moisture can build up and encourage mold growth. Radon, a colorless, odorless radioactive gas prevalent in soil, naturally leaches into basements and crawlspaces. Carbon dioxide, carbon monoxide, and particulates from back drafting of furnaces and water heaters can also affect the air you breathe at home. These are all part of the indoor air pollutant "soup" affecting our health.
So what can you do about it all? Start by preventing the most obvious pollutants from entering your home in the first place. Choose low- or no-VOC coatings, carpets, and furnishings. Choose cleaners made with non-toxic ingredients or make your own cleaning solutions using common household items like vinegar and baking soda. Leave your shoes at the door and relegate pets to only certain, easy-to-clean areas of your home. Choose organic lawn treatments or none at all. Store unused paints, solvents, fuels, and other high-VOC materials in an outdoor shed. Park your car outside and don't allow smoking inside your home. All of these measures will help to limit the amount of pollution that enters your home.
Next, ever heard the saying, "Dilution is the solution to pollution"? While I can't recommend it as a way of dealing with large-scale, industrial pollution, proper ventilation can help to diminish the concentration of pollutants inside a home. You're probably familiar with the acronym HVAC – it stands for Heating, Ventilating, and Air-Conditioning. Heating and air-conditioning are always addressed when HVAC contractors install equipment, but ventilation is mostly ignored. Yet it's ventilation that can have the biggest effect on how healthy our indoor air is to breathe. The simplest ventilation is to open a window, allowing fresh air into your home, but this doesn't ensure that the air in your home remains fresh when you close that window for security or comfort reasons. That's why mechanical ventilation is often the best choice. An automated mechanical ventilation system doesn't rely on a homeowner to remember to keep windows open, helping to ensure that indoor air is safe and healthy no matter what.
At a minimum, high-humidity areas like bathrooms and kitchens should have dedicated exhaust fans. Ideally, these should be automated with a simple timer switch. Then the fan can be activated just before taking a shower, for example, and allowed to run for 20 minutes. The timer makes sure that the fan isn't left on, wasting energy. These "point source" exhaust fans are critical, keeping moisture levels in check to minimize the likelihood of mold growth.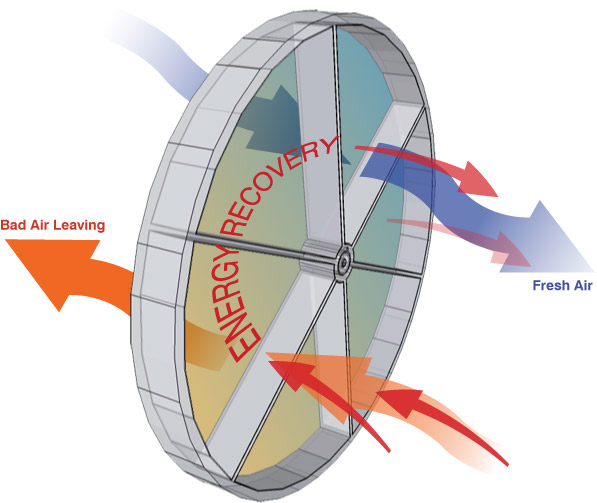 The next step addresses whole-house ventilation. Exhaust-only fans run constantly at low speed, allowing leaks in the home to admit fresh air. Balanced systems address both exhaust air and supply air, avoiding negative pressure and the potential for back drafting. These simple systems are great for very mild climates but can waste serious amounts of energy during heating or cooling seasons in less mild climates. That's where Heat Recovery Ventilators (HRVs) and Energy Recovery Ventilators (ERVs) come in. HRVs are used in cold climates during the heating season, while ERVs work in both the heating and cooling seasons to exhaust stale air from the home and bring fresh air into the home. In the meantime, the energy used to heat or cool that air is "recovered" into the incoming air stream instead of just blowing that heating or cooling energy outdoors. Many will offer optional air filters that will remove pollen and other particulate matter as the outdoor air enters the house. My ERV, from UltimateAir, came with "EconoCool," which allows me, at the flip of a switch, to turn the energy recovery function off between 40°F and 70°F while the fans still circulate air through the house. I do this during "shoulder seasons" when the house is hot but outdoor temperatures fall in the evening. The ERV then works like a whole-house fan, bringing in the cooler outdoor air so that I don't need to use the AC. The result is cleaner, fresher indoor air with little energy loss to the outdoors.
Indoor air quality is a serious issue, but by attacking the problem from both sides you can dramatically improve the air you breathe inside your home. Your family will be more comfortable, healthier, and happier all the way around.

Latest from Jeff Wilson