Decking 101 is our quick guide to popular deck materials (like wood, composite and cellular PVC, and aluminum), installation, cost, and maintenance tips.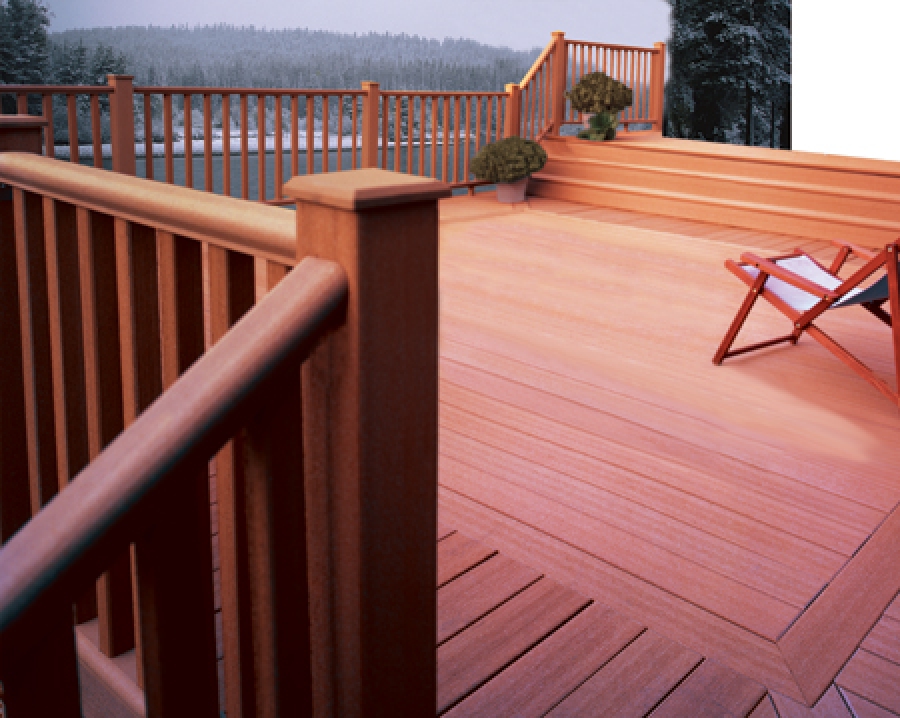 ---
Home Builders Resource Center
Brought to you in partnership with: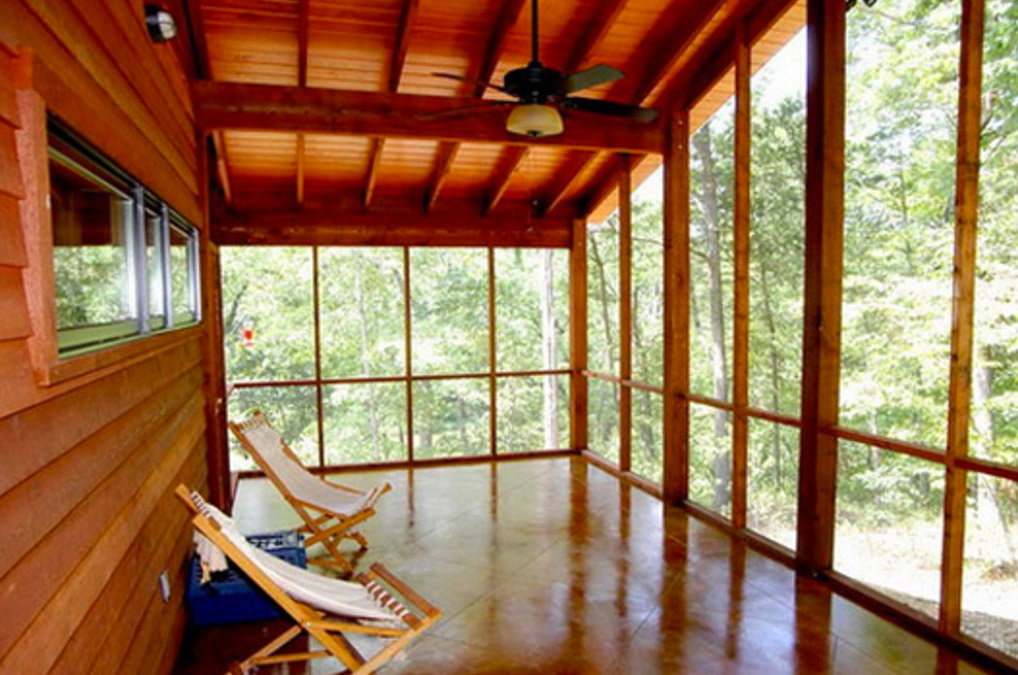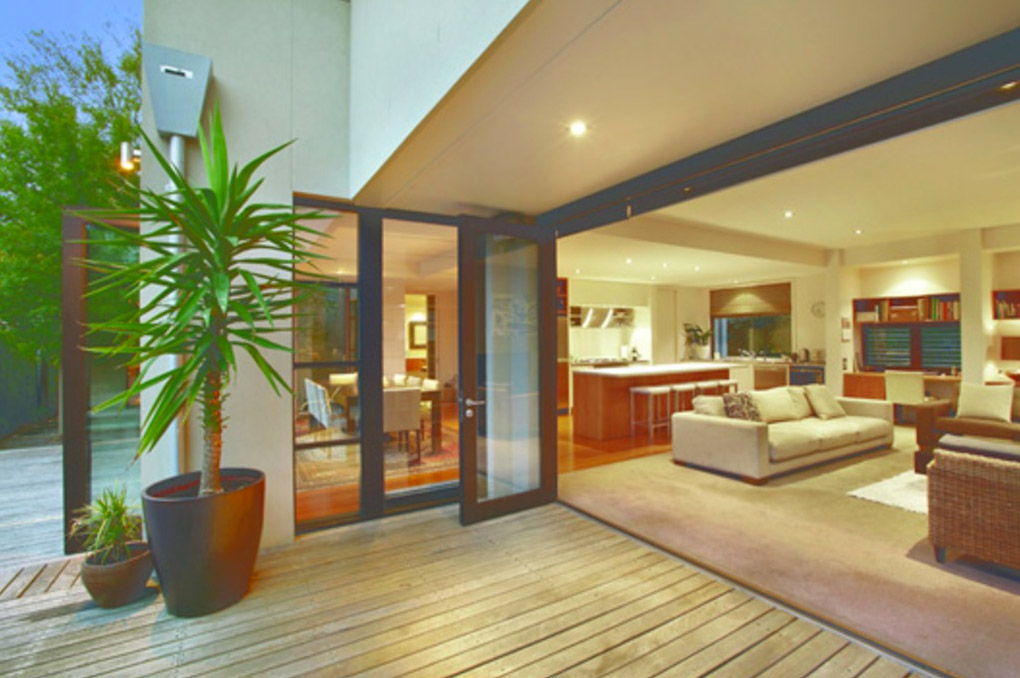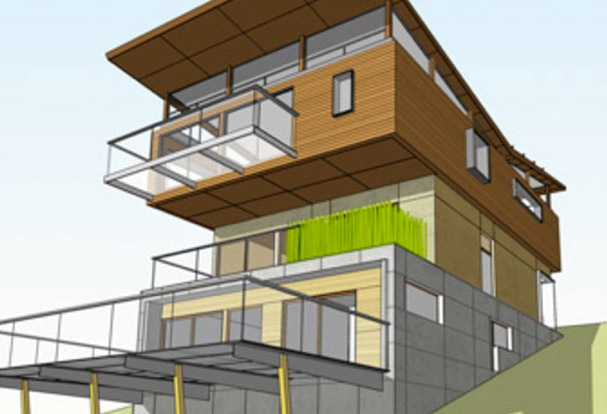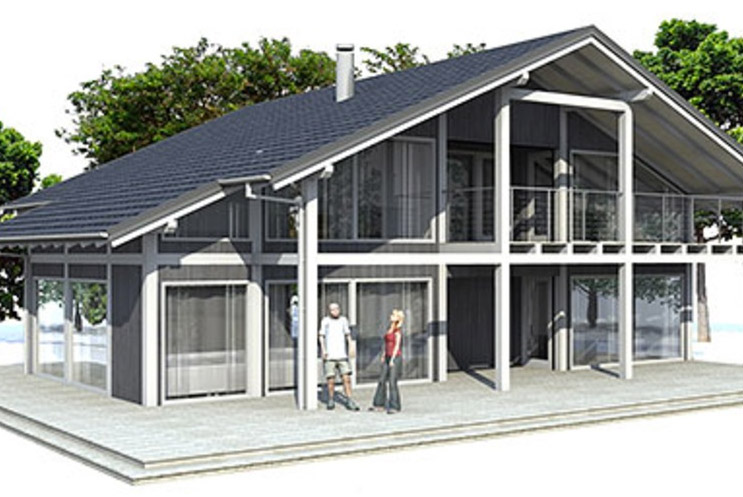 Browse these plans and others at
http://www.houseplans.com
.
---
Wood Decking
Wood is the most frequently used material for an outdoor deck. The natural characteristics and aesthetics of wood, in addition to its availability, remain unsurpassed. Common types of wood decking include pressure-treated, redwood, cedar, and tropical hardwoods.
Design Considerations
Easy to install. Familiar tools and fasteners allow for DIY installation. Wood decking is installed with screws, ring shank nails, or concealed fasteners.
Low in cost ($–$$ of $$$$). Pressure-treated wood decking has the lowest initial cost compared to any other type of decking. Redwood and cedar are more expensive than pressure-treated decking. Tropical hardwoods are more expensive, with an initial cost that is comparable to that of traditional composite decking.
Aesthetically pleasing. Wood decking can be stained or painted, so color options are virtually endless. Tropical hardwoods have a rich visual appearance due to the their depth of color and grain.
Fairly durable. Redwood and cedar softwoods are both naturally rot-resistant. Tropical hardwoods are dense, highly durable, and resistant to insects, decay, scratches, dents, and splinters.
Maintenance-dependent. Wood naturally ages to a gray, weathered appearance. It can also rot, crack, splinter, and warp. Wood decking requires annual cleaning and biannual sealing.
According to the National Association of Home Builders Study of Life Expectancy of Home Components, "Because they [wood decks] are subject to a wide range of conditions in different climates, the life expectancy of wooden decks can vary significantly. Under ideal conditions, they have a life expectancy of about 20 years." The study also commented that wood decks will last longer in the north (20-30 years) than in dry locations (20-25 years) or in the south (10-15 years). Variance in these estimates also depends on the quality of a wood, in addition to the care provided to the material during its lifetime.
Synthetic Decking
Manufacturers of synthetic deck boards have developed hundreds of different man-made decking products over the past two decades. In the last ten years, these synthetic materials, which are available in sizes similar to traditional lumber, have improved in quality and have seen a significant increase in consumer demand. Generally speaking, there are two types of synthetic decking, composite and cellular PVC.
It is important to note that your local building department may require an independent evaluation report that provides evidence that a synthetic decking material meets local code requirements. Prior to making a final product selection, be sure the product has either a ICC-ES Evaluation Report (ESR) or a ATI Code Compliance Research Report (CCRR) and that it meets your local code requirements.
Traditional Composite Decking
Traditional composite decking or wood plastic composite (WPC) is composed of wood and plastic materials. Recovered saw dust, virgin or waste plastics, fillers, and additives are mixed or compounded to combine the constituents, then extruded into a plank and embossed or brushed to emulate the appearance of wood. Manufacturer lines consist of multiple types of wood plastic composite (WPC) deck boards that range from basic economical to premium aesthetic materials. TimberTech, a Crane Building Products company, is one such manufacturer.
"What separates TimberTech from the competition is that TimberTech is the only manufacturer to provide everything a homeowner or contractor needs to create a backyard oasis," states Carey Walley, Director of Marketing for TimberTech. "The attention to details and quality materials provide TimberTech with a competitive advantage when it comes to aesthetics and functionality."
Design Considerations
Easy to install. Familiar tools and fasteners allow for DIY installation. Variations in material formulation between manufacturers makes it important to read and follow all of the installation instructions. This applies especially for joist spacing (which can range from 12" to 24" on center, depending on the design and application), gaping of material (which allows for expansion and contraction), and fastening of the planks to the framing (some products require pre-drilling, while others use proprietary screws or hidden fastening systems). The weight of solid deck boards is greater than that of other types of decking materials.
Moderate in cost ($$ / $$$ of $$$$). Basic economical wood plastic composite (WPC) decking is more expensive than pressure-treated decking and less expensive than cellular PVC decking. Premium wood plastic composites are similar in cost to cellular PVC decking materials.
Aesthetically appealing. Wood plastic composite (WPC) decking is available in a variety of profiles, colors, and textures. To varying degrees, depending on product, deck boards emulate wood.
Durable. Wood plastic composite (WPC) decking products will not splinter, split, crack, or warp like wood and in some cases are insect-resistant. Manufacturers offer 10- to 25-year warranties.
Low-maintenance. Wood plastic composite (WPC) decking does not need to be painted or stained but should be cleaned regularly to remove dirt and debris. The material wood content in WPC decking can be a food source for mold and mildew, which can cause decay to WPC decking that is not properly cleaned.
Premium Composite Decking
Ongoing research and newer formulations have led some manufacturers to design and develop composite decking materials that comprise a variety of materials that differ from traditional wood plastic composites. One such product consists of a scientifically engineered formulation which contains no wood fillers or sawdust; rather it includes rice hulls and reclaimed paper waste, along with virgin plastic and other additives and pigments.
"Over the last decade, the development and refinement of our formulation and processes has allowed us to bring a high performance product to the consumer, with a unique look and feel which is unmatched by other composite products" reports Shane O'Neill, Director of Research & Development for GeoDeck. "Between the tongue & groove profile, greater joist and stair tread spans, the perimeter and feature treatments, and surface brushing, there is no product quite like it on the market."
Design Considerations
Easy to install. Familiar tools and fasteners allow for DIY installation. Some newer formulated decking materials are designed to be assembled as a system of components, a more complex process than constructing a traditional deck. Care should be taken to ensure that the deck is installed per the manufacturer's instructions and that allowances are made for the expansion and contraction of the material. Decking may be installed with joists 24" on center. Engineered I-beam profile planks weigh less than solid wood plastic composite decking planks and are comparable in weight to cellular PVC products.
Moderate to high in cost ($$$ of $$$$). More expensive than basic economical wood plastic composites.
Aesthetically appealing. Available in several rich, fade-resistant colors. Decking material has a brushed finish that is similar to quartersawn lumber.
Durable. Material will not splinter or split and is scratch-resistant and denser than traditional wood plastic composites. It also absorbs less water than traditional wood plastic composites and is resistant to decay and mold. Manufacturers offer a 20-year warranty.
Low-maintenance. Decking does not need to be painted or stained but should be cleaned regularly to remove dirt and debris.
Cellular PVC Decking
Cellular PVC decking is an extruded solid board that contains no wood content. In addition to polyvinyl chloride (i.e., PVC), cellular PVC decking materials may contain additives that offer greater UV protection as well as flax or agrifibers that increase strength and reduce expansion and contraction. Proprietary blends will offer varying material characteristics. AZEK Building Products, a division of CPG International, is a manufacturer of cellular PVC decking.
"AZEK Deck is the leading stain-resistant decking on the market, with easy installation and durability, and–most importantly–[it's] low-maintenance. We have a technology that gives us deeper, rich colors and complementary railings for all of our decking shades. Unlike composites and some other PVC products, we do not have the expansion issues that require a large gap between boards," states Michael Gori, Product Manager, Deck, Porch & Rail, AZEK Building Products. "We simply recommend a small gap for drainage between boards, especially for larger decks. Our minimized expansion/contraction rates also allow our AZEK Porch planks to have quick and easy tongue and groove installation."
Design Considerations
Easy to install. Familiar tools and fasteners allow for easy DIY installation. Cellular PVC decking has workability similar to that of wood and is installed over structural pressure-treated lumber, with stainless steel screws or hidden fasteners. Pre-drilling is not required.
Moderate to high cost ($$$ of $$$$). Cellular PVC decking is more expensive than traditional wood plastic composite decking but comparable to premium composite decking materials.
Aesthetically appealing. Solid cellular PVC decking has a natural-looking wood grain texture that is available in a variety of styles and colors with clean, square edges that are easy to cut and miter.
Durable. Solid cellular PVC decking products are slip-resistant and impervious to both moisture and insects, in addition to being stain-, scratch-, split-, mold-, and mildew-resistant. Manufacturers offer 50-year to lifetime warranties.
Low-maintenance. Cellular PVC decking does not need to be painted or stained and should be cleaned regularly to remove dirt and debris. Stains and spills on cellular PVC are easier to clean and remove than those on wood and traditional composite decking,
Aluminum Decking

While often overlooked, manufacturers of coated aluminum decking offer products that are lighter in weight than wood and synthetic deck boards, yet significantly stronger and extremely durable.
Hard to install. Unfamiliar tools and fasteners make DIY installation difficult. Aluminum decking, which has interlocking edges, is typically installed by experienced professional contractors over wood, steel, or aluminum floor joists.
High in cost ($$$$ of $$$$). As compared to other decking materials, aluminum decking has the highest initial cost.
Aesthetically appealing. Aluminum decking has an attractive modern appearance. Manufacturers offer a few different color coatings and slip-resistant textures.
Durable. Aluminum decking manufacturers offer lifetime warranties.
Virtually maintenance-free. Aluminum decking should be cleaned to remove dirt and debris.
Summary
Whatever the decking material you choose–natural wood, man-made synthetic, or aluminum–it is recommended that you read the manufacturer's installation guidelines and install the material accordingly. The American Forest & Paper Association has a free download available relating to deck construction, Prescriptive Residential Wood Deck Construction Guide. This guide helps with understanding the necessary structural elements and general construction of a deck. Prior to construction, obtain a permit from your local building department and schedule regular inspections to ensure your deck is built to code and is safe to use. After construction is complete, read the manufacturer's care and maintenance recommendations. Know what will be required on a yearly basis to ensure that your deck continues to provide many years of enjoyment and relaxation.

Jeff is an Editor-at-Large for Buildipedia.com who writes and edits Featured At Home and Knowledgebase content. Prior to joining Buildipedia, Jeff's work experience included carpentry, construction documentation, specification writing, construction administration, project management, and real estate property inspection. Jeff is a member of the Construction Specifications Institute (CSI) and an educator at Columbus State Community College and enjoys challenging DIY home improvement projects.
Latest from Jeff Calcamuggio