Maintenance Tips: Wood Decks
According to the Study of Life Expectancy of Home Components, which was prepared in 2007 by the National Association of Home Builders (NAHB), the average life expectancy of a wood deck varies: 10-15 years in the South, 20-25 years in dry areas, and 20-30 years in the North. The NAHB states, "Because they [wood decks] are subject to a wide range of conditions in different climates, the life expectancy of wooden decks can vary significantly. Under ideal conditions, they have a life expectancy of about 20 years." Whether you are caring for an aging wood deck or building a new one, understanding and practicing proper maintenance is paramount to protecting your investment and extending its lifetime.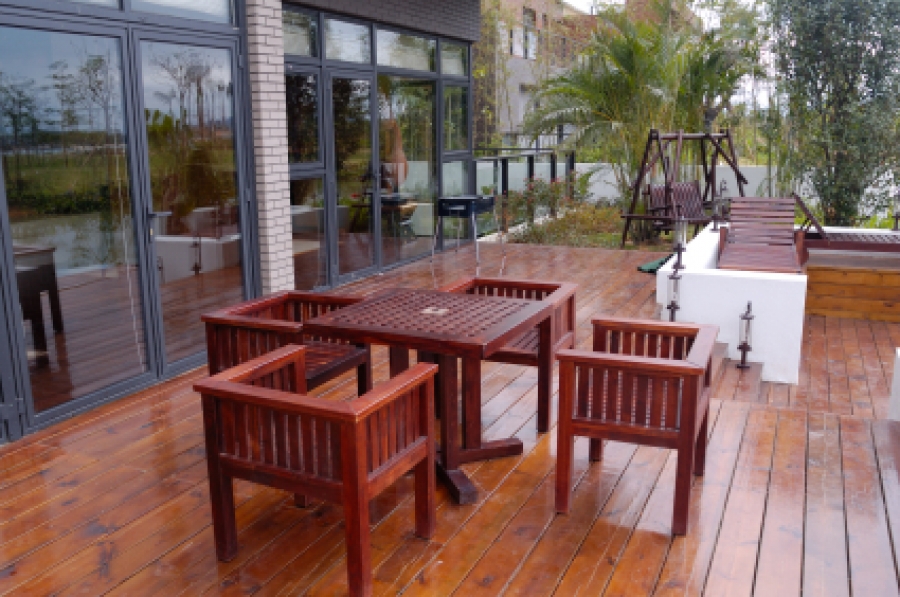 What Causes Wood Deck Deterioration?
Environmental stresses such as snow, rain, and sunlight are the primary causes for the degradation of wood decking. When wood absorbs water, it swells. Once the absorbed water evaporates and the wood decking boards dry, the wood cells shrink. Over time, this repeated occurrence causes the wood decking boards to check, split, crack, and splinter; it causes nails to loosen as well. Excessively wet wood deck boards can attract wood-destroying insects. A mixture of wet wood and pollen becomes a food source for fungi, which discolors wood and eventually leads to wood rot and decay. Sunlight causes a cosmetic change, turning wood a grayish color that may or may not be aesthetically desirable. If we could just keep our wood decks dry and out of the sun, we'd be all set. Since this isn't reality, we need to protect them from the elements.
Caring for a New Wood Deck
While cedar decking should be protected immediately after construction, it is commonly suggested that you wait a year or so after construction to protect a new deck built with treated lumber. The suggested wait provides time for the treatment in the wood deck boards to dry out. I had the opportunity to talk with Jeff Wilson, a Thompson's WaterSeal product expert, regarding this matter. After contacting a number of treated lumber manufacturers in various regions throughout the country and receiving many different responses, Wilson believes that there is no general rule of thumb. Wood type, treatment, and location will all play their parts. He states, "The sooner a deck is protected, the better" and suggests contacting the manufacturer of the treated lumber to determine how long you should wait prior to staining and sealing. When the time is right, a new treated lumber deck should be cleaned to remove dirt, debris, and mill glaze. Wilson warns against the use of a gasoline-powered pressure washer for general purpose cleaning of a wood deck with good reason -- gasoline-powered pressure washers are more powerful than electric-powered pressure washers and, if not properly operated, can damage wood deck boards.
Cleaning and Protecting
Cleaning can be achieved the old-fashioned way, with a little elbow grease, some water, and a cleaning solution. Many general-purpose deck cleaners are easily applied with a plastic pump sprayer, brush, or roller and then simply rinsed off with a garden hose. After your new deck is cleaned, apply a surface treatment that will protect the wood from water, sunlight (UV rays), and mildew. A variety of coatings and stains is available, such as clear/natural finish, tinted, semi-transparent, and solid. Which stain you choose will determine how often you should clean and protect your new deck in the future. Wilson says, "The more pigment a stain has, the more protection it has against ultraviolet rays and the longer it protects your wood deck."
Depending on the opacity of the stain, time frames for cleaning and protecting a wood deck vary.
Clear Natural Finish: Yearly
Tinted Finish: Every 2-3 years
Semi-Transparent Finish: Every 3-5 years
Solid Finish: Every 5 plus years
Caring for an Older Wood Deck
The residential deck revolution began just over 30 years ago. In fact, many of these decks are still in use today. Homeowners tend to overlook deck maintenance, so caring for older decks requires more attention than just cleaning and protecting.
It is a good practice to sweep a deck clear of any pollen (a food source for fungi), dirt, and debris on a weekly basis. Dirt can be ground into a wood deck surface from foot traffic, which will in turn wear down the finish. Debris like leaves and grass can become lodged between deck boards, prohibiting water from properly draining. Keeping your deck clear of pollen, dirt, and debris will go a long way toward preventing unwanted degradation and/or discoloration. Determining when your deck needs to be cleaned and protected can be accomplished by performing a simple splash test. A splash test is performed by applying water to the surface of a wood deck. If the wood deck surface darkens and the water does not bead up, sit on the surface, or run off the deck, the deck needs to be protected.
Because they [wood decks] are subject to a wide range of conditions in different climates, the life expectancy of wooden decks can vary significantly. Under ideal conditions, they have a life expectancy of about 20 years." The Study of Life Expectancy of Home Components prepared by the National Association of Home Builders
Structural Inspection
Prior to cleaning and protecting a wood deck, you should perform a structural inspection. As your deck gets older, it's a good idea to annually perform structural inspections. While inspecting your deck you should look for corroded, missing, or loose connections and fasteners; wood rot and decay; and cracked or split lumber. Particular attention should be paid around stairs, railings, columns, and the ledger board (if the deck is secured to the side of a house). Should any rusted metal, decayed wood, large pieces of cracked or missing wood, or improper or loose connections be noted, repairs should be made immediately. Structural problems may or may not be readily visible, depending on how your deck is constructed. When it's not possible to see the underside of the deck, special attention should be paid to soft spots and bouncy or sagging deck boards.
Cleaning and Protecting
After any necessary repairs are made, it is time to clean and protect your deck. Manufacturers offer a variety of cleaners, waterproofers, and exterior wood stains. General purpose cleaners are useful for lightly soiled or worn finished wood deck boards. Higher-strength cleaners or strippers remove clear, tinted, semi-transparent, or solid stains from decks that were previously treated or stained. Brighteners are often used to restore the natural appearance of cedar or redwood deck boards. Waterproofers are available as clear or tinted, oil-based or water-based. Exterior wood stains can be either semi-transparent or solid. A wide variety of color choices is typically available in oil, latex, or gel, depending on the manufacturer. Whether you choose an oil, latex, or gel stain depends on the type of wood you are finishing and your individual preference.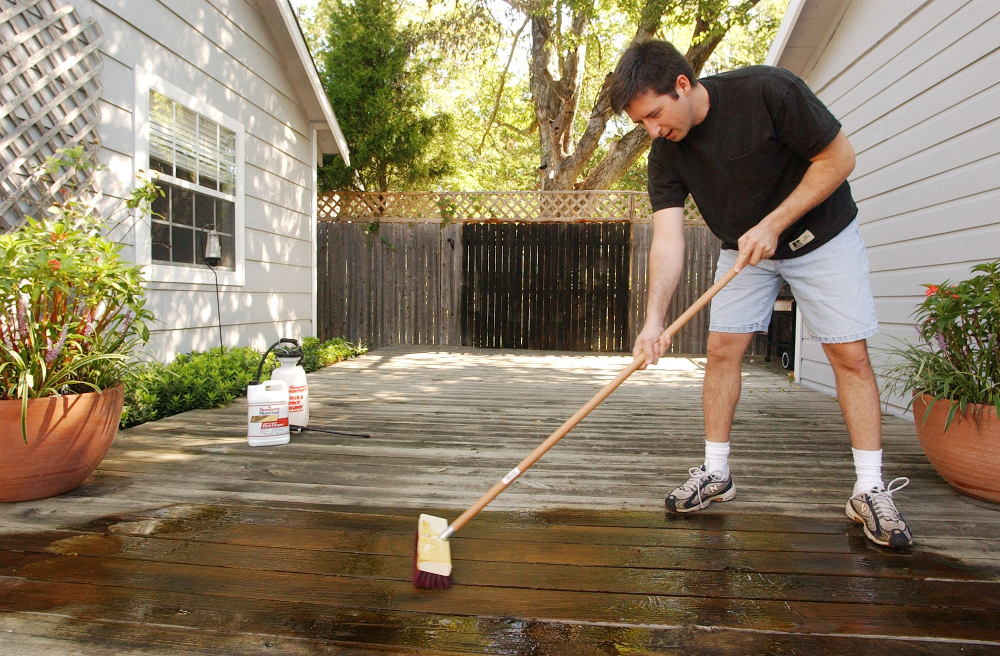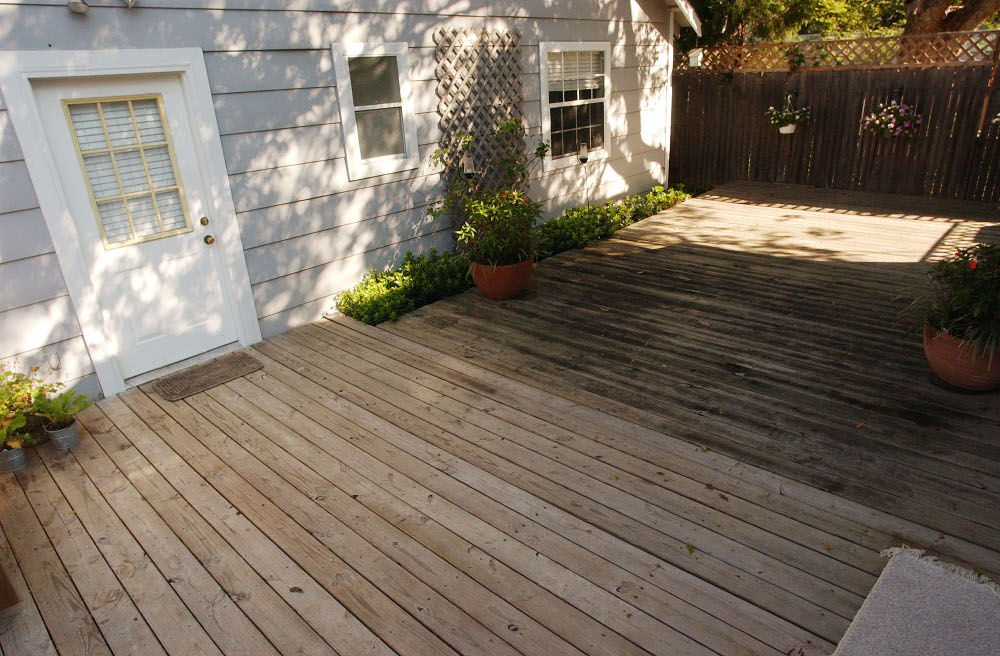 Although deck maintenance is typically overlooked by homeowners, it's the cleaning portion that they find least desirable. "Historically, people don't like to clean a deck," notes Wilson. Between the two, cleaning and protecting, cleaning may require two to three hours, while protecting can be accomplished in half that time. In the past, cleaning and protecting a deck was a three- to four-day process; oil-based waterproofers and stains require 48 hours of dry time after cleaning before application. However, some newer water-based waterproofers only require three to four hours of dry time after cleaning before application.
How to Clean and Protect a Wood Deck
Prior to cleaning and staining your wood deck, ensure that you have read and understand the product manufacturer's instructions. Verify what the outdoor temperature requirements are for your chosen product and determine what chance, if any, there is for rain: it is imperative that the deck remain dry for 48 hours.
Remove all items from the deck and protect anything that can't be moved.
Apply appropriate deck cleaner, stripper, or brightener to your wood deck. Typically a cleaner can be applied with a plastic pump sprayer, brush, or roller. Allow cleaner to set in for 10 to 20 minutes and then rinse off with a garden hose.
After rinsing the deck, rinse off any overspray and surrounding vegetation.
Depending on the type of finish you have selected, wait for the appropriate amount of dry time before applying the waterproofer or stain. Be sure to keep the surrounding areas of your deck protected with plastic sheeting. If you are applying clear or tinted oil-based or water-based waterproofer, you could use a plastic pump sprayer or paint pad with pan. Oil, latex, and gel stain should be applied by using a paint pad with pan.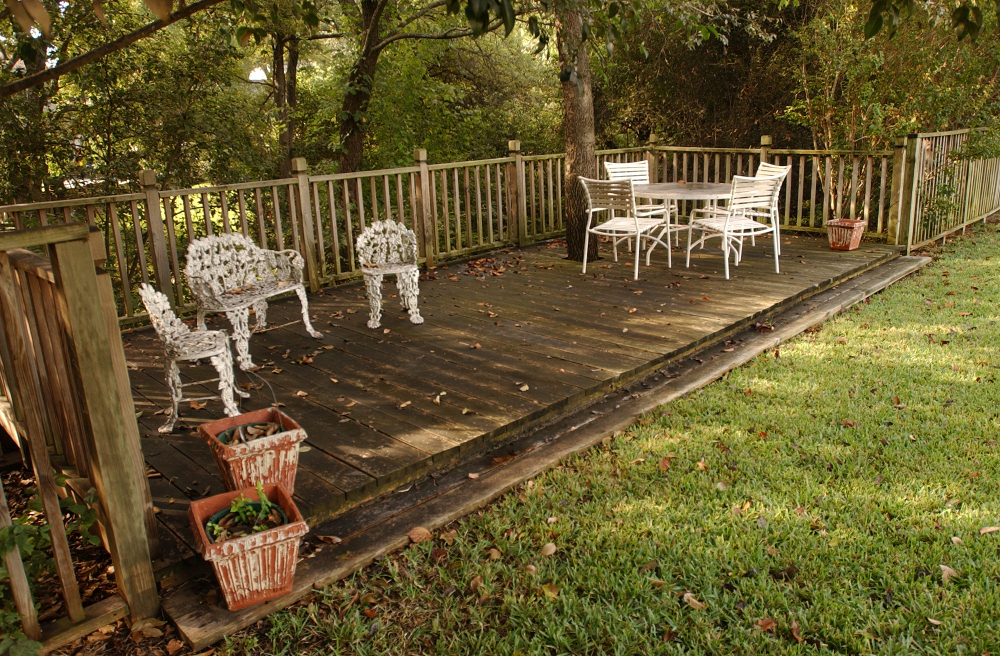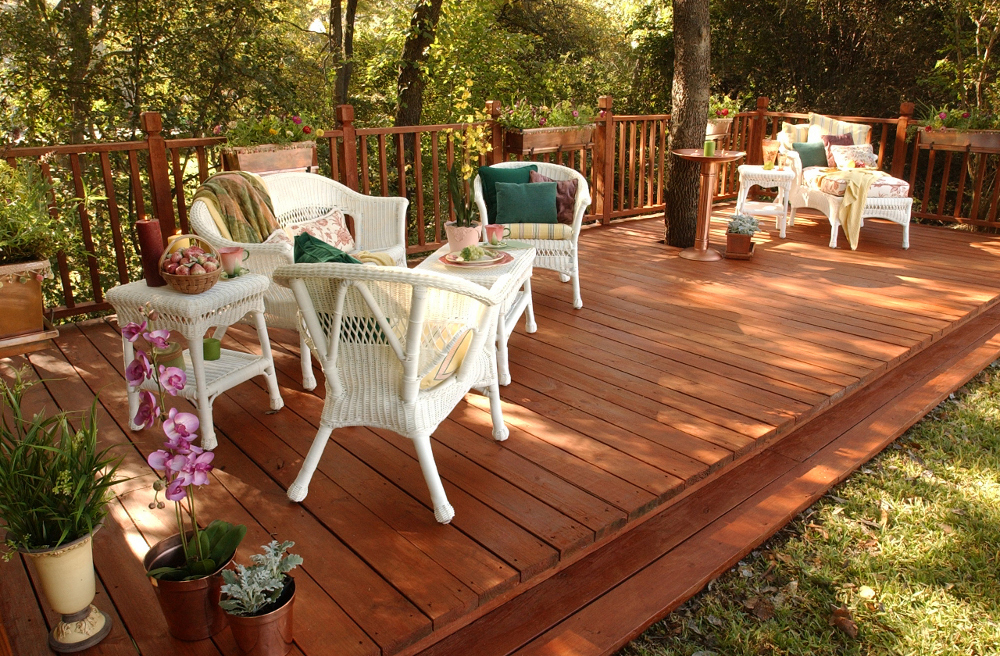 Keeping your investment safe, attractive, and enjoyable doesn't have to be tedious or stressful. Care for your wood deck on a weekly basis as you would any other floor surface. Choose to work with products from a company that can assist you with valuable experience and provide you with a full range of products that will help you care for your deck. Put together a maintenance plan for the lifetime of your deck and work according to the plan. You'll not only have a beautiful deck, you'll have a beautiful deck longer.

The Buildipedia research and writing staff consists of dozens of experienced professionals from many sectors of the industry, including architects, designers, contractors, and engineers.
Website: buildipedia.com/
Latest from Buildipedia Staff