Concrete Forming and Accessories
One of the most important advantages of concrete is its workable, viscous state that allows it to be formed into literally any solid shape. Concrete Forming refers to the temporary or permanent support structures used to contain concrete as it is poured and while it hardens. Formwork can be made of many different materials, and it can be removed after the concrete is set or remain in place permanently. One may utilize formwork that moves either vertically or horizontally (slip form paving) to allow extrusion and finishing of the concrete. Form liners and architectural form details can also be added to the basic structural formwork to create designs and patterns in the concrete for use as a decorative finish surface.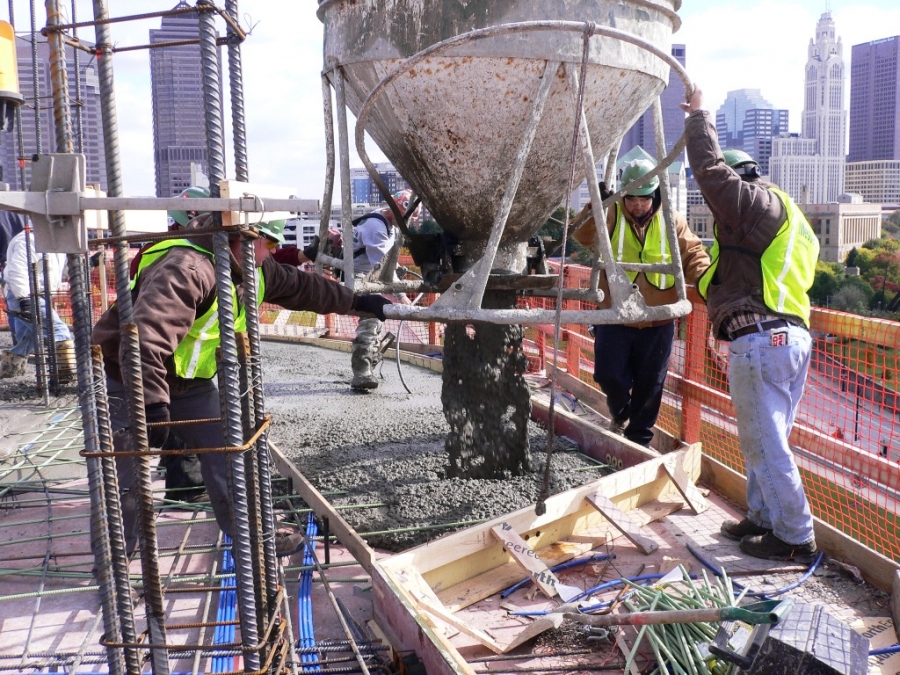 Release agents aid removal of the forms after the concrete has set. Cleaning agents remove concrete and release agents from the forms, preparing them for reuse or storage. The release agents used with wood and metal (aluminum) forming systems are typically petroleum-based solutions or emulsions. Recently, water- based, bio-degradable solutions have become available. Prior to placement of the concrete, a coating of a release agent is applied to the face of the form, or form liner.
A wide variety of accessories can be essential to the on-site assembly of forming systems. Forming systems hardware, anchor systems, bolts, brackets, hangers, tie rods, lock bars, form screw clamps, and wall braces are all items that may be required to build forming systems for concrete beams, slabs, columns, walls and floors. A water-stop is another accessory that can be used, and it is generally a rubber or plastic strip that forms a seal at the joints in the concrete structure. Forming accessories should be in compliance with all specifications issued by the design professional. This is of special concern if they affect the structural integrity or aesthetics of the structure.
Standards and Codes
ICC, the International Building Code, governs forming and form accessories.
The design of structural connections and anchors should comply with the provisions of ACI 318-05.
Formwork and Shoring should comply with ACI 347-04 Guide to Formwork for Concrete and ACI 347.2R-05 Guide for Shoring/Reshoring of Concrete Multistory Buildings.

The Buildipedia research and writing staff consists of dozens of experienced professionals from many sectors of the industry, including architects, designers, contractors, and engineers.
Website: buildipedia.com/
Latest from Buildipedia Staff