Universal Design Living Laboratory Relies on Superior Walls Foundation
When the Universal Design Living Laboratory (UDLL) in Columbus, Ohio, opened to the public during the summer of 2012, it began serving as a show piece for independent living in an energy-efficient environment. Beginning with the Superior Walls precast concrete foundation and moving upwards, the national demonstration home and garden helps educate people on universal design living spaces.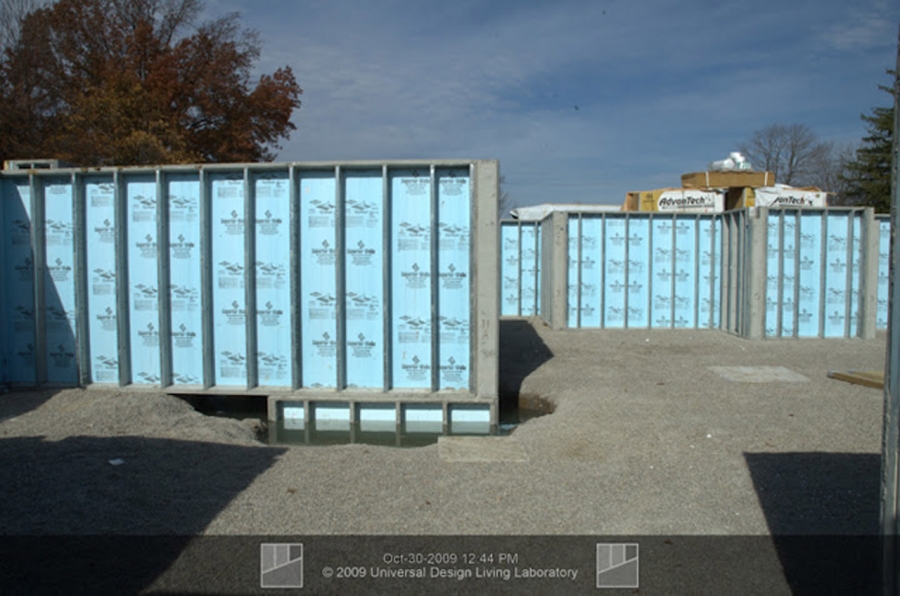 "My husband, Mark Leder, and I pursued this home project after a severe bicycle accident left me paralyzed from the waist down with a spinal cord injury," says Rosemarie Rossetti, Ph.D and president of Rosetti Enterprises, Inc. "Our lives changed in that instant of the accident. I immediately discovered the challenges of living in a home that wasn't constructed for special needs.
"As a result, we decided to research, design and build a universal design home, and then to share it with others. By opening our doors to the public we are showcasing how important it is to make sensible decisions when creating a new home. From the hardwood floors that easily accommodate my wheelchair to the accessible storage areas in this house, we've been able to create a home that is environmentally friendly and 'works' for us."
The starting point for the UDLL was the installation of a full basement constructed of durable Superior Walls products. "There are so many positive reasons why we selected Superior Walls for this home," says Rossetti. "The products are known for their energy efficiency, fast installation, and durability. These were all very important qualifications for us since this home has been constructed to LEED standards.
"Installation of the Superior Walls took less than two days for our 3,500-square-foot ranch-style home. The precast foundation walls came with pre-drilled holes to allow for wire routing within the wall cavity, and the metal channels built into the reinforcing ribs allowed for direct application of drywall. Additionally, the quality concrete used actually eliminates the need for on-site sprays or bituminous coatings to make the walls damp-proof. There are so many benefits to this product that I can't understand why everyone wouldn't use them in their new home construction!"
Meeting the National Green Building Standard™
Builders starting new home projects can earn a total of 13 potential points toward National Green Building Certification when using energy-efficient Superior Walls® insulated precast concrete foundation panels. Superior Walls is the first and only foundation manufacturer whose products are approved to contribute points toward certification of a building under the National Green Building Standard™.
The National Association of Home Builders (NAHB) Research Center first awarded the Green Approved designation to Superior Walls Xi™ and R-5 foundations in 2009. "Since that time the use of the products has become qualified for earning 13 points towards National Green Building Certification," says Rossetti. "That designation and achievement definitely complemented what we were trying to do when designing the UDLL to make it as green as possible."
The Green Approved Products Certificate #00071 provides builders the following points for the use of Superior Walls foundation systems:
Practice 601.2 – 3 points – Structural systems/advanced framing techniques optimize material usage.

Practice 601.5(1-3) – 4 points – Precut/preassembled components, panelized, or precast assemblies are utilized for a minimum of 90% of floor, wall, and/or roof system.

Practice 607.1 – 3 points – Products containing fewer materials are used to achieve the same end-use requirements as conventional products.

Practice 701.4.3.1 (1) – Mandatory – Insulation is installed in accordance with the manufacturer's instructions or local code. Mandatory for certification.

Practice 903.2.2 – 3 points – Capillary break is added on footing.
Understanding Superior Walls Products
Superior Walls Xi wall panels feature steel-reinforced concrete and 2-1/2" of DOW® Styrofoam™ insulation to create a permanent barrier against sidewall water penetration. The panels are custom-designed and constructed in a factory-controlled setting. Unique features of the Xi wall panels include:
5,000+ psi concrete;

Steel-reinforced top bond beams, concrete studs, and footer beams;

Horizontal steel rebar inside top and bottom beams;

Vertical steel rebar inside each stud;

Access holes for ease in wiring and plumbing;

Galvanized steel stud facing ready for drywall finishing; and

Insulated corners, studs, and bond beams.
"Superior Walls products are resource-efficient, using up to 70% less concrete in a new home than conventional foundations," says Jim Costello, president of Superior Walls. "Stud facings eliminate the need for additional wood framing prior to interior finishing. Using fewer materials helps reduce the carbon footprint of the new home's construction process."
For homeowners like Rossetti and Leder, the benefits of Superior Walls foundations systems are substantial. The energy-efficient walls help lower energy costs and reduce energy leakage while providing increased living space in a comfortable setting.
"The insulation properties of these foundation walls will allow us to use the basement for seminars, training for designers, builders, and architects," says Rossetti. "There are plans for installing a full bathroom in the basement, plus an office/bedroom and exercise room. All of which I can access via an elevator. This basement is a critical aspect of the home's construction."
The UDLL home incorporates unobtrusive universal design, resource- and energy-efficient green building methods, advanced automation technology, a healthy home construction approach, and the design principles of feng shui. The finest craftsmanship and state-of-the-art products and services have been incorporated. The gardens are wheelchair-accessible with pathways and feature raised beds and containers.
Available nationwide through licensees in a variety of states, Superior Walls foundations have been installed since 1981 when the company introduced the original R-5 Superior Walls precast foundation system. Superior Walls products are the first and only foundation systems to have attained the Green Approved Product designation by the NAHB Research Center, earning builders points on a project toward a National Green Building Certification. The company is a member of the International Code Council and the US Green Building Council. For more information, call 1-800-452-9255 or visit www.superiorwalls.com
Website: www.superiorwalls.com
Latest from Superior Walls