Drees Homes Partners with Simonton Windows on Top-Quality Homes
Visitors to The Jayden show home in the Triple Crown community of Cincinnati found exciting style and design surprises in every room during the 2013 Homefest sponsored by the Home Builders Association of Northern Kentucky. The custom home, designed and constructed by Drees Homes, features 4,319-square feet of active living space along with top quality, easy-care building products to make the home appealing for future homebuyers.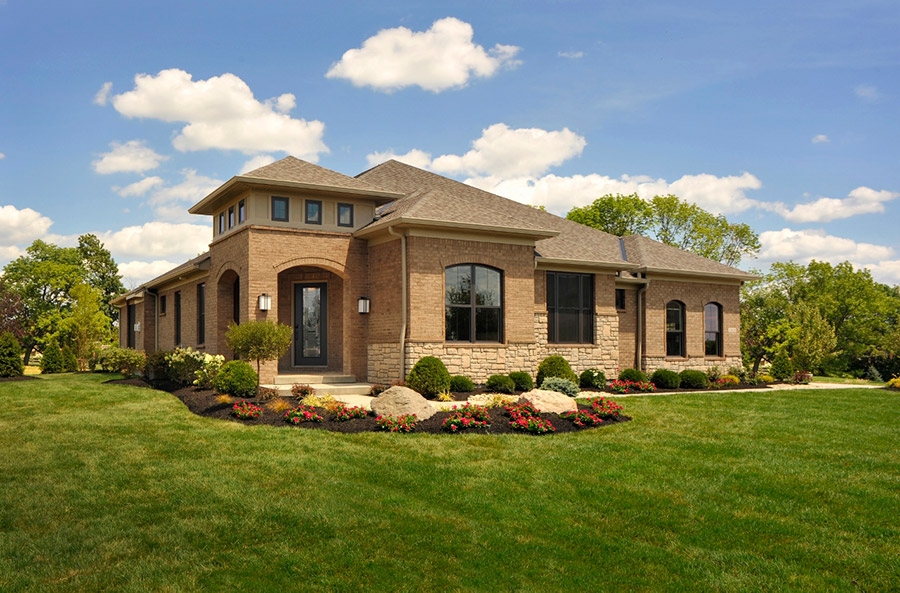 The newest design in the company's popular "Clarity Collection," The Jayden features a stunning ranch floor plan with exceptional architectural detailing both inside and outside the home. Both contemporary and traditional features highlight the spacious "living triangle" area of the house that includes the family room, dining area and kitchen. A screened-in patio with a cozy fireplace expands the central living space for more than just one season. The finished lower level offers a home office, exercise room, full bath, recreation room and wet bar.
"This home represents what every age group universally desires—connected spaces for interactive living plus quieter, more secluded areas for work and relaxation," says Ray Neverovich, Division President, Cincinnati/Northern Kentucky of Drees Homes. "We focused on creating an easy-living home blanketed in natural light to energize the occupants and connect them with the outdoors. The exterior, accented with an angled entry for maximum curb appeal, leads to a dramatic domed foyer and then the interior explodes with natural light through almost 30 windows."
To achieve the flow of light into The Jayden, the team at Drees Homes turned to Simonton Windows. Visitors to The Jayden saw energy-efficient Simonton ProFinish® Brickmould 600 windows with Decorum® collection features throughout the home.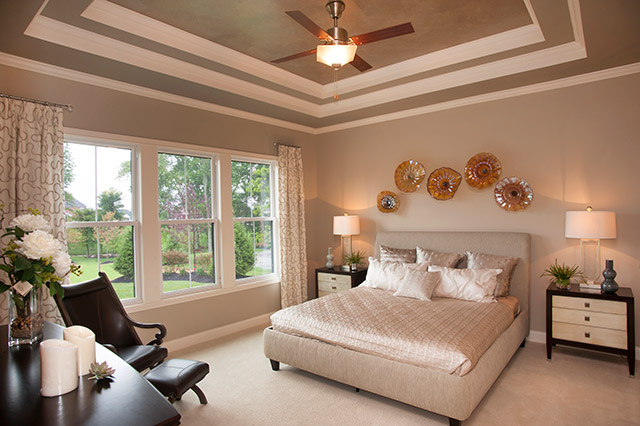 "The exterior look of the ProFinish Brickmould 600 vinyl window is exactly what we were looking for in style for this home, but most importantly what we were looking for in exterior color," says Neverovich. "The bronze color (on the exterior window frames) was the perfect accent to the brick and stone exterior. The elevation has little or no trim details, so the window color is what stands out. We also liked that the windows could be white on the inside to accent the walls."
The ProFinish Brickmould 600 series features a multi-tiered exterior window frame that provides the look of traditional wood windows, along with premium designer options and high performance glass packages. Decorum styling options, including exterior colors, interior woodgrains and metal hardware finishes, are available to customize the new construction vinyl windows.
"Drees Homers has been using ENERGY STAR® qualified Simonton windows since 1997," says Joe Halpin, Midwest Purchasing Manager for Drees Homes. "Simonton and Drees were the first to make Low E with Argon gas fill standard in all our homes in 2005. We've found that Simonton's commitment to quality products and improvements didn't stop there as we've witnessed them receive four consecutive J.D. Power highest rankings for customer satisfaction."
Halpin relates that Drees is committed to using the best value products in their homes. "We partner with companies like Simonton Windows that have the same commitment to quality and value as we have for our homes," says Halpin. "From an energy efficiency standpoint, we have some of the lowest HERS ratings in our area. That would not happen without a superior window. We know Simonton products are the best match for our homes, so naturally we included them in our 2013 show home."
Locally-owned and family operated since 1928, Drees Homes is ranked as the 23rd largest home builder in the country and the eighth largest privately-owned home builder by BUILDER magazine. Headquartered in Fort Mitchell, KY, the company builds in Northern Kentucky; Cincinnati, Dayton and Cleveland, OH; Indianapolis, IN; Nashville, TN; Raleigh, NC; Jacksonville, FL; the Greater Washington, DC metro area; and Austin and Dallas/Fort Worth, TX. Visit www.dreeshomes.com for more information.

Simonton Windows produces ENERGY STAR® qualified replacement and new construction windows and doors, including a line of impact-resistant products. Simonton has been ranked "Highest in Customer Satisfaction with Windows and Doors, Three Years in a Row" by J.D. Power and Associates. Simonton was also ranked #1 in quality in the 2009, 2007, 2002 and 1998 Brand Use Studies sponsored by Builder magazine and has won three Best In Class Awards administered by LBM Journal Research Institute. Founded in 1946, Simonton's hallmark has been to deliver the industry's shortest, most dependable lead-times. Part of Fortune Brands Home & Security (NYSE: FBHS), Simonton delivers award-recognized products nationwide to key markets throughout the 48 continental United States. Simonton is a Founding Sponsor of The Weather Museum, a Lifetime Founding Sponsor of the Lead Safe America Foundation, and a supporter of Homes for Our Troops. For information, call (800) SIMONTON (1-800-746-6686) or visit www.simonton.com
Website: www.simonton.com/