Barcelona's Santa Caterina Market
This renovation of a market in Spain preserved more than just a historic building. Restoring the Santa Caterina Market's prominence as a commercial venue has helped to preserve a traditional way of life.
Very few countries are better than Spain at taking the old and transforming it into the new. Currently, this trend has found a new focus – the neighborhood market. Before the chain supermarkets or giant shopping centers began to eat up every available space in town, every neighborhood had its local market. These old (and usually somewhat decrepit) markets have suffered years of neglect and seen hard economic times for private vendors. Now these almost abandoned markets are ripe for the picking, and architects and designers alike are vying for a chance to get their hands on the vast open space that is typical of these buildings.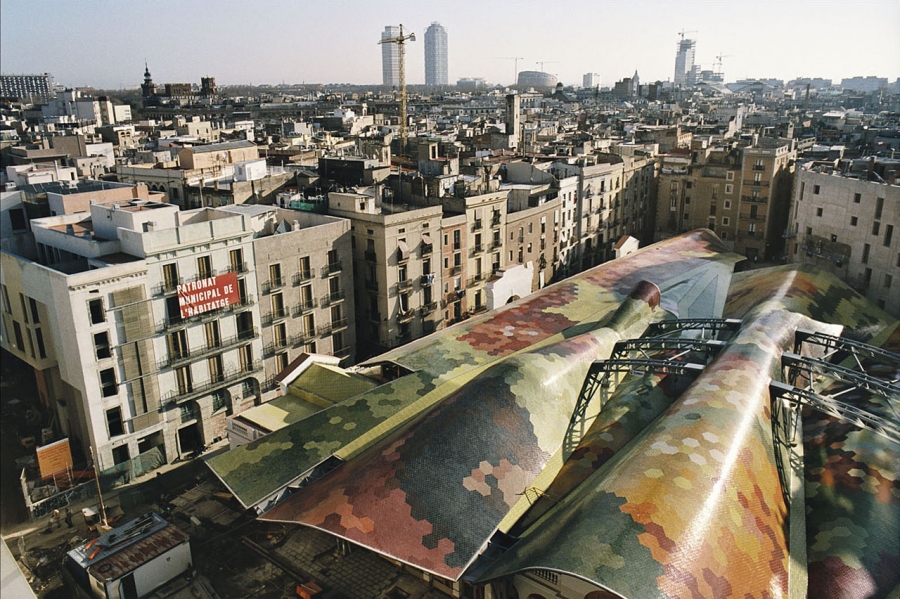 Why replace a failing market with another market? Paying reverence to this Spanish tradition and encouraging its survival is essential for not only the local butchers, fishmongers, and fruit sellers, but for the community as a whole. To the untrained eye, a market can look like a simple place to purchase food. However, the typical Spanish market serves a strong educational and social purpose. The local market is where you can not only buy the freshest ingredients but where you learn your finance skills, your bartering adeptness, your social graces, and even top-notch debating skills when bringing up current politics.
"The first mistake is to talk about old and new. Whatever has managed to survive into the present is current, useful, and contemporary. And it permits us to move back in time in order to continue forward."
And despite the fact that Madrid has seen its fair share of renovated markets lately, Barcelona has to be given the credit for starting the "re-marketing" trend and, in so doing, setting the bar very high.
The Santa Caterina Market celebrated its reopening in 2005 after seven years of rehabilitation by the architectural partnership of Enric Miralles and Benedetta Tagliabue (EMBT). Located in Barcelona's El Born district, the original structure dates back to 1845 when it was the Convent of Santa Maria. After a fire destroyed the convent, it was converted into the city's first covered market in 1848.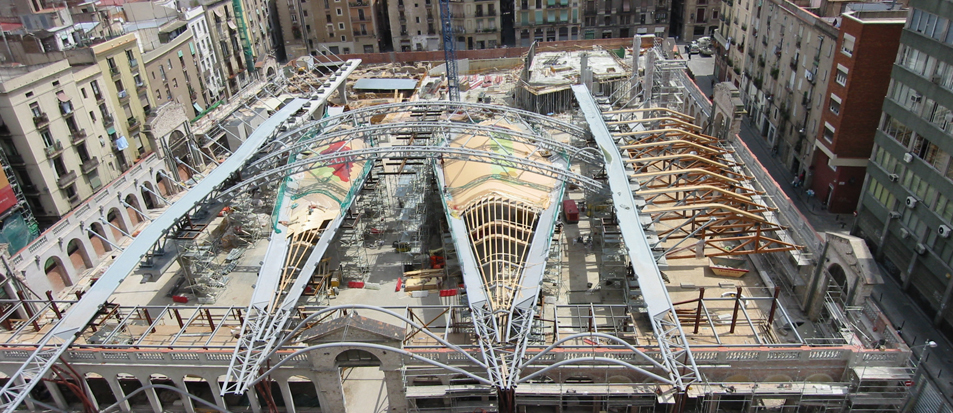 EMBT has received many accolades for their management of the historic building's renovation. In addition to leaving some parts of the remaining apse of the monastery exposed, the architects were determined to take advantage of the original structure in order to preserve its historic relevance. As residents of the neighborhood themselves, Miralles and Tagliablue were determined to "regenerate" the dilapidated market instead of completely demolishing the building, something so often seen in historic centers of European cities.
As the architects explain in their brief, "The first mistake is to talk about old and new. Whatever has managed to survive into the present is current, useful, and contemporary. And it permits us to move back in time in order to continue forward."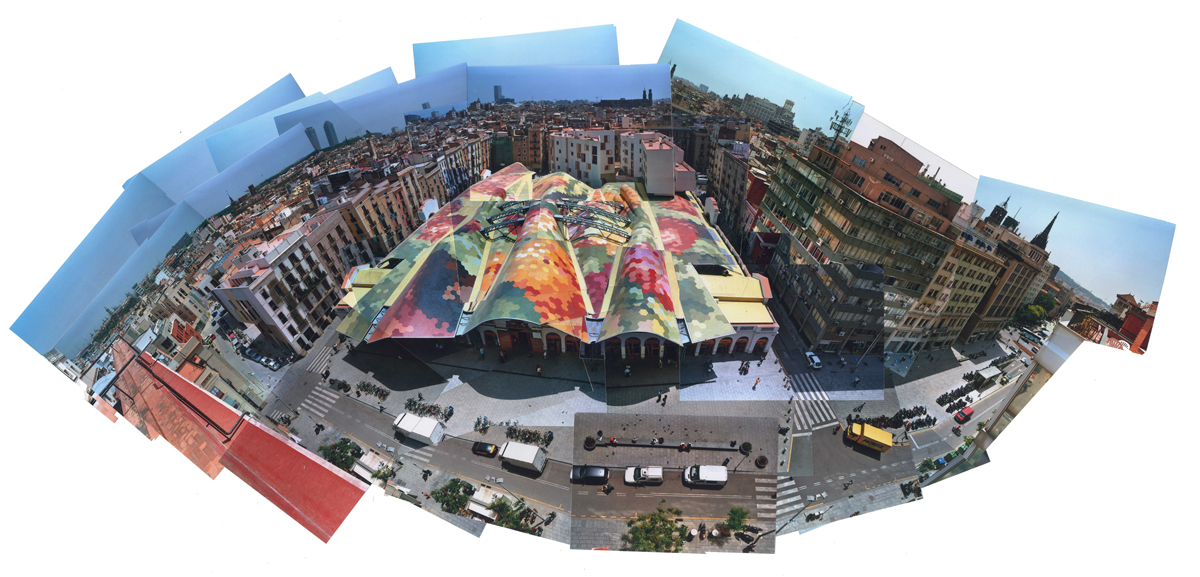 The rehabbed building reflects more than just the passing of time; it breathes movement and colorful vibrancy, inside and out. The undulating roof is the immediate eyecatcher as it hovers, magic carpet-style, over the large plaza that surrounds the market. The colorful mosaic is made up of 325,000 hexagonal Spanish ceramic tiles that create a textured field of flowers suspended in midair.
EMBT kept the original white masonry walls with multiple arched openings on three sides. The fourth side was reimagined to open into a plaza surrounded by social housing buildings that were also part of the urban renewal plan. Much of the second story exterior is covered in awkwardly hung movable shutters – one of the many playful touches typical of an EMBT design.
Today, Barcelona's Santa Caterina Market is a busting hub of activity set in a modern design that pays homage to the building's origins. By editing the existing features of the market, EMBT adeptly gave life back to an aging icon and boosted the local culinary economy as well. Mixing Spanish tradition with a funky design and fresh food is a fitting tribute for this cosmopolitan city, which many consider to be one of the culinary capitals of the world.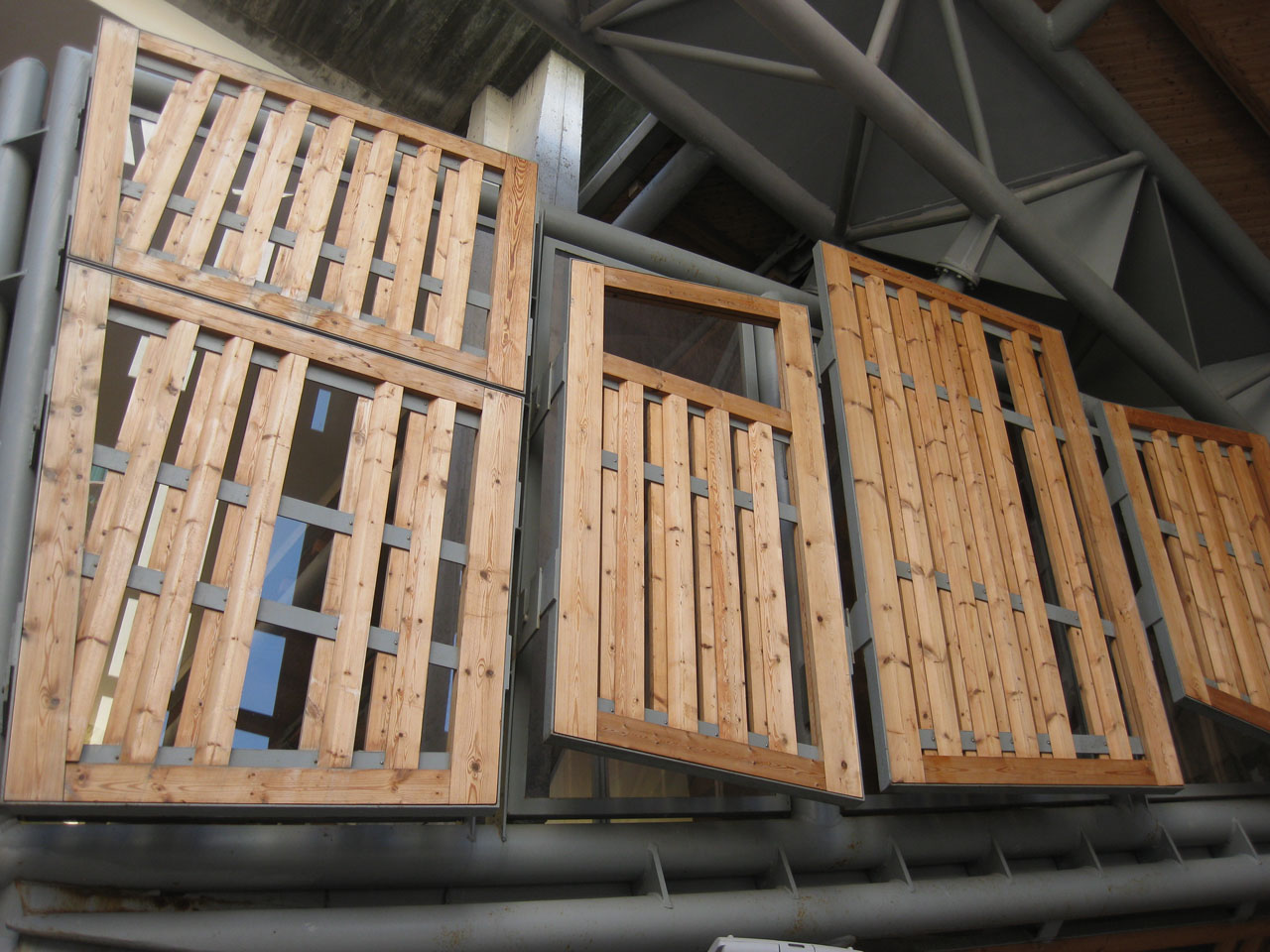 Nicole graduated from Georgia State University with a Post Graduate degree in Spanish to English Translation and a B.A. in Spanish and International Business. Presently living in Madrid, Nicole works as a freelance writer and translator and enjoys traveling around the Iberian peninsula taking photos of Spain's rich blend of historic and modern architecture. Her articles and photos have been published in various trade publications and websites.
Website: www.passtheham.com/
Latest from Nicole Jewell