Danish Broadcasting Corporation's (DR's) new headquarters gathers all of their activities into one very large and diverse facility. Almost 10 years after the first competition, the inauguration of the Concert Hall (Koncerthuset) marks the completion of the new headquarters, aptly named DR Byen (DR City).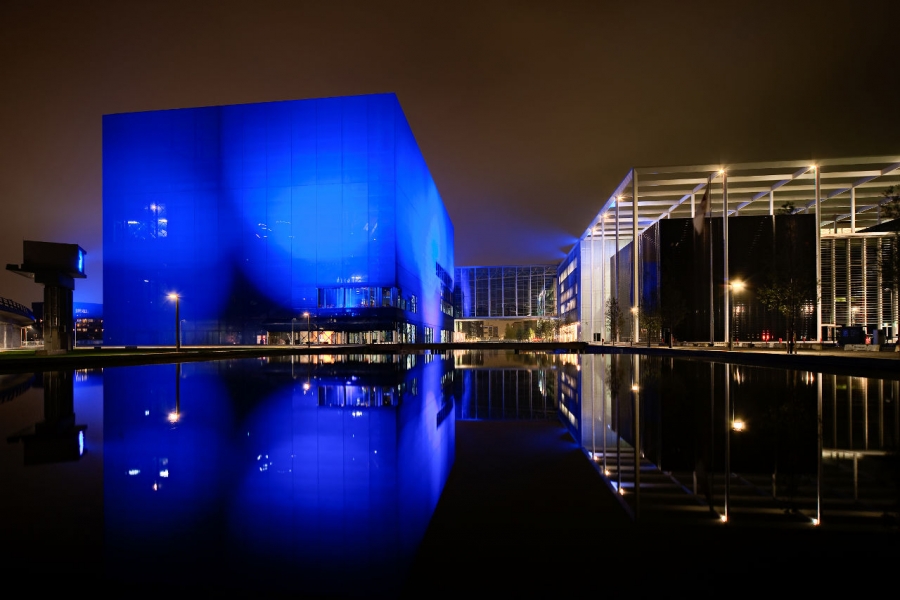 DR Byen is a 24-hours-a-day workplace for more than 2,500 people; is comprised of four buildings, called "segments"; and totals approximately 131,000 m2 (1,414,800 sq. ft.). While all four buildings are architecturally notable, the outstanding Copenhagen Concert Hall truly sparks the imagination. This building is a mysterious and evocative blue fabric-clad structure imagined by Pritzker Prize-winning architect Jean Nouvel and his studio.
The City
The main impetus behind the project was one of consolidation and modernization. DR's former facilities for television and radio were separate buildings and in need of upgrades to current technology. For example, both radio and television had separate news departments, leading to much duplication of resources. The new headquarters, DR Byen, combines the two news departments into a more synergistic operation, and all of the new facilities boast state-of-the-art multimedia capabilities, as well as energy efficiency and renewable energy.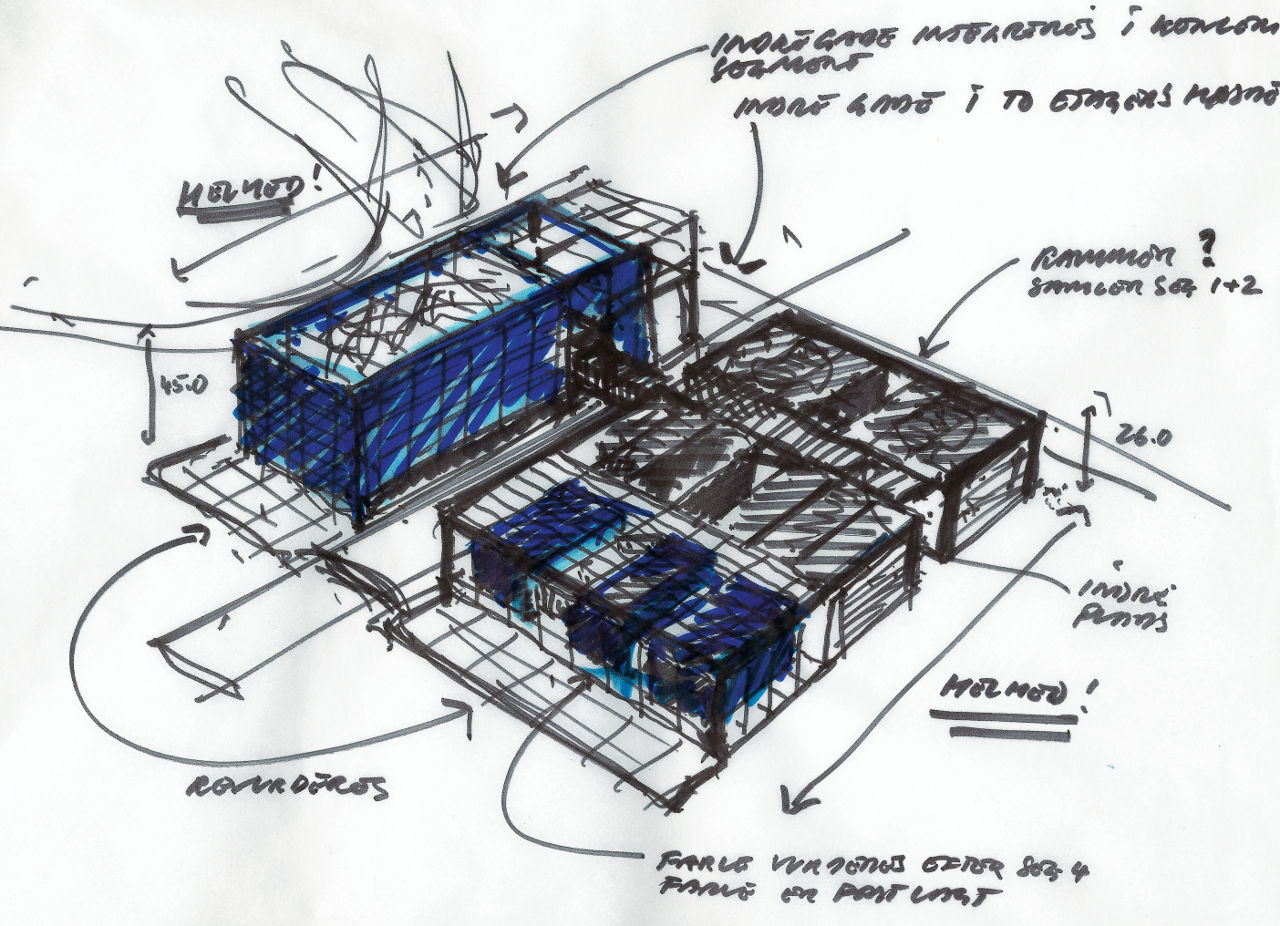 The masterplan competition was won by Vilhelm Lauritzen Architects (VLA), which mirrored history in that the firm's namesake architect Vilhelm Lauritzen was commissioned to design the original DR facility back in 1934. VLA also designed the largest of the four segments. Their concept for the masterplan was inspired by the Middle East's casbah, conceived as a city within a city. In a casbah, a rich life is contained with internalized streets, plazas, and buildings. VLA proposed the complex as a city unto itself within the newly developed area of Ørestad, itself within Copenhagen. The plan calls for a unified variation, where each segment has its own character but with some consistency and tightness with the others. The four principle buildings are especially tied together by the "Inner Street," a glass bridge that is intended to provide a vibrant in-between space where chance meetings and diverse life can occur.
DR Byen Segments
The Segments are comprised of the four main buildings and the Inner Street that connects them. The contract for each segment was awarded through a competition process, resulting in buildings designed by four different architecture firms.
The Blue Box: Jean Nouvel's Segment 4
A first encounter with the Copenhagen Concert Hall, otherwise known as Segment 4, sparks curiosity. The blue fabric screen facade wraps the entire outside surface of the building like gift wrap, and its diaphanous quality creates an appearance that changes with changing light – alternately hiding and revealing the forms behind it. The areas of the building that face the outside are layered behind this blue screen, which can roll or fold away and which acts as the polite clothing for the building body. Its lack of windows and other details makes it difficult to conceive a sense of scale and gives the building the appearance of a calm, hulking box. At night, usually during performances, the screen acts as a projection surface, creating a luminous blue glow that can be seen for some distance.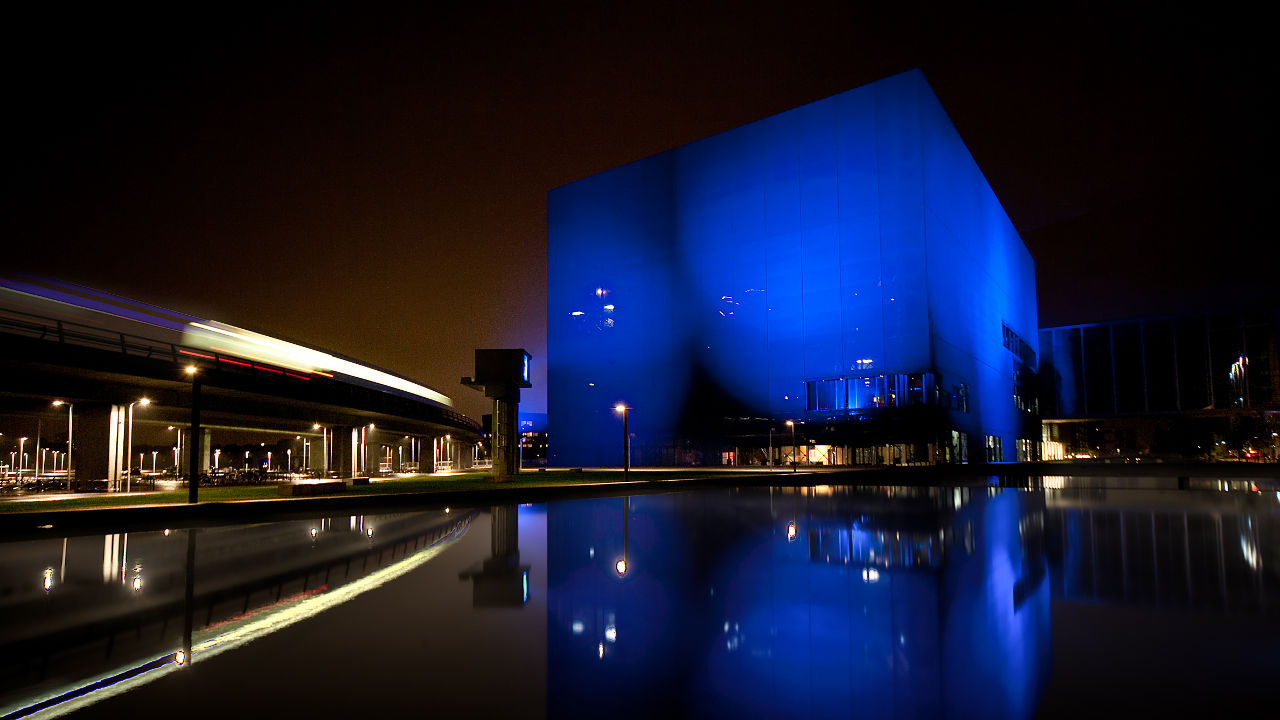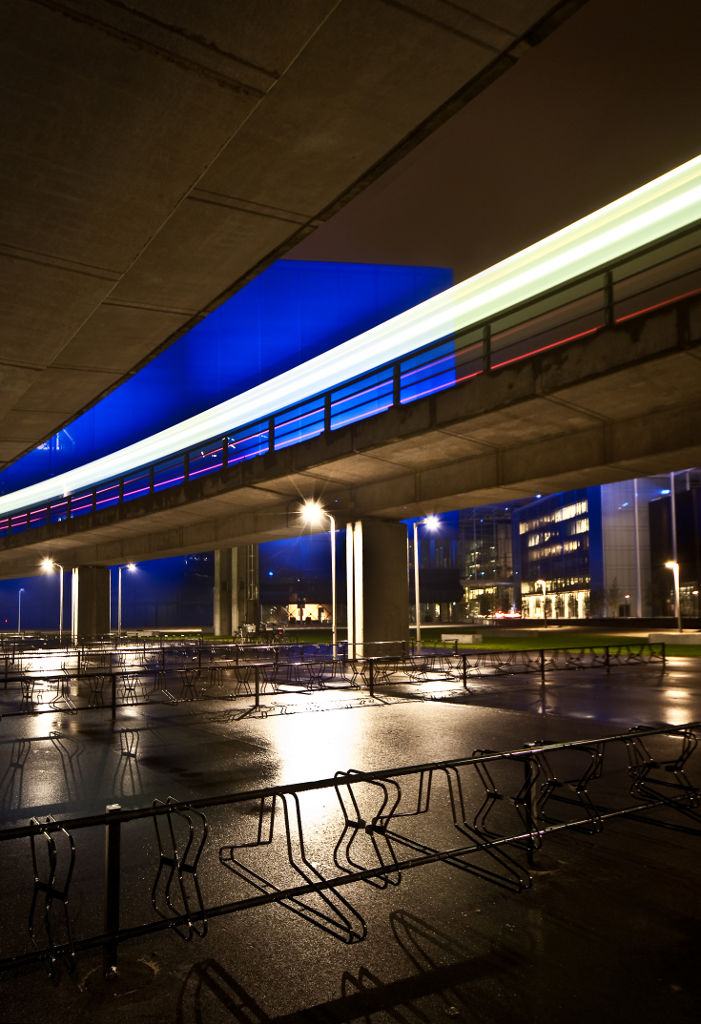 The public lobby is a multilayered interior space between the screen and and outside the huge main concert hall, known as Studio 1. This concert hall is expressed as a sculptural mass made up of scale-like panels, and the first experience of it is from underneath, allowing the audience to feel its hanging mass from below. After entering the interior of the auditorium itself, the reward is a lavish, vessel-like, terraced space, not unlike the Berliner Philharmonie. The surrounding color atmosphere, including chairs and materials, is warm orange brown. The wood panels are formed into fluid shapes, like a wind-sculpted cave. The asymmetrical terraced interior itself creates excellent acoustics, and, despite the large number of seats (1,800), it allows for a feeling of intimacy with the musicians.
Studios 2, 3, and 4 are tucked under Studio 1, and each of these smaller studios is sound-insulated. Each studio has a different expression, identity, and approach to acoustics. For example, Studio 4 is completely red with a grid of movable louver elements, while Studio 2 is lined with wood panels printed with murals of famous musicians, all of which slide like barn doors to modify the acoustic effect.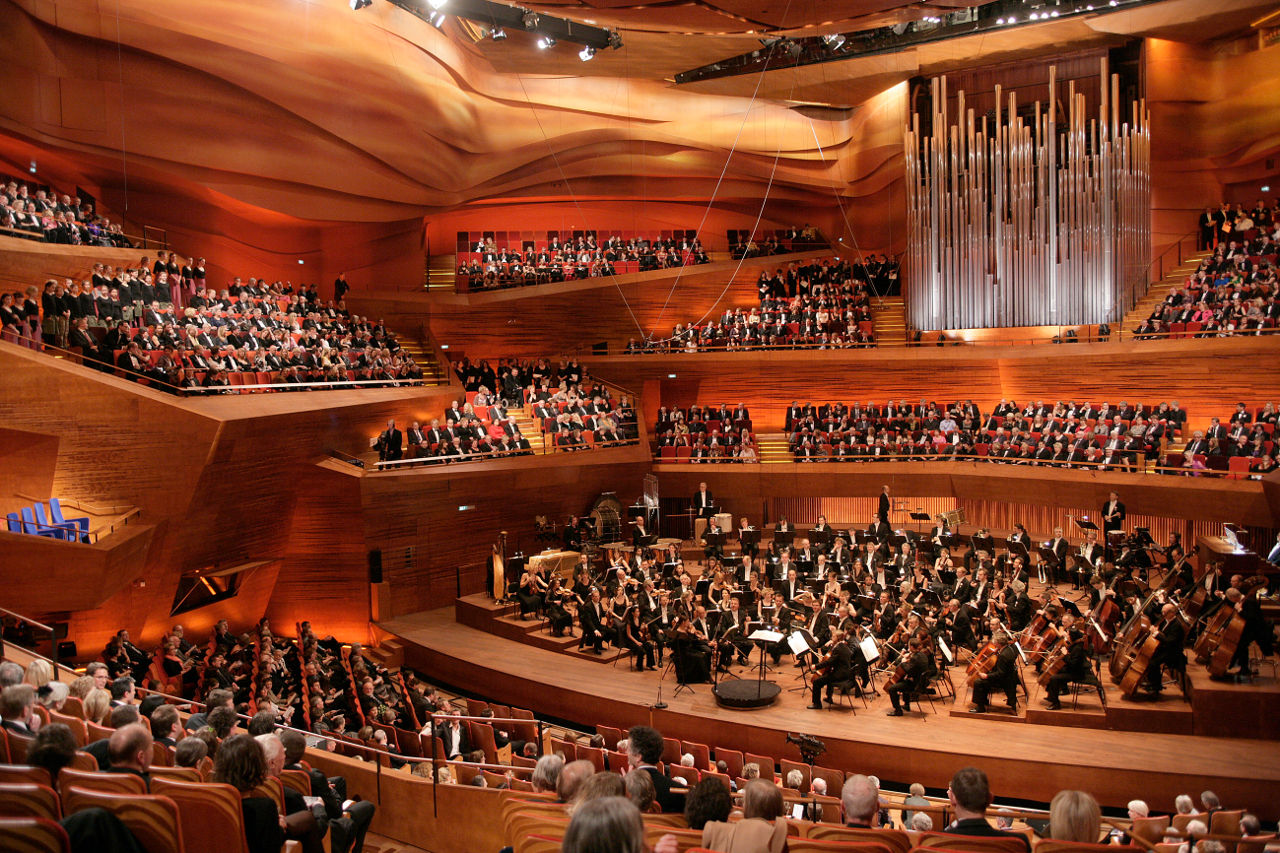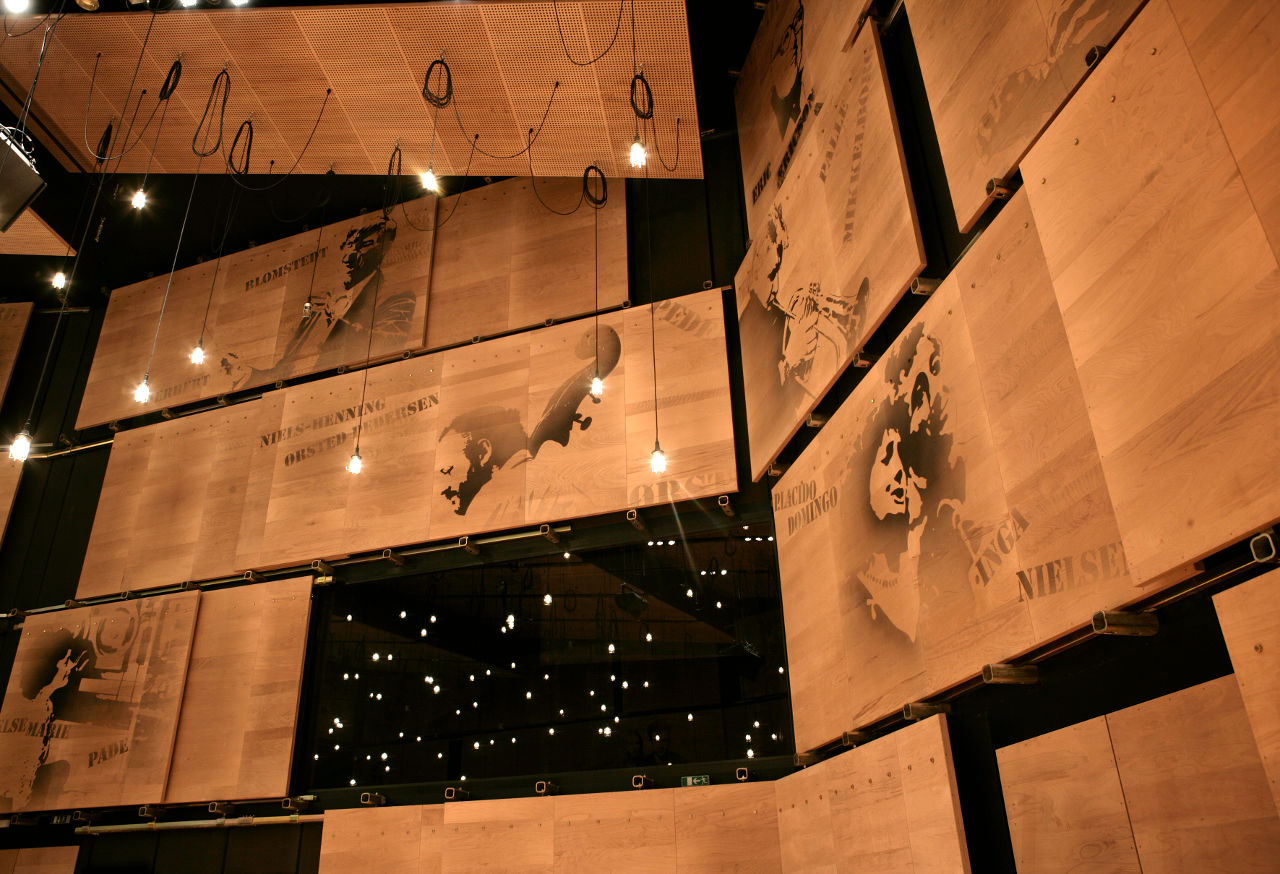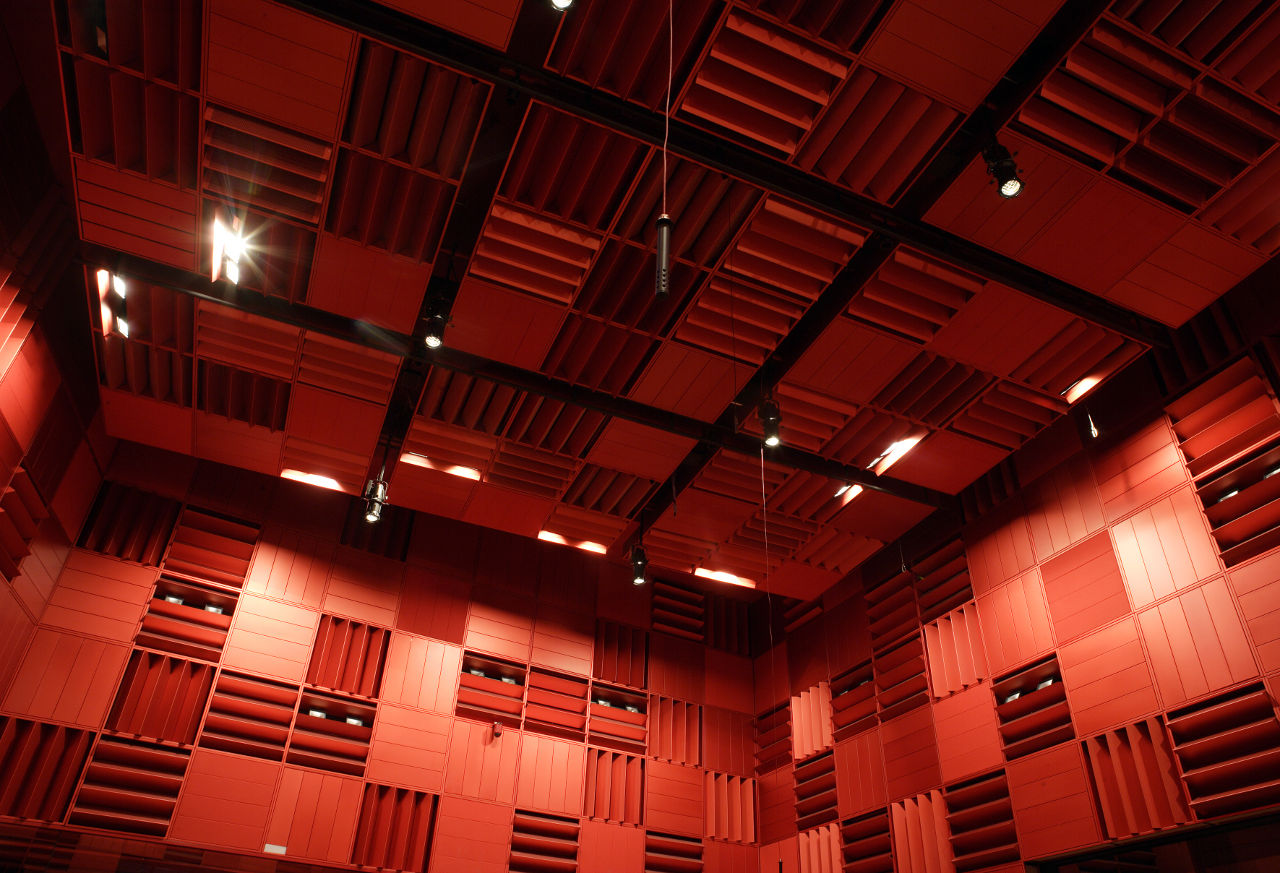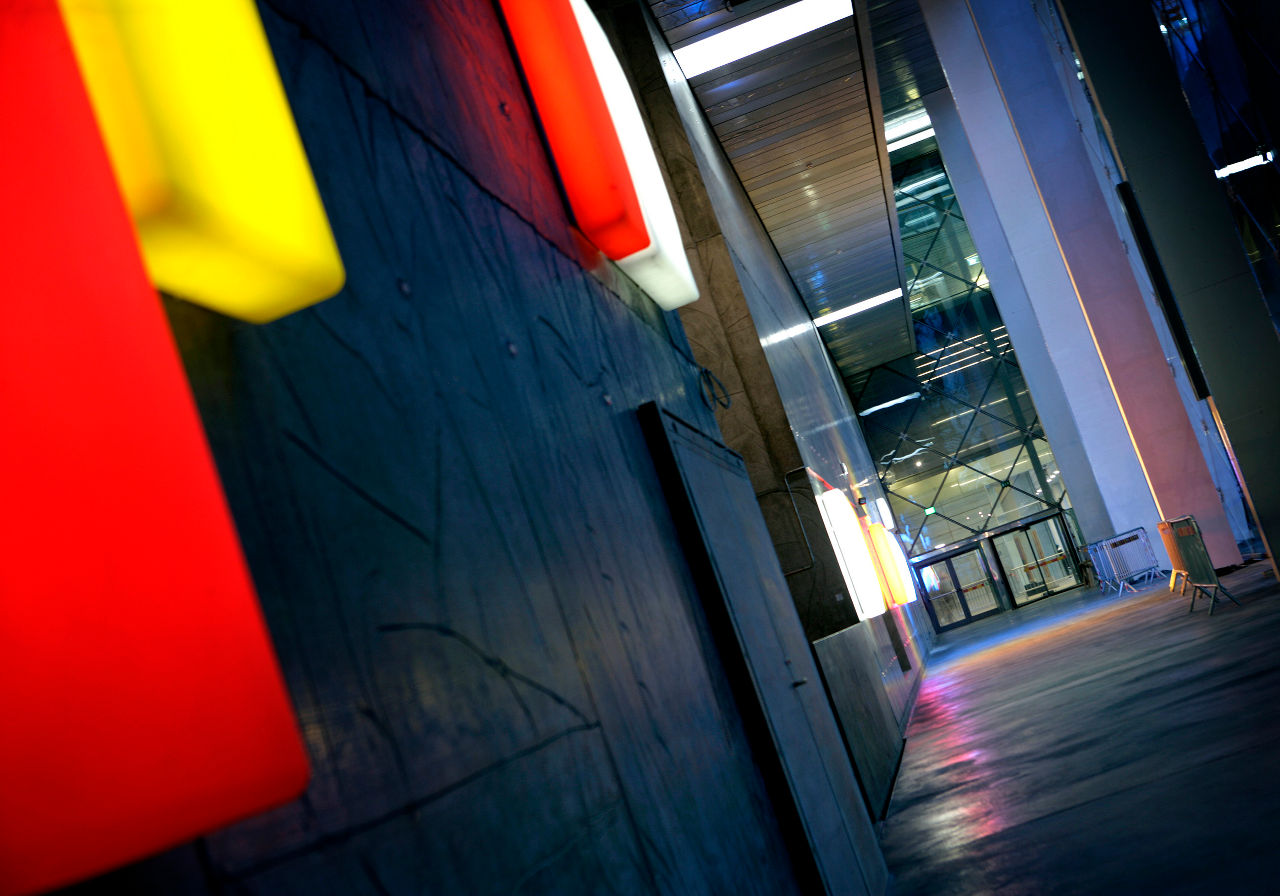 This sense of variety and change occurs throughout the building, and each area conveys a new kind of identity. The office ceilings, for example, are printed from wall to wall with an abstract photo mural in orange and yellow. Several spaces, especially the lobby, feel quite raw, with a textured "elephant skin" concrete created by pouring onto wrinkled plastic. In these areas, custom-designed colored light boxes provide a point of contrast to the grey concrete. These more neutral spaces serve as a "cleansing of the palette" between the cool blue facade outside and the warm orange auditorium inside.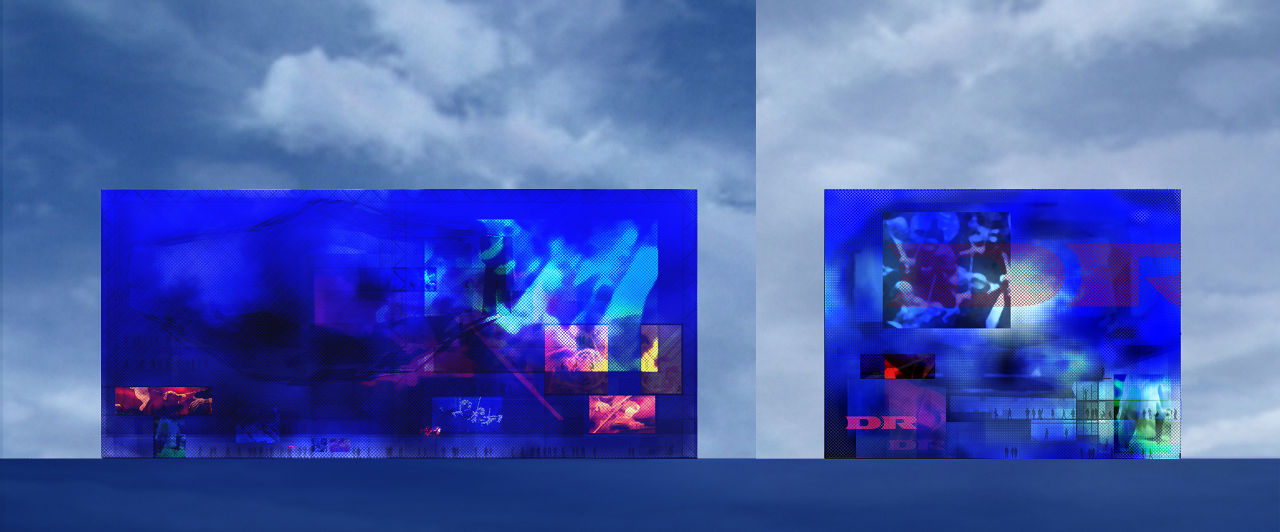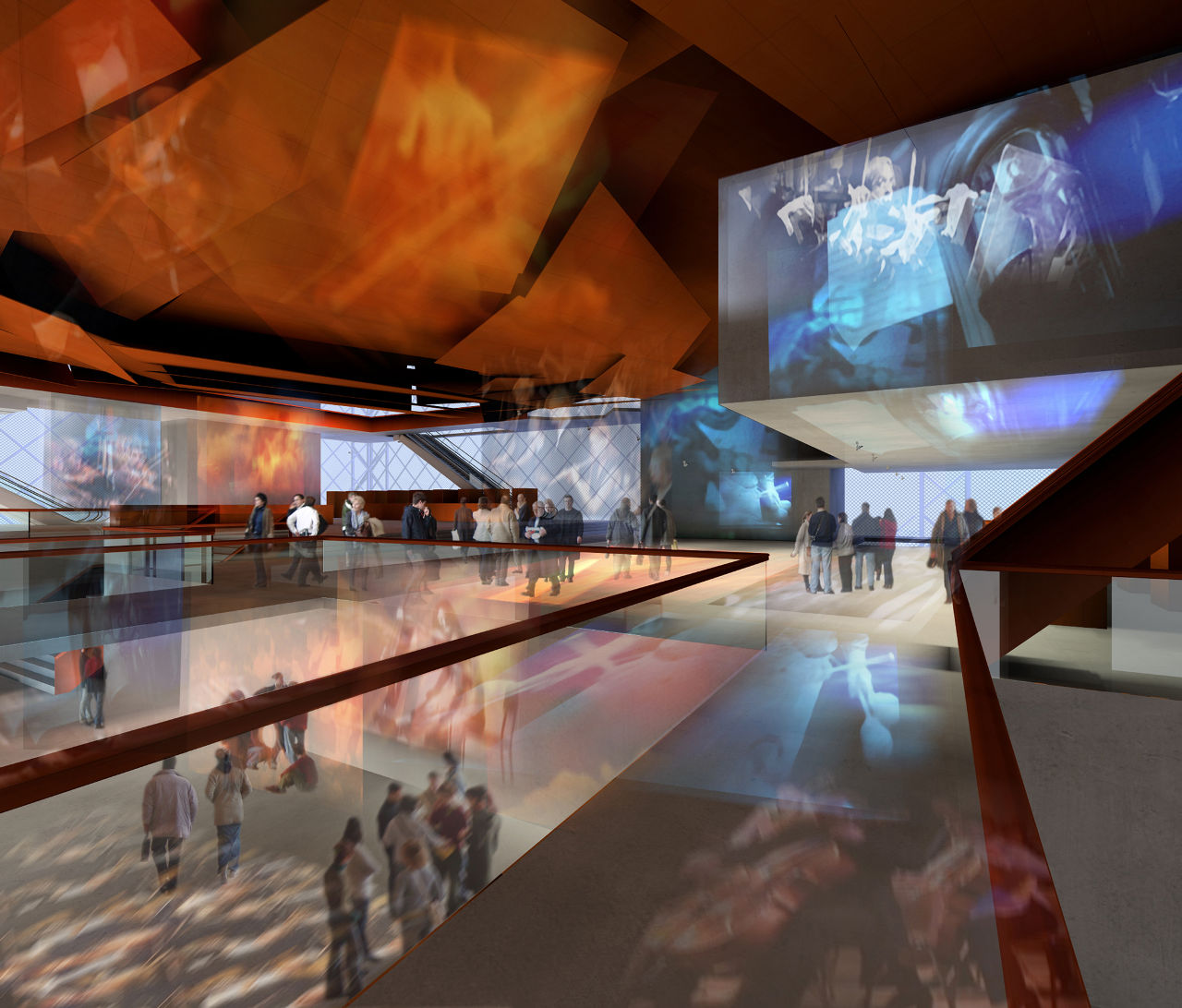 Going Overbudget to Save Money
The press was eager to cover the large budget overruns that occurred on this public project. The actual construction cost was over by at least 34% from the maximum allowable budget determined in 1999. DR took the hit internally and laid off 300 staff members in 2007, closing a total of 521 positions.
However, it remains to be seen what kind of long-term financial outcome these budget overruns will have. A number of excellent energy efficiency and renewable strategies were incorporated into the buildings, including using groundwater for cooling and integrating photovoltaics on the roofs. For example, Dissing + Weitling Architecture claim that Segment 2 uses 75% less energy than a conventionally cooled office building. It will be interesting to compare the long-term impact on the operating budget, when combining labor savings and energy savings, with the same costs from the original set of buildings.
As far as DR staff productivity and satisfaction are concerned, one representative said that most employees were completely satisfied, if not delighted, by their new surroundings.

Greg Vendena, LEED AP is a writer, consultant, and architect based in Copenhagen, Denmark, with a background in design, construction, green building, and energy efficiency. His experience includes not only architectural design, but mixing concrete, building custom LED lighting, and energy auditing. He holds degrees in Architecture from Cranbrook Academy of Art and Arizona State University, and a Fine Art degree from California College of the Arts. His work and work together with others has been featured in the Cooper Hewitt National Design museum, and has been published and exhibited extensively. However, playing with his son and riding a bicycle around Copenhagen are what he enjoys the most.
Latest from Greg Vendena