Board insulation, also referred to as foam-plastic board insulation, can be used in many areas of building construction to provide thermal resistance. It is appropriate for use under concrete floor slabs, at foundation walls, in wall cavities, as a backer material for remodeling with new siding, and in a wide range of roofing applications. Foam plastic boards encompass three types: polystyrene, polyisocyanurate, and polyurethane. All types of foam-plastic board insulation panels need to be protected from the damaging ultraviolet effects of the sun. Additionally, foam-plastic insulation should be protected from fire as it will emit dense smoke containing toxic gases. Unfaced foam-plastic insulation boards used in construction are required by codes to be completely concealed in fire resistant materials. Glass fiber resin mixtures and mineral wool are also manufactured in board products for use in construction applications. Blanket, foamed-in-place, loose-fill, blow-in and sprayed type insulations are summarized in other sections.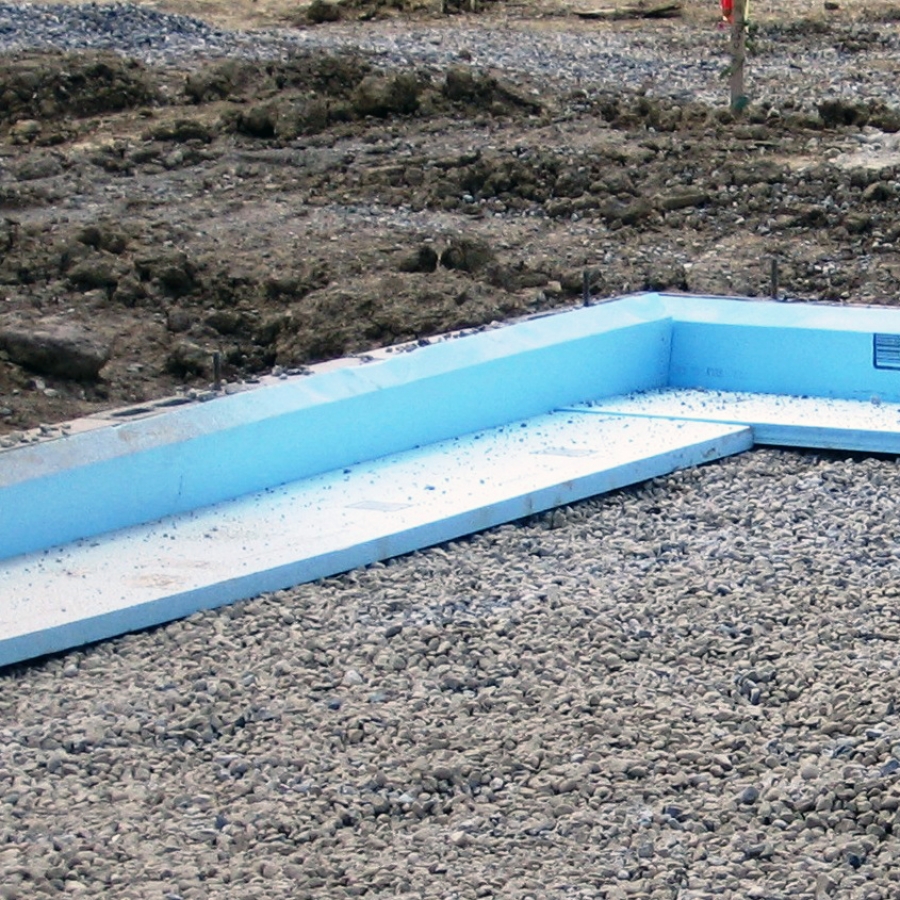 Polystyrene boards consist of two types:
Extruded-Polystyrene (XPS)
Expanded-Polystyrene (EPS
Extruded-polystyrene board insulation, also known as XPS insulation, offers a higher compression strength than EPS, which makes it more desirable for roofing insulation where it needs to resist the effects of crushing. Extruded polystyrene also has a higher rating for resistance to moisture. XPS is a polymer based material; the difference compared to EPS is in the blend of chemicals. Once the polymer mixture is liquefied, a blowing agent is injected, creating a foam. This foam is heated and forced through a pressurized extrusion process, which gives it a smooth finish, and it is allowed to expand up to 30 times its original size. During the expansion process, closed cells are formed within the polystyrene material. Extruded-polystyrene board insulation Type IV or Type VI, either unfaced or faced with a geotextile fabric cover, are available for below-grade wall drainage applications. XPS insulation boards are manufactured in various densities resulting in different resistances to compression, different R-Values, and other variances in significant physical properties. The following is a partial list of Types of XPS board typically available for use as thermal barriers in the construction industry:
 

Physical Properties of Extruded-Polystyrene

 

Compressive

Resistance (PSI)

Density

(lbs/cubic feet)

R-Value

(per 1 inch thickness)

Type X

15

1.30

5.0

Type IV

25

1.60

5.0

Type VI

40

1.80

5.0

Type VII

60

2.20

5.0

Type V

100

3.00

5.0
Expanded-polystyrene board insulation, also known as EPS, is commonly called beadboard. EPS is a polymer based material and a familiar product, as it is the material used to make those ubiquitous white coffee cups. When it is mixed with a foaming agent and poured into closed containers then exposed to heat, it expands into beads. In the final process the beads are injected into molds of various thicknesses and sizes, where pressure and heat are applied once more. Because it is also a closed-cell product, it is resistant to moisture and the effects of heat transfer. EPS boards are generally less expensive than XPS insulation boards; however, both are used as the insulation for structural insulated panels and insulated concrete forms.
 

Physical Properties of Expanded-Polystyrene

 

Compressive

Resistance (PSI)

Density

(lbs/cubic feet)

R-Value

(per 1 inch thickness)

Type I

10

0.9

3.85

Type II

15

1.35

4.17

Type VIII

13

1.15

3.92

Type IX

25

1.80

4.35
Polyisocyanurate board insulation is manufactured through a controlled chemical reaction. The chemical mixture reacts with the catalyst and the resulting cellular foam is solid, lightweight and thermally resistant. The closed cell polyisocyanurate rigid foam is cut into specified sizes and a facing material is applied to each face. These face layers can include aluminum foils, glass-fiber reinforced mats, and coated and uncoated polymer-bonded glass-fiber mats. Polyisocyanurate insulation has the highest R-Value, ranging from 5.6 to 8 per inch, which makes it ideal for locations where the thickness of insulation is a concern. The compressive strength ranges from 16 to 25 psi and it is very stable over a wider range of temperatures.
There are two types of polyisocyanurate board insulation to consider for application as wall sheathing:
Type I (aluminum foil faced on both sides), Class 1 (glass-fiber reinforced polyisocyanurate foam core).
Type II (Mat-faced on both sides), Class 2 (Faced with coated polymer-bonded facers on each face).
Polyurethane, a product similar to polyisocyanurate, is also available in spray form. Within a period of two years, polyurethane can begin to lose some of its R-Value as the gases that were produced during the manufacturing process begin to escape. This R-Value degradation is known as thermal drift. Facings such as foil that perform as a radiant barrier are available on polyurethane panels and have been shown to stabilize the thermal drift.
Fibrous board insulation is available in rigid and semi-rigid boards. These are made of inorganic glass fibers bonded together with a thermosetting resin. They are available unfaced or with a factory applied facing of foil, scrim or kraft paper (FSK), which acts as an air barrier and water vapor retarder. Fibrous board insulation is primarily used for insulating air ducts and other mechanical components. When used as insulation for mechanical piping, it is typically jacketed with a white all-service jacket (ASJ) material. The board densities vary and thicknesses range from 1 to 4 inches; fibrous board insulation can withstand high temperatures -- up to 450 degrees Fahrenheit -- which makes it ideally suited for mechanical applications such as ducts, pipes, plenums, equipment walls, and insulating chillers. Impaling on pins with caps is typically used to secure these boards in place. The commonly available R-Value is 4.0 per 1 inch of thickness. Fiber board insulation can typically be fabricated and sealed into ducts by HVAC contractors. Joints between boards are then sealed with pressure-sensitive tape or glass fabric and mastic.
Mineral-Wool Board Insulation is made from basalt rock and steel slag. The resulting mixture is a non-combustible product with a very high melting point (over 2000 degrees Fahrenheit) which makes it an excellent barrier against fire. In addition, it is water repellent but still still vapor permeable. It can be covered with an all-service jacket (ASJ) and applied to high temperature pipes.
Mineral-Wool is available in various density as follows:
Unfaced, Mineral-Wool Board Insulation
Nominal density of 4 lb/cu. ft., Types IA and IB
Nominal density of 6 lb/cu. ft., Type II
Nominal density of 8 lb/cu. ft., Type III
Foil-Faced, Mineral-Wool Board Insulation:
Nominal density of 4 lb/cu. ft., Types IA and IB
Nominal density of 6 lb/cu. ft., Type II
Nominal density of 8 lb/cu. ft., Type III

The Buildipedia research and writing staff consists of dozens of experienced professionals from many sectors of the industry, including architects, designers, contractors, and engineers.
Website: buildipedia.com/
Latest from Buildipedia Staff