Metal Stud Wall System Anatomy
Concrete masonry units (CMU) have long been considered the ideal backup material for brick facing; however, because of increasing installation costs, CMU backup systems have given way to metal stud backup systems. Brick veneer with metal stud backup walls, because they are a very cost effective and versatile wall assembly, are very commonly seen in today's commercial buildings.  The original exterior metal stud wall systems of the 1970's were simple. They consisted of metal studs at 16 or 24 inches on center, with fiberglass batt insulation having an integral vapor barrier placed in between. Gypsum board sheathing was placed on each side, and 15 pound felt paper was installed over the exterior sheathing.  This system eventually would fail and allow air and moisture to enter the building, degrading the insulation and thus the R-Value of the wall, not to mention causing other significant problems.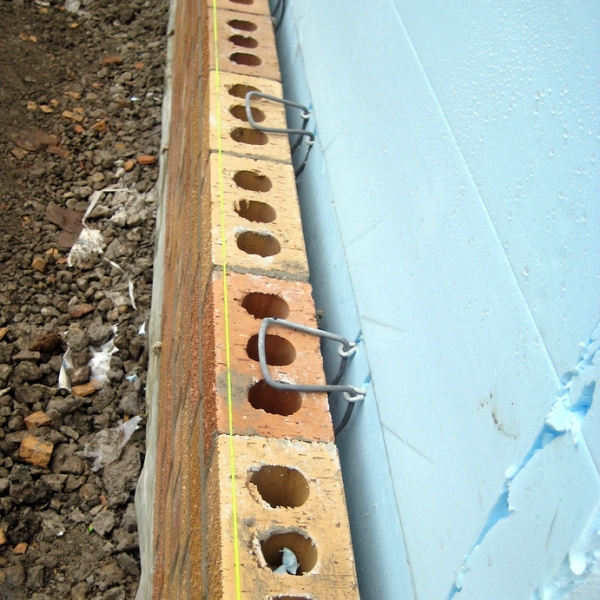 The Brick Industry Association (BIA) has issued a revised Technical Note #28B that describes in detail Brick Veneer/Steel Stud Wall Construction.  The following is an abbreviated summary of their minimum recommendations:
The allowable out-of-plane deflection of the studs due to service level loads should be restricted to L/600 to L/700.
The minimum air space should be increased to 2 inches.
Ties must be spaced closer. There should be one tie for each 2 sq ft (0.18 sq m) of wall area.
Sheathing should be upgraded. Possible choices include: closed-cell rigid insulation meeting ASTM C 578 or C 1289 at a minimum of 1/2" thick; exterior grade gypsum sheathing, OSB or glass fiber mat-faced sheathing or cement board at a minimum of 1/2" thick.
A water-resistant barrier should be installed over sheathing.
Brick veneer with metal stud backup is typically a vented wall system.  This is to provide a way out for any moisture that enters the wall system through the brick joints or other openings.  A vented cavity also allows for pressure equalization of external pressures caused by wind loads. Venting is accomplished by providing weeps or vents immediately above the wall flashing. Open head joint weeps are recommended with a spacing of no more than 24 inches on center. BIA recommends that wick or tube weeps, when used, be spaced no more than 16 inches on center.
BIA recommends four types of adjustable masonry anchor assemblies for brick veneer/metal stud systems. Each of these is connected to the studs with metal screws. Due to thermal bridging at the stud, condensation can form on the inside face of the stud's outside flange during long term cold conditions if a thermal break is not provided.  When using XPS as part of the exterior system, brick ties that connect directly to the framing must not rely on the compressive resistance of the exterior sheathing material to transfer positive wind loads to the steel studs.  This will eliminate the thermal bridge issue at brick ties.  All anchors must be embedded at least 1 1/2 inches into the brick veneer with a minimum mortar cover of 5/8 inch to the outside face of the wall.

David Ingold is a graduate of The Ohio State University School of Architecture and a member of the Construction Specifications Institute (CSI) with Construction Documents Technology (CDT) certification. With more than 18 years of experience, David brings a broad knowledge base and understanding of design and construction to a wide variety of project types. He is an accomplished senior project administrator with experience in developing all phases of architectural documents. David has performed key responsibilities as a project leader, specifications writer, and coordinator for projects of all types and complexities including low- and high-rise condominiums, sporting facilities, higher education and government research laboratories, manufacturing facilities, wastewater treatment plants, parking garages, and campus master plans. David's greatest aspiration  is to provide construction administrative services to fully execute project designs.
Website: buildipedia.com/channels/on-site
Latest from David Ingold